This post for Mod Podge Tea Light Holders contains affiliate links, find out what that means here.
Before I made this project I had never used Mod Podge! I know right?! What kind of crafter am I? I've wanted to make a Mod Podge project for absolutely ages though. These Mod Podge Tea Light Holders came about when I found these amazing paper napkins in Tesco. I love the bold prints on them and thought it was a shame to use them just to wipe mucky fingers on! Lol! I had just purchased my first ever pot of Mod Podge so I went rummaging in my garage to see what I could find! I have a collection of glass bottles, jars, tin cans etc that I wash and keep in case they come in handy for something. In there I found two little glass dishes. They were from some ready made creme brulees that I had bought from the supermarket. They are just the right size for tea lights!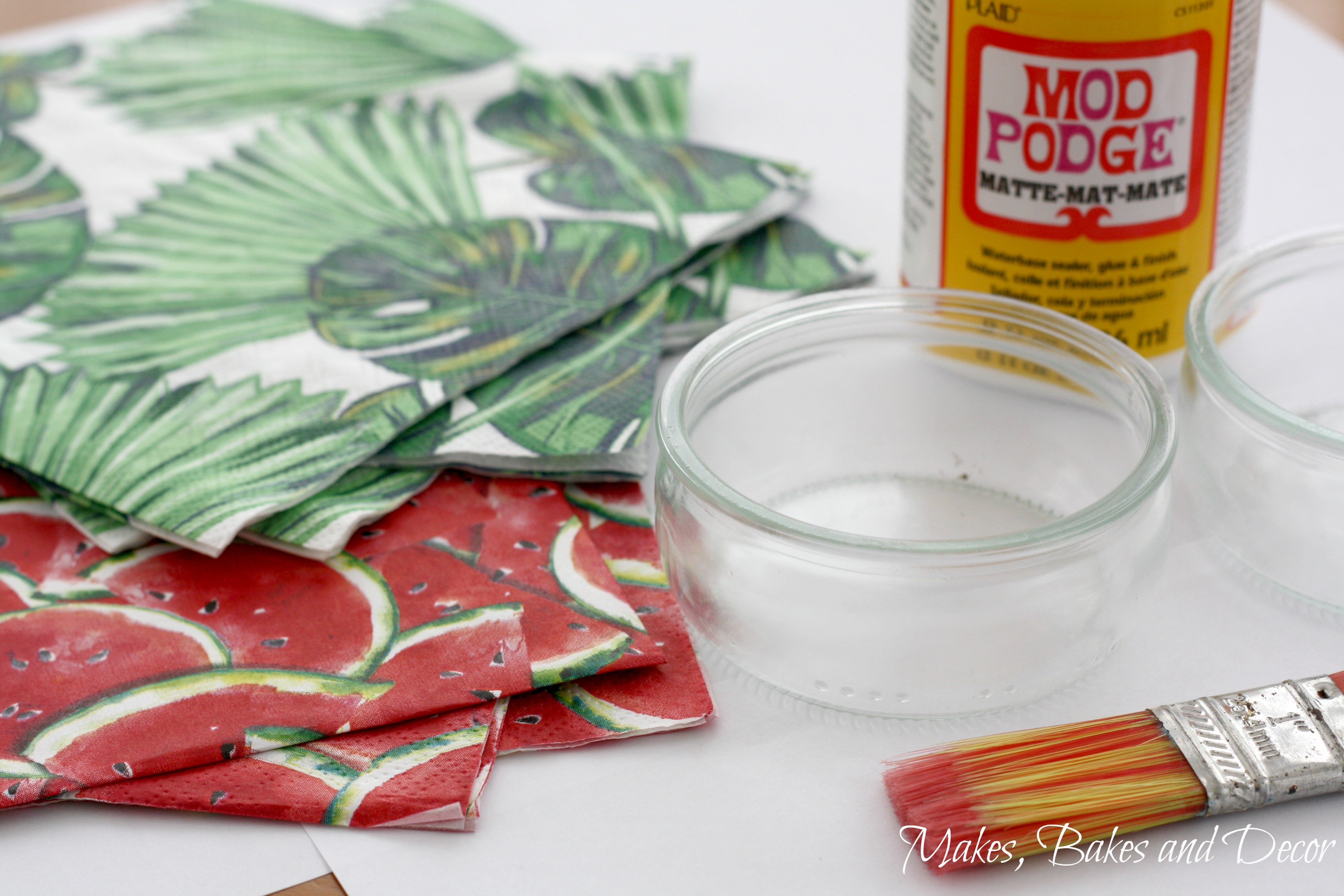 What you need to make these is some small, shallow glass dishes or jars (mine are washed out creme brulee jars), Mod podge, a brush, Napkins in a print of your own choice and some gold paint (not pictured).
The first thing you need to do is separate your napkins. The ones I used were 3 ply but you only need the top printed layer.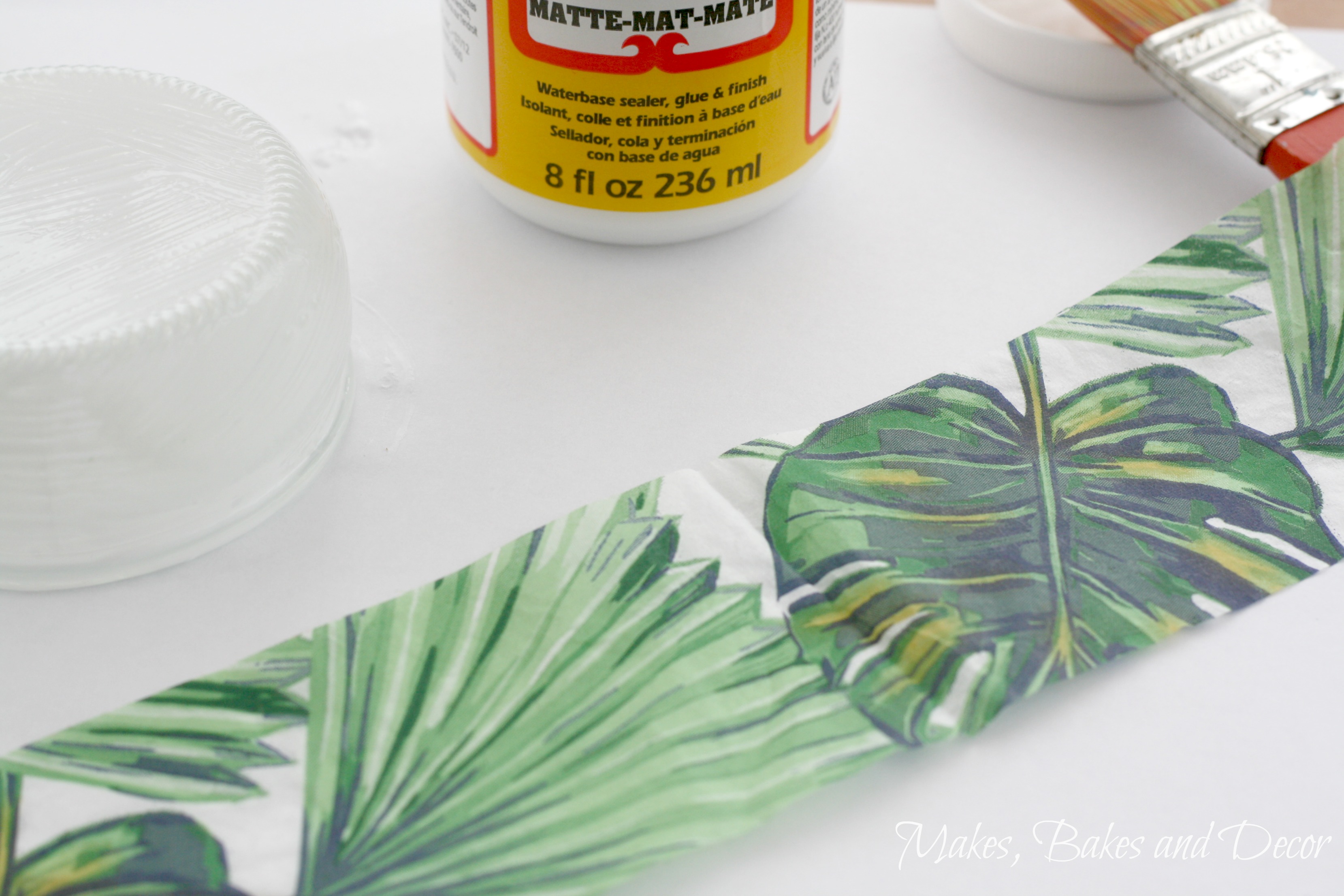 Cut off a strip of the napkin wide enough to cover the glass jar/dish you are using.
Completely cover the outside of your jar/dish in a layer of Mod Podge.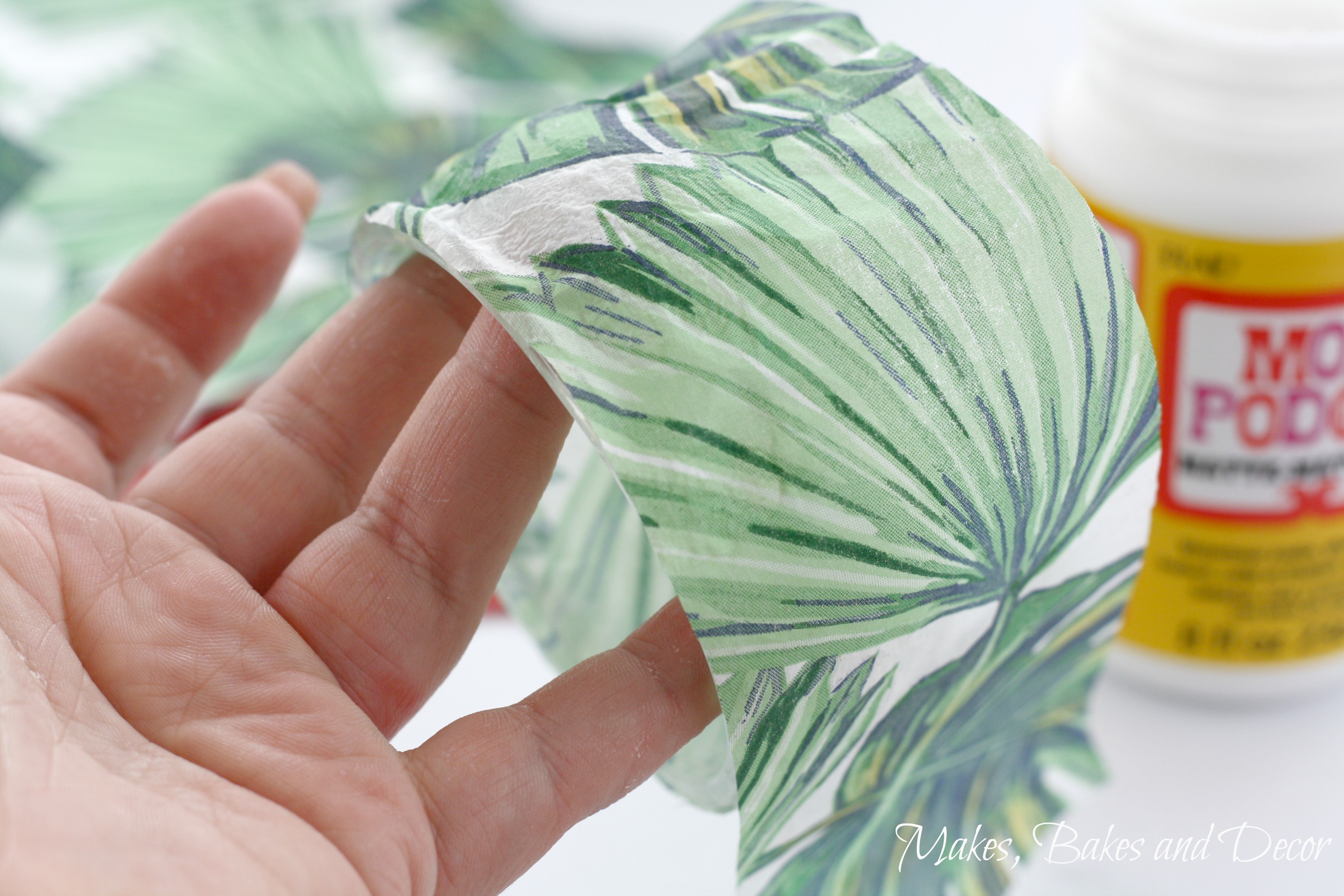 Gently place the napkin strip around the dish, you don't want to tear the napkin. I tried to keep the edge of the napkin level with the top of the dish edge as I didn't want the napkin on the inside.
I then folded the napkin over to cover the bottom.
I still had a gap on the bottom so I cut out a circle to cover it. You then need to leave this to dry.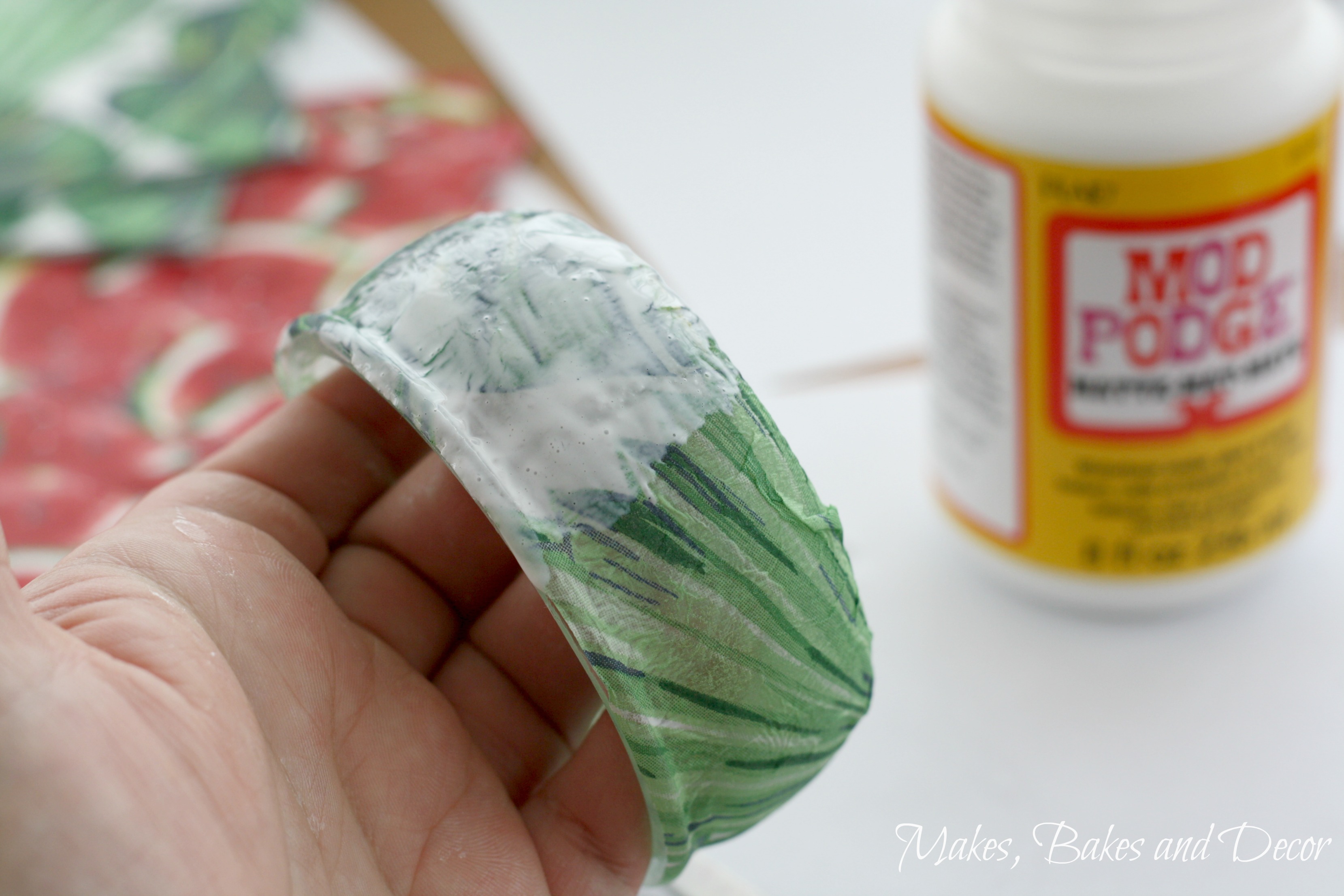 You then need to cover the outside in another layer of Mod Podge.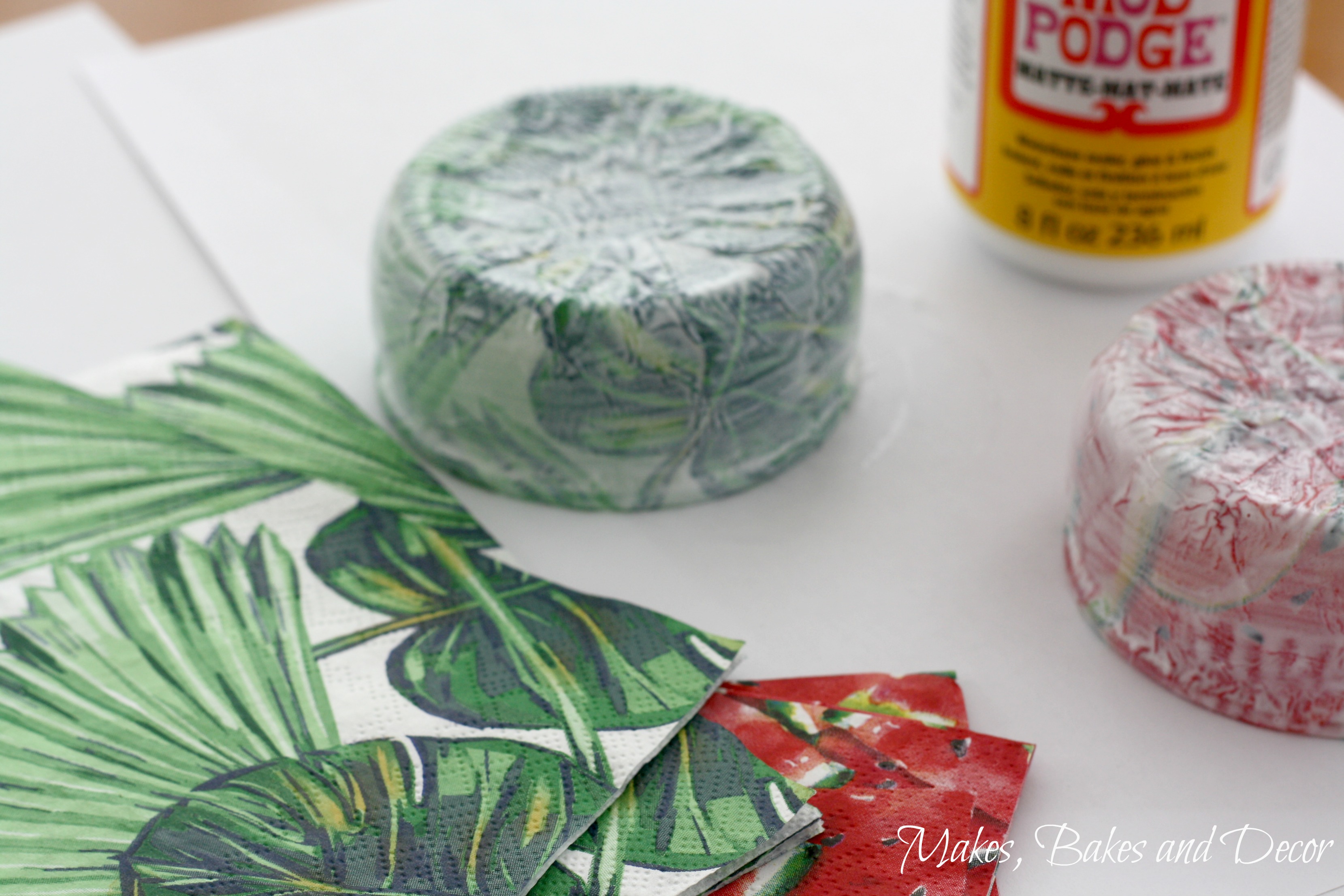 I made two in two different napkin prints. Leave them to dry completely again. Once mine were dry I decided to paint the rim of each with gold paint just to finish them off but I didn't photograph that part.
Because of the fun summer prints that I used I plan on putting some citronella tea lights in these and using them in the garden. I love to dot tea lights all around the house and by using different napkins you could make these suit for any room or season! Let me know what you think in the comments below and if you give these a try let me know on Facebook or Instagram by sharing a picture and tagging @makesbakesanddecor. 🙂
Lianne x
Pin Mod Podge Tea Light Holders to save them for later!