While we have so much time at home one of the things we have been tackling is the garden. We did a lot of painting and tidying up in it last year, so this year has just been the regular pruning, grass cutting, weeding etc that you have to do in the Spring and then also focusing on painting the fence and shed in the bottom corner of the garden. It is round a corner down there and not visible from the house so it was left as is last year. Some of the most dramatic changes in the garden are purely down to the power of paint. It still surprises me how paint can spruce something up and make it look brand new!
Any before pictures I had of the garden were on my phone and somehow recently a big chunk of my photos on there have just vanished! I spent time scrolling through the archives on my insta stories though and managed to find some on there!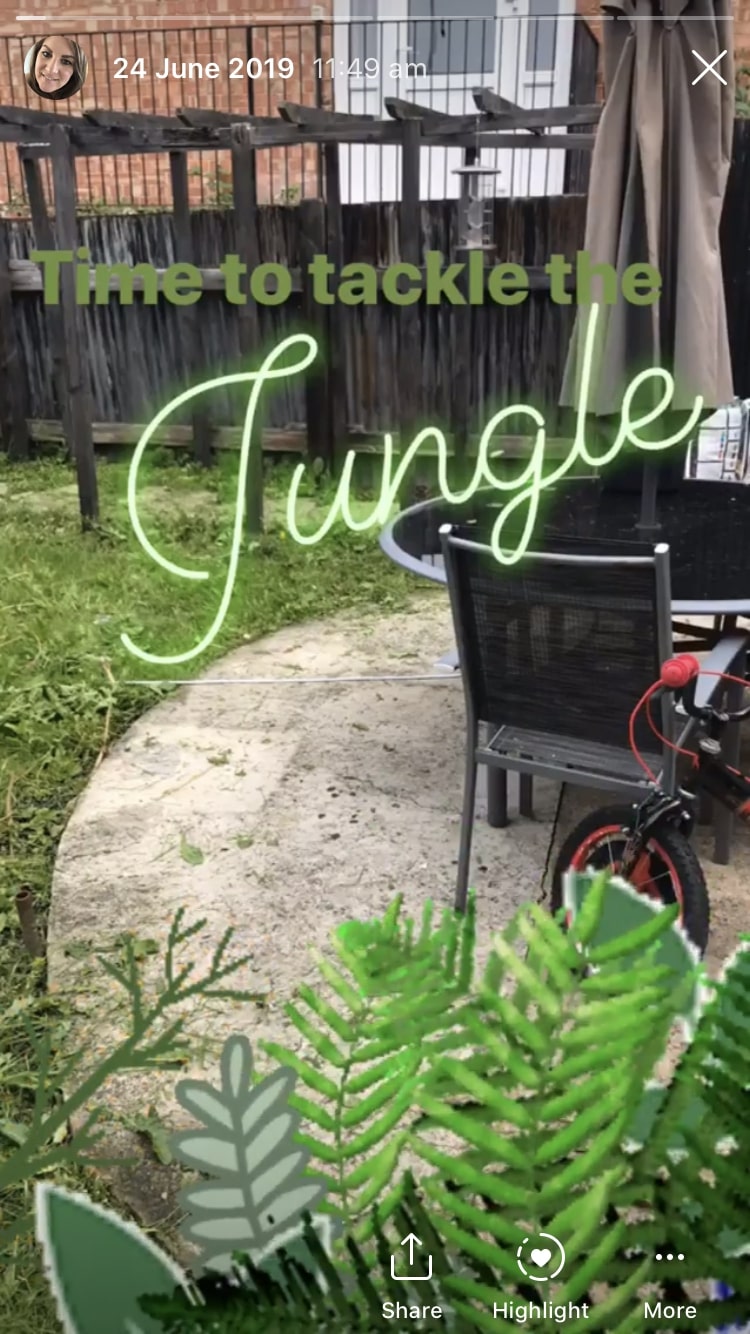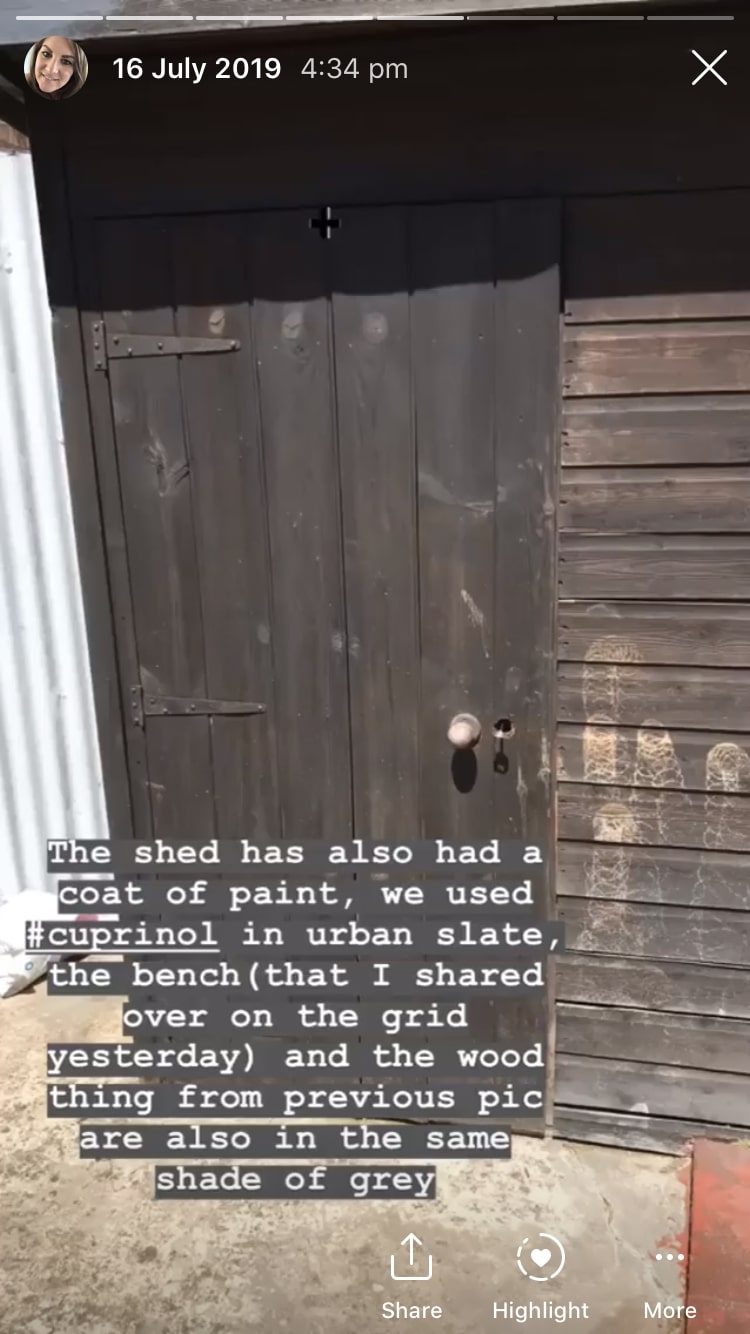 So here are the befores from last year and the top photo includes almost everything that we worked on last year. The corrugated metal fence along the back is grim and rusty, the pergola is unpainted and in a sorry state too. Then there are supposed to be borders around the edge of the lawn but they were so over grown you couldn't even see them. This seating set we have had for a few years and it was getting rusty in places and needed some tlc. In the second picture you can see the first shed in our garden and it is situated to the right as you are looking at the top photo.
The garden is so far from being how I would like it and as we rent all we can do is tidy and make the most of what is there. One thing that I love about our garden is the small patio area directly outside the back doors. In the summer this feels like you have an extra room and I really love sitting out here.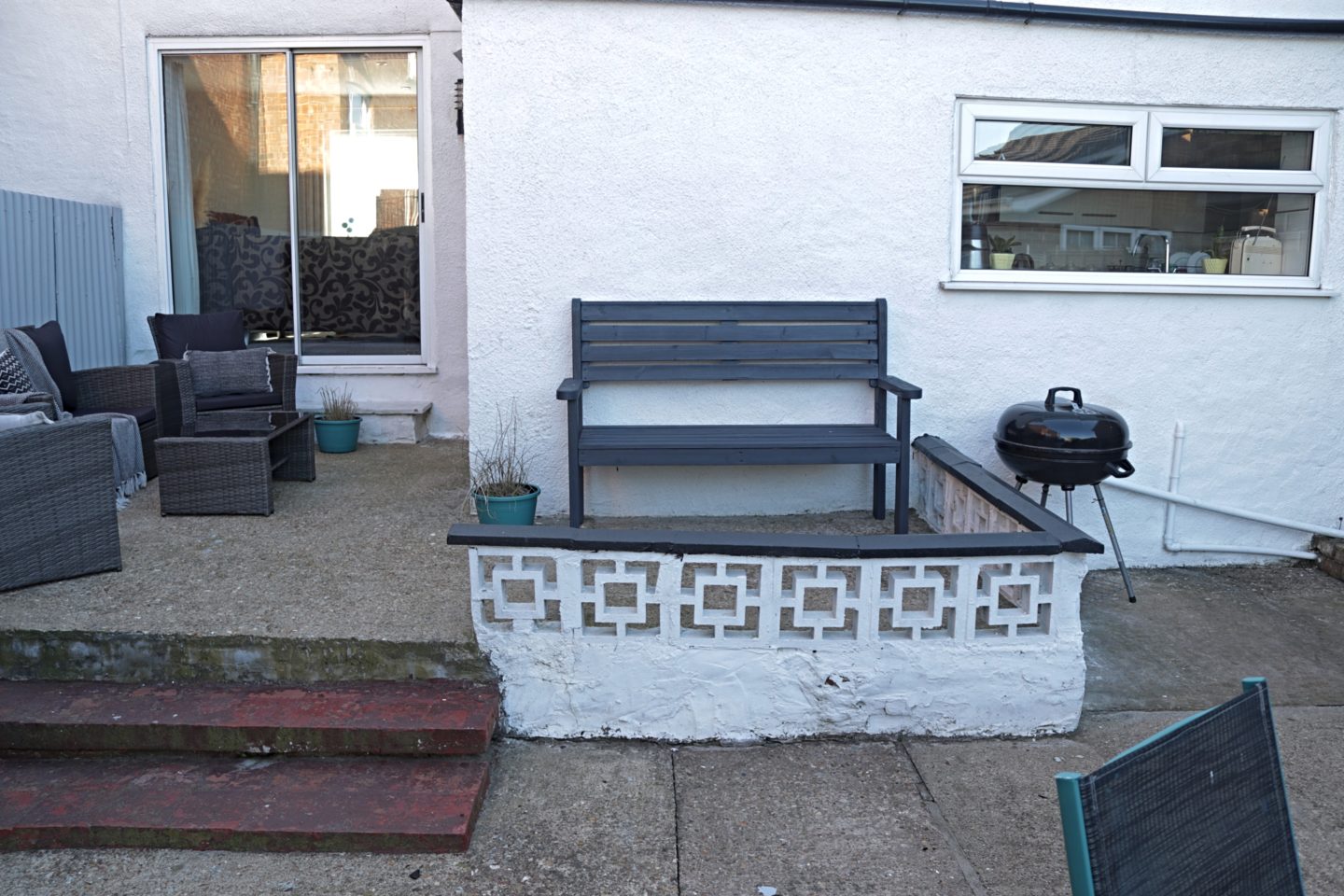 We purchased this seating set just before Noa's first birthday in July. We couldn't really afford it at the time so I found a set I liked on Ebay and paid for it using PayPal credit as you were able to spread the payments interest free over 12 months. This particular set is available on Ebay from Abreo Furniture. The pots were from PoundStretcher and cost a couple of pounds, we just painted them in Ronseal Garden paint in the colour Peacock. The bench used to be my Mum's. It was painted terracotta at Seaways and is now Urban Slate by Cuprinol. I would love to be able to do something with these steps but I'm not sure what would make them look better and we would have to speak to the landlord too.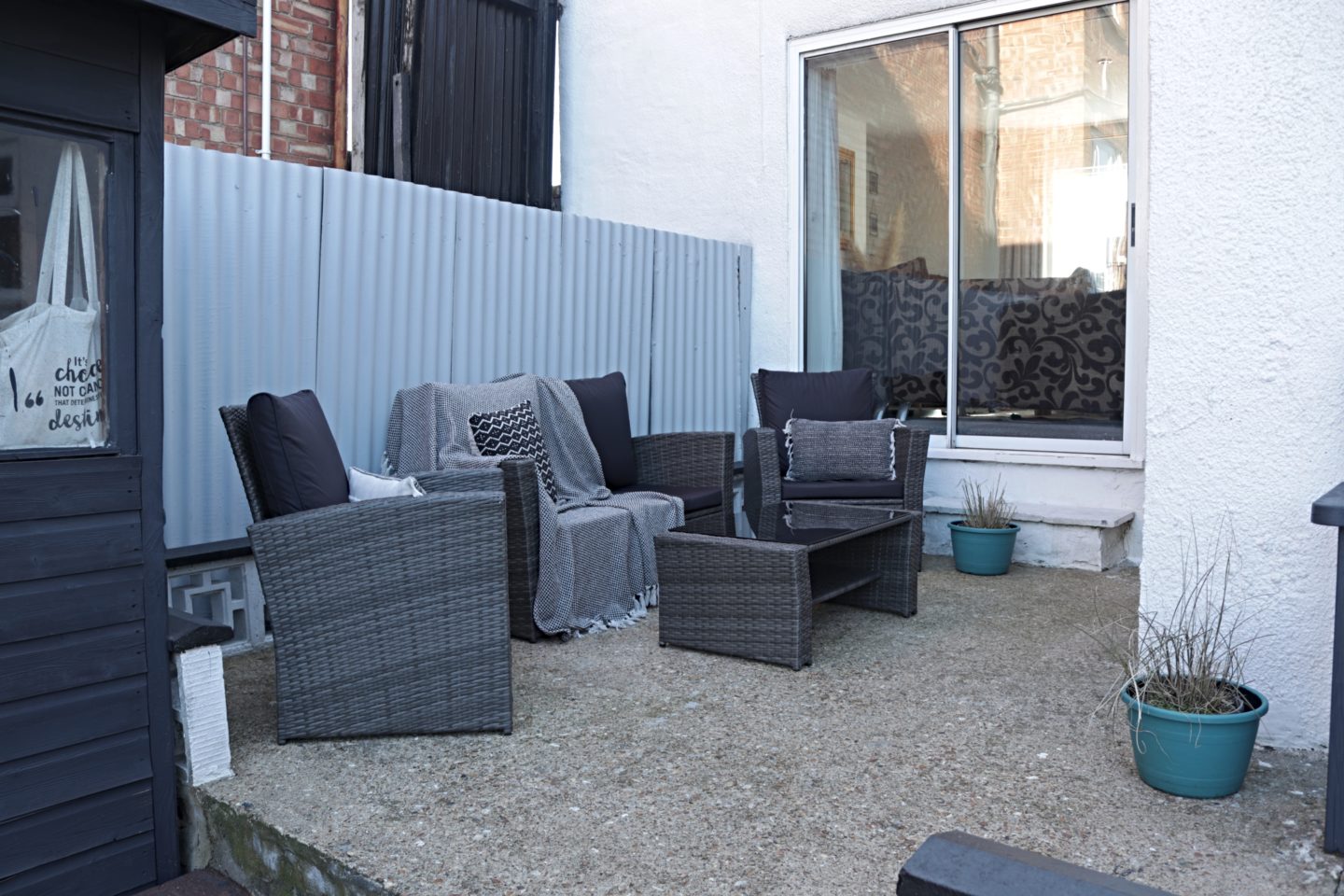 I love my outdoor cushions, we got them from B&Q and the throw was an absolute bargain at £3.99 from Home Bargains. They had them in store again this year before lockdown and they had a few different colours too. To this small area I would love to add an outdoor rug (*update* we got one from B&M for £10 but our store only has blue. It's staying for now but fingers crossed that they get the black and grey ones in) and then I would like some string lighting and some lanterns. Some sort of fire pit would also be great so we could use this space in the evenings when the kids are in bed. We also need a parasol because once the sun comes around at about midday it's just too hot for me to sit out here! Adding some more plants would be great too, some in pots and then some kind of hanging planters on the fence. This fence is the same kind that you can see in the first before picture. It doesn't look quite so bad now with the power of paint does it?! Shed number one is also looking much better than it's before picture now it's painted grey.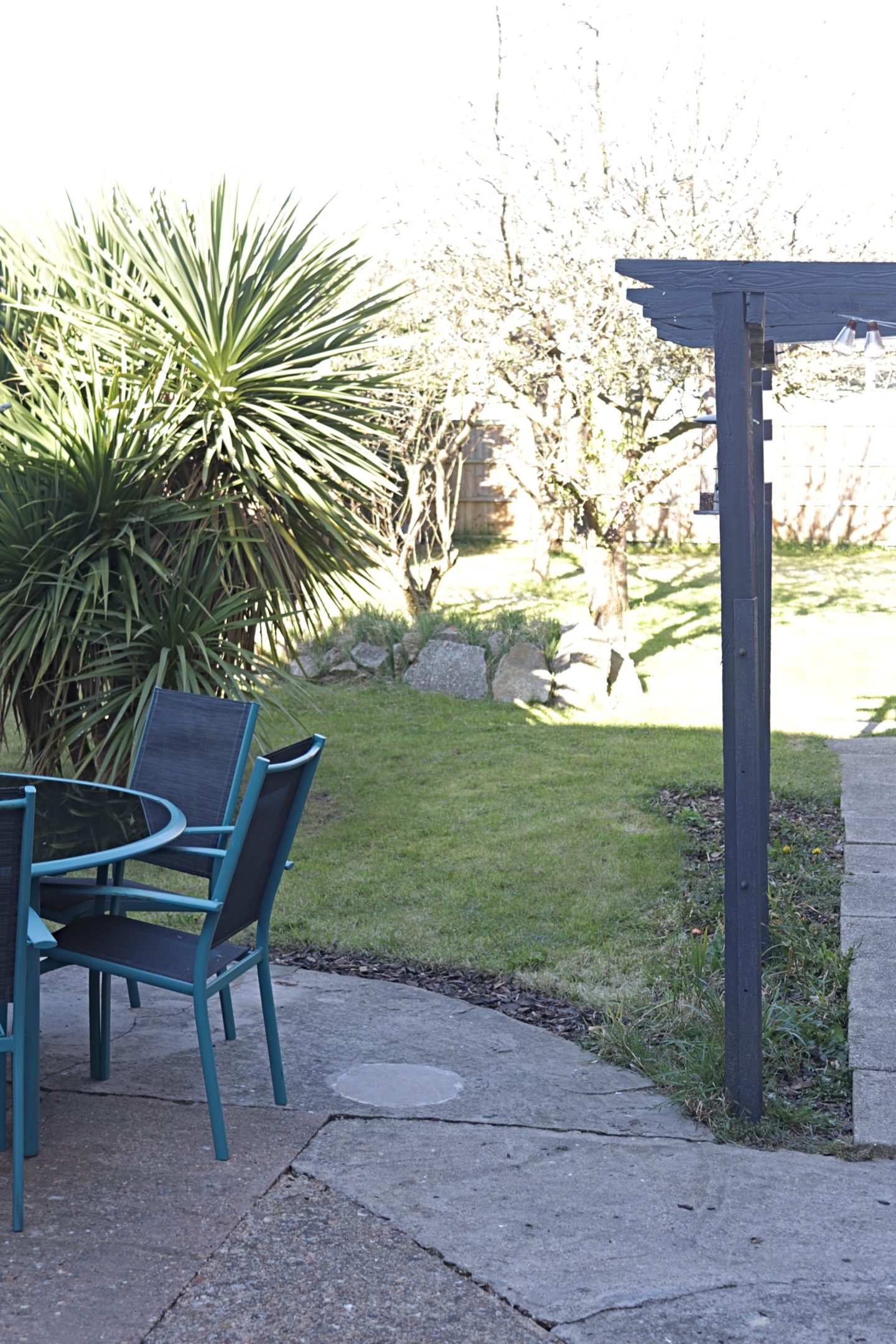 My second favourite thing is this garden are the fruit trees. We have a cooking apple tree, an eating apple tree, a plum tree and a pear tree. We didn't make good use of these last year because one, we didn't know what kind they were until they started growing and two we were just very busy so a lot of the fruit went to waste. This year I plan on making the most of them and I'm looking forward to giving plum jam making a go. These pictures were taken before blossom season but they look so pretty when they are in full bloom. The only downside is the daily apple collection that you have to do unless you want rotting apples all over the garden!!
In this picture you can also see the border that runs along the edge partly cleared. I still had a bit more to go when I took these but they are all done now. To the right is the pergola which is looking so much better now it's been painted in Cuprinol Urban Slate. It needs a little touch up this year so that job is still on our to do list for now.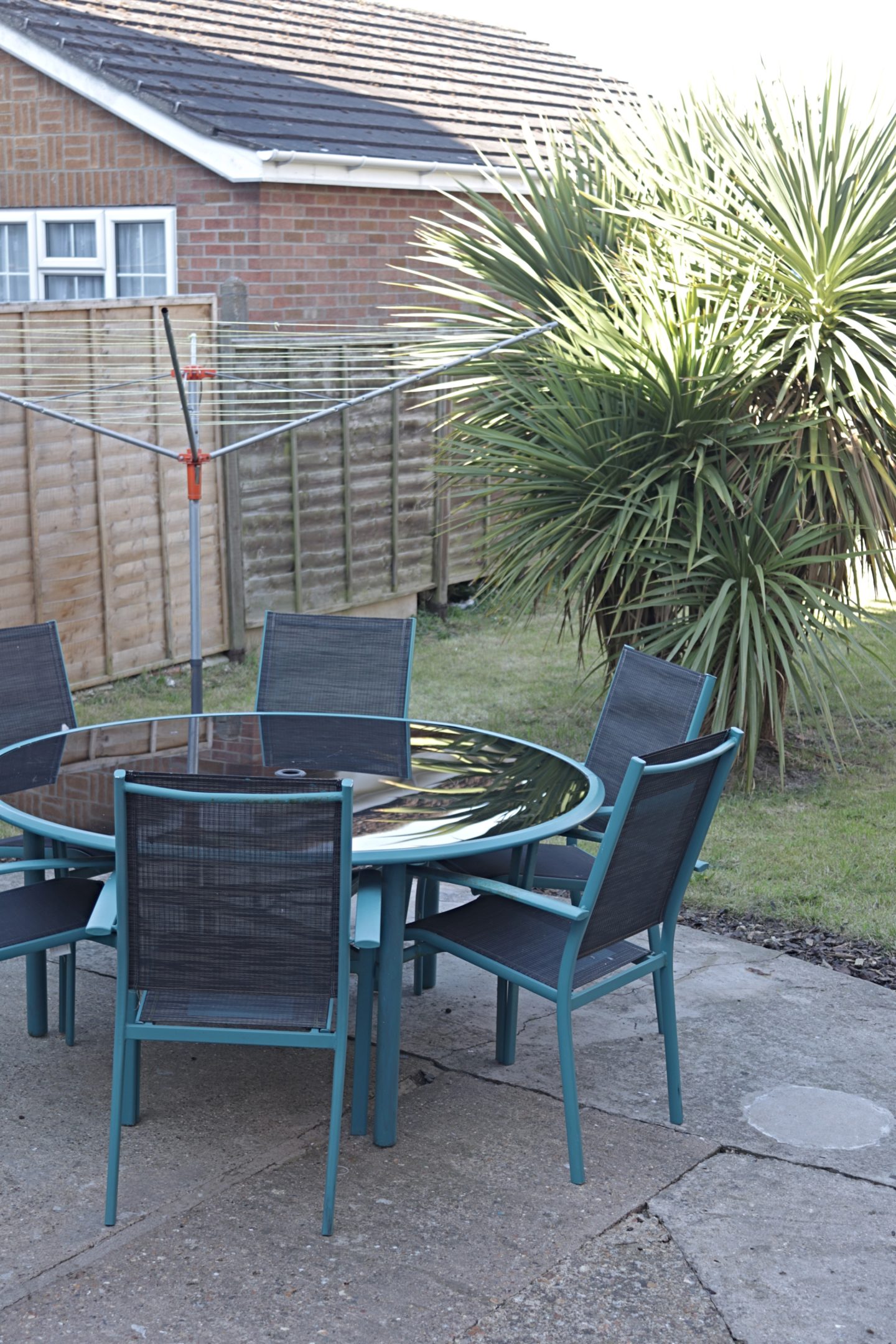 Our old table set is also transformed with the power of paint! We painted it with Ronseal Garden Paint in the colour Peacock. As you will all know by now this shade of green is my favourite colour and I want to add more pops of it around the garden by painting some plant pots and maybe adding a couple more cushions to the lounge seating area. The patio down here is not the best but I love having enough space to have a outdoor dining area and a relaxing area.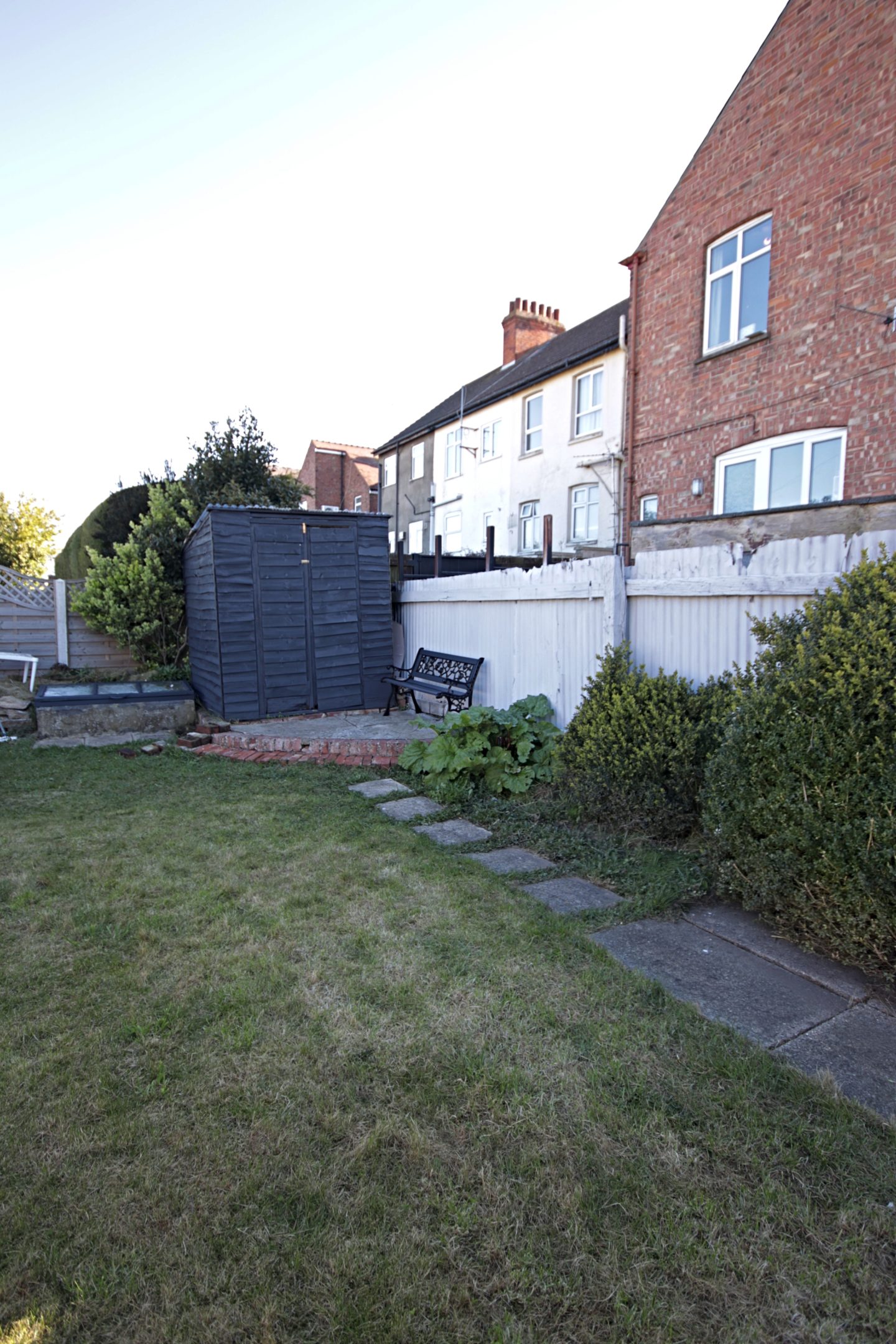 Our garden is L shaped so this is the view that turns off to the right but you can't see it from the house. That is why we didn't really focus on it last year. At the beginning of lockdown we sorted out this shed and I'm really gutted that I didn't take a before picture. One door was completely broken, the only part left was the single beam attached to the hinges so we had to completely rebuild that. The second door was there but the front of it was covered in this awful corrugated plastic so we took that off and replaced it with slats to match the rest of the shed. Finally with the power of paint (in the same Urban Slate as elsewhere) it almost looks good as new. The corrugated metal fence continues around this corner and is in even worse condition than the other side but it has now has one coat of the light grey, it still needs a second coat but I think it will look a lot better. This border needs tidying and then wood barking to match around the corner too.
So that is as far as we have got right now. I would love to add some more plants and flowers for colour but if things carry on as they are there just isn't going to be the budget for that this year. So for now I will just have to make do with tidying what I can. If I can finish clearing all the borders and barking them so they look good before the summer's out I will be happy. I hope you've enjoyed this little look at our garden and that it inspires you to make the most of what you've got even if it isn't perfect!
Lianne x
Pin Our Garden So Far – The Power of Paint to save it for later!