I've got another Layer Cake for you today and I think it is just perfect with spring and Easter on it's way! It's made up of lemon Drizzle cake layers covered in smooth and sweet Swiss meringue buttercream, this Lemon Drizzle Layer Cake is a real showstopper.
This post contains affiliate links, find out what that means here.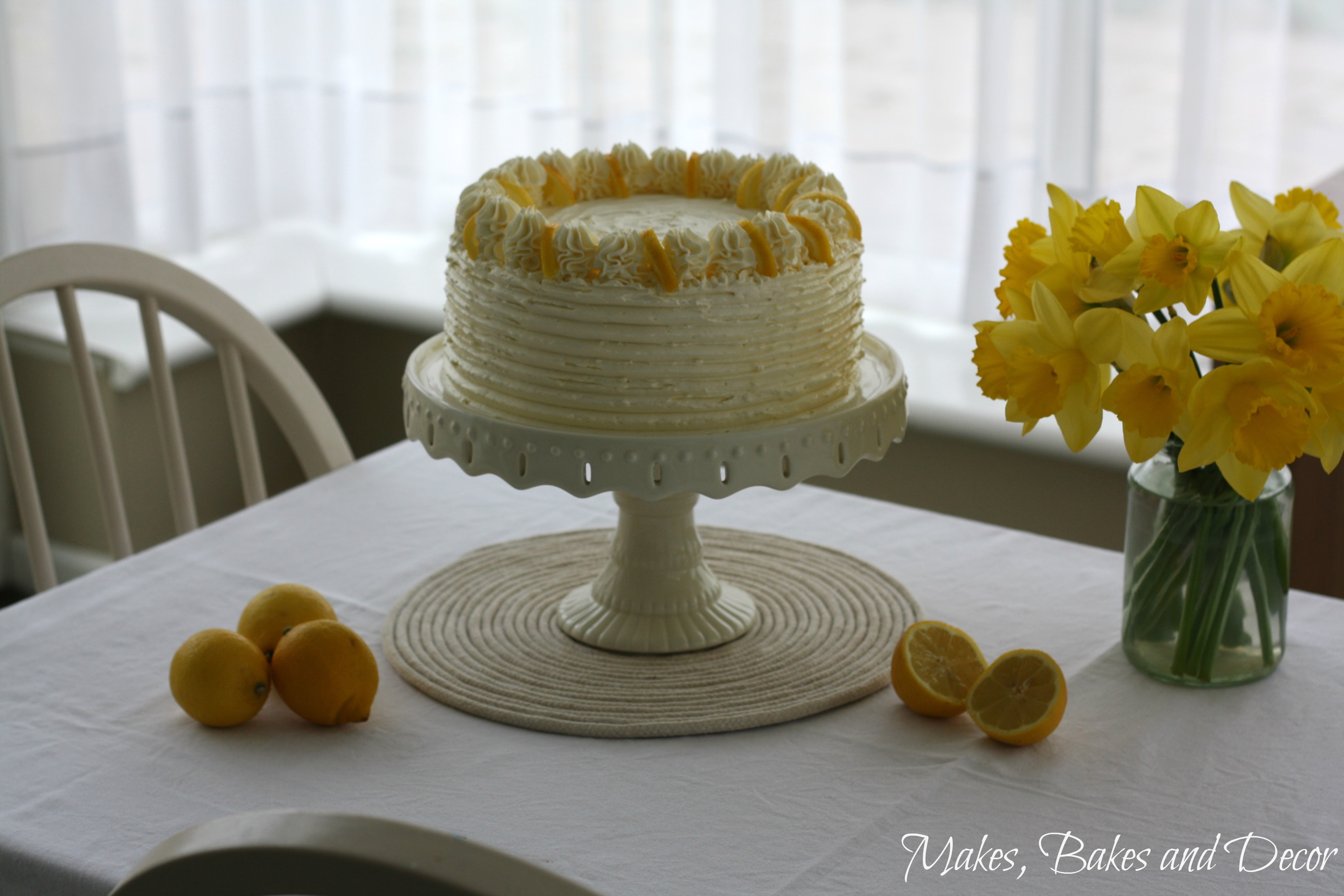 I love the smell and flavour of lemons, and the colour just makes me think of spring. I'm so ready for winter to be over and spring to arrive. We've had a few bright and sunny days so hopefully it's on its way!
The sponge layers in this cake are mildly flavored with lemon and then drizzled in lemon syrup while they are still warm so all that syrupy goodness soaks into the sponge. It makes the cake so moist and gives it a sharper lemon flavour too.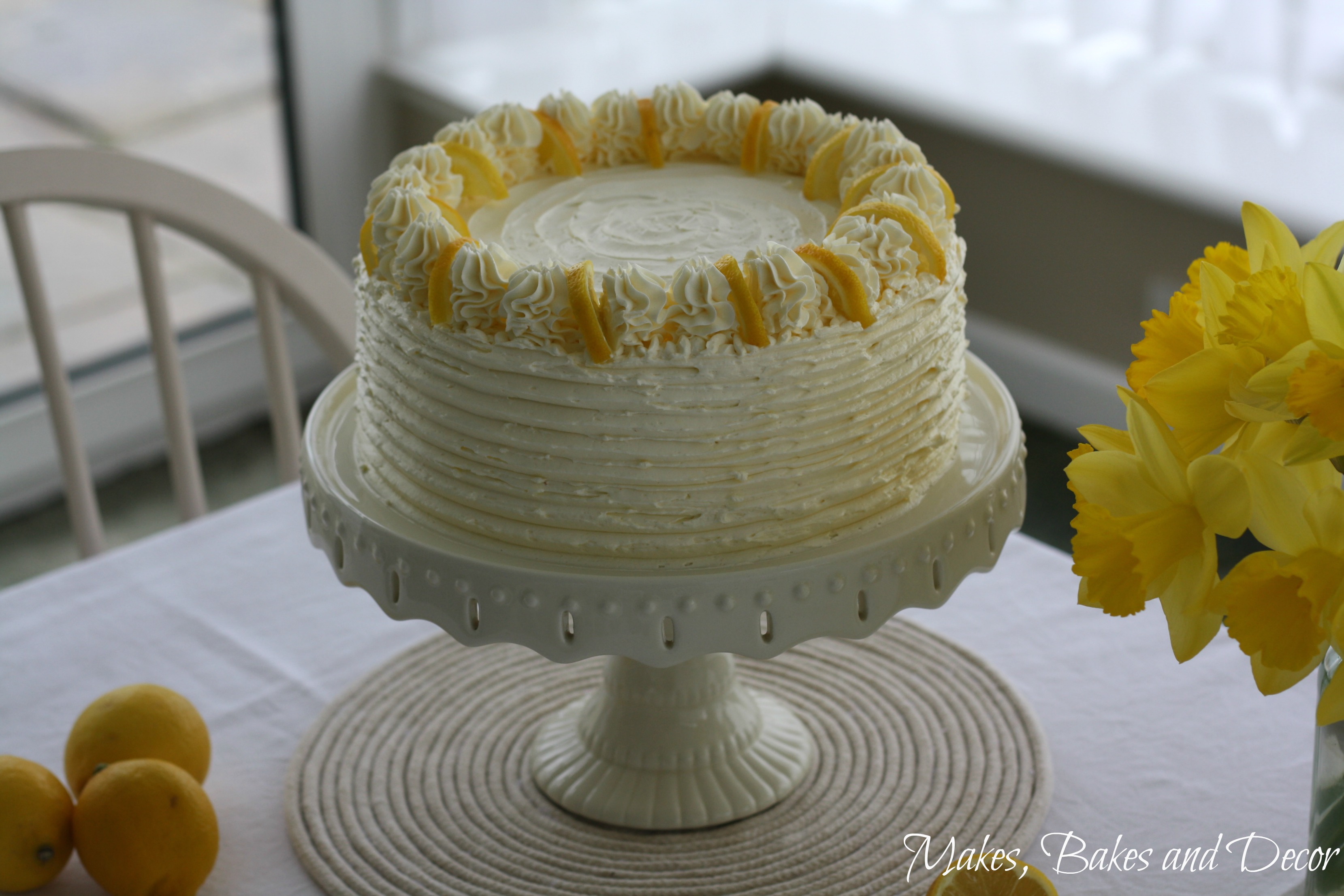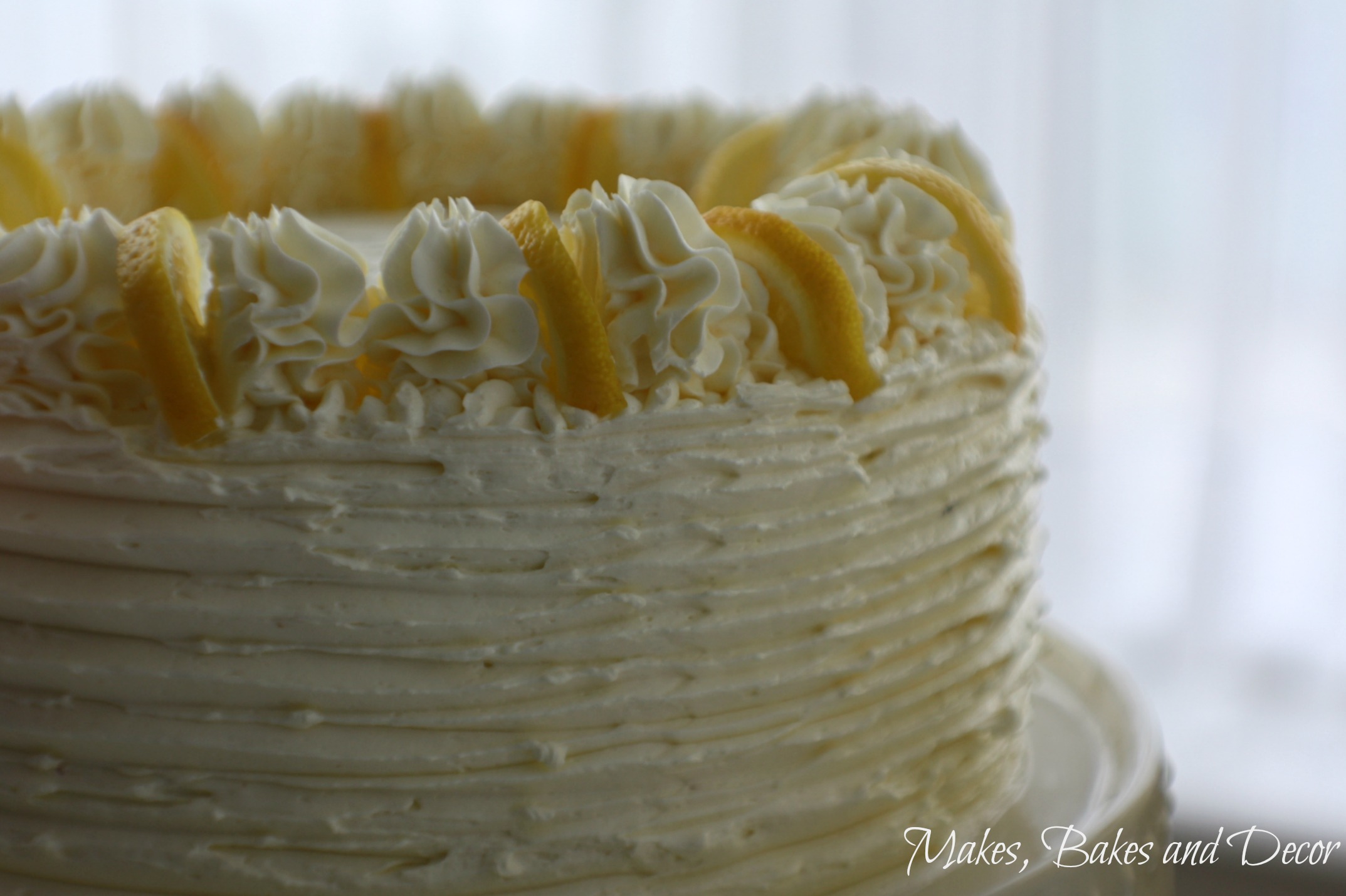 I then used swiss meringue buttercream to cover it, I added a little lemon extract to the buttercream for a little more lemon flavor.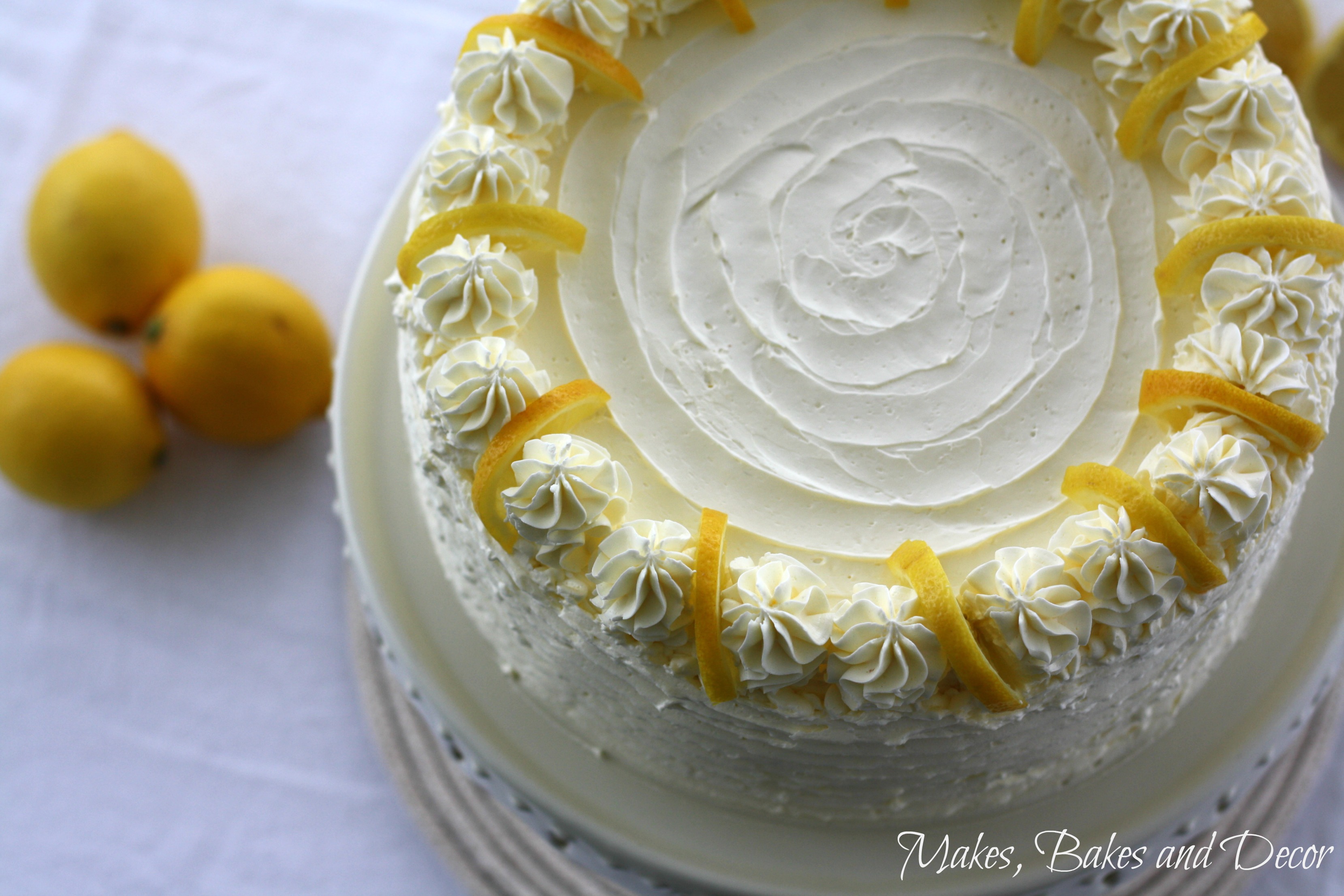 I have a love hate relationship with swiss meringue buttercream! I love how it tastes, it's so much lighter and silkier than regular buttercream. But I have found it challenging to make in the past! I think I've cracked it with this recipe though, I've made it a few times this way and it has worked every time. I think the key is having a stand mixer. Every time I attempted and failed swiss meringue I was only using my handheld mixer. It needs mixing for so long that I was probably impatient and didn't whisk or cool it for long enough. All of my recipes, although I use a stand mixer in my instructions, can be made with a regular handheld electric whisk. In fact my mixer is a reasonably new addition to my kitchen, so I only used a handheld for years. With swiss meringue buttercream though I would say my mixer is essential. 10 minutes of mixing is a breeze if it's hands free but a chore if not!
My Dream mixer! UK and US links
I think this cake is perfect for any time of year but would be great for Easter Day dessert! Let me know your opinions in the comments below and enjoy the Cake!
Lianne x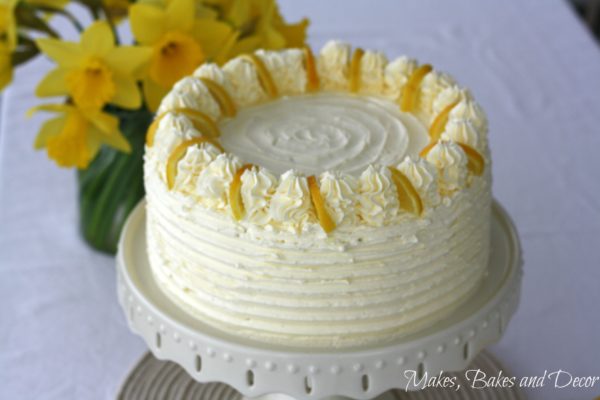 for the swiss meringue buttercream
| | |
| --- | --- |
| for the swiss meringue buttercream | |
Preheat the oven to 170c/150c fan oven and grease and line two 23cm cake pans.

In the bowl of your mixer with the whisk attachment fitted, whisk together the eggs and sugar until they are pale and doubled in size.

Add the milk, lemon zest, lemon extract, and oil and mix on low until just combined.

Remove the bowl from the mixer, sift in the flour and baking powder and fold it into the mixture until it is well combined.

Evenly distribute the mix between the two pans and bake in the oven for 25-30 minutes until a skewer inserted in the centre comes out clean.

While the cakes are in the oven mix together the lemon juice and icing sugar making sure the sugar is all dissolved in the juice.

When the cakes come out of the oven, while they are still warm, skewer the surface of the cakes all over with a knife then pour the lemon drizzle syrup evenly over both cakes, the syrup will soak into the sponge.
To make the Swiss meringue buttercream:
Add an inch of water to a saucepan and heat over a medium heat until it is simmering. In a metal or glass bowl whisk together the egg whites and sugar using a handheld electric whisk, when they are combined place the bowl over the saucepan making a bain marie.

Continue to whisk the mixture while it is over the heat. You need to keep whisking until the mixture is warm to the touch and all the sugar is dissolved. If you feel the mixture between your fingers and it still feels grainy it isn't ready yet, keep whisking! You will need to be patient, it will take 5-10 minutes to be ready.

When the sugar is fully dissolved, remove the bowl from the heat and quickly transfer the meringue mixture to the bowl of your mixer with the whisk attachment fitted.

You now need to whisk on low until the meringue has COOLED COMPLETELY it will take at least 10 minutes.

When the mix has cooled turn the mixer to high and slowly start to add the butter a tablespoon at a time until it's all added and mixed in well. Then whisk in the extract, 1-2 tsp depending on how lemony you want the flavour, taste to make sure you have the flavour right.
Place one cake layer onto your cake board/dish and add a generous dollop of the buttercream, spread evenly over the surface then add the second cake layer on top.

Add enough buttercream to pipe the swirls on top into a piping bag with a closed star nozzle fitted, then use the remaining buttercream to completely cover the cake. You can keep it smooth or I used a serrated smother around the outside. Then take your filled piping bag and pipe swirls all around the outside edge. I then used sliced lemon halves as decoration, adding them between the swirls.

That's it! Your cake is done. This cake would be perfect for easter!
A great way to get as much juice as possible out of your lemon is to heat it in the microwave for 10 seconds and roll it on your counter before cutting and squeezing it!
Equipment I used to make this cake!
UK Links:
US Links:
Pin Lemon Drizzle Layer Cake to save it for later!