So here is my first recipe for #RecipeMakeover! Have you been following along on social media? Don't worry if not as you will find links to all the recipes from everyone that is taking part at the bottom of this post. When thinking about what to share with you for this week I asked myself "what is your favourite dish that you don't eat often because it isn't very healthy?" My answer to that question was Pollo a la Crema! I love that dish so much but as the sauce is cream based I try not to have it. My healthier version of Pollo a la Crema is dairy free and much lower in fat.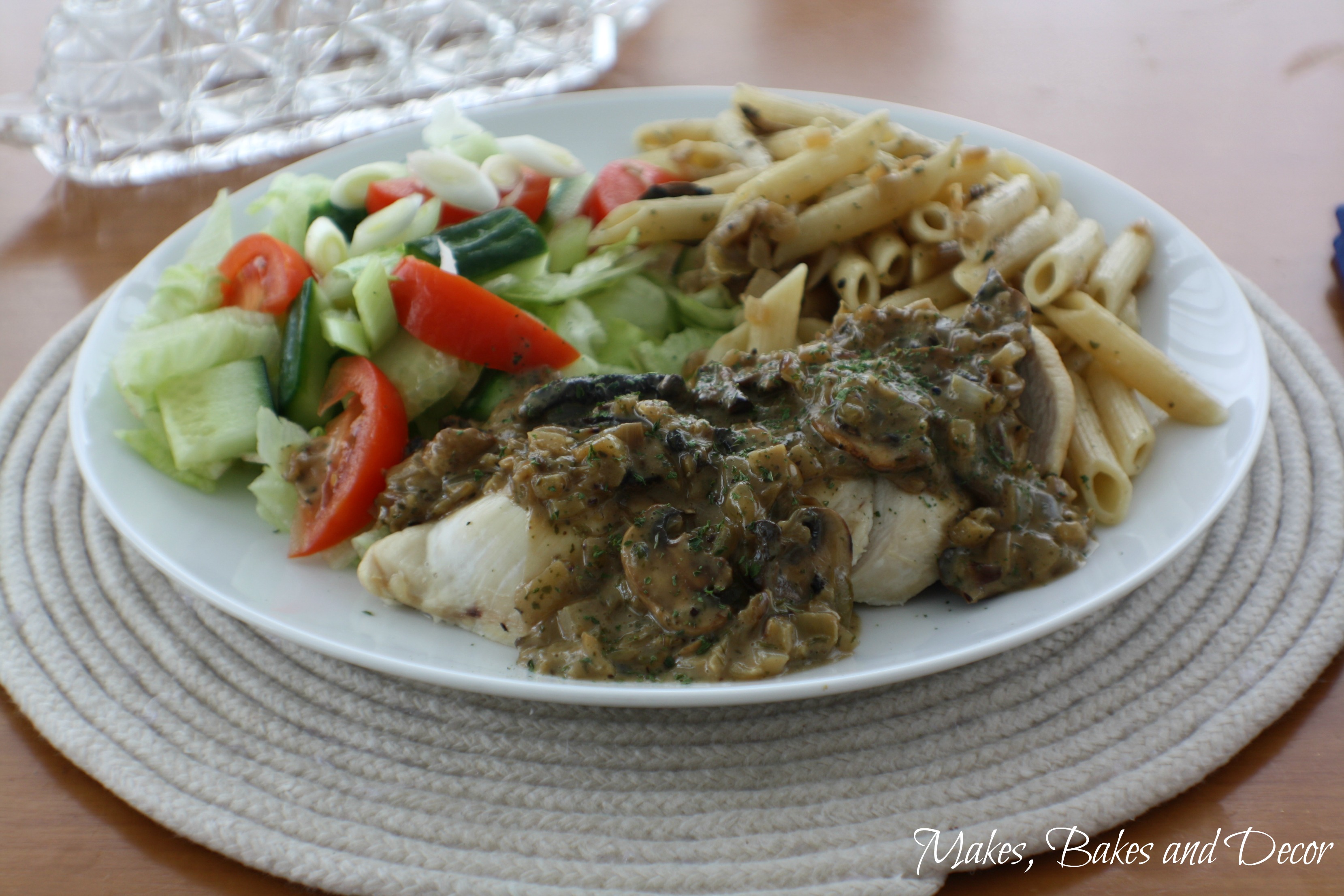 I'm hungry just looking at this photo! Months and months ago when I was following Weight Watchers I had seen a cream substitute made from oats (pictured below) and had wondered if it was any good. So I went on the hunt for it again and found it at my local health food store.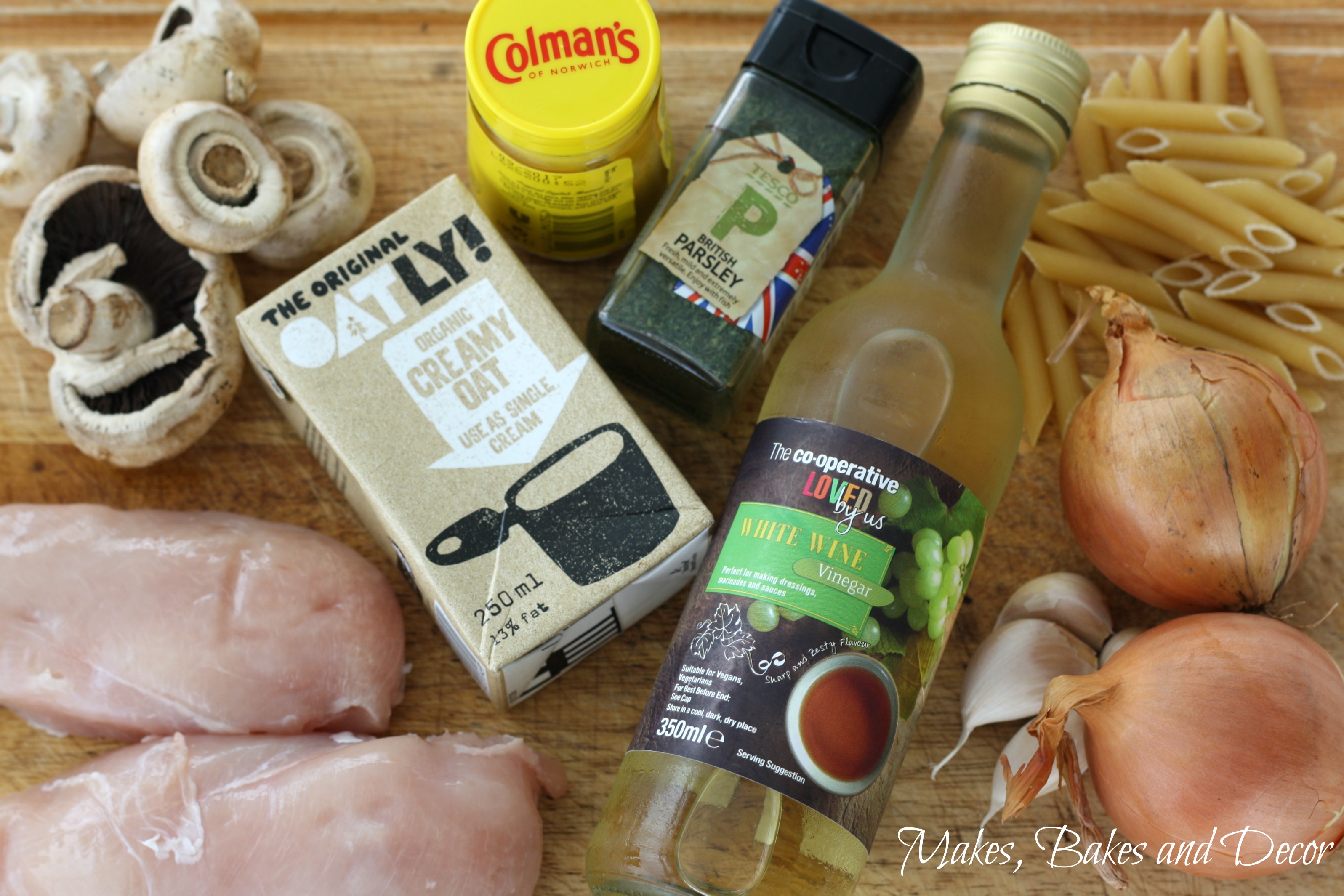 In a pollo a la Crema you would also have dry white wine, I replaced this with white wine vinegar to make it better still.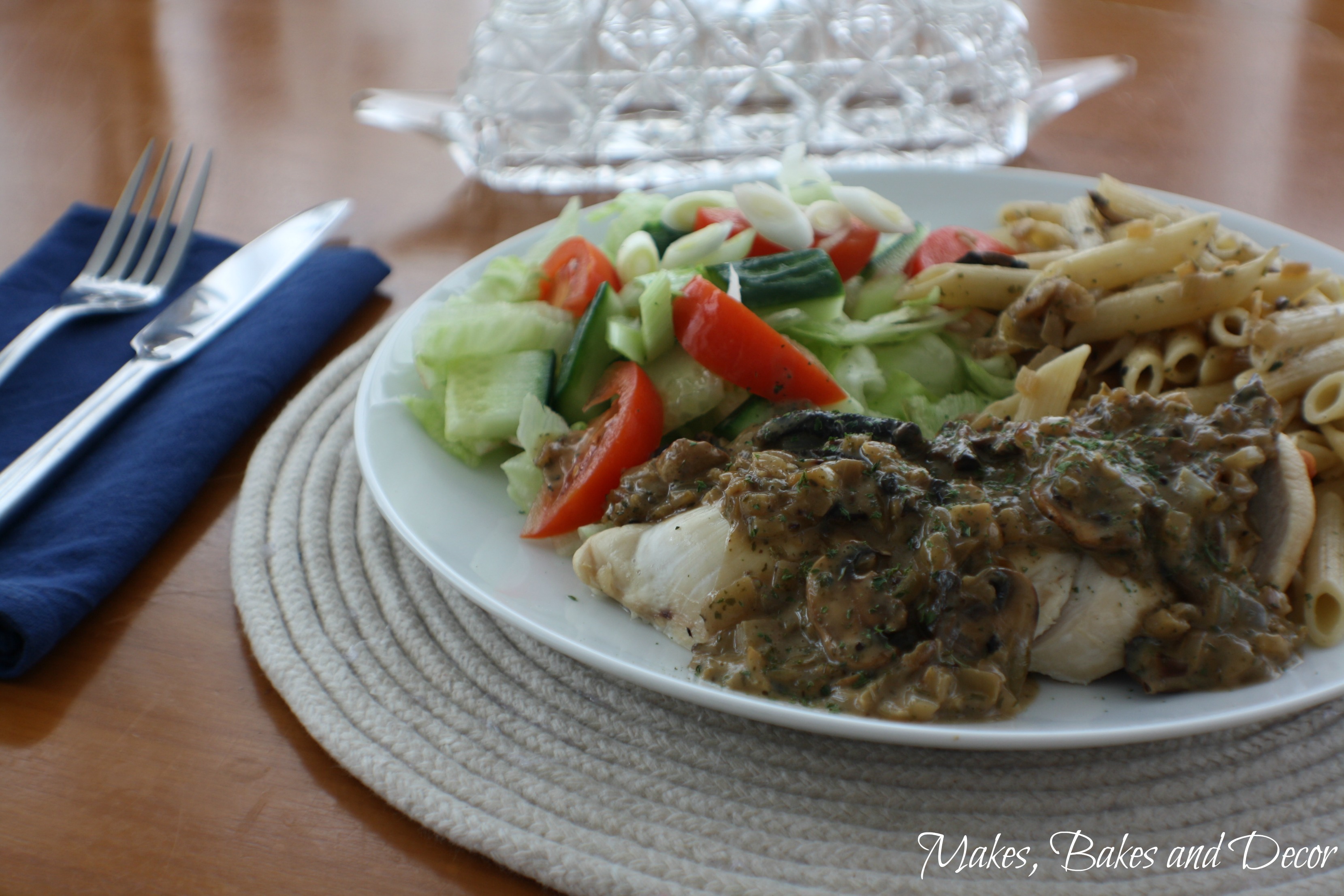 The finished recipe was delicious, even if I do say so myself! Not as creamy as a traditional Pollo a la Crema obviously but still amazing. You have all the amazing flavours of the onion, garlic and mushroom and then you get the little kick from the white wine vinegar and mustard.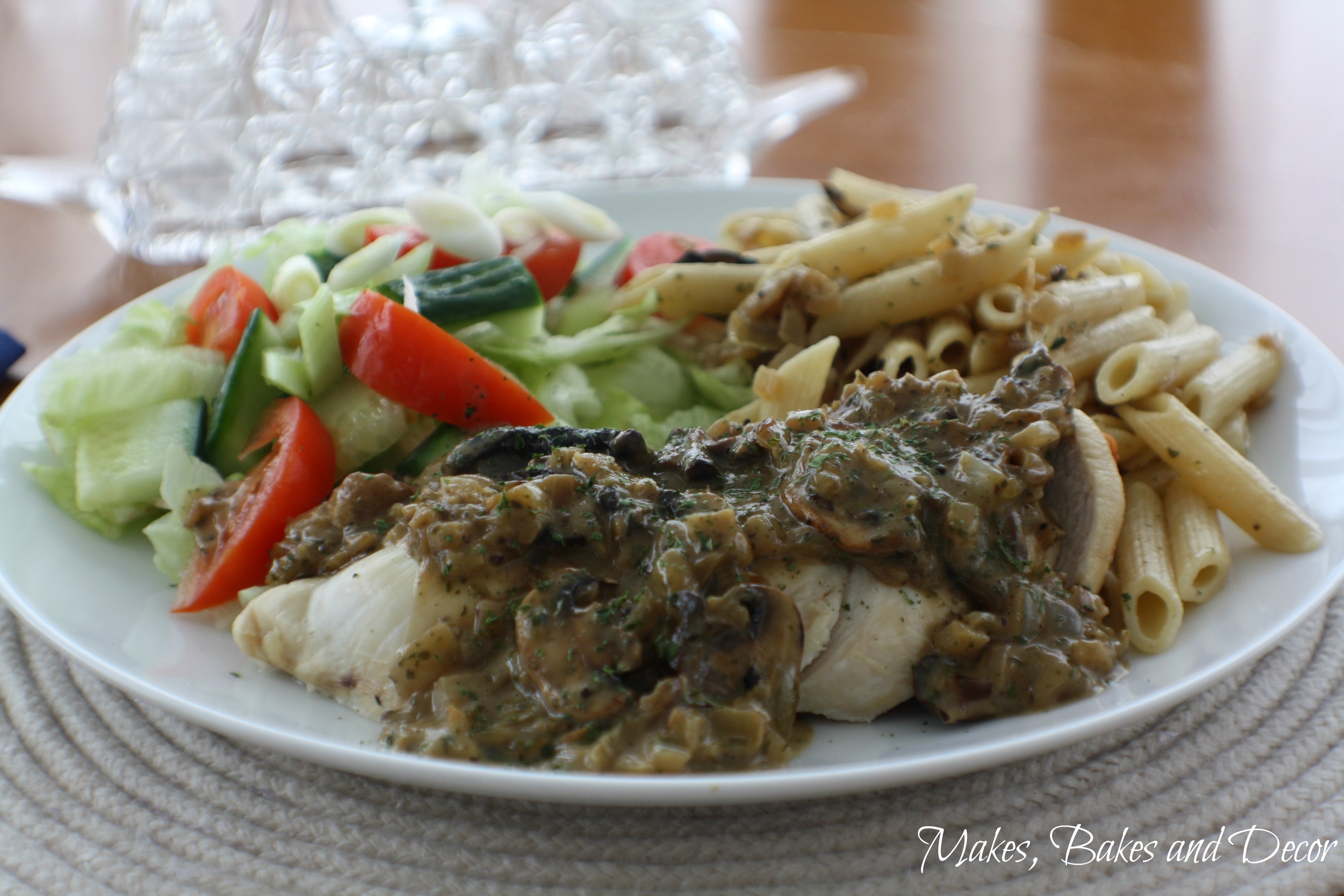 I served my Pollo a la Crema with penne pasta and fresh salad but you could serve it with potatoes and vegetables. My husband usually has his with chips but I don't recommend those if you are trying to be healthier 😉
There is an amazing giveaway from all the brands involved, see what you can win and how to enter below.
Butter-flavored coconut oil and digestive blend from our sponsor Barlean's – Barlean's butter-flavored coconut oil is an organic, dairy-free alternative that can be used as a 1:1 substitution for butter. Their digestive blend is an organic, vegan combination of flaxseed, chai seed, quinoa, unsweetened shredded coconut, and a proprietary pumpkin blend, that is delicious sprinkled into salads, smoothies, oatmeal, and more.
Sampler pack of original, mesquite, and applewood Smokin O's from our sponsor Smokin O's – Instead of frying, choose a healthier cooking option like grilling! Smokin O's is an innovative new product that allows you to add a natural wood taste even if you are using a propane grill, and they work great in charcoal grills and smokers too. No soaking, no mess, no wait – just delicious wood flavoring from a 100% natural product with no binders or chemicals.
4 flatbread pizzas from our sponsor American Flatbread – Choose from any of America Flatbread's 15 all-natural, handmade pizza varieties, available at your local grocery store. These pizzas feature 100% organically grown wheat crusts and are topped with fresh herbs, vegetables, and cheeses (no rBST growth hormone!). They're all-natural, with no preservatives, artificial colors or flavors, and handcrafted from scratch and par-baked in wood-fired ovens.
5 containers (48 oz) of ice cream from our sponsor Turkey Hill – Ice cream for a health food event? Try out their line of no-sugar-added products for a sweet treat without the guilt or their line of light ice creams, which have a rich taste with a fraction of the fat. They also have a rainbow sherbet option, which is Vitamin C and naturally low in fat. These all make great dessert options for special occasions. Turkey Hill also believes in implementing green initiatives to cut down on waste, reduce packaging, and minimize outputs into the environment.
15 tuna creations pouches from our sponsor StarKist – StarKist tuna pouches all have at least 13 grams of protein, and their BOLD line now includes three gluten-free varieties: Tuna Creations® BOLD Thai Chili Style; Tuna Creations® BOLD Jalapeño; and Tuna Creations® BOLD Hot Buffalo Style.
Mueller Spiral-Ultra 4-Blade Spiralizer from blog hosts, The PinterTest Kitchen – this 4-in-1 gadget allows you to spiralize your favorite veggies, and it also has extra attachments for a juicer, mandolin and grater.
This prize pack is valued at over £200, and one lucky winner will get it all! This giveaway is open world-wide except where prohibited. A winner will be randomly drawn on April 29, at the conclusion of #RecipeMakeover, and the winner will be contacted via email.
I hope you love this recipe and all the others from #RecipeMakeover. You can find links to everyone else's delicious offerings at the bottom of the post!
Lianne x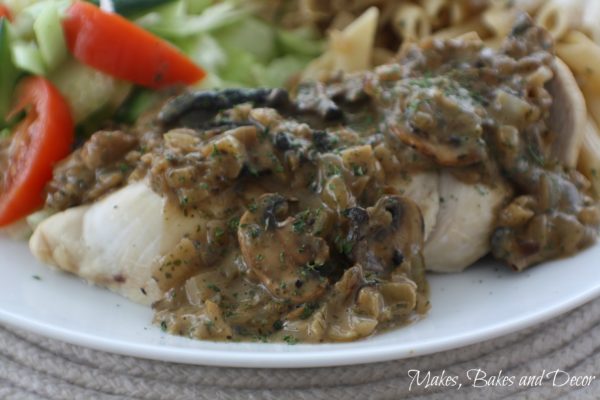 | | |
| --- | --- |
| | |
Preheat your oven to 200c/180c fan oven and roast your chicken breasts for 20 minutes until they are cooked through. Always check that your chicken is properly cooked!

Put your pasta in a pan of boiling water until cooked. It should take 10-15 minutes.

While your pasta is cooking, In a frying pan over a medium/high heat add the oil, onion, garlic and mushrooms and cook until the onions are softened and the mushrooms have a little colour.

Pour in the cream substitute then add your mustard, white wine vinegar and cornflour. Reduce the heat to low and leave to simmer for 5 minutes.

Add the parsley to the sauce and season to taste. Drain off the cooked pasta and then stir in a small amount of the sauce. Just enough to coat the pasta.

To serve put a chicken breast and half the pasta onto each plate and add a side salad if you want to. Then spoon half the sauce over the top of each chicken breast. Add a little more parsley to the top if you want to and enjoy!
Take a look at all the other recipes from #recipemakeover!
Pin Pollo a la Crema – Dairy Free to save it for later!