Hello, hello! How are we all doing? It's been a good few weeks since my last post and it's been a really long time since I shared a recipe. I think the last one was my Retro School Tray Bake back in January but today's recipe is a good one if I do say so myself. I know you all love a cheesecake and this one was delicious! A Cadbury Flake no bake Cheesecake, yes Please!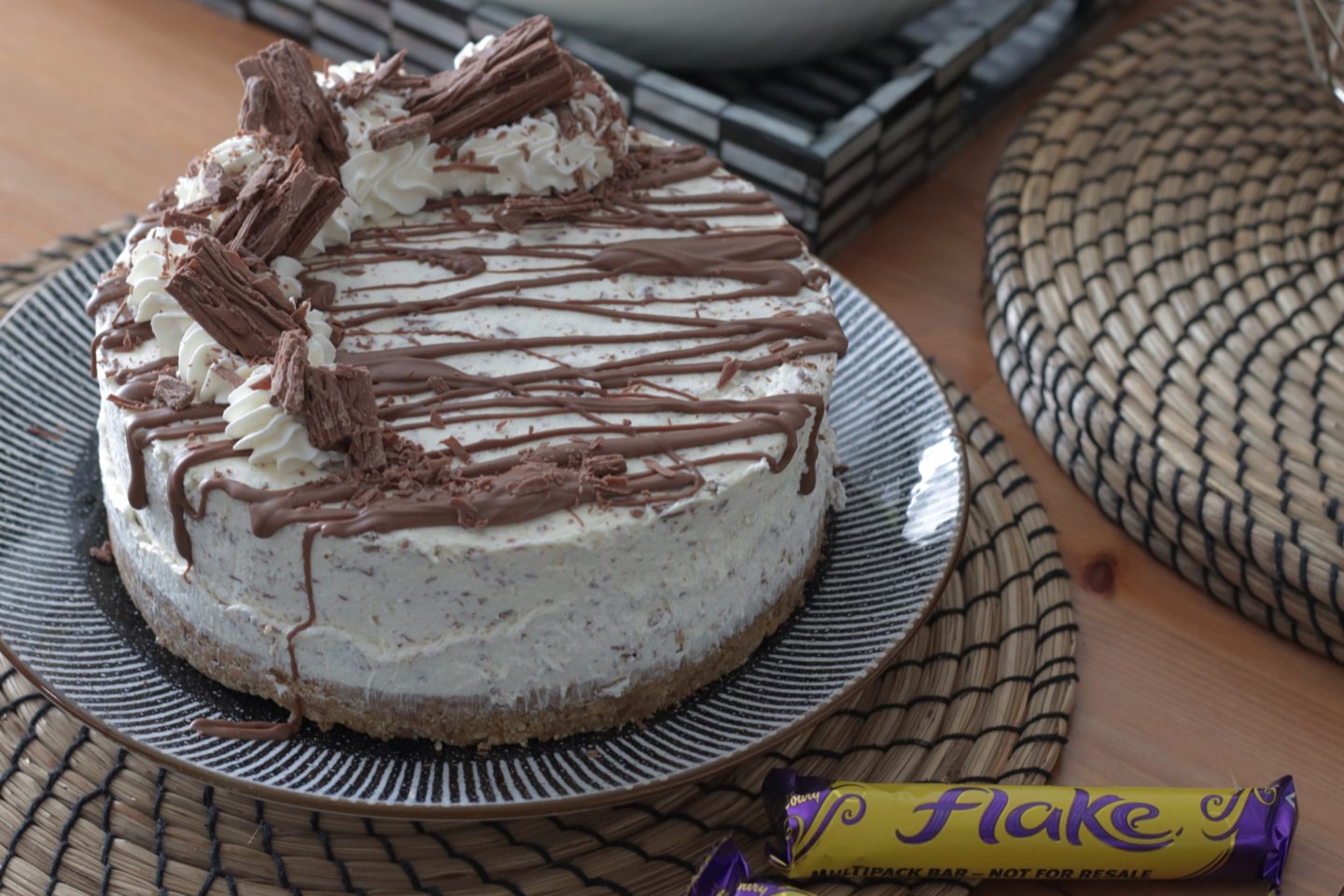 Let's have a little catch up shall we? So life has been going back to 'normal' here. We can now meet up inside in groups of 6 and can meet up outside in groups of 30. So we've been going out a little more. Meeting friends, seeing family and it's been lovely but also tiring! I'm just not used to all this socialising :D.
Work has also been busy, I've had so many orders for Makes, Bakes and Decor cakes and I appreciate every single one so much! One thing that I really need to do is update the website with my latest cakes. I've not put any new ones on for so long but I do regularly share on my Cakes Instagram page if you wanted to have a look.
All of this is why it's been so long since there has been a new post up. I've got a backlog of things and projects that I want to share but just haven't had time to sit down and write it up for you. This Cadbury Flake no bake cheesecake being one of them!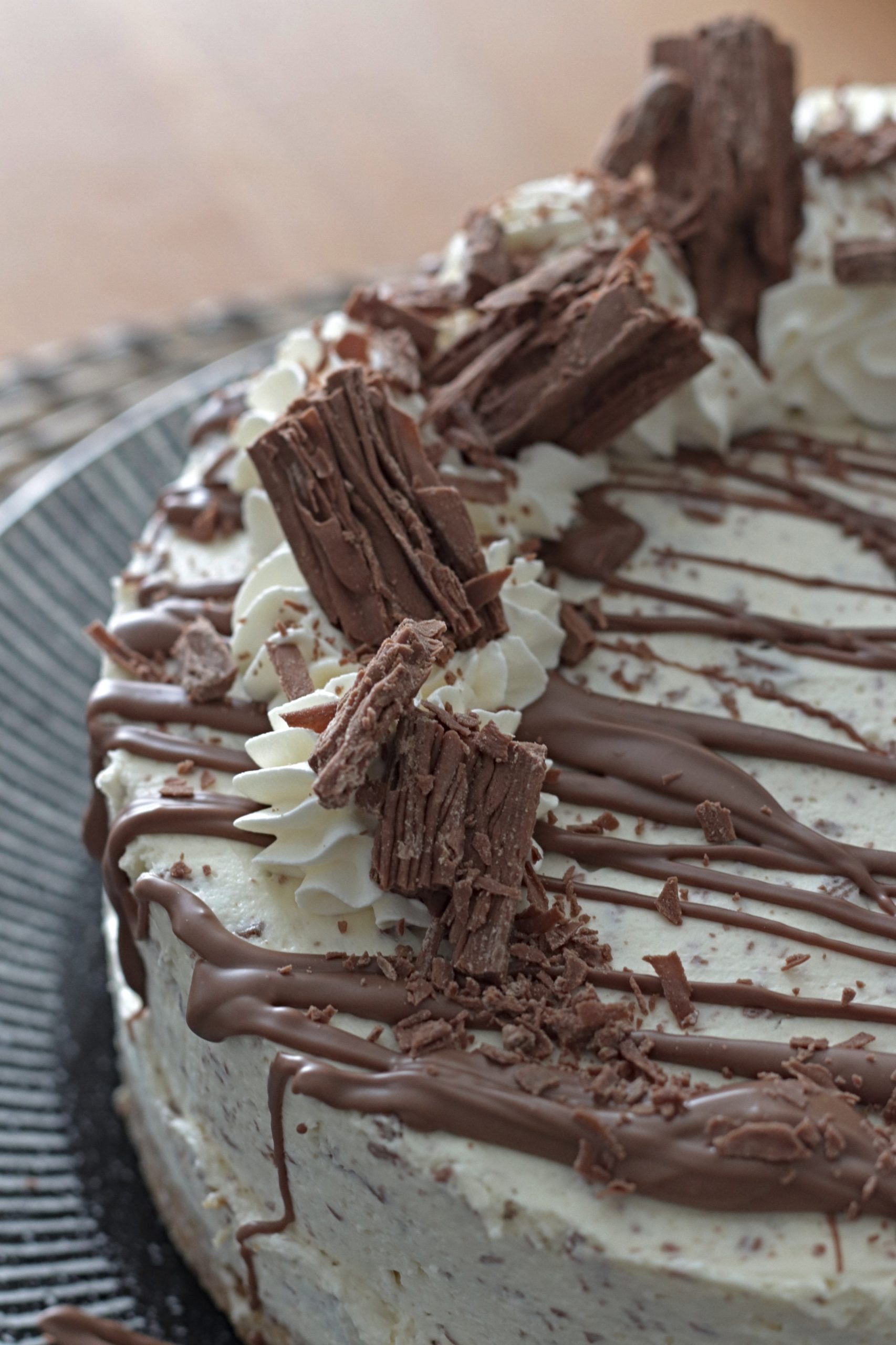 Back to the cheesecake. It has a digestive base with crumbled up flakes mixed in which I think really adds to the taste of the base. Then there are more flake pieces folded into the cheesecake mix so that you get little flakes of chocolate in every bite. I decorated the top with a milk chocolate drizzle, whipped cream and of course, more flakes.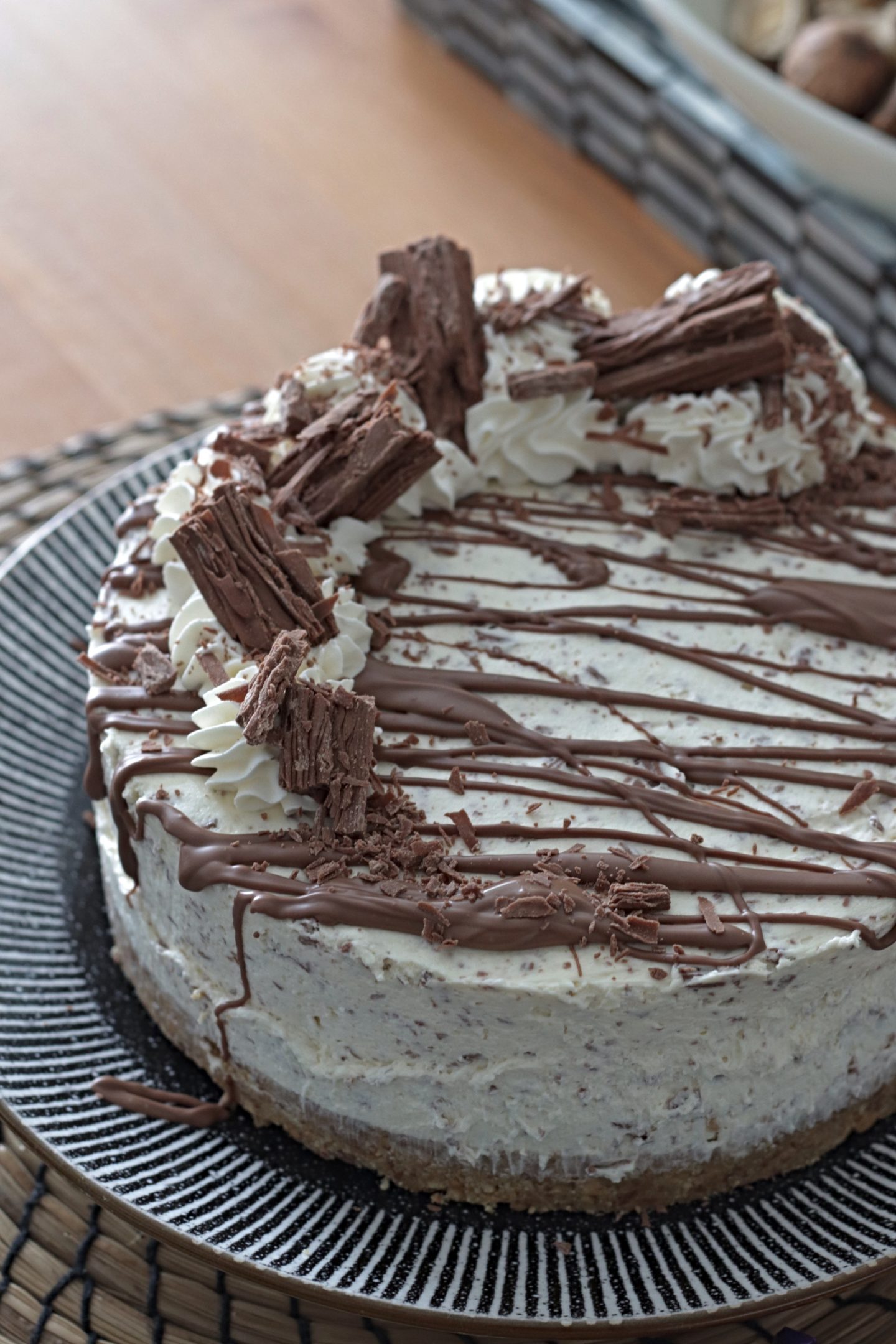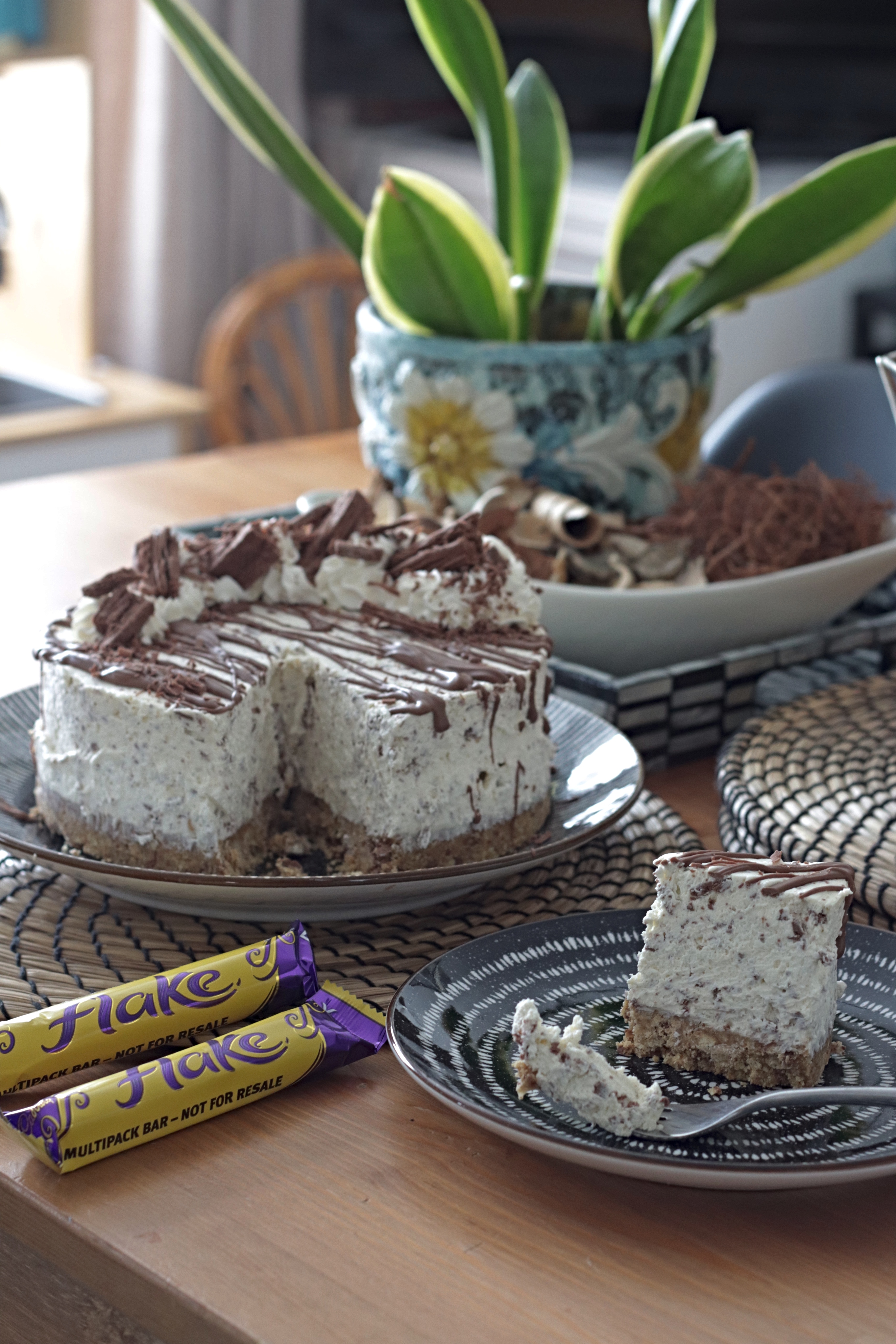 For the cheesecake mixture I've used my standard go to cheesecake recipe that I use as a base for most of my no bake cheesecakes. I just think it's the perfect amount of sweet from the icing sugar, lightness from the cream and tang from the cream cheese. You will probably want to check out my Lotus Biscoff Cheesecake after you have made this one!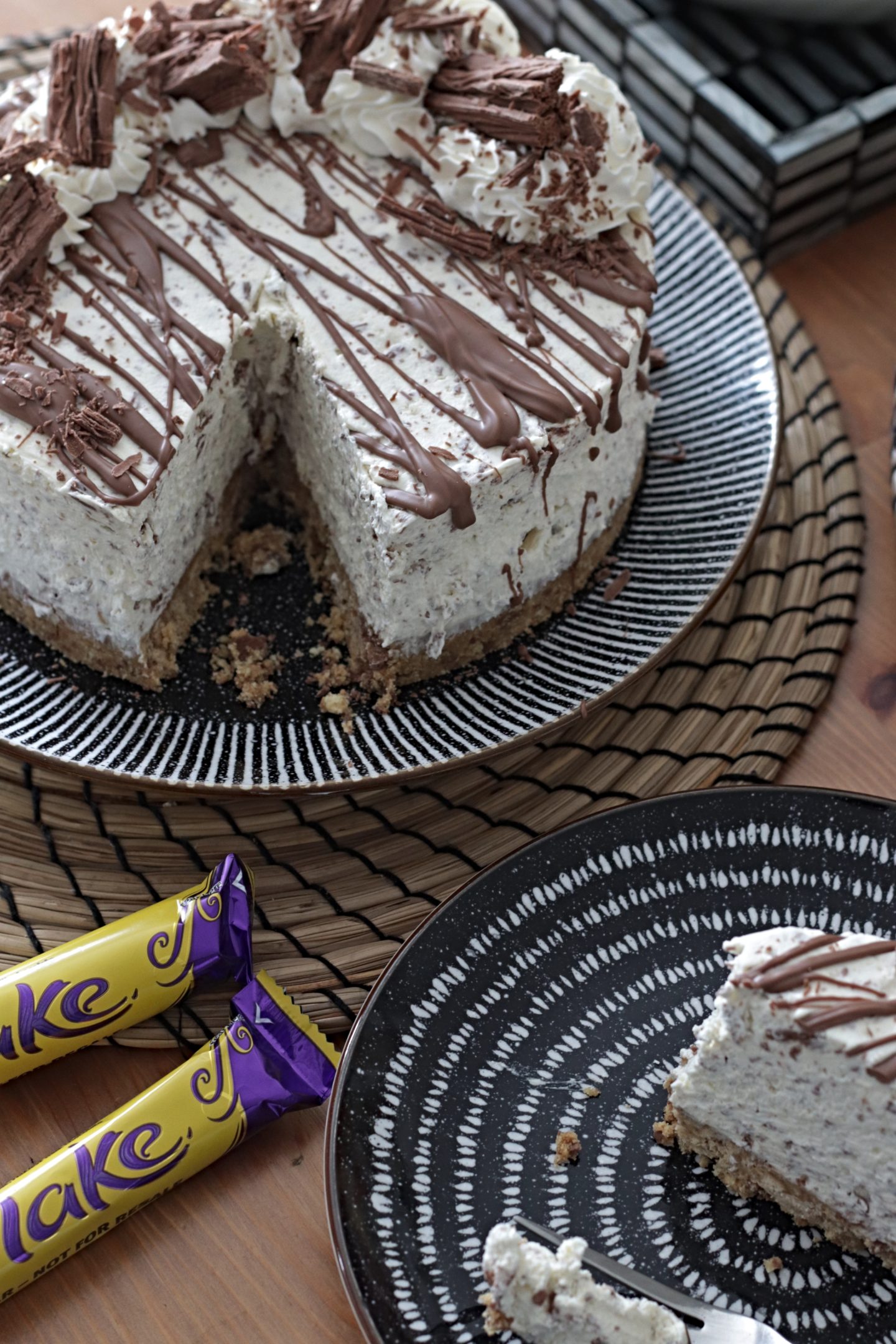 Here are some items that might help you make your Cadbury Flake no bake cheesecake
These are affiliate links, find out what that means here.
I make this in a deep 8 inch pan but you could make it in a 9 inch for a bigger but shorter cheesecake. And of course, I love decorating things and have piping bags and nozzles etc but you don't need these to make it taste good! You can spread the cream on the top with a knife and sprinkle on the flakes and it will taste exactly the same!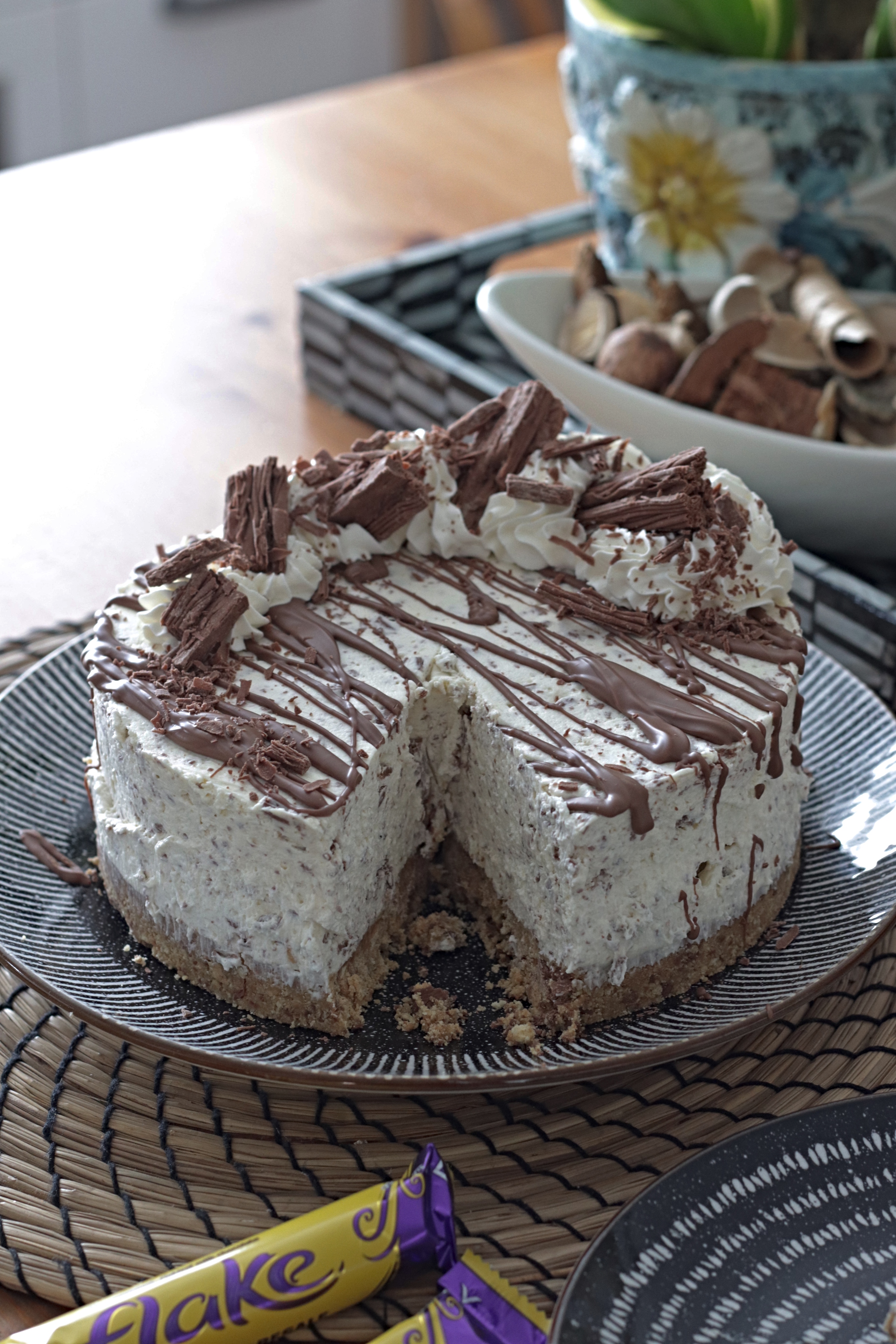 I'm pretty sure that I have waffled on for long enough now so I'll stop and leave you with the Cadbury Flake no bake Cheesecake recipe. I hope you love it and don't forget to share it on socials, you can find me on Instagram and Facebook.
Lianne x
Cadbury Flake no bake Cheesecake
Ingredients
For the base
250

g

digestive biscuits

40

g

Cadbury flakes

This is 2x multi pack flakes

120

g

melted butter
For the cheesecake filling
500

ml

double cream

130

g

icing sugar

400

g

cream cheese

120

g

Cadbury flakes

this is 6x multi pack flakes
To decorate
100

ml

double cream

40

g

Cadbury flakes

this is 2x multi pack flakes
Instructions
To make the base
Crush your digestive biscuits until they are crumbs. You can use a food processor but I just put them in a bowl and bash them with the end of my rolling pin.

Once crushed stir in your melted butter and mix until fully combined.

Crumble your flakes into this mixture and fold together. Take an 8 inch loose bottomed tin, I add a circle of parchment paper to the base so it's easier to get out later, and tip the biscuit mix into it.

Use the back of a spoon to press down the biscuit mixture into the base and then put into the fridge to chill.
To make the cheesecake mixture
Pour your double cream into a mixing bowl or the bowl of your stand mixer and whip until stiff peaks form.

Sift the icing sugar into the whipped cream and fold it in.

Add your cream cheese to the mixture and again fold it in until fully combined.

Lastly, crumble up your flakes and fold these into the mixture too.

Get your base from the fridge and spoon your cheesecake mix on top. I like to add half, spread it out smooth and then add the second half. Smooth out the top, neaten up the edges and return your cheesecake to the fridge. You must leave it at least 6 hours to set but overnight is best.
To decorate
Take your cheesecake from the fridge and run a knife around the outside edge. Place a glass on your counter and sit your tin on top. Slowly push down on the edges of your tin so that it comes away and leaves your cheesecake on the base, sat on the glass. Carefully remove the base of the tin and put your cheesecake on a serving plate.

whip up your double cream until stiff peaks form and place to one side.

Melt your chocolate, I use the microwave and heat for 15 second intervals, stirring between each one. Use a spoon to drizzle the melted chocolate over the top of your cheesecake. How you do this is completely up to you. I just did simple lines and let some drip over the edge.

If you are using one, add your whipped cream to a piping bag with an open star nozzle. Again, you can pipe this on however you choose. I always like an asymmetrical pattern but you could put swirls around the outside or if you haven't got a piping bags even just a dollop in the middle.

The last step is to decorate with your remaining flakes. You can break some into chunks and crumble bits up too. Place them on top, cut a slice and enjoy!
Pin my Cadbury Flake no bake Cheesecake recipe to save it for later!