This Renter Friendly Bathroom Makeover has been a loooooonnnnnggggg time coming! We started working on the bathroom around July 2020 and it's been finished for a good six months now. Life has just been so busy that writing for the blog has just been put on the back burner.
You may remember that I wrote a post about our rented bathroom plans that included all the before pictures and some inspo pictures outlining what I wanted to acheive in this space. If you haven't read this already I would reccomend that you give that a read first. But I will also refresh your memory with a couple of before pictures now.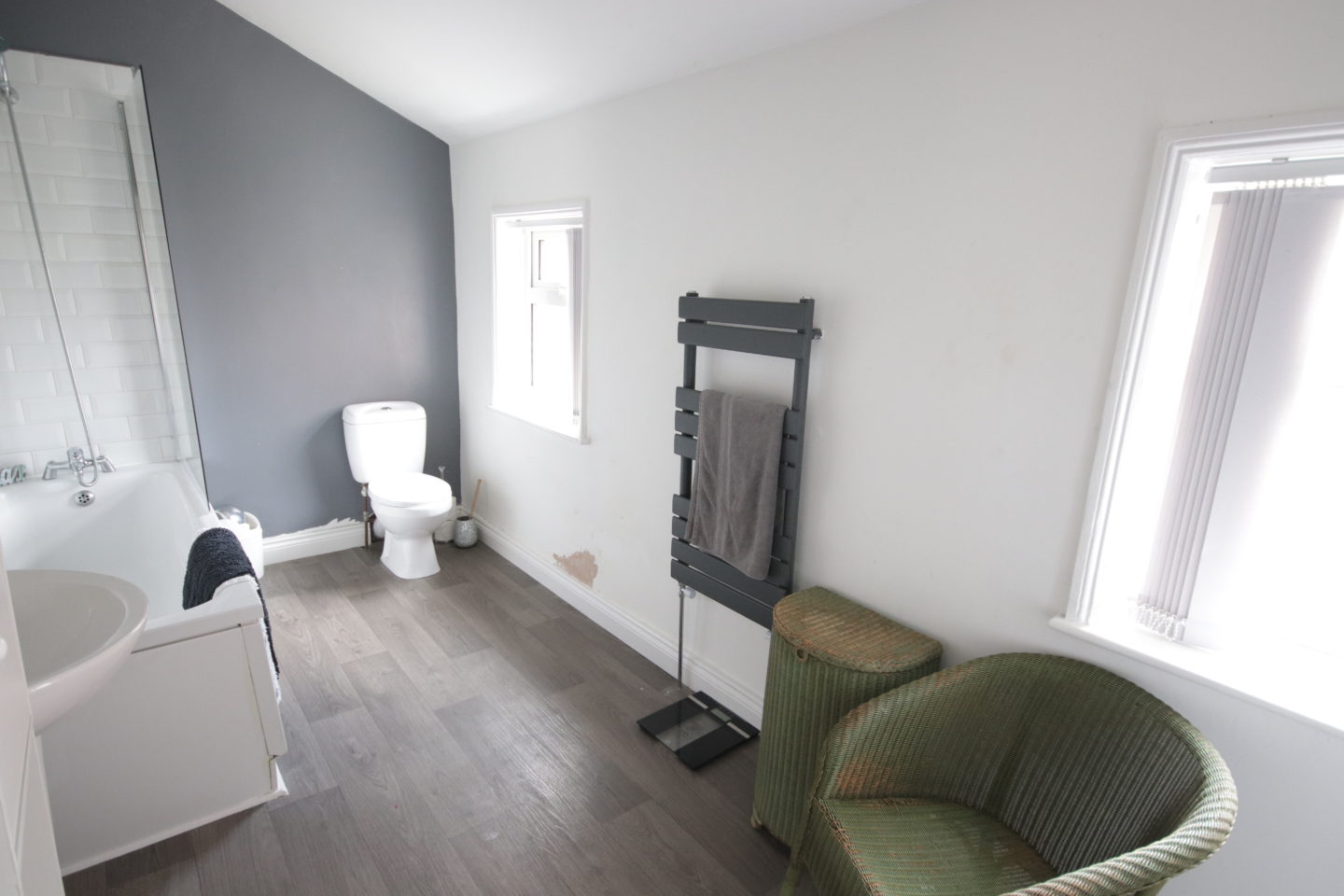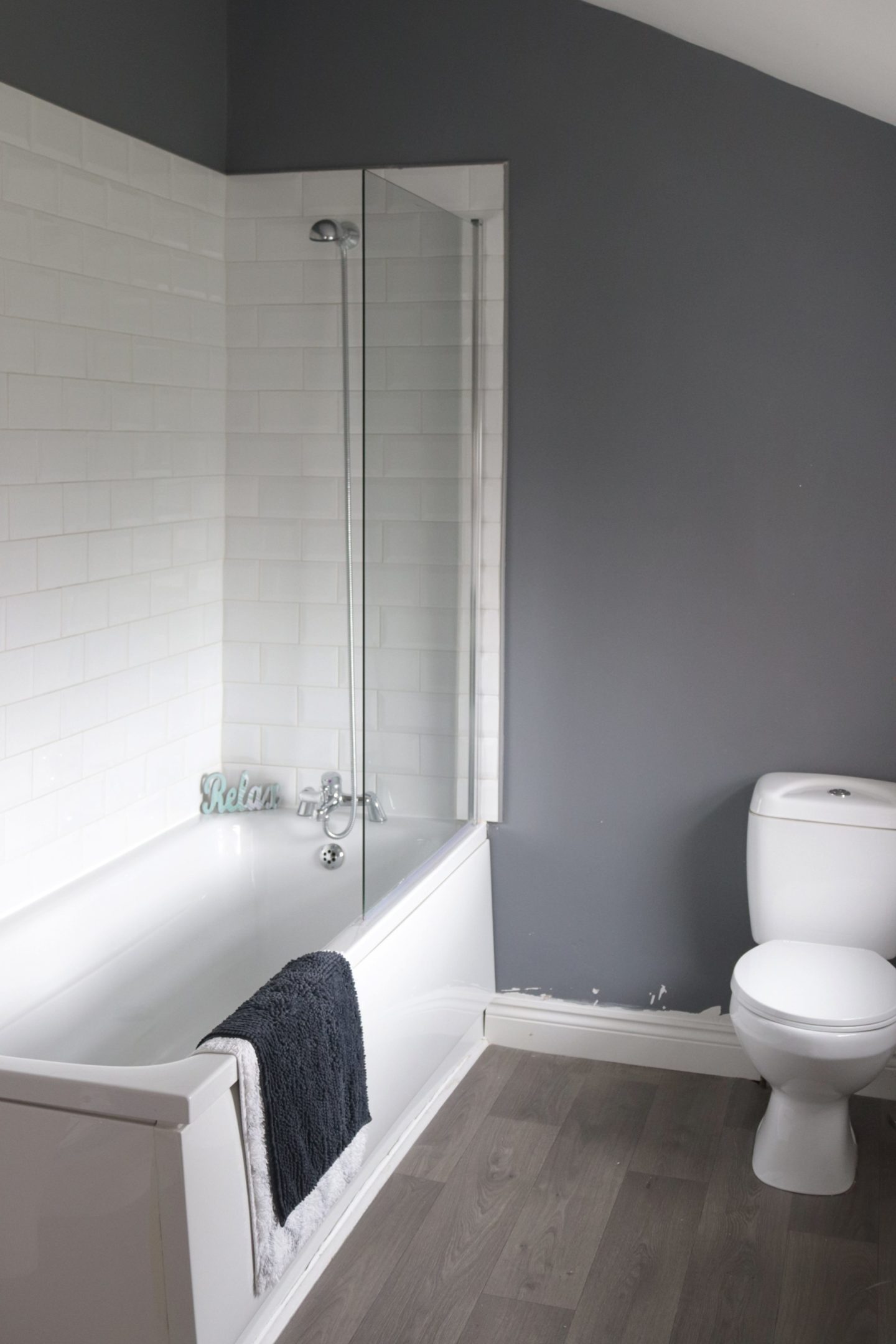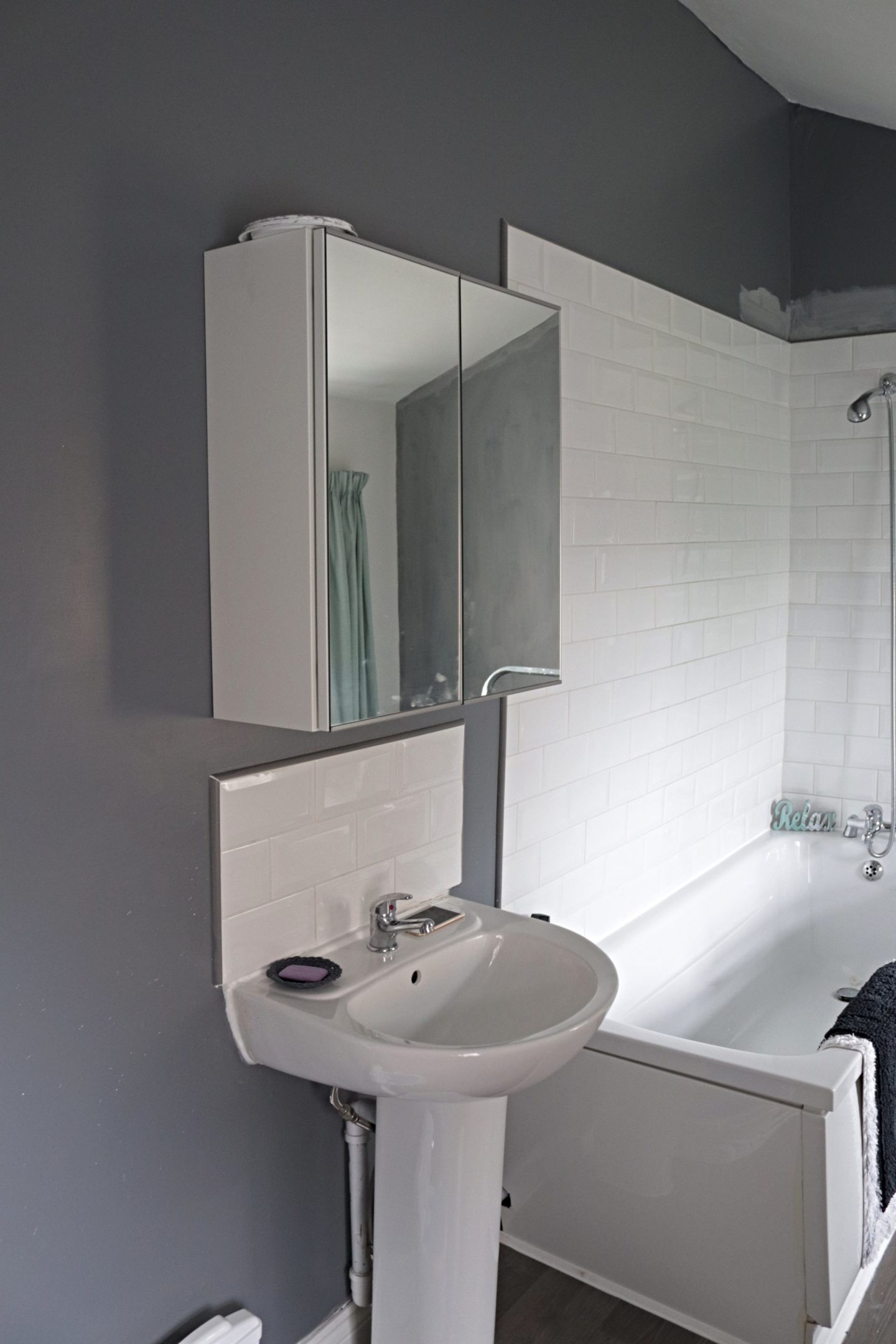 Wow! I'd forgotten how bare and sad it looked myself! It can be challenging putting your own stamp on a rental bathroom but we are lucky enough to have a clean white suite and white subway tiles in this house. Our last home had a peach suite with peach carpet and some of you may remember how the small toilet looked before we redecorated, blue everything!
We had some painting work to do as there was some damage on both walls but really this room was just a case of adding some styling. So here is what we did for our Renter Friendly Bathroom Makeover!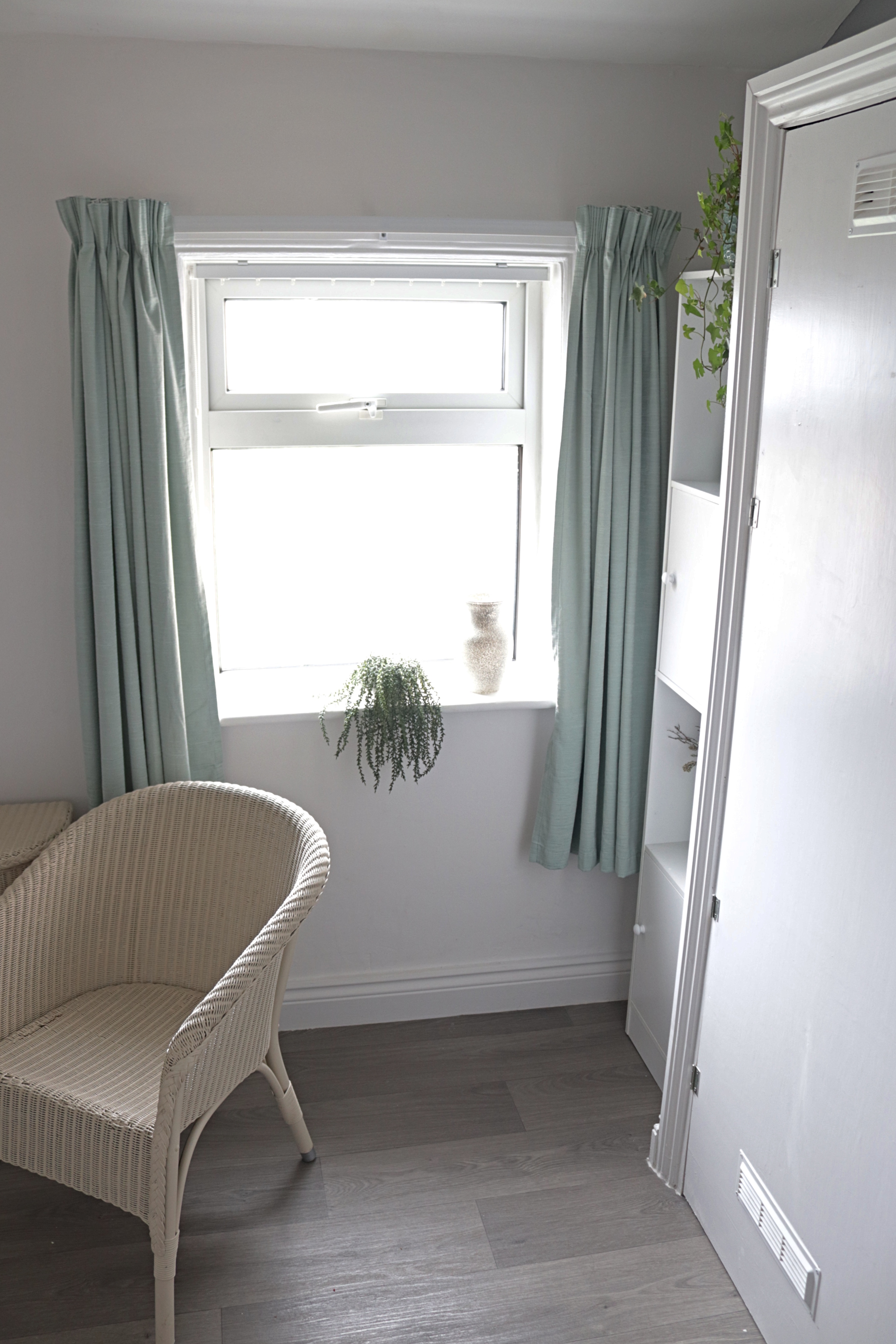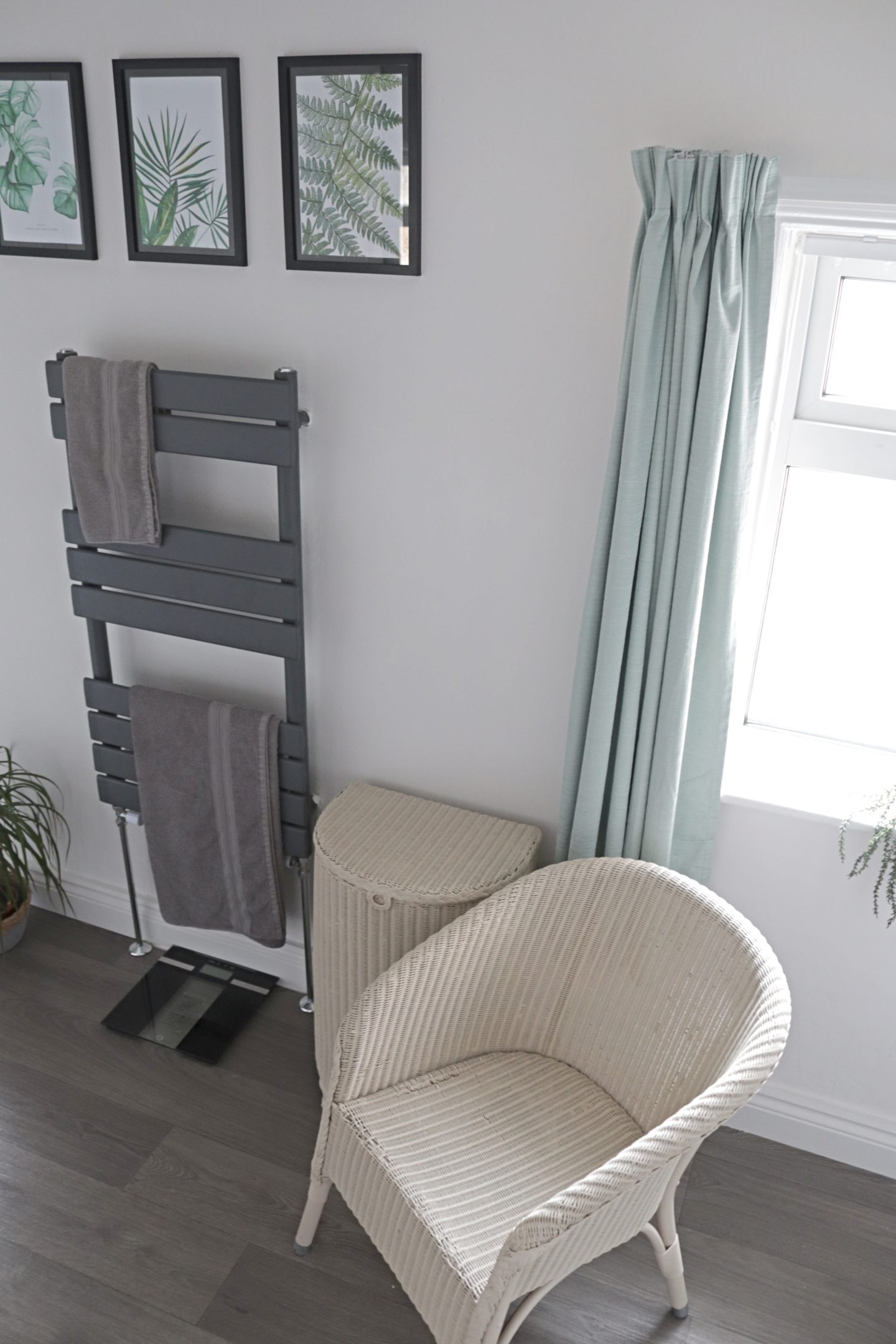 As you come into the bathroom there is a built in cupboard to the right that has the boiler in and there is a gap between it and the wall. We purchased a tall thin cupboard to fit in this gap that gives us some extra sorage but also some shelves to style. This wall had a fresh coat of white paint (Wilko bathroom paint in Chalk white) and we also painted the chair and wash box. I inherited these from my Nan and they were looking old and tired but I just used some old bathroom paint that we had in the shed and they look great now. We now have some curtains hanging at the windows. We utilised the pair that we already had from the before mentioned small toilet and we managed to pick up a second pair on sale. We were lucky that the shop still stocked them! On the window sill is a vase that I picked up for a pound from poundland and sprayed with rustoleum stone effect paint and one of the DIY Artificial plants that I made.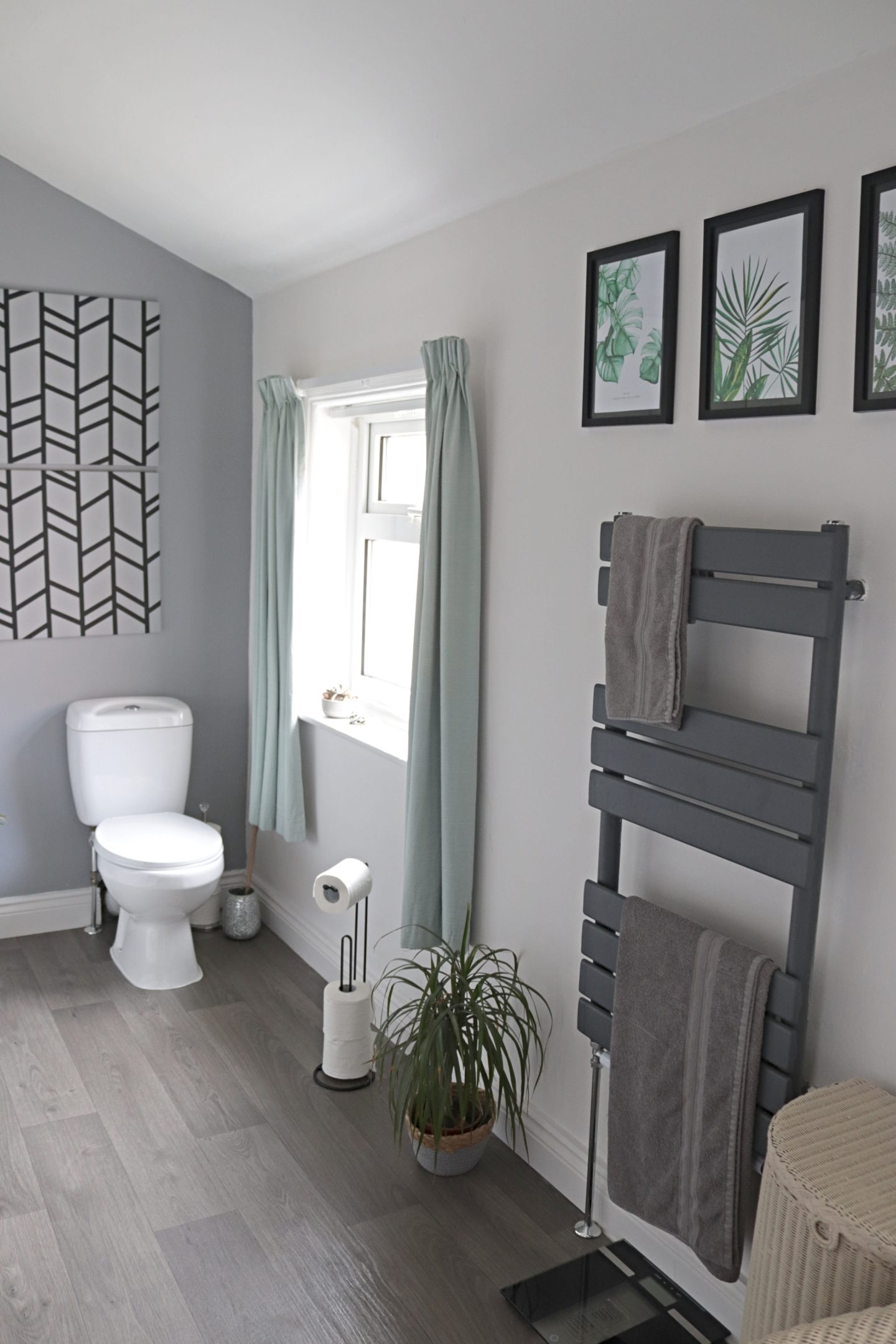 As you move around the room you can see the three prints on the wall. These are all free printables and I found all of the links for them at Foxandhazel.com. I placed them in simple black frames that came in a pack of three from B&M. The grey basket also came from B&M and I think the plant may have come from there too but we have had that a while now. We didn't want to drill any holes into the wall for a toilet roll holder so I found this free standing, matt black one in Home Bargains. The toilet brush holder and toilet roll holder next to the toilet are both from Wilko that we owned from the small toilet in our last home. A small thing that you might not notice at first glange is that we added pipe covers and collars to the radiator and toilet pipe. It just gives them a much cleaner finish for only a few pounds.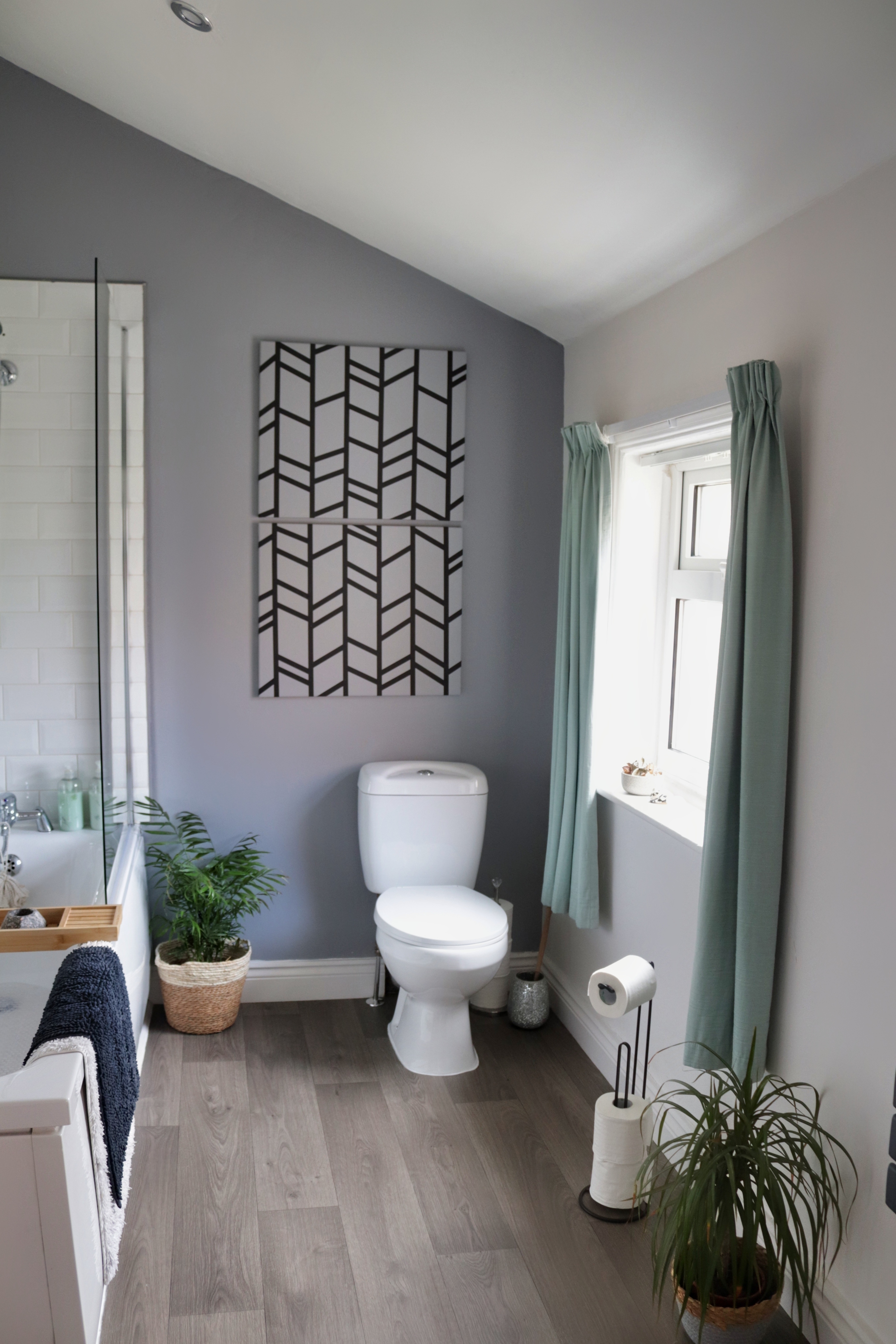 I love the washi tape feature wall that I created for our under stairs area that I wanted to create another one in this room but because this is a bathroom the wall get wet from steam and I wasn't too sure how washi tape would hold up on the wall. So I purchased 2 large canvases from Home Bargains, painted them in the wall colour and added the black washi tape to the canvases instead. I think this is a great renter friendly way to add a feature wall. You could add more canvases to fill the wall and hang them using command strips so there isn't any wall damage.
Although the walls were already grey in here, the paint was damaged and needed repainting so we decided to go for a lighter shade. This is such a dark room, especially in the winter and it has made a big difference. Instead of buying new paint we just used left over kitchen paint in the shade Mineral Stone from Wilko.
On the window sill is just a small bowl that I spray painted in the rustoleum stone paint to match the items on the other window sill. It's filled with pot pourii and there are also two beautiful shells that I purchased from my favourite home decor store in Skegness, Home FX. It's such a lovely shop with gorgeous items in but they have no website or social media pages, I'm not sure why but they are definitely worth a visit if you are ever in Skegness.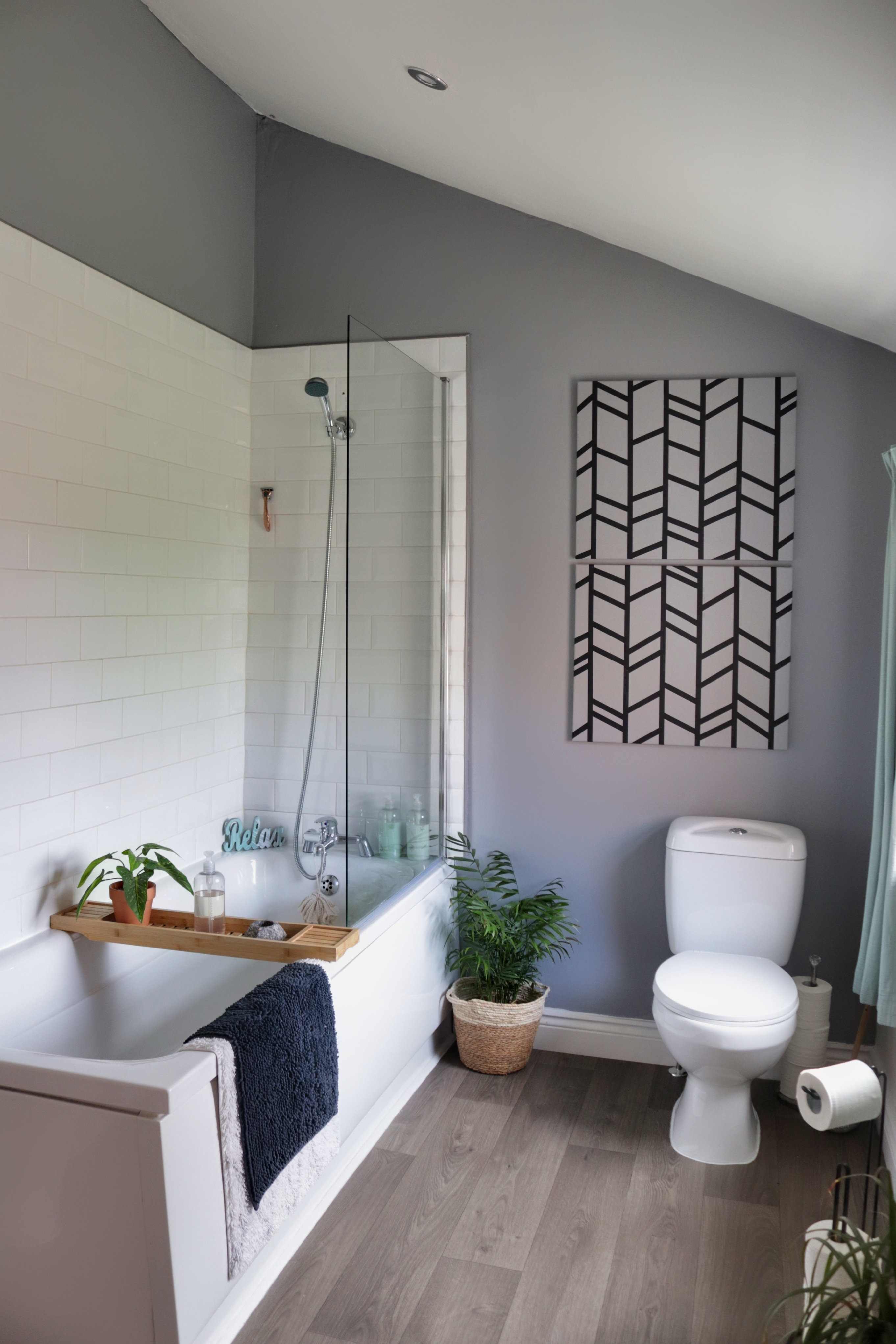 Moving around to the bath area we have some more B&M bargains with the real plant on the floor, the basket it's in, the bath tray, the faux plant on the bath tray and the small grey tealight holder all coming from there. I really love a bath tray as an easy way to add some simple styling to the bath. A candle, a plant or a fancy bottle of bubble bath on there can make such a difference.
I've added my Function of Beauty shampoo and conditioner (you can get 25% off your first order with this link) bottles to the side of the bath, I always get mine in green to match the bathroom. And then there is the relax sign which was a poundland hack that I made a couple of years ago now. Lastly in this area are the bath mats, The white with grey diamonds one is from Home Bargains and the dark grey one from Tesco.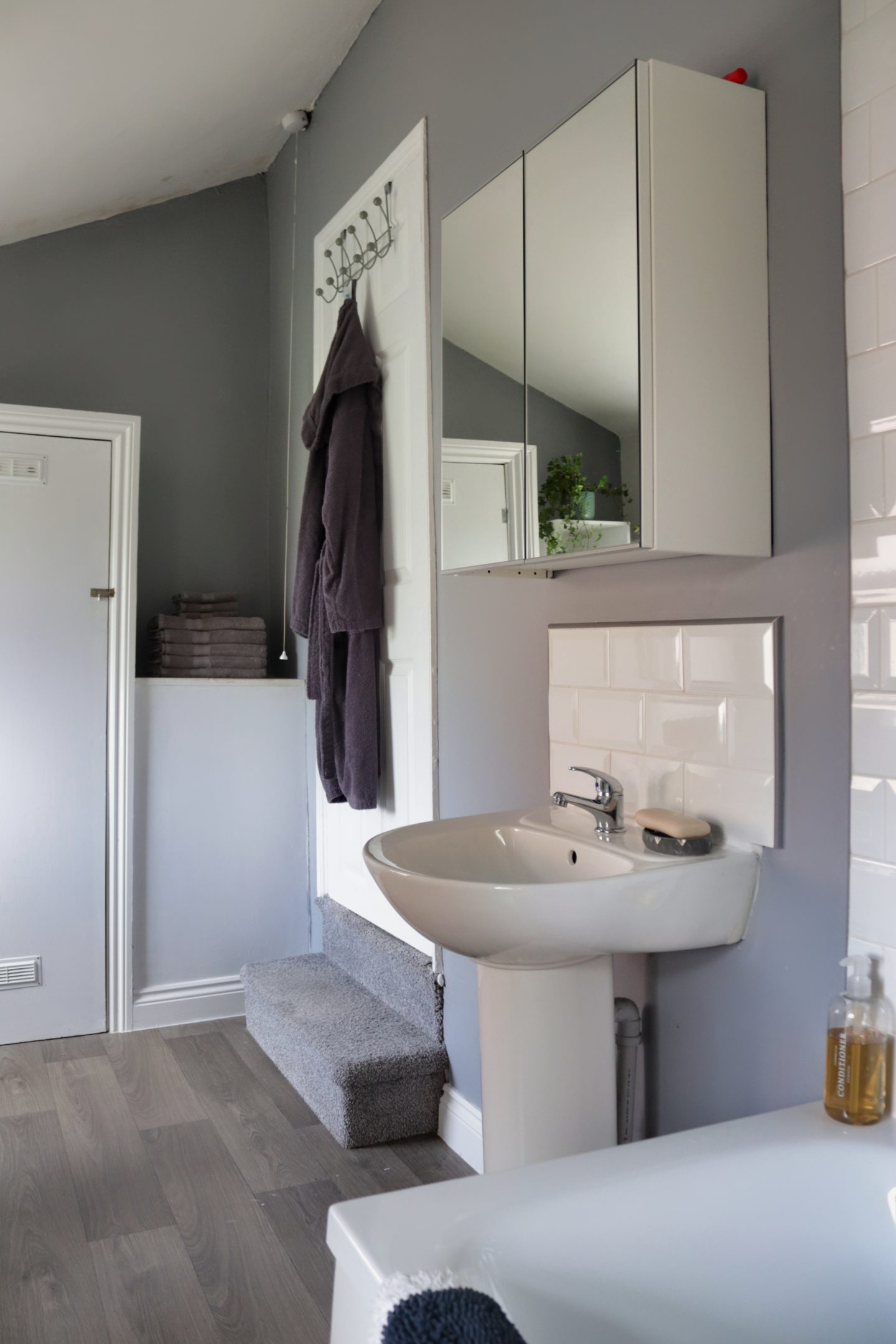 The sink area is still pretty simple right now. We added this mirrored cupboard from Ikea as a way to have some more storage and I picked up the grey soap dish from Poundland. I would like to eventually get a small table for between the sink and door but at the moment that is where the potty lives so it will have to wait 😀
I bought Shaun a grey bathrobe for Christmas so that it matched the bathroom when its hung up on the back of the bathroom door, We have one of those over the door hangers that was from Home Bargains. we then have this ledge bilt in where the boiler cupboard is so that is where I keep the towels. they are just plain grey ones from Tesco.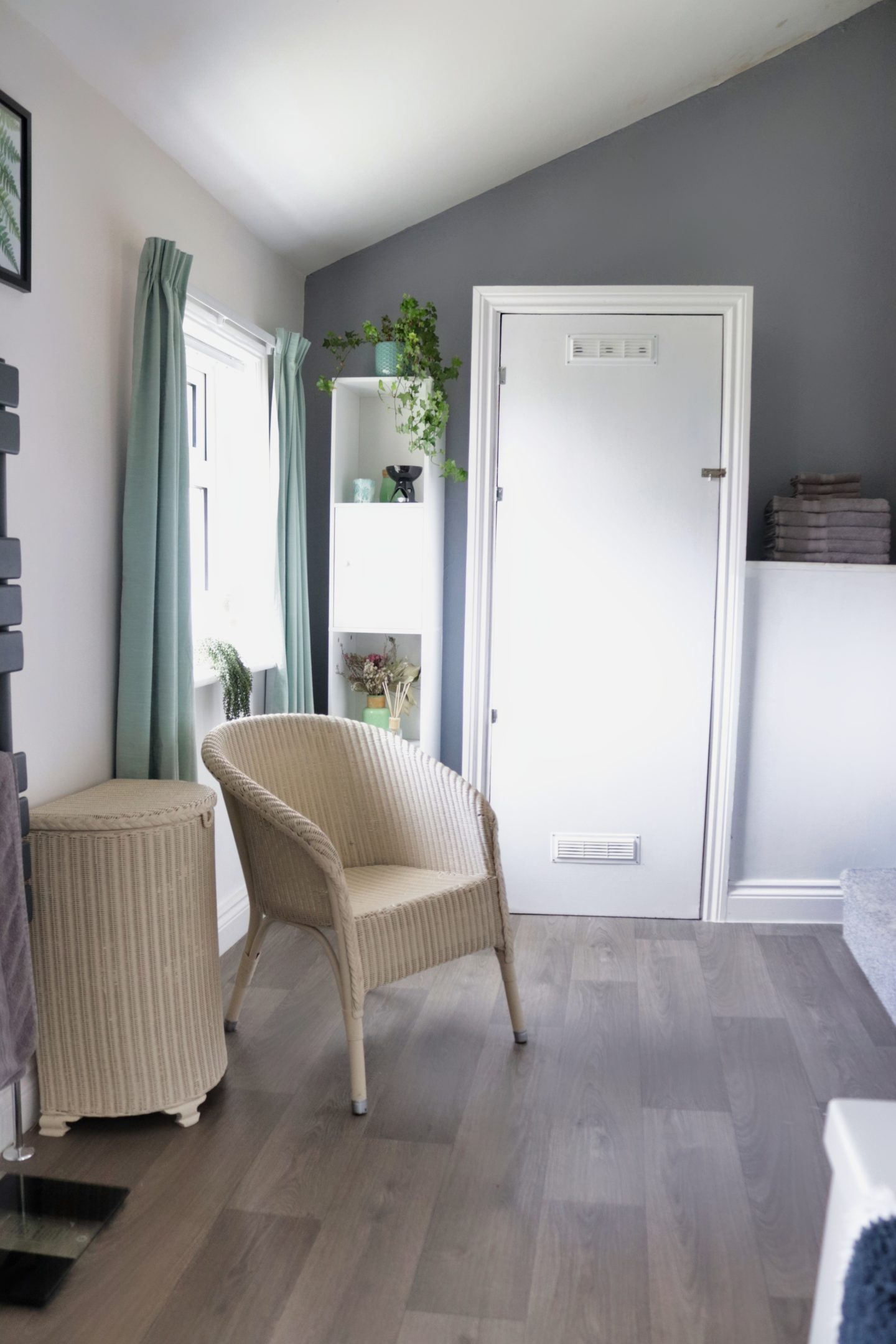 So I think that that's about it. Everything we've added and all the details. This last view above just gives you a better look at the tall cabinet from B&M. I've just used a plant, some dried flowers and a couple of other bits and Pieces that we already had to style it up.
Almost everything we have added to this room is from B&M, Home Bargains or upcycled and it has all been budget friendly! But I think the styling has made a huge difference to the cold bare room it was before and I really hope that this post gives you a few ideas as to how you could recreate your own Renter Friendly Bathroom Makeover.
lianne x
Pin my Renter Friendly Bathroom Makeover to save it for later!