I feel like it's been a while since I shared some DIY home decor with you all. I love to make things for my home, they are individual to me and no one else will have them. Today I'm sharing two styles of DIY Artificial Plants, one going in my kitchen and one going in the bathroom. I came up with these as I wanted some artificial plants to put on the two shelves in my kitchen. I needed them to be small and I wanted them to be low cost. I looked on Amazon and the cheapest hanging plants I could find were just stems without pots. So I had a look in my shed to see what I could find and came up with a plan.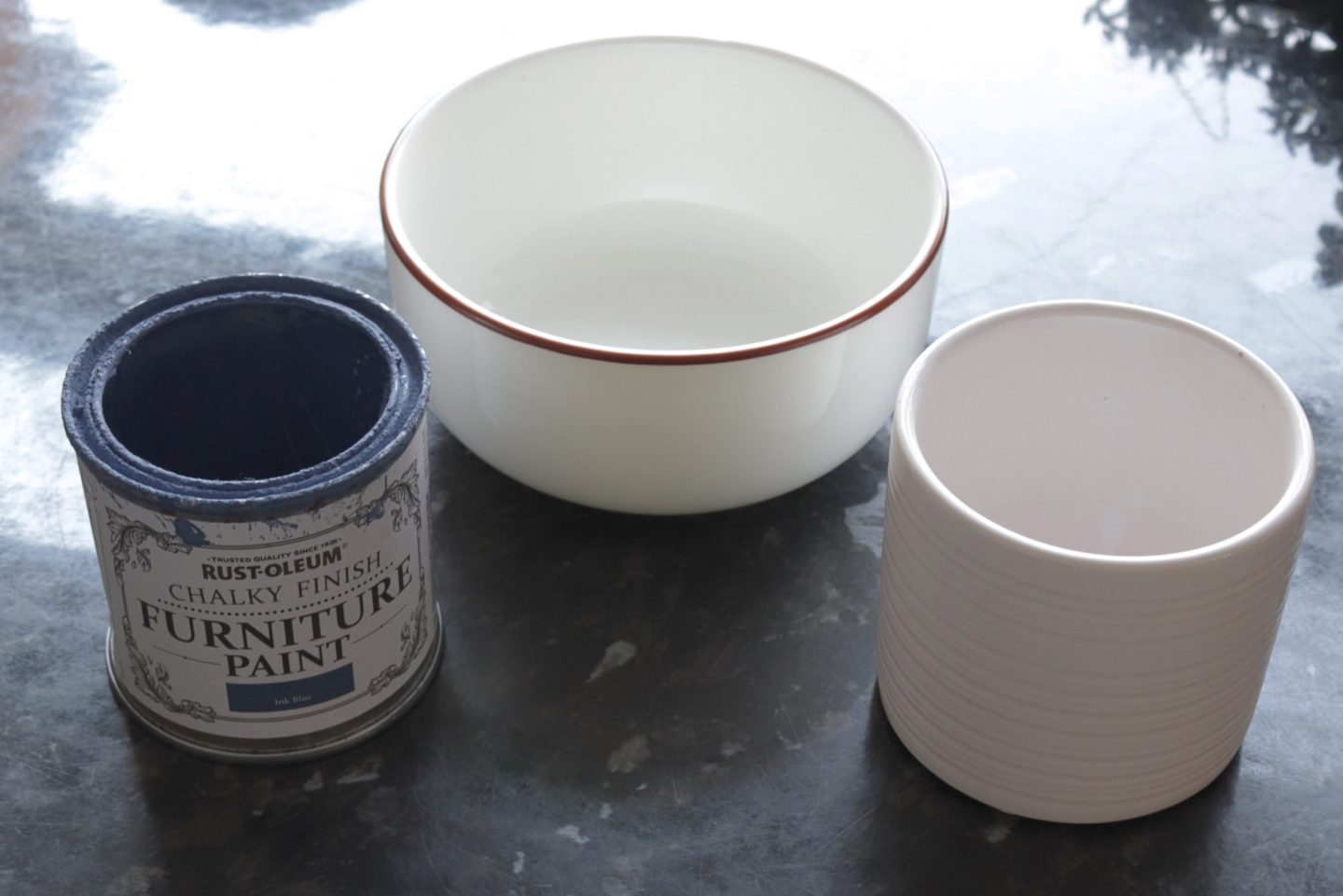 In my shed I have a collection of unused decor items, bits I've picked up from charity shops and things I've saved because I think I might be able to use them for something like glass jars, empty tins etc. Here is what I found to use for this project. I had this white plant pot in there that was the perfect size, I killed a succulent at some point and kept the pot. Because I wanted the shelves in the kitchen to match I then looked for something a similar size, and you'll have to trust me with this 😀 but I found this empty paint pot that was just a little smaller than the pot. I also found two of these bowls (they came from a charity shop for 20p each) and I decided that while I was making some DIY Artificial plants for the kitchen I may as well make one for the bathroom too!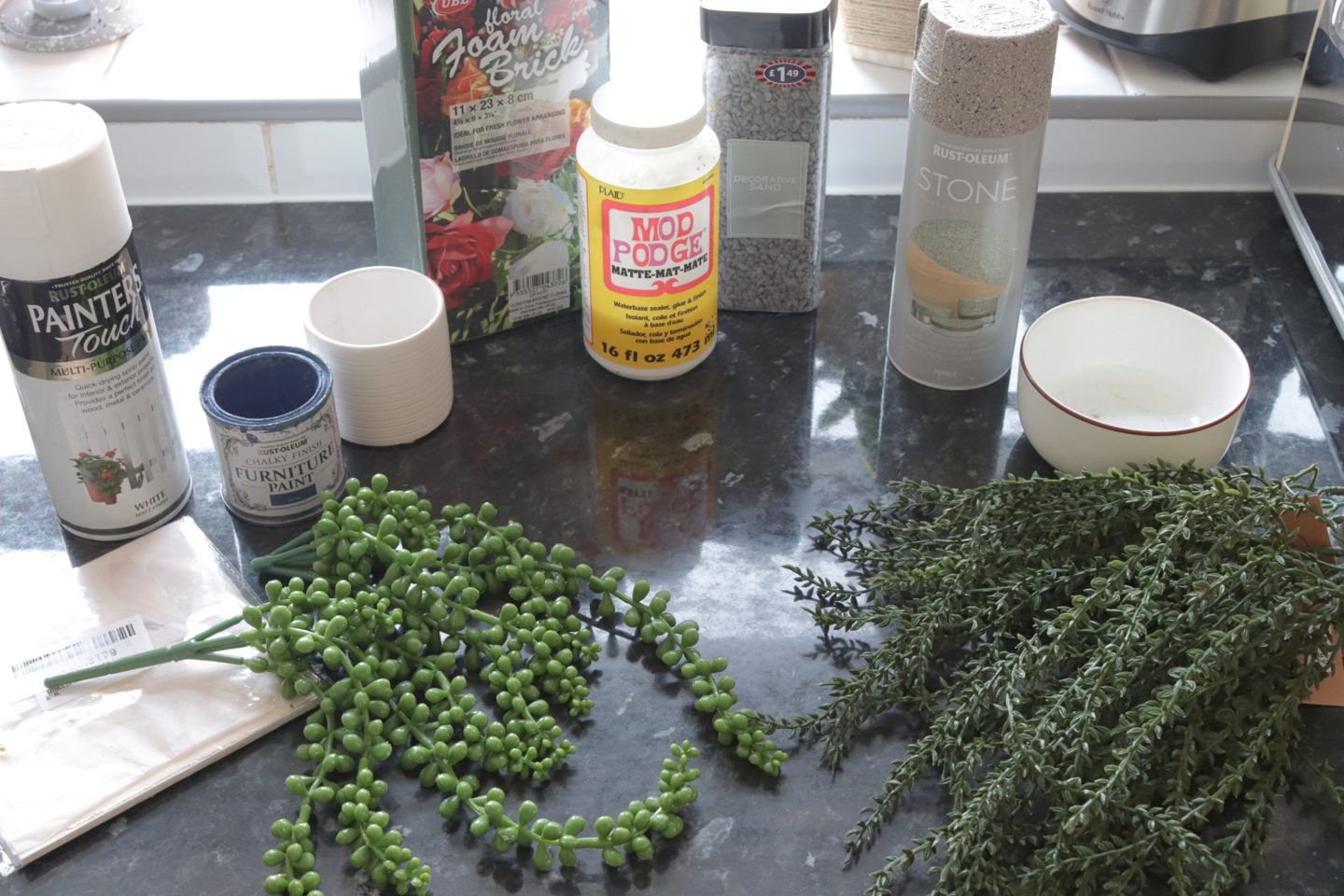 Here is everything I used for both styles of DIY Artificial Plants. The floral oasis, mod podge and decorative stones will be used for both plants. On the left I have string of pearl type stems, white spray paint and gold leaf for the kitchen plants. Then on the right I have 3 leafier stems and stone spray paint for the bathroom plant. I bought most things from Amazon that I've linked below. The decorative stones I picked up in B&M and if you can I would get those as they were only £1.50 but if you can't I've linked the closest thing I could find on Amazon which was aquarium gravel. The leafier stems came from a local home decor store for £1.50 each but I've linked a few different options that I found on Amazon below too.
DIY Artificial Plant supplies
I already had the mod podge, white spray paint and gold leaf in my supplies so my total cost of items I specifically purchased for this project was £7.83 per plant. Of course your final cost per plant may be higher but with supplies like the gold leaf, stones etc you won't use them all anyway so you can use what you have left over on future projects. Also you could adapt my idea to make this your own way utilising what you already own yourself.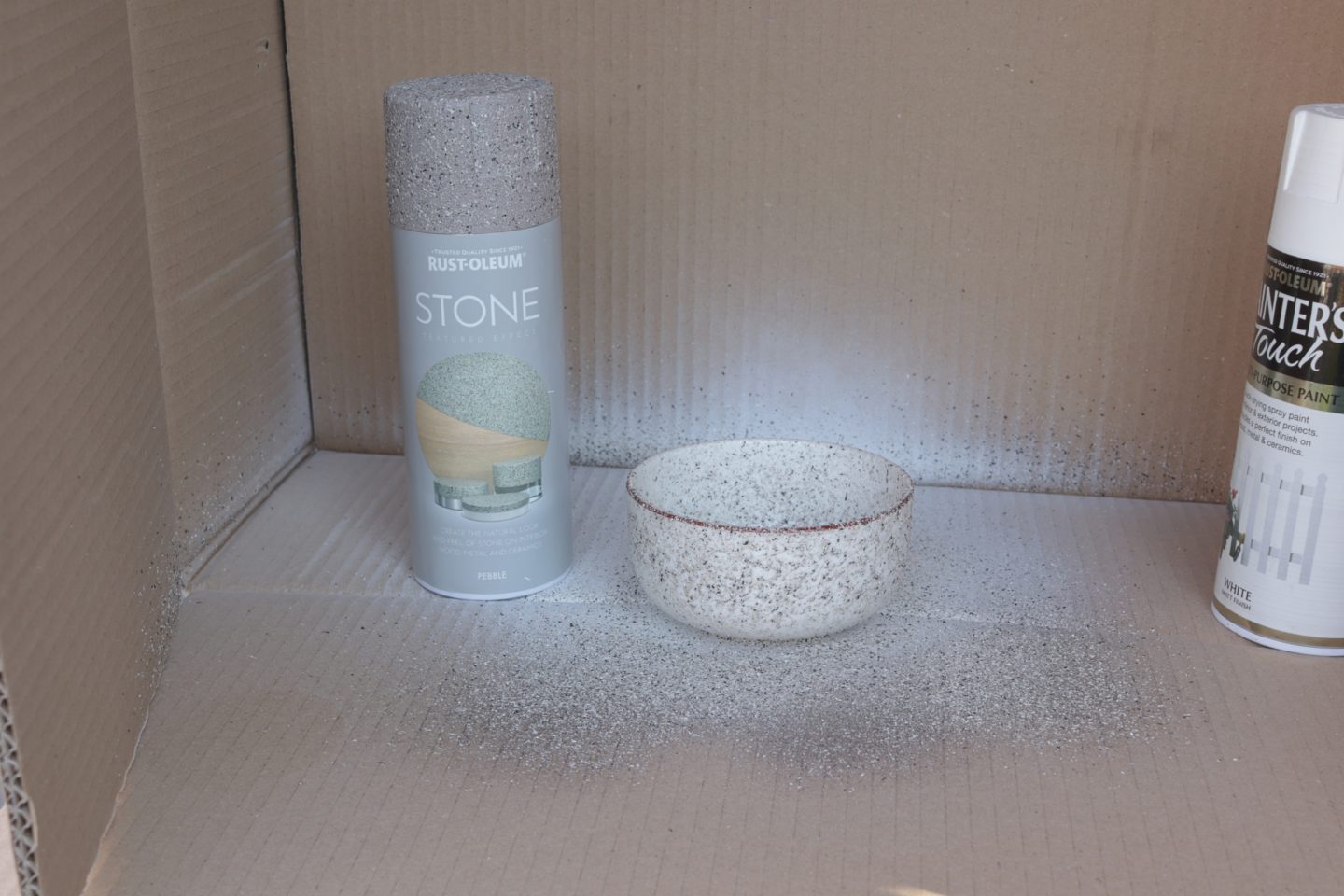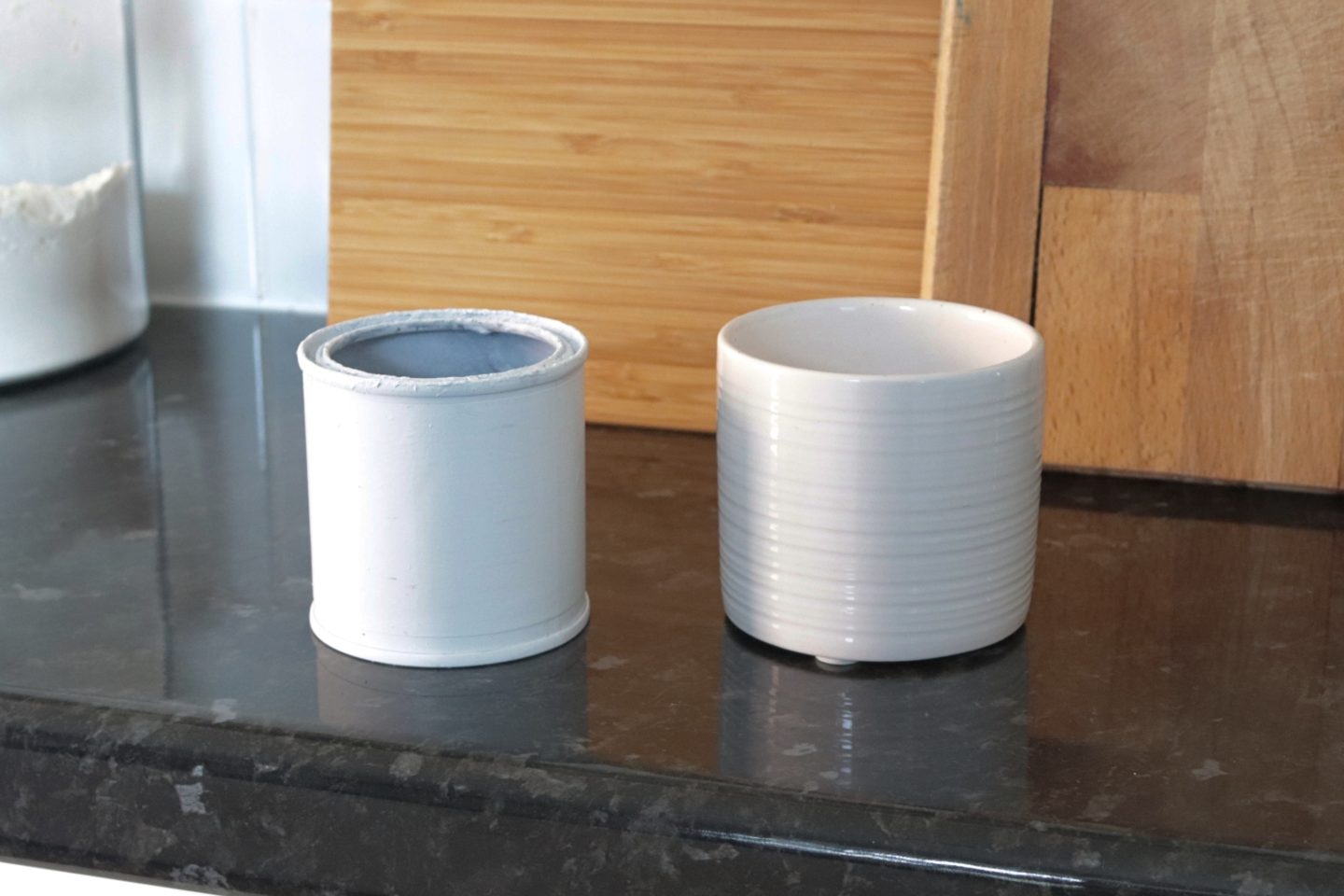 The first step for both styles was to spray paint the pots. This is the first time I have used the rustoleum Stone spray paint and I was sceptical that it would look like actual stone but I was so happy with how it turned out. A few things to note, it takes a lot longer to dry than regular spray paint and you really do need to build up thin layers and not try to paint it solid in one go. As for the small pots, as one was already white I left it and just sprayed the paint tin so it had a smooth white base.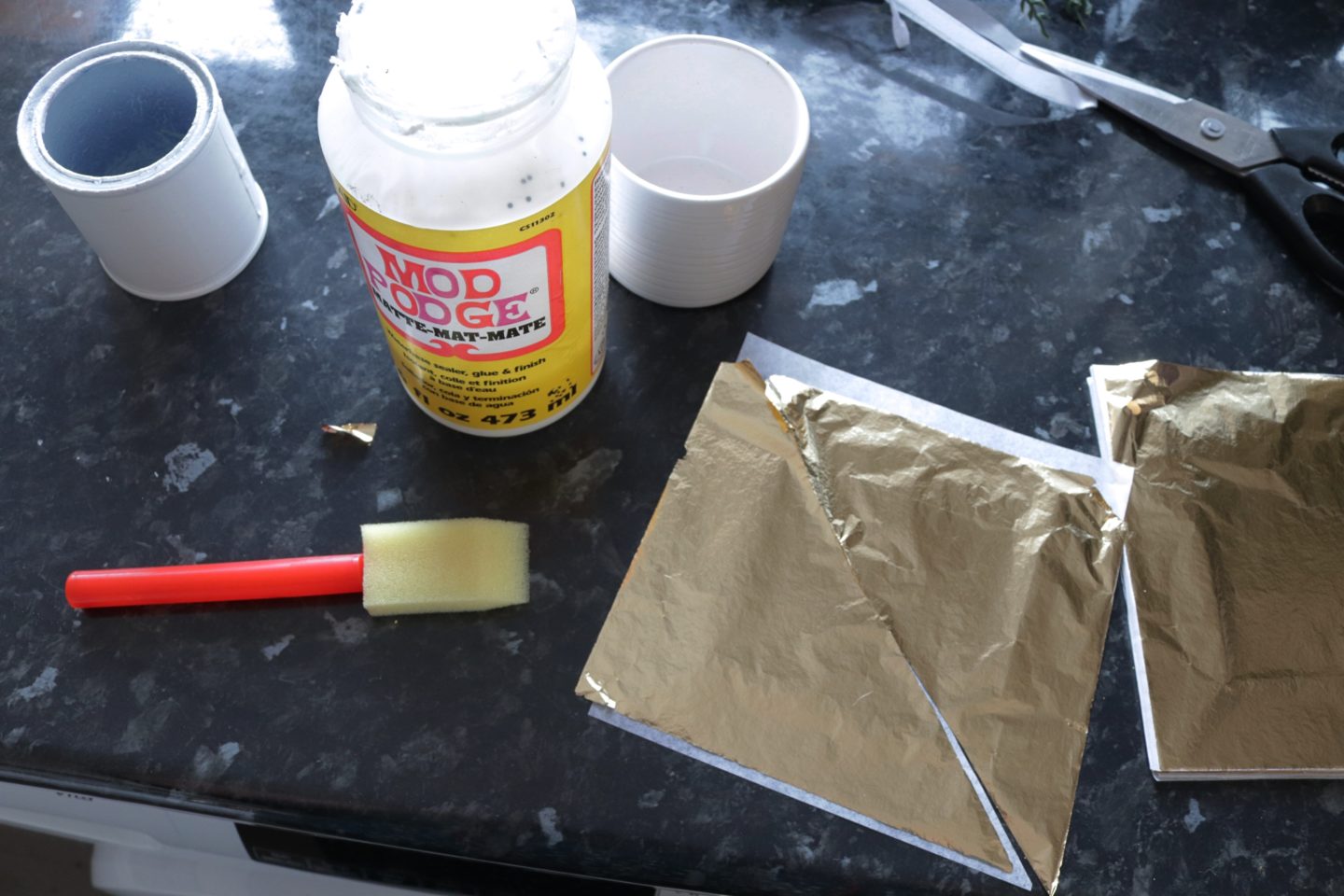 The next step for the small pots was to add the gold leaf. As I said already I used mod podge that I already had to stick it but I wouldn't recommend doing it this way and I wish I had bought the proper gold leaf gild.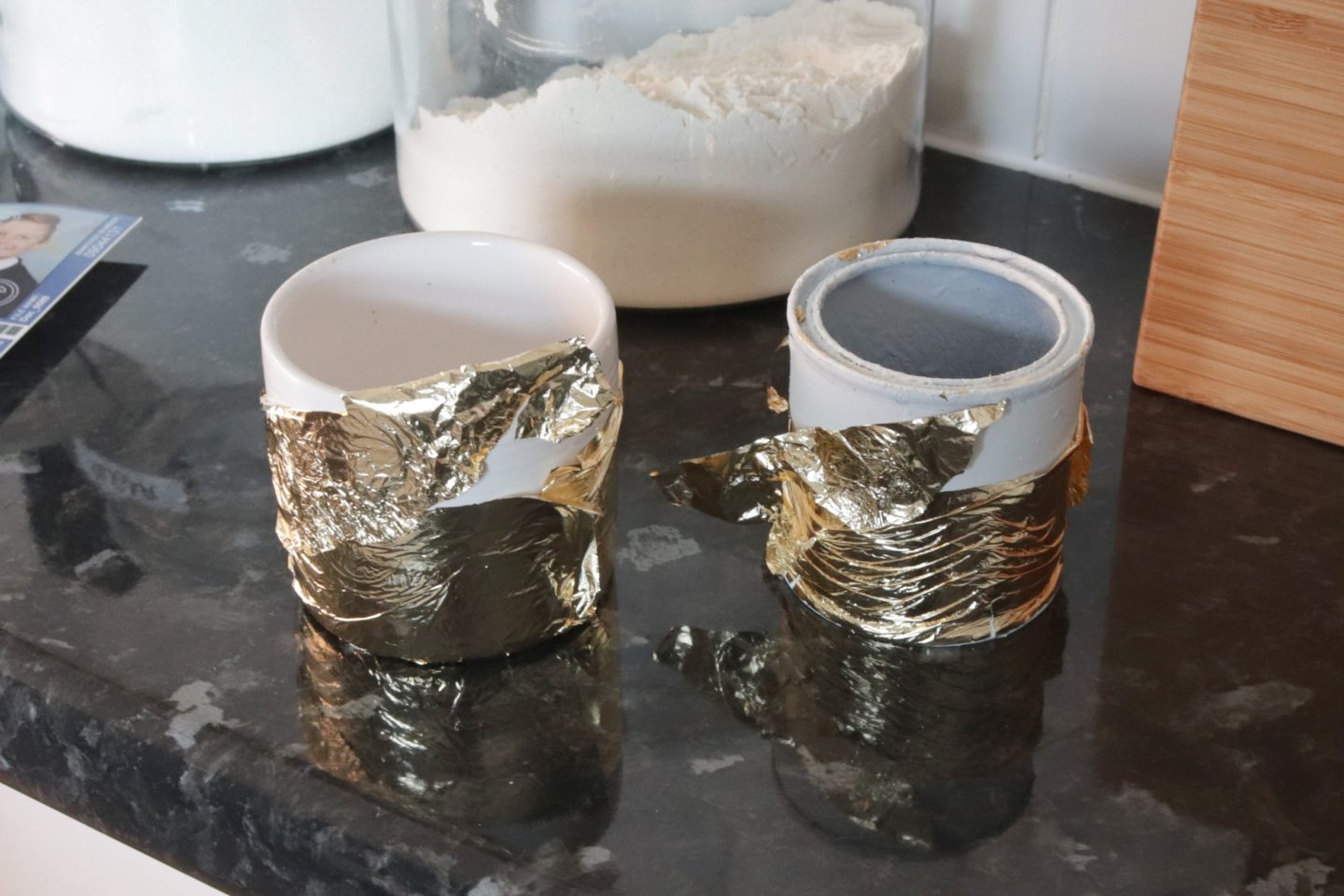 So what I did was to paint the bottom half of the pots with mod podge, I made sure the edge was uneven. I then laid the gold leaf onto the mod podge and had to leave it overnight to dry. If you use the correct gilding glue it dries much quicker and you can brush the leaf away after a couple of minutes.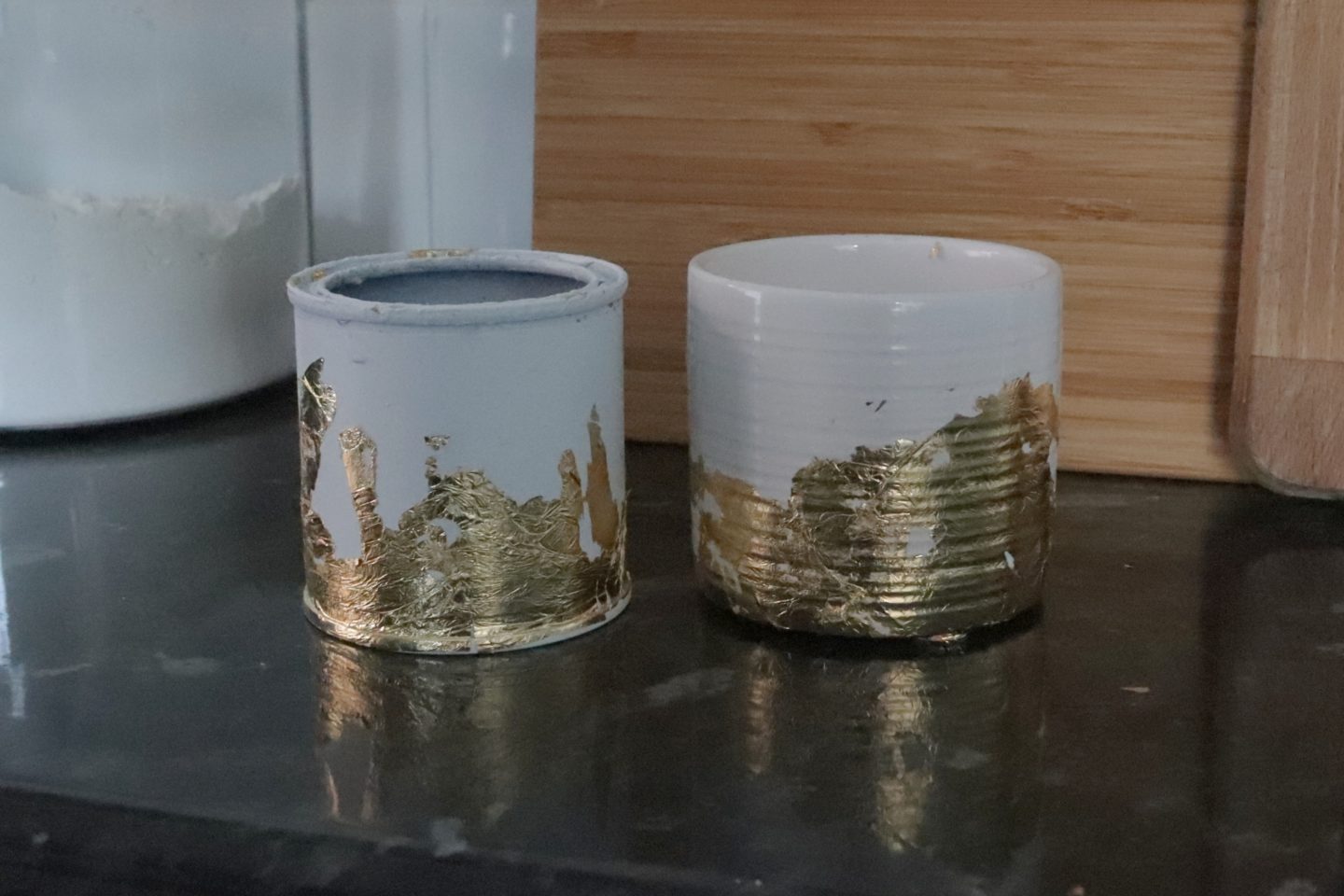 Here are my pots after I brushed the loose gold leaf away the next morning. This step really stressed me out and I was close to giving up all because I didn't buy the proper equipment!! They were a little rougher than I hoped but they are starting to look more like matching pots.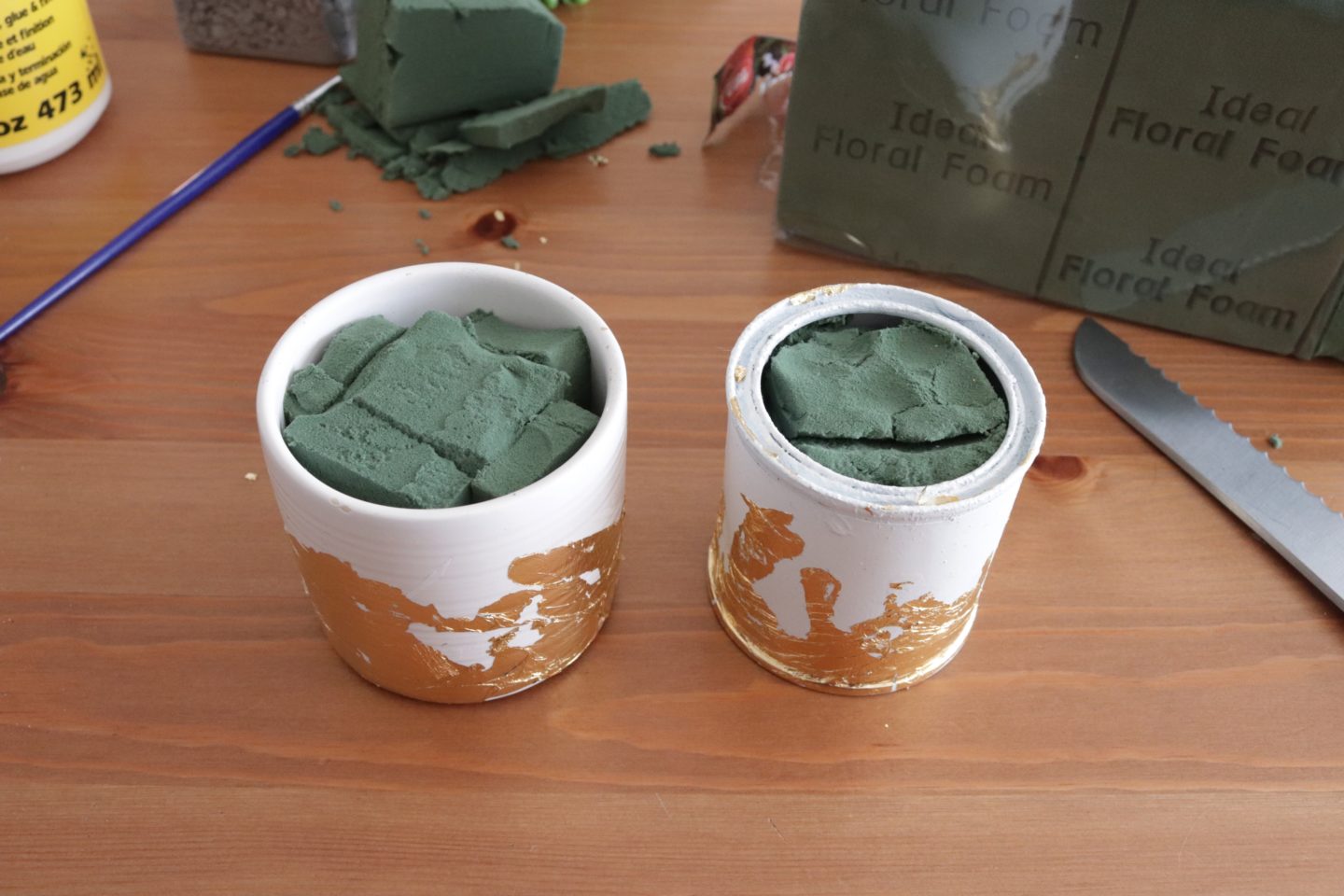 Next I added some mod podge to the inside of the pots (so that the oasis stuck in) and filled them both with floral oasis.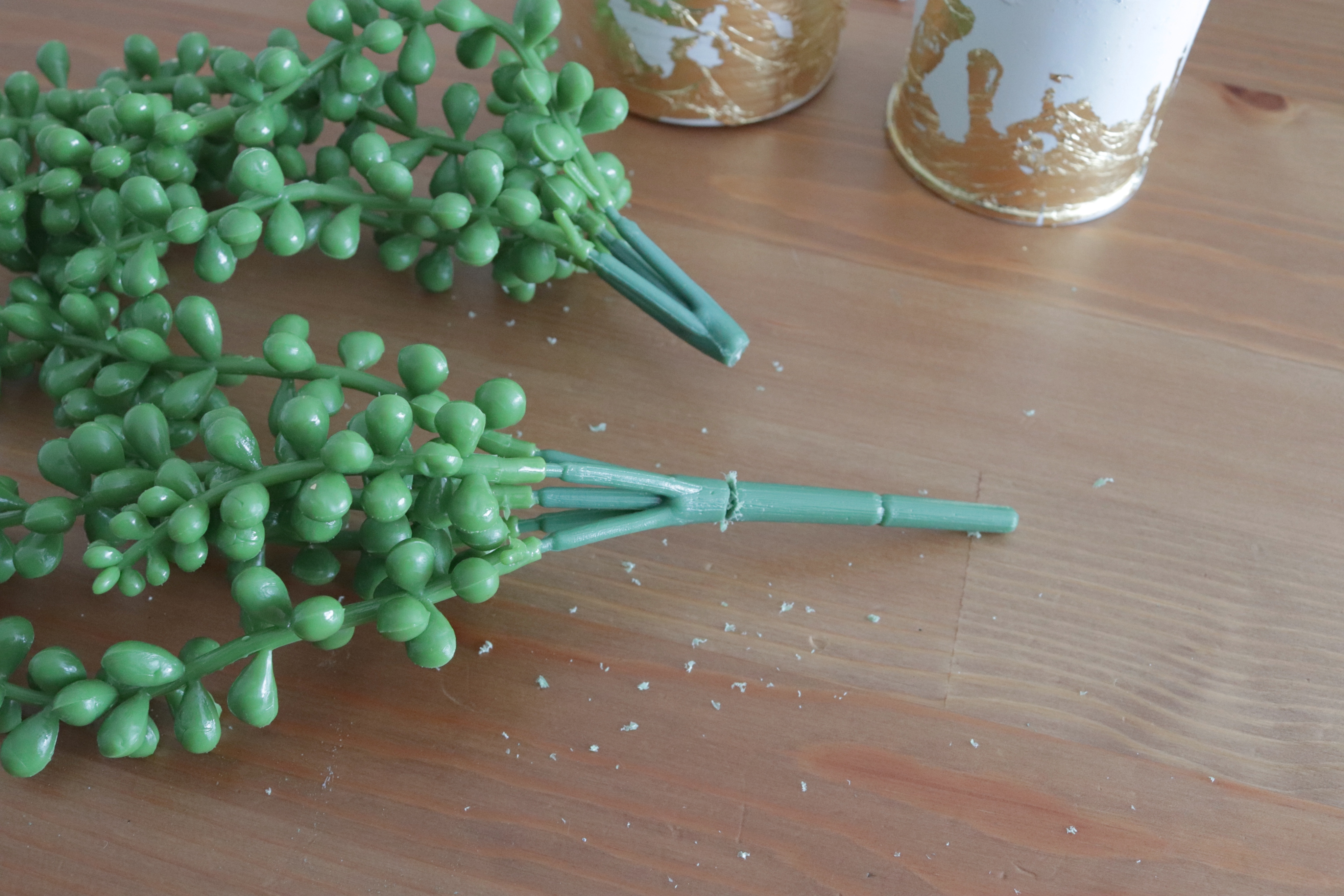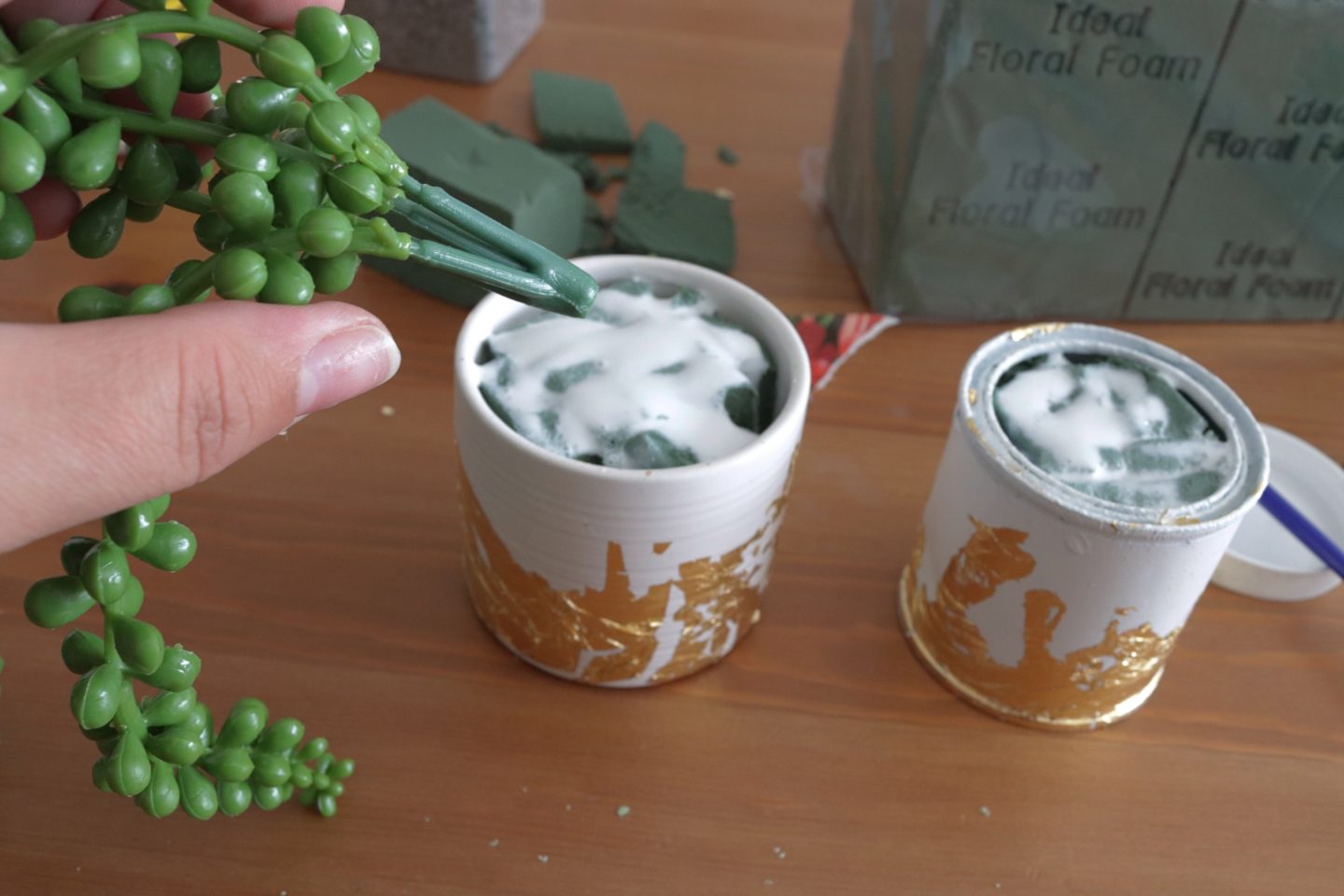 I then cut down the stem of the artificial branch, added more mod podge to the top of the oasis and, as I was just using one stem in these pots, inserted it into the centre.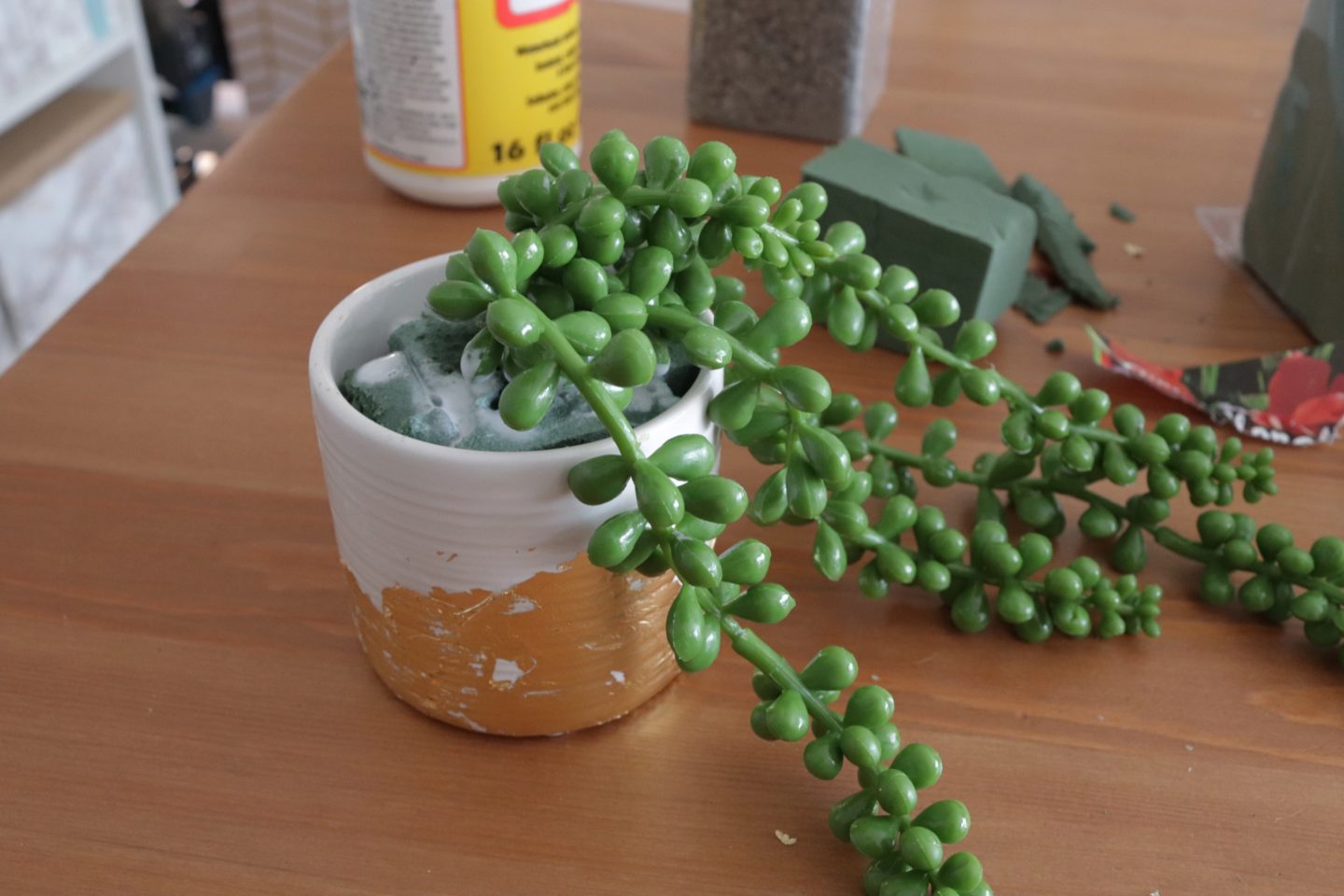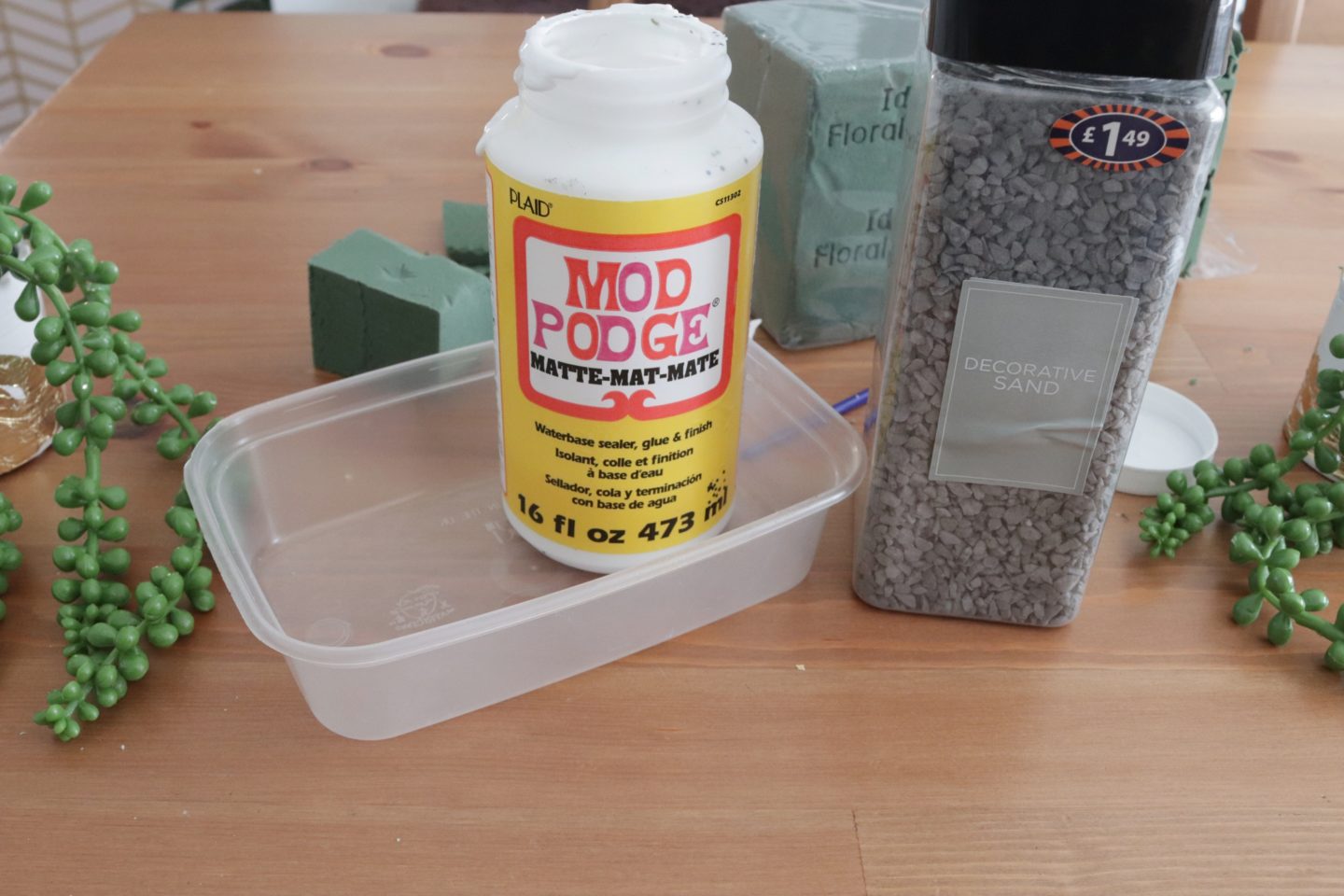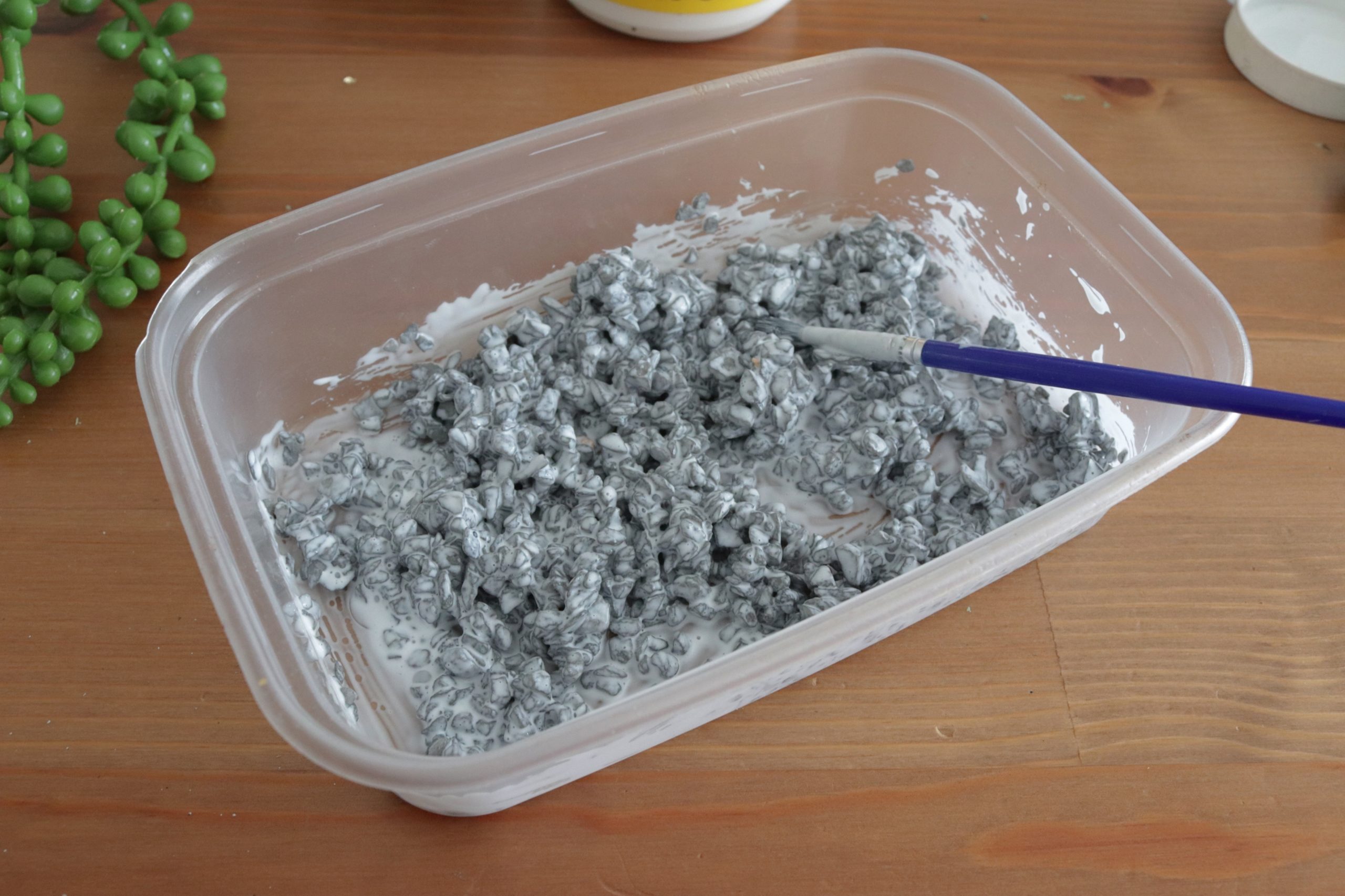 It's this next step that makes them look like finished artificial plants. Using an old tub mix some of the decorative stones and Mod Podge together. You want enough stones to fill up your pots and enough glue that they are fully coated like in the picture above.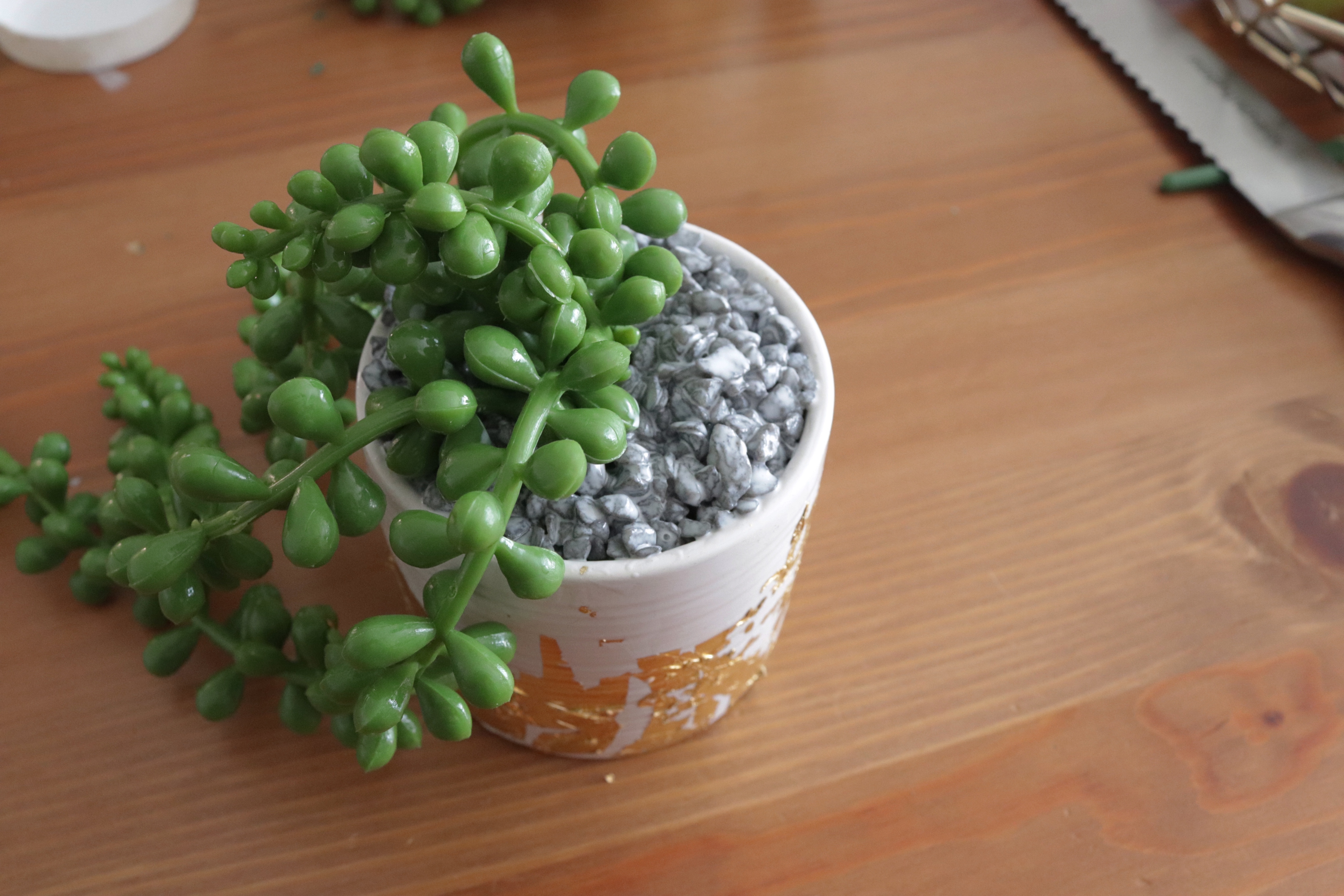 You then need to fill up the rest of the space in the pot with this mixture making sure that you cover all of the oasis. It's a bit of a messy step as the mixture is very sticky. Leave it to dry completely overnight.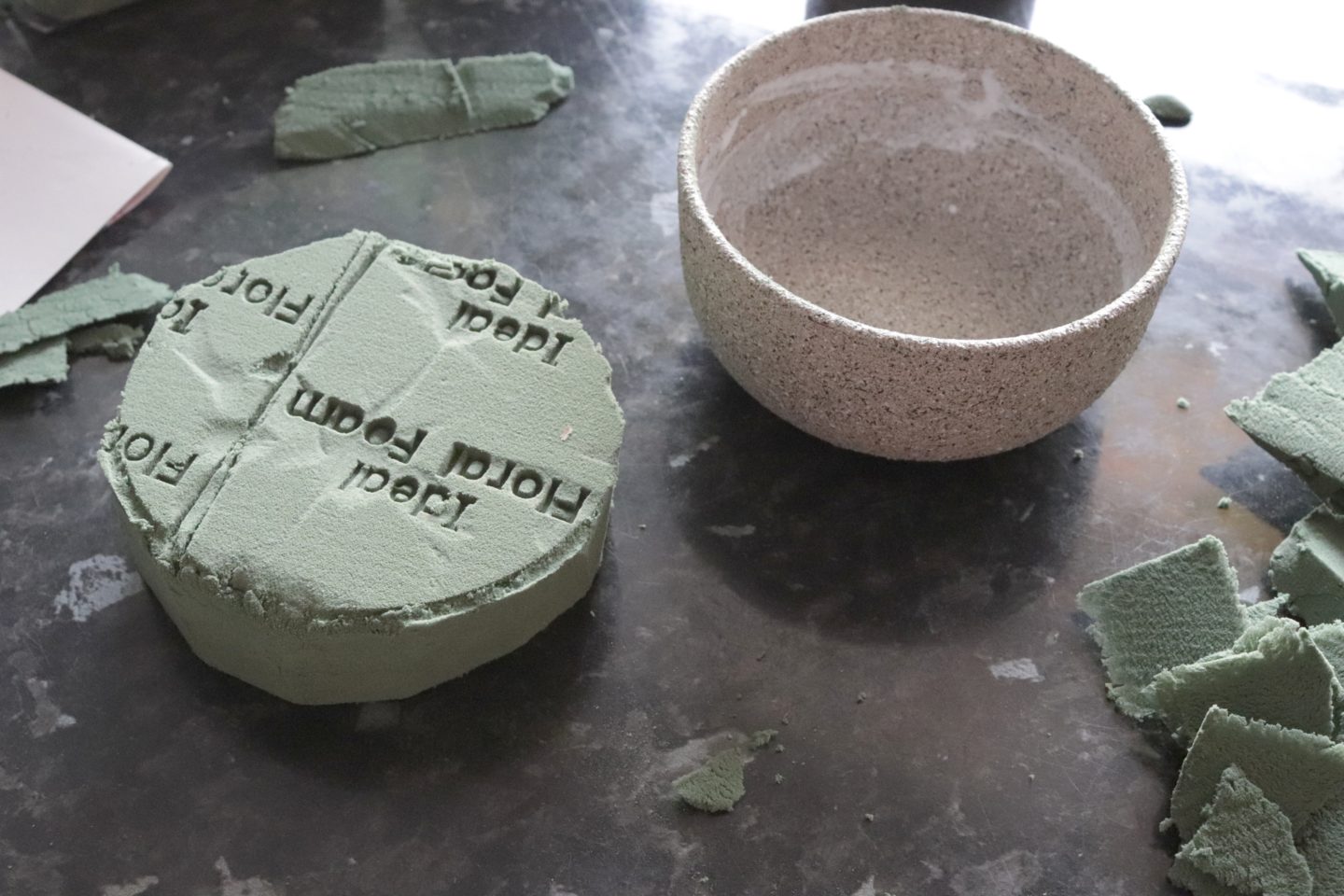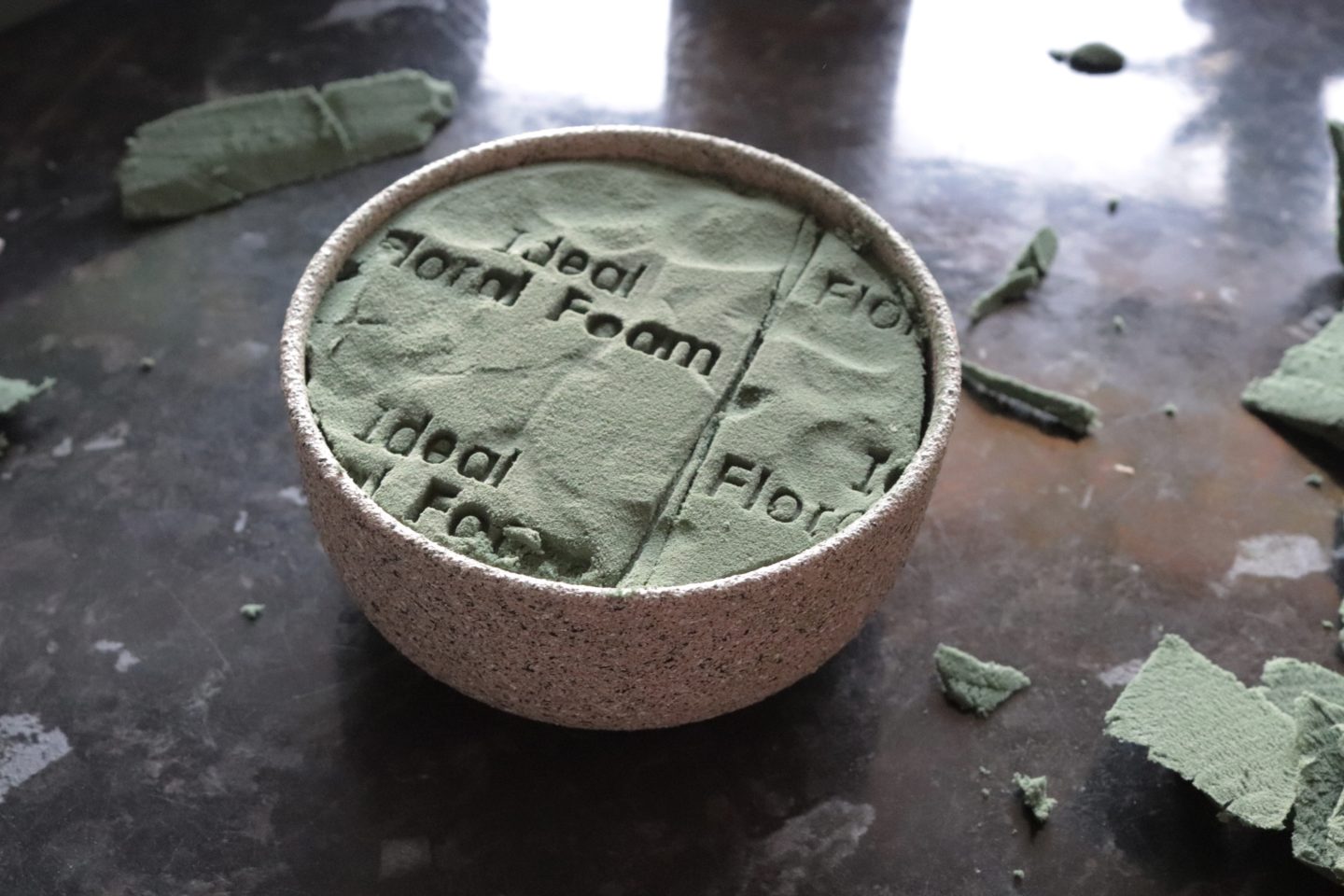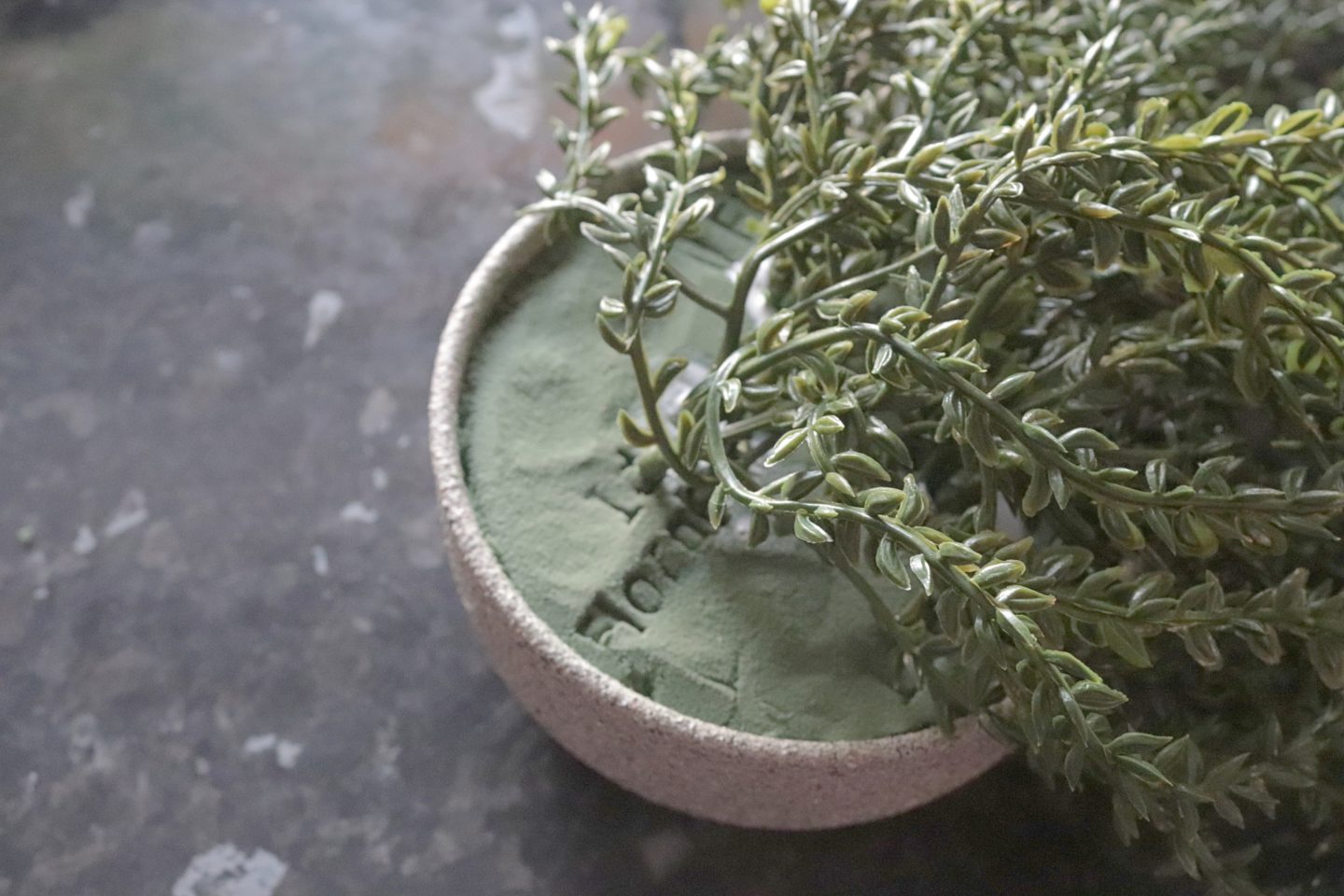 I used the exact same method to make the larger DIY Artificial plant but because the pot was bigger I used 3 stems and spaced them evenly in the oasis before covering in the stone mixture.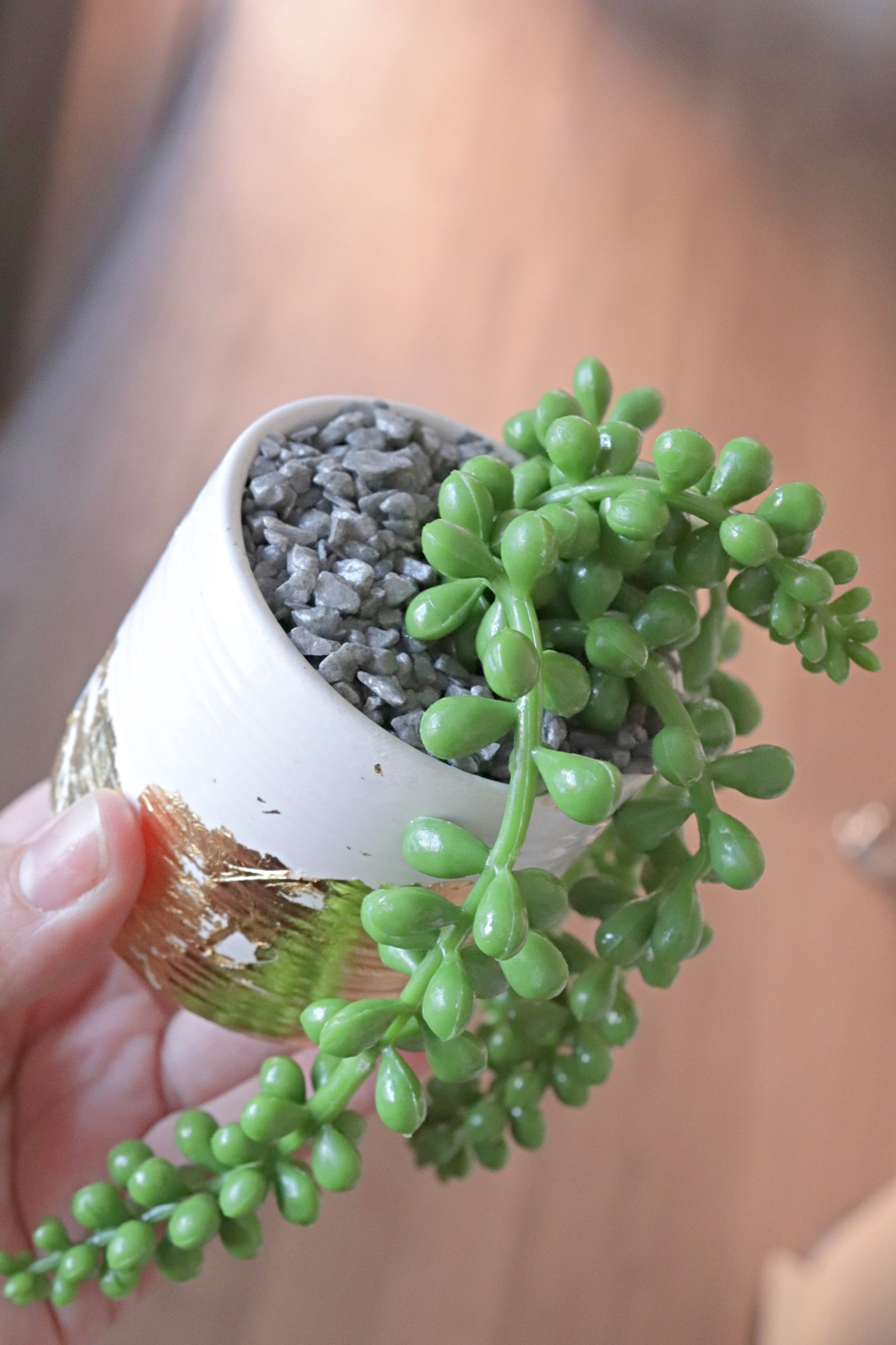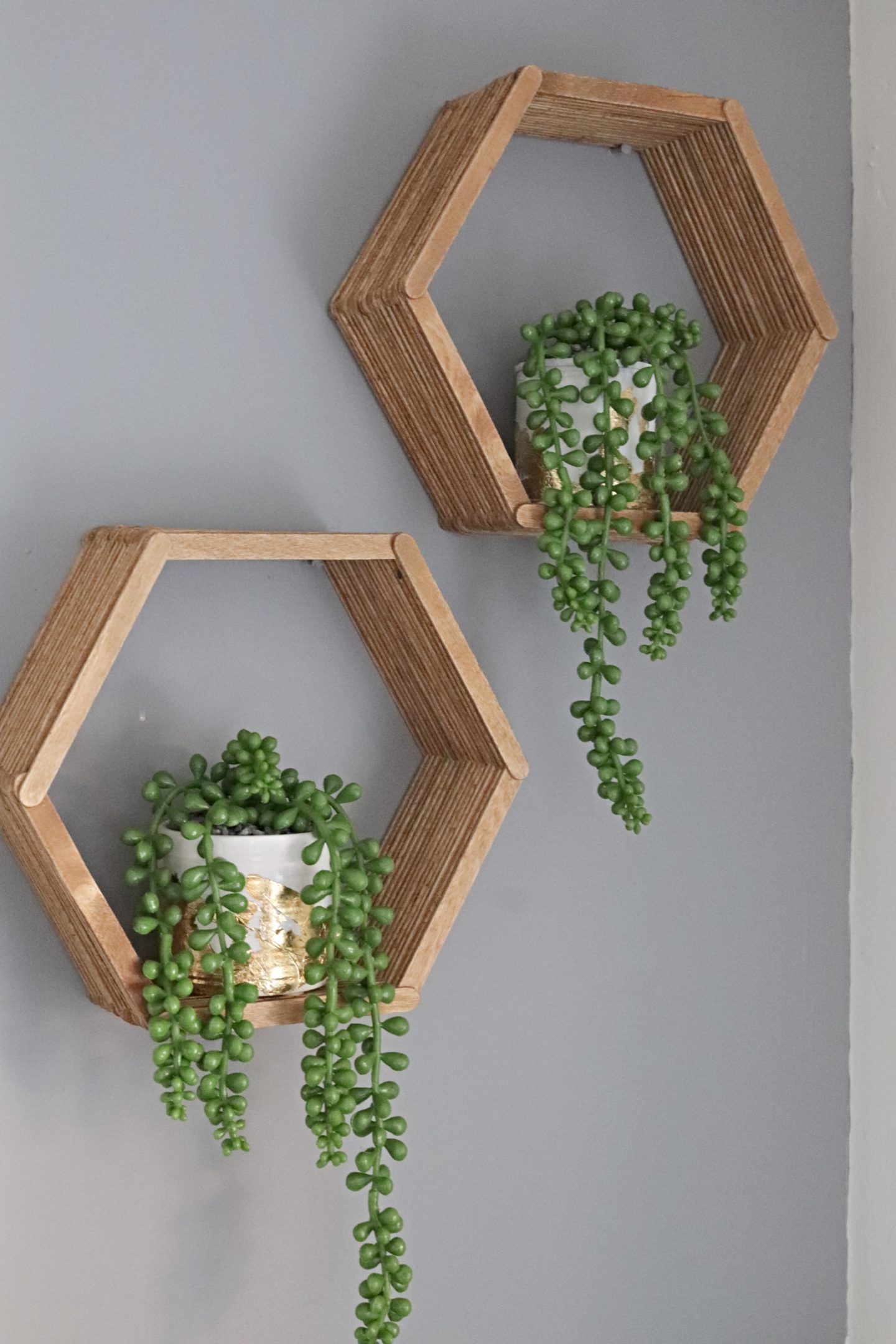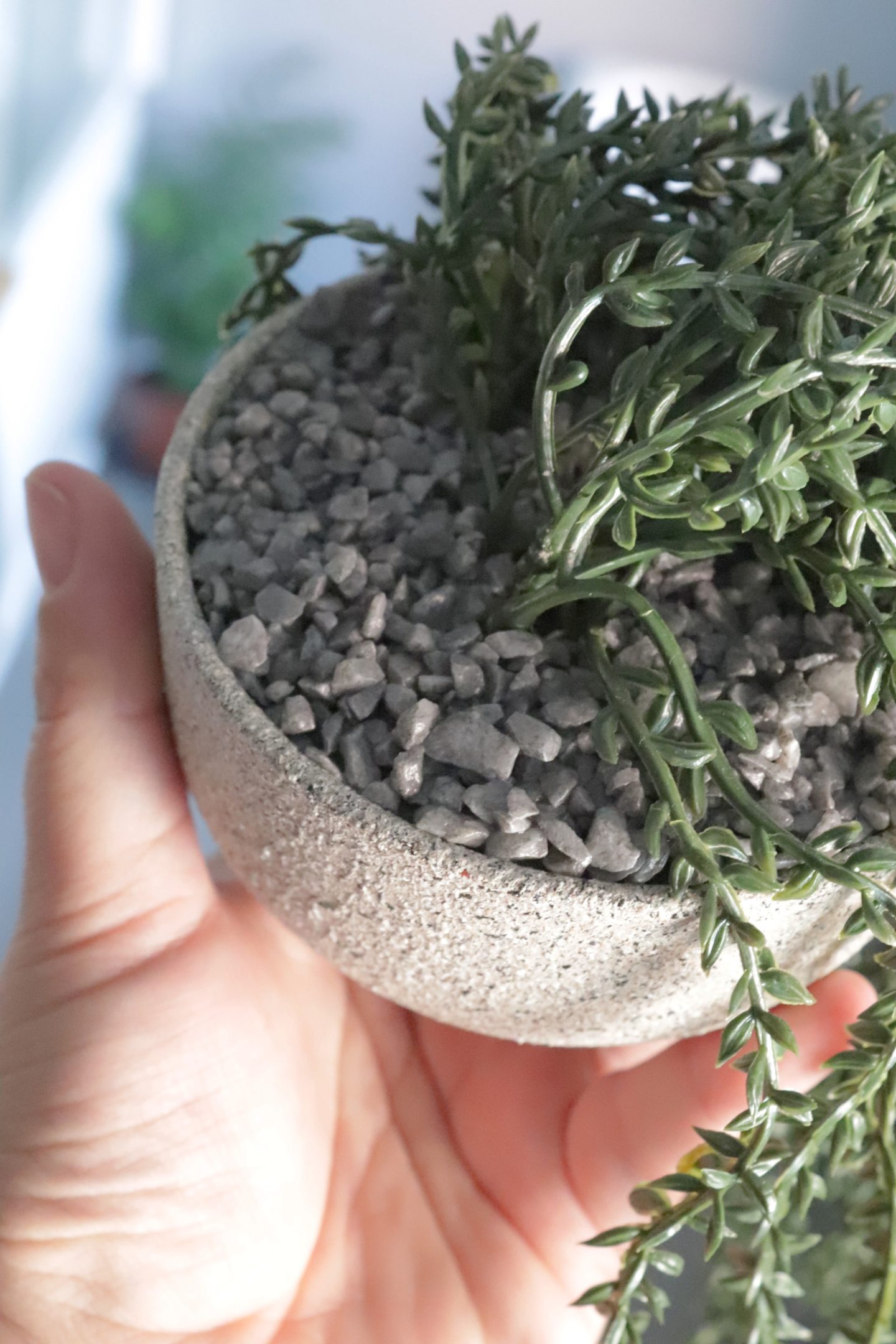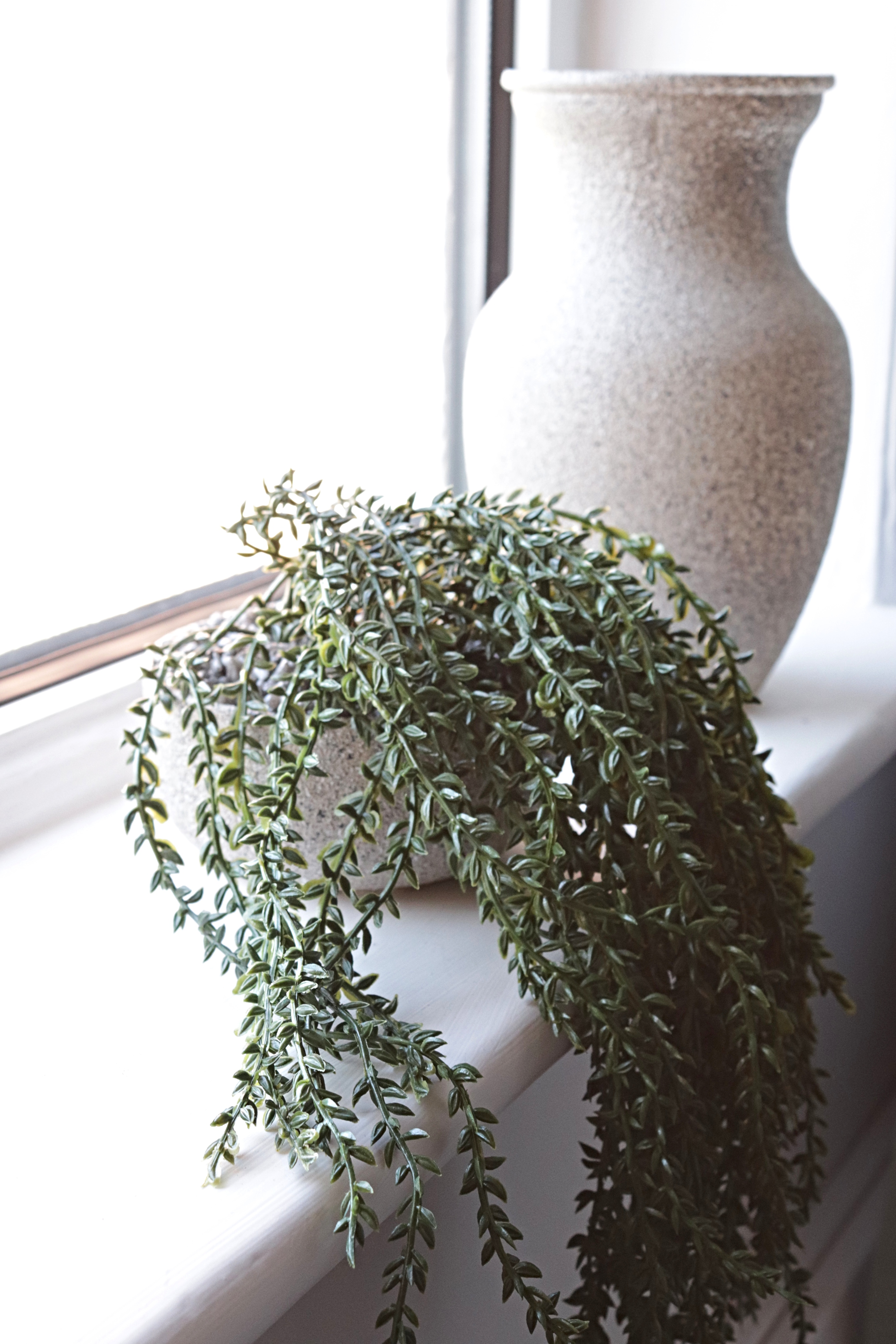 And here are the finished DIY Artificial Plants. I love how good they look in their new homes and I love that they are individual to me. You would also never guess that the pot on the top shelf (The shelves are a DIY by the way, you can find the tutorial for my Popsicle Stick Display Shelves here) is an old paint tin! Sometimes artificial plants can be very pricey and I will be making some more of these in the future because I think if you utilise what you already have as pots this is a much cheaper option. The cheapest small artificial string of pearls I could find online before I decided to make my own was £8 in a plain white pot and remember, with the supplies I had to buy my plants worked out at £7.83 each! I still have stones and oasis left so my next ones will cost even less. Please let me know if you give this project a try, you can find me on Instagram here, use the hashtag #makesbakesanddecor.
Lianne x
Pin my DIY Artificial Plants to save them for later!