Hi there! It's less than a week until Halloween and currently our half tern so I've been trying to come up with some fun things to do with the kids and I remembered these Halloween Ghost cupcakes that I made not last year but the year before but never posted them onto the blog. So today we are going to make these cupcakes together and share it on Instagram as we go. If you're reading this before Sunday afternoon on the 25th October 2020 you can watch us make them by following me @makesbakesanddecor_blog and if you're reading this after then I will save all the videos to my highlights under Halloween Ghost Cupcakes!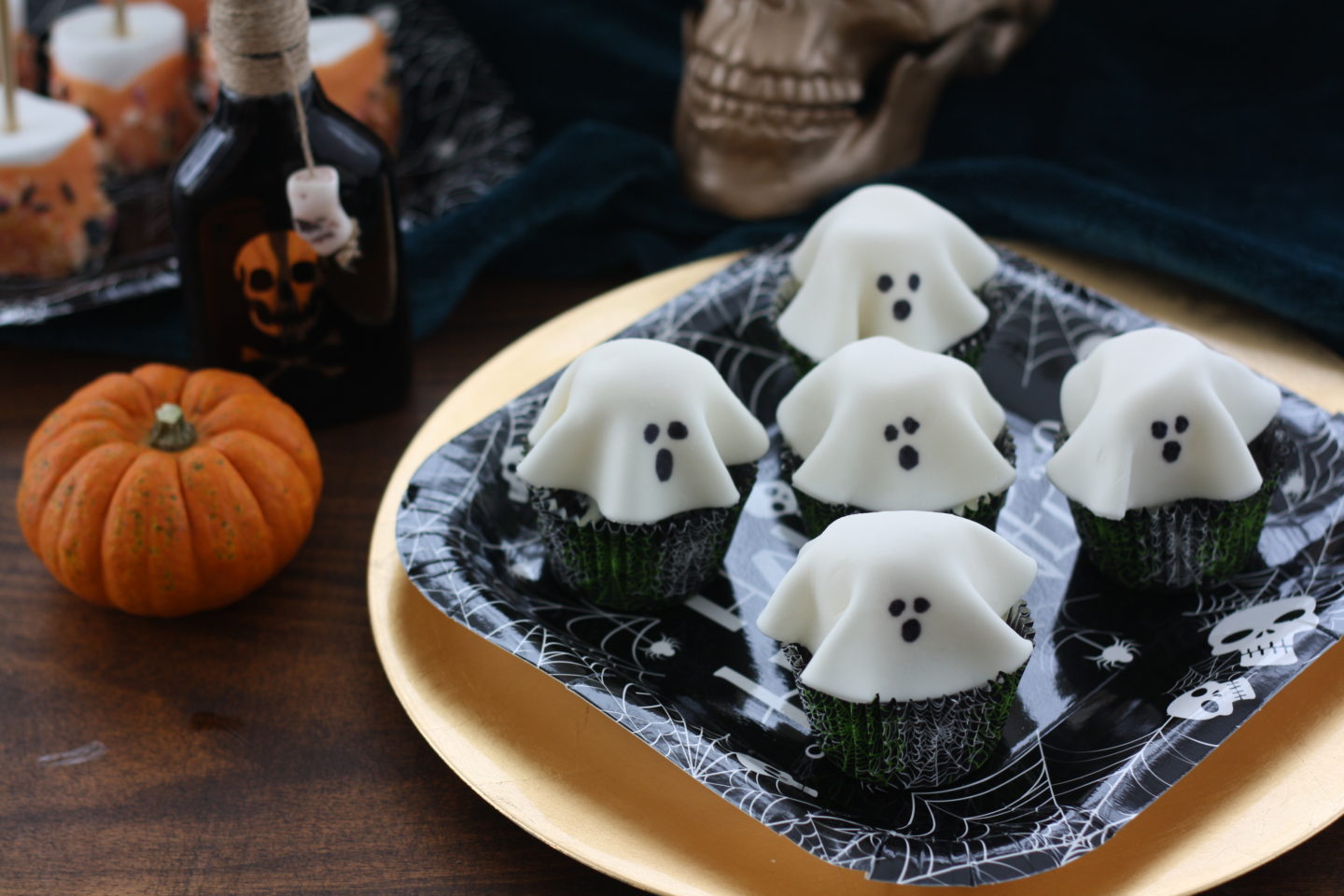 We will make these using a chocolate cupcake (recipe below) but if you prefer a vanilla cupcake you could use my Very Vanilla Cupcake recipe.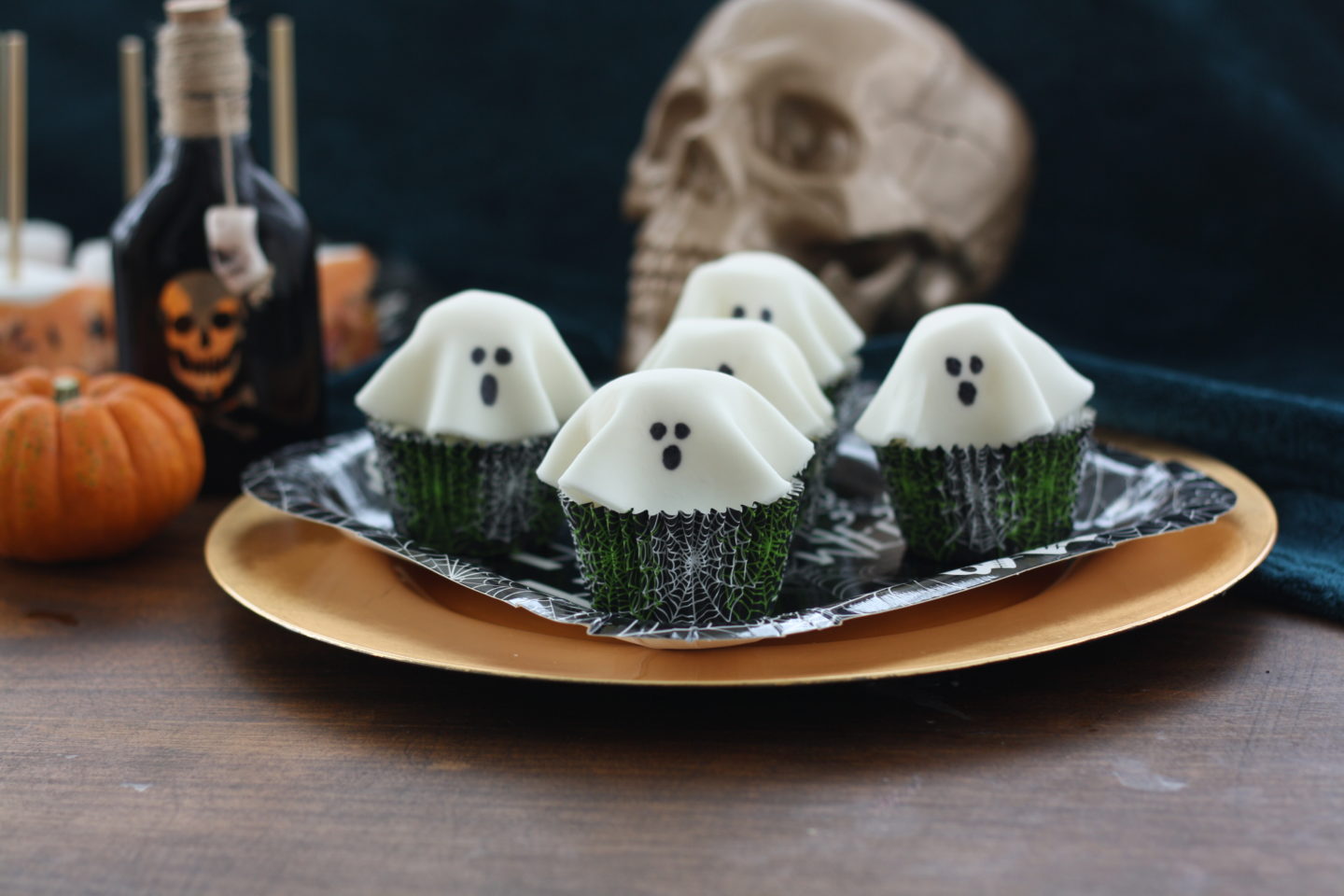 I styled up the cupcakes with a few decorations from Poundland (that they still stock now) and my gold skull which is a Home Bargains hack and you can read all about my Glam Halloween Skulls here. I bought the cupcake cases and the food colouring pen from Amazon and I've linked both of these below. If you can't get these in time though any cupcake case will do and you could draw on the ghost face using black writing icing that you can pick up in any supermarket.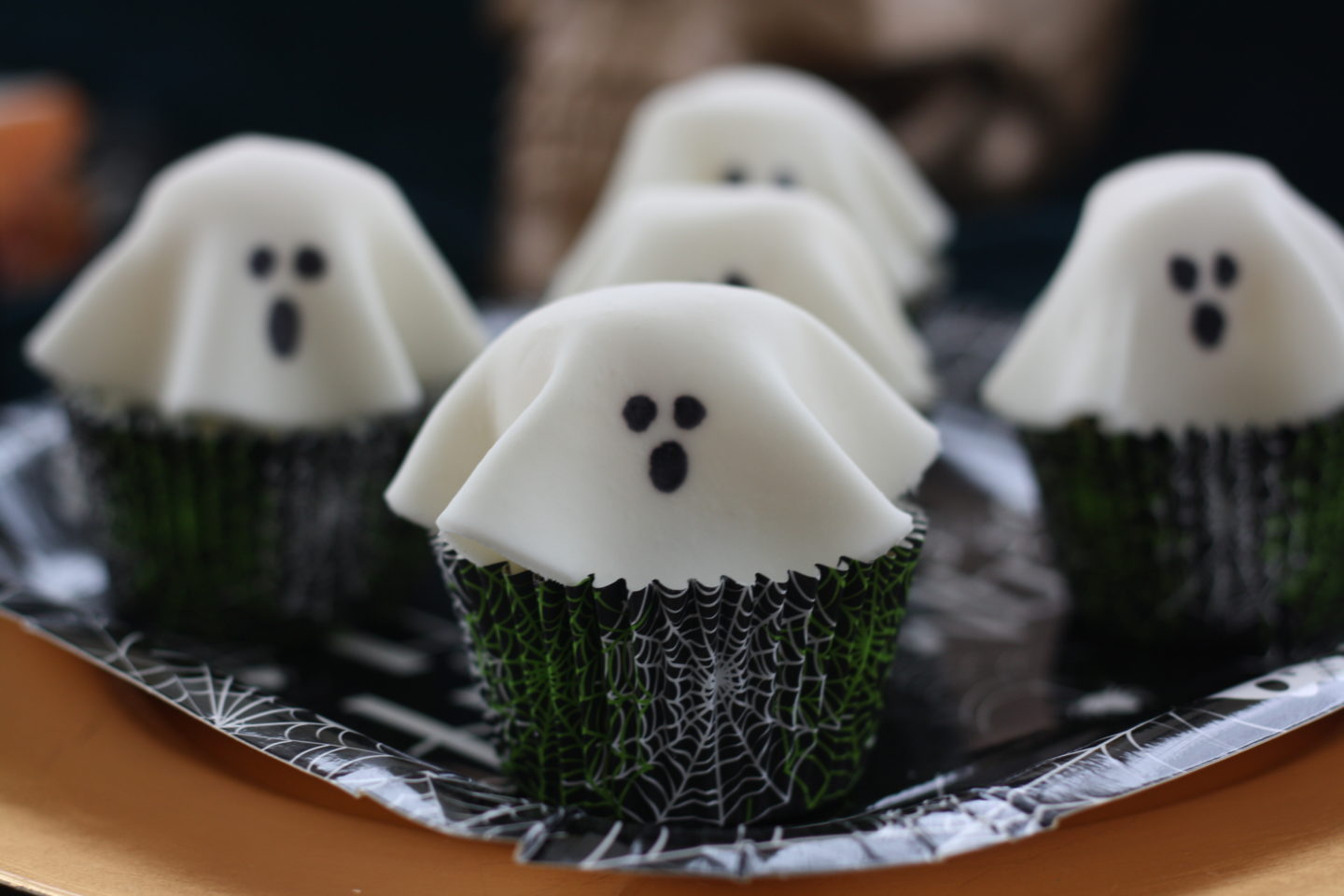 Because the design is so simple these are a great little cake to make with the kids and they are so delicious too. The little ghost is made but sticking a marshmallow on top of the cupcake. Rolling out some fondant and using a round cutter to cut out a circle. Then you simply drape the fondant over the marshmallow and draw on a little face.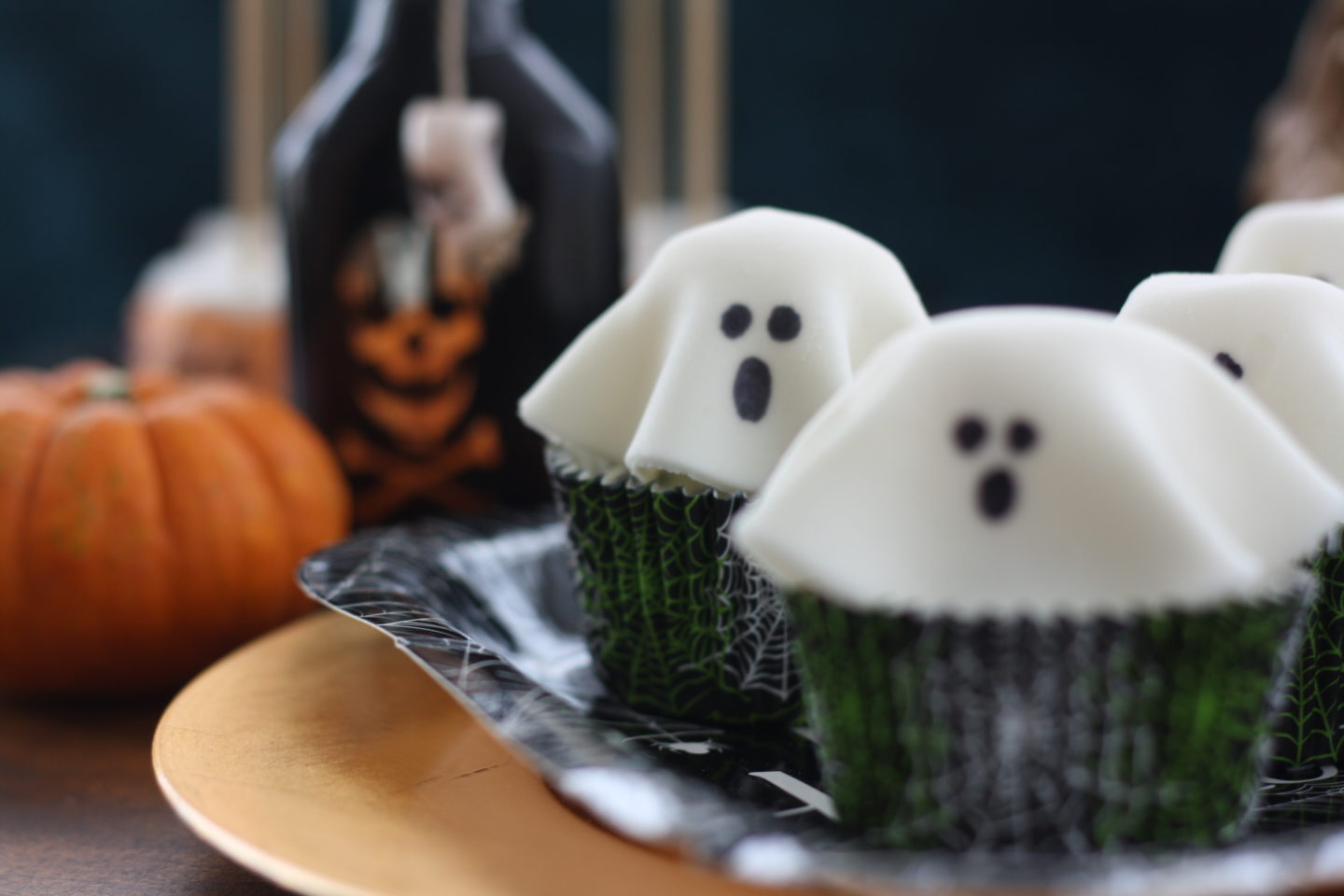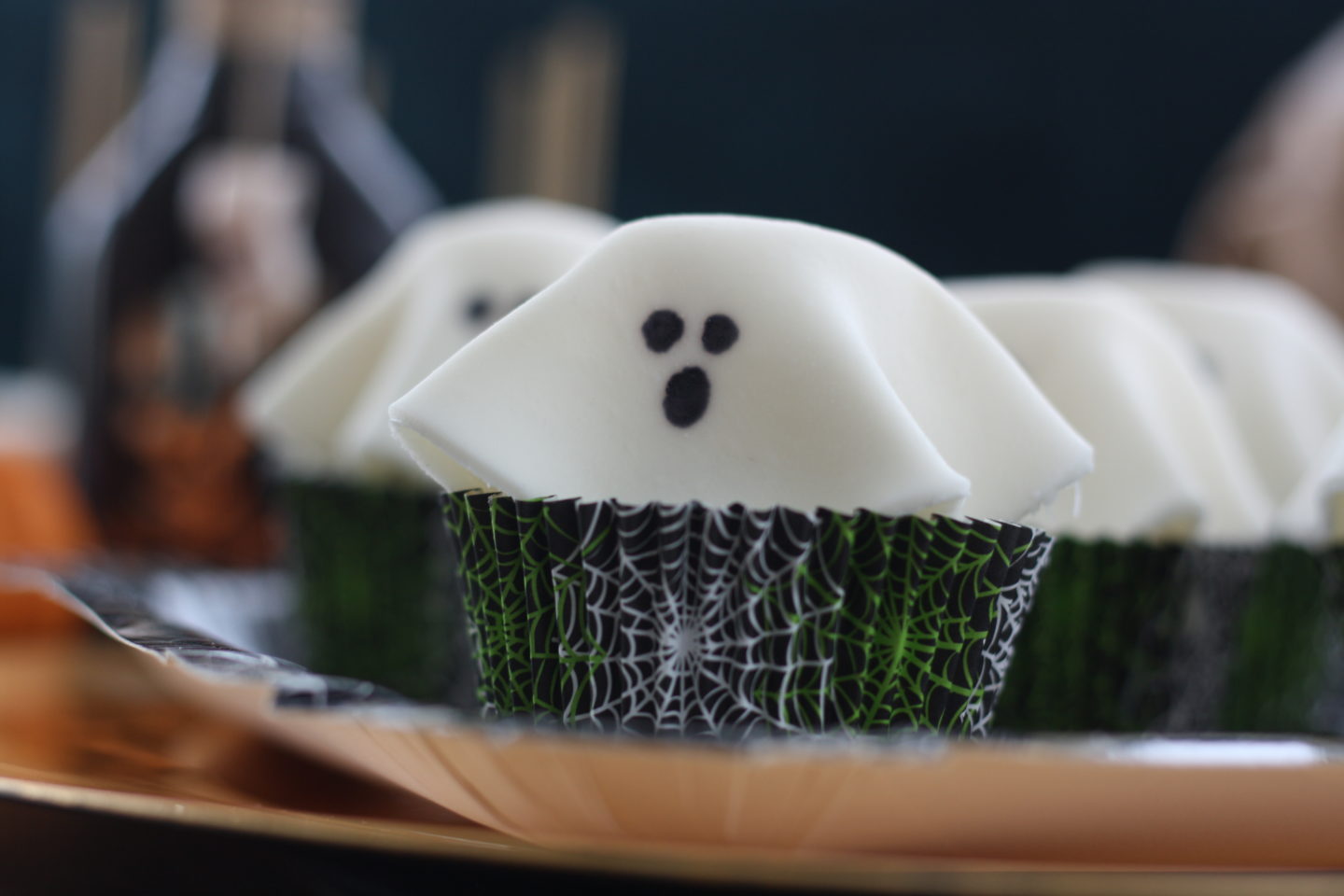 With things being the way they are this year (if you're reading this in the future, remember Coronavirus? It was shit wasn't it?!) I'm trying to think up other ways that we can make halloween fun. So Mason has a friend coming round on Tuesday and we're going to have a few decorations, play some halloween games and have some halloween food. These Halloween Ghost cupcakes are on the menu! I hope you have a fun Halloween and fingers crossed I'll se you all over on Instagram later!
Lianne x
Halloween Ghost Cupcakes
Ingredients
To make the cupcakes
1

cup

Plain Flour

1

cup

granulated sugar

1/2

cup

cocoa powder

1

tsp

bicarbonate of soda

1/2

cup

vegetable oil

1/2

cup

buttermilk

1/2

cup

hot water

2

eggs
To decorate
12

marshmallows

chocolate spread/marshmallow fluff

to use as a glue to stick the marshmallows

200

g

ready to roll fondant

black food colour pen or black writing icing
Instructions
Preheat your oven to 160c/150c fan oven and then add 12 cupcake cakes to a cupcake tin.

In a large mixing bowl measure out and add in all the dry ingredients. stir all the dry ingredients until well combined.

You can mix the wet ingredients together in a separate bowl before pouring into the dry ingredients and mixing well or you can just add the wet ingredients into the dry and stir well like I do because this saves on washing up!

I use my 1/4 cup measuring cup to spoon my mix into the 12 cupcake cases so that they are all an even size. You want your cake cases to be 3/4 full so if you have extra mixture after doing this you can use it to make some extra cupcakes. Don't try to over fill the cases as they will just bake over the edges and make a mess.

Place the cupcakes into the oven for around 20 minutes. Insert a skewer into the centre of a cupcake to check that it's cooked. It will come out clean if they are ready.

Once the cupcakes are cooled they are ready to decorate. Spread a small amount of the chocolate spread/marshmallow fluff onto the top of each cupcake and then stick a marshmallow on top of this.

Roll out your fondant until it's about 1/2 a cm thick and cut out 12 circles. Again spread a small amount of chocolate spread/marshmallow fluff onto the top of each marshmallow and then drape the fondant over the top of the marshmallow so it sits centrally on the cupcake and it drapes down and covers the sides of the marsh mallow. You can arrange the fondant so that a small section of it at the front is flat so you have space to draw your face.

Using your food colour pen or writing icing draw two small circles for eyes and then one slightly bigger for a mouth. Repeat this process for each cupcake and you are done and ready to enjoy your Halloween treat.
Pin my Halloween Ghost Cupcakes to save them for later!