Today we are talking kitchen reveals! Now I don't want you to get too excited, this is a rented kitchen so the cupboards, counters and walls are the same but I hope that we have managed to make it feel more homely and warm with our styling choices. Our kitchen is very modern and as I said before that is not our style. We've tried to soften the look of the kitchen by adding pops of green, plants and wooden details. You can refresh your memory on what it looked like before and what our plans were by reading Our Rental Kitchen Plans. Once you've caught up with that sit back and enjoy our Rented Kitchen reveal.
This post contains affiliate links, find out what that means here.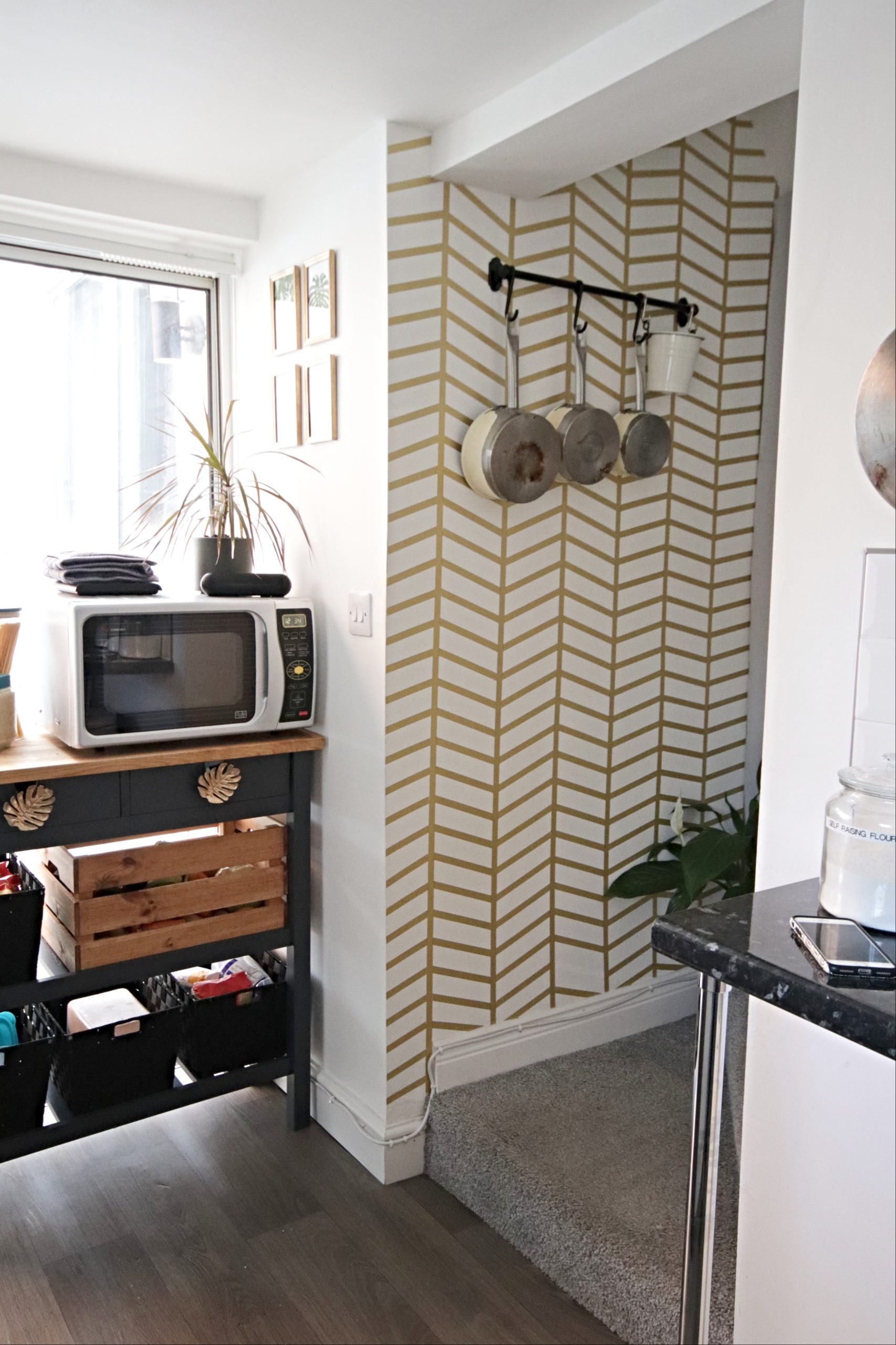 One of the biggest changes is this area when you first walk into the kitchen. We have the Washi tape wall (you can find all of the details for this Under the Stairs Storage space here) and then the Ikea Forhoja kitchen trolley that we upcycled and you can read about that Ikea Hack here. Both of these things add so much to the overall look of the kitchen now. Before when the trolley was plain wood it split the kitchen into two in how it looked. Now we've added some grey to the trolley and some wooden details to the other side of the room (that you'll see in a minute) it ties the two ends together and looks more cohesive.
The washi tape walls also adds some gold to the room and you know I love gold!! We continued the gold in the handles on the trolley which also introduces the leafy theme I've tried to use throughout the room.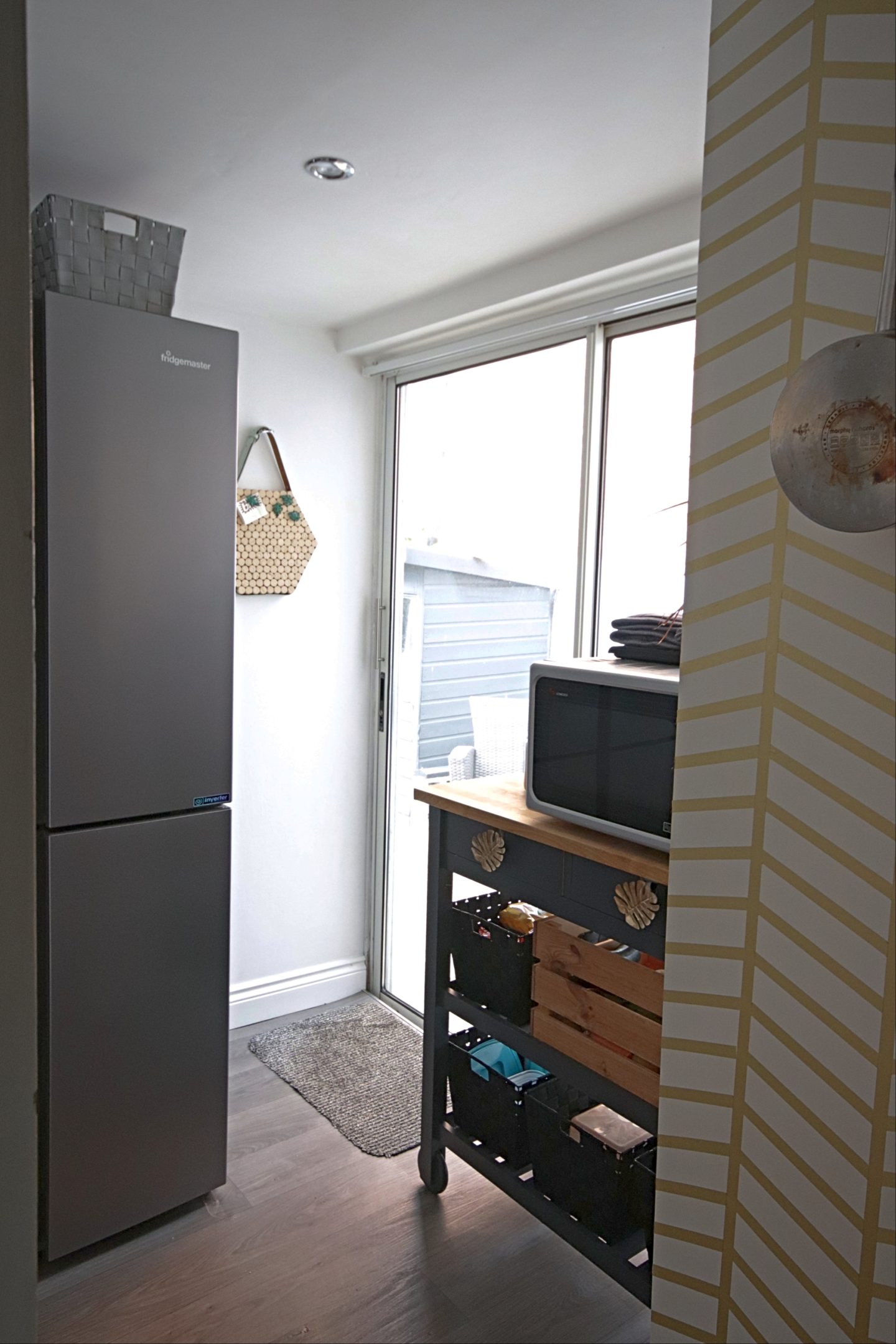 Here we have the view from the kitchen doorway. So the trolley is to the right, in front of the sliding back doors and the fridge is directly in front of you as you come into the kitchen. Long time readers might spot the pin board and remember my Wine Cork Pin Board tutorial. This pin board is actually made using the same corks and belt as I used before, I stripped it down, changed the shape and painted the belt to fit the colour scheme. It's hard to see but I also made some Monstera leaf head pins to match into the kitchens leafy theme. I used the same technique to make these as I used for my Monstera Leaf Magnets. I just made them in half the size and stuck them to a pin head instead of a magnet. The pinboard was perfect just to add a little interest to this wall.
The baskets that are on the trolley in black and on top of the fridge in grey are from Home Bargains and are great for adding some much needed storage to our kitchen. As its so small we have to be inventive with our space and you can read all about my small kitchen storage solutions here.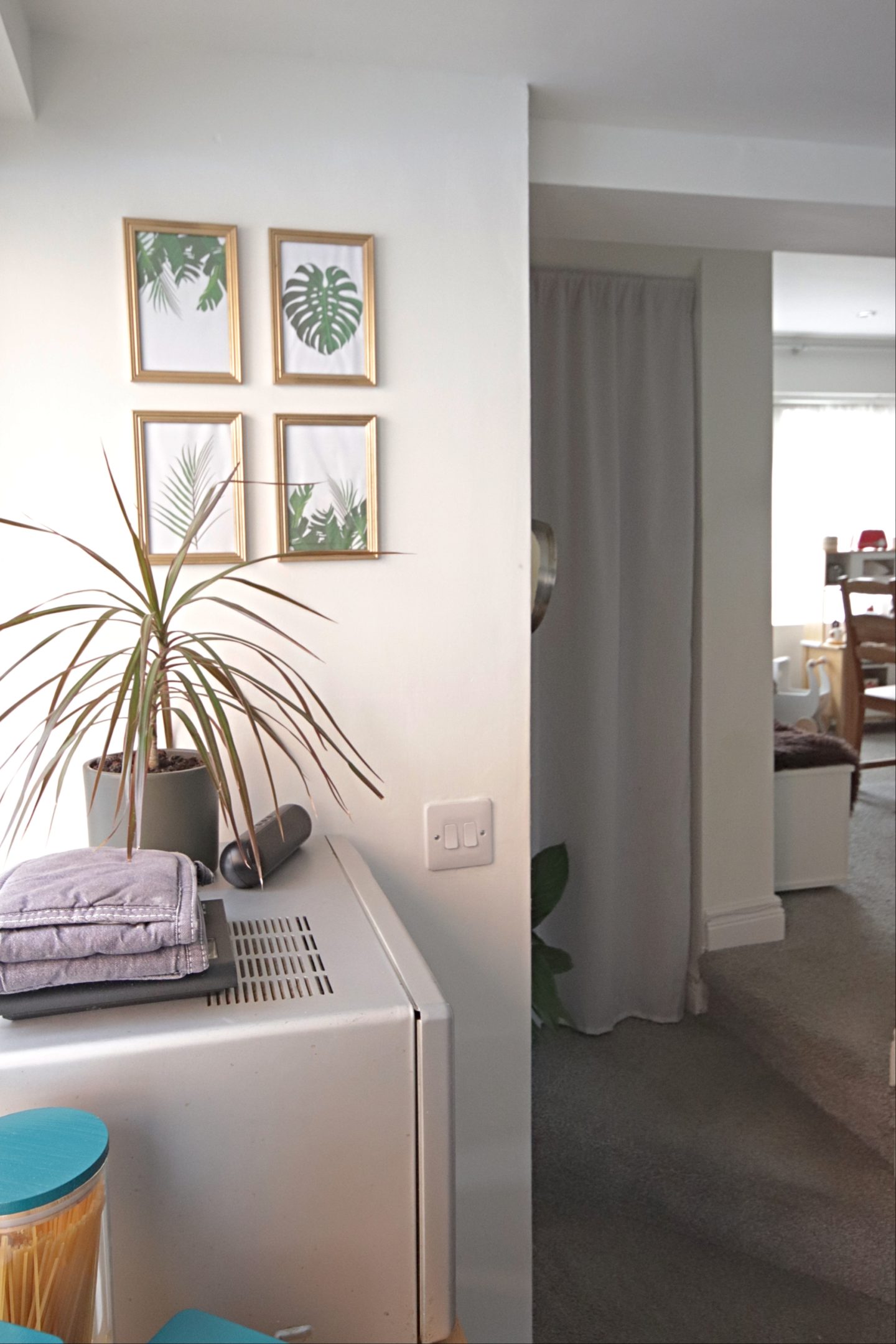 I snapped this picture from in front of the back door so you could see these fabulous FREE prints from Fox and Hazel. Her website has so many free prints available so it's definitely worth a browse. This was a set of three prints, available with a pink or white background. I went for the white and then printed out two of one of the designs and just flipped it as I thought a set of four looked much better in this spot than a set of three. I just popped them into some basic frames I had stored in the shed which I sprayed gold. You can also just see my pasta/rice storage jars in the bottom corner. These weren't all matching and I've had them a while but I just painted all the lids in the same teal green (just regular emulsion and then sealed with a layer of dishwasher proof Mod Podge) to make them look like a set.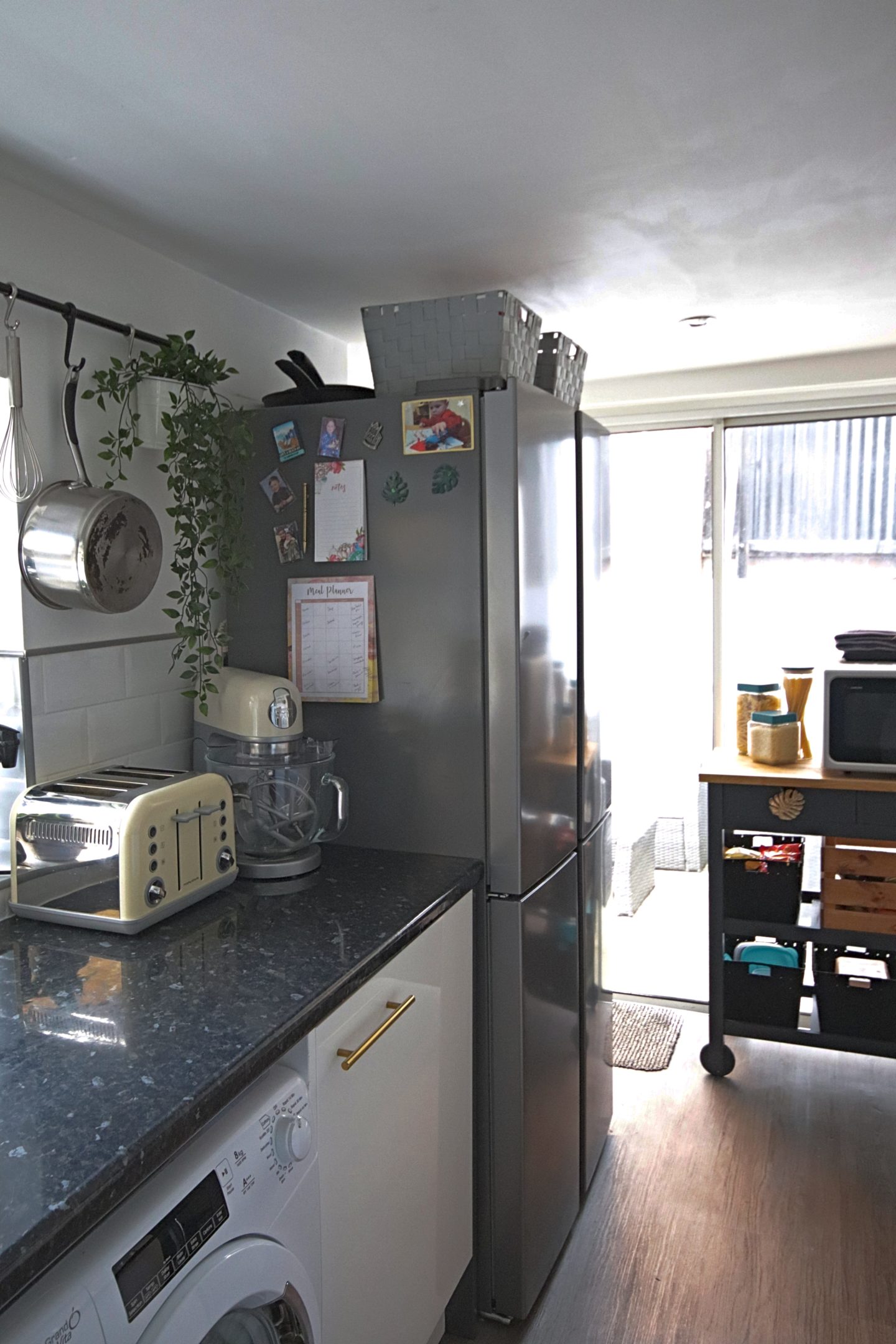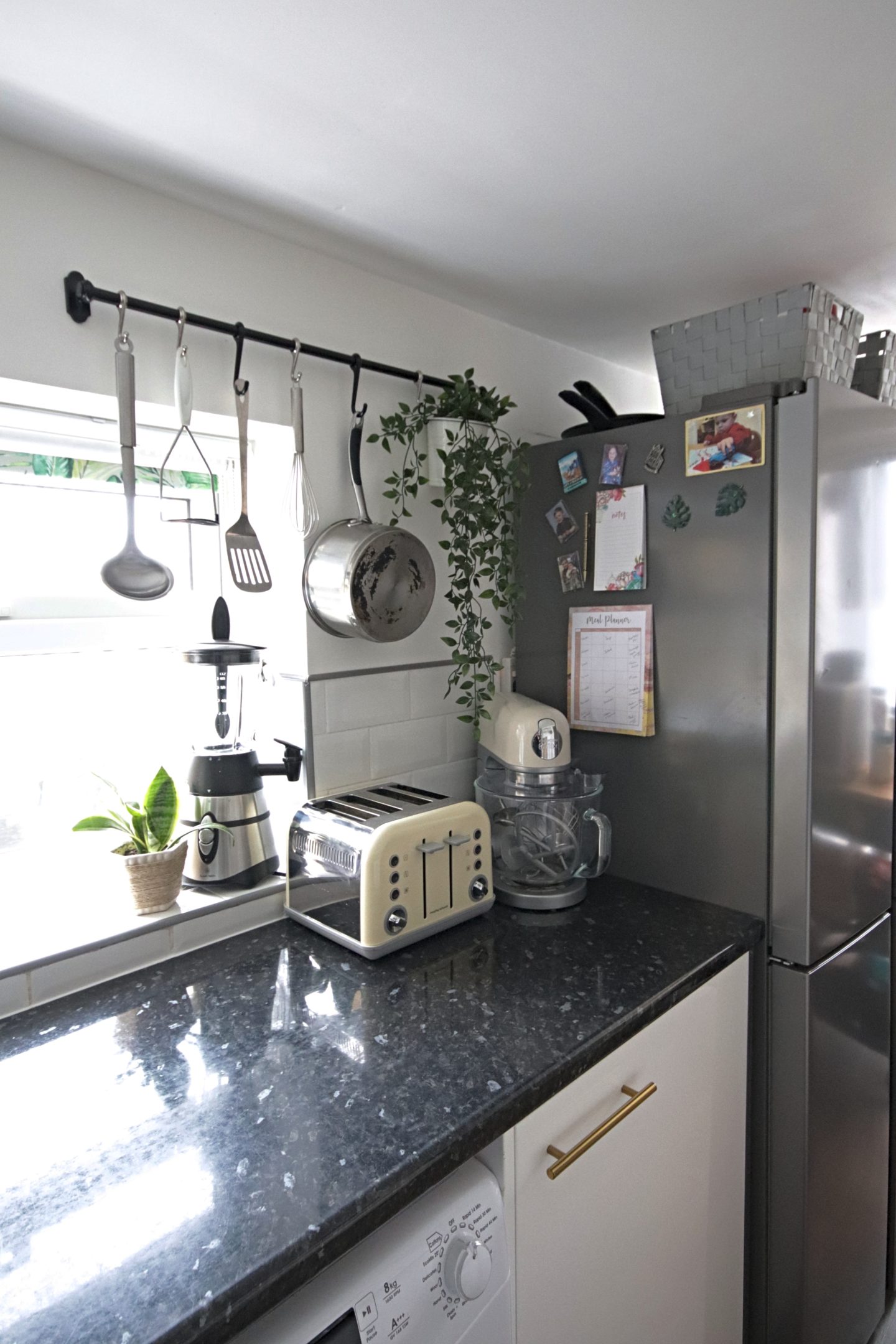 As we move further around the room, the view from the left hand side of the fridge hasn't changed too much. We already had our Fintorp hanging storage which is the absolute best thing ever for a small kitchen! All those bulky sauce pans are hung up instead of cluttering up the cupboards and I love that is functional but also adds interest to our walls. I feel like the majority of kitchen decor should also be things we use in the kitchen. Like pretty dishes, utensil pots, wooden chopping boards etc. The little plant pots on the window sill have also had a little glow up! They used to be yellow (they were a bargain £1 find from poundland about 5 years ago) so I just painted them in some old leftover paint from the shed in a neutral colour and wrapped the middle of the pot in twine. Again this is a technique I've used before and you can read my tutorial on twine wrapped plant pots if you fancy it. You can also see the new kitchen cupboard handles. They are the exact same style as before, as renters we don't want to be drilling new holes in kitchen cupboards, but now we have gold handles instead of silver. Again, adding those gold details to tie in with the washi tape wall, frames etc and I feel gold is much warmer than silver too.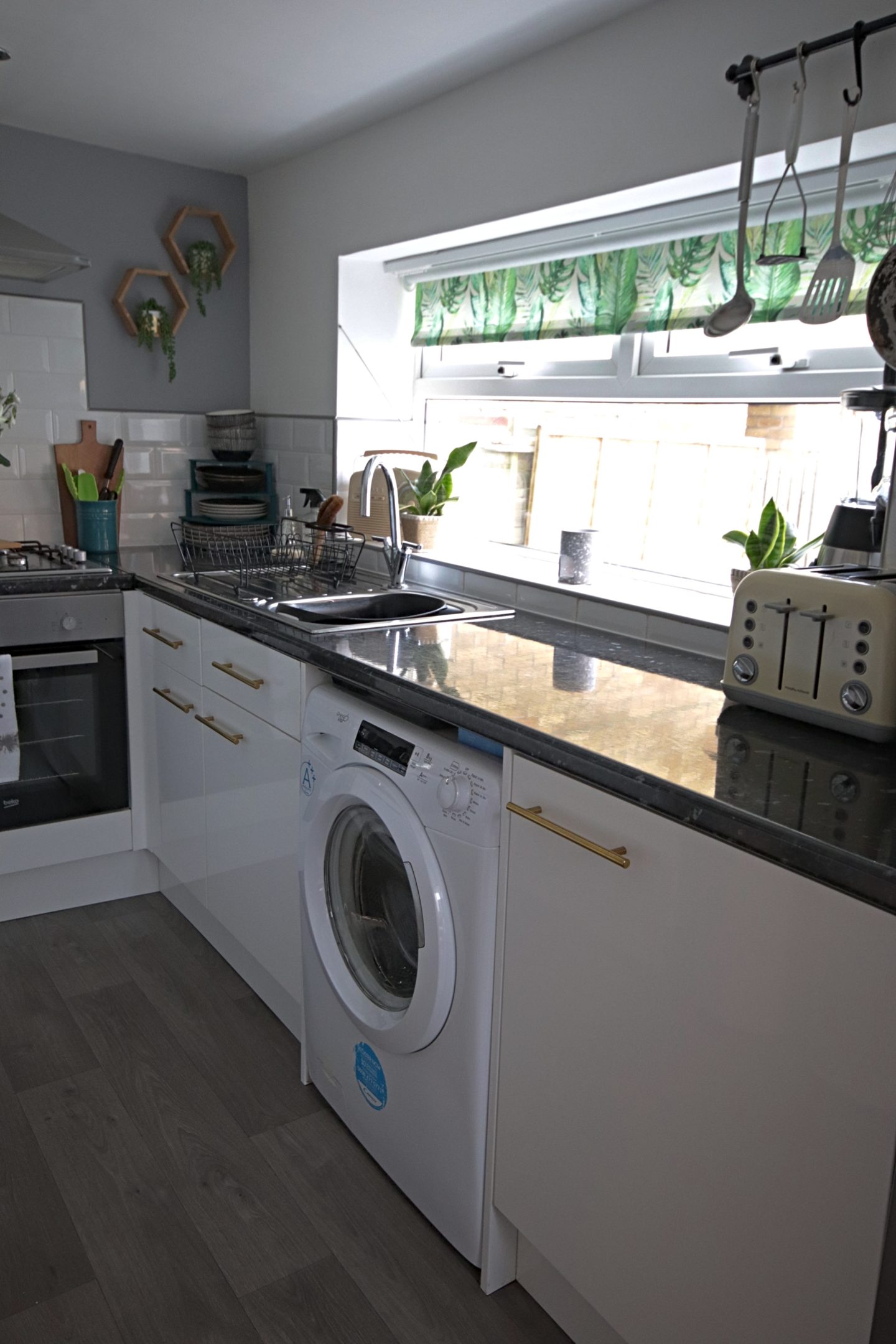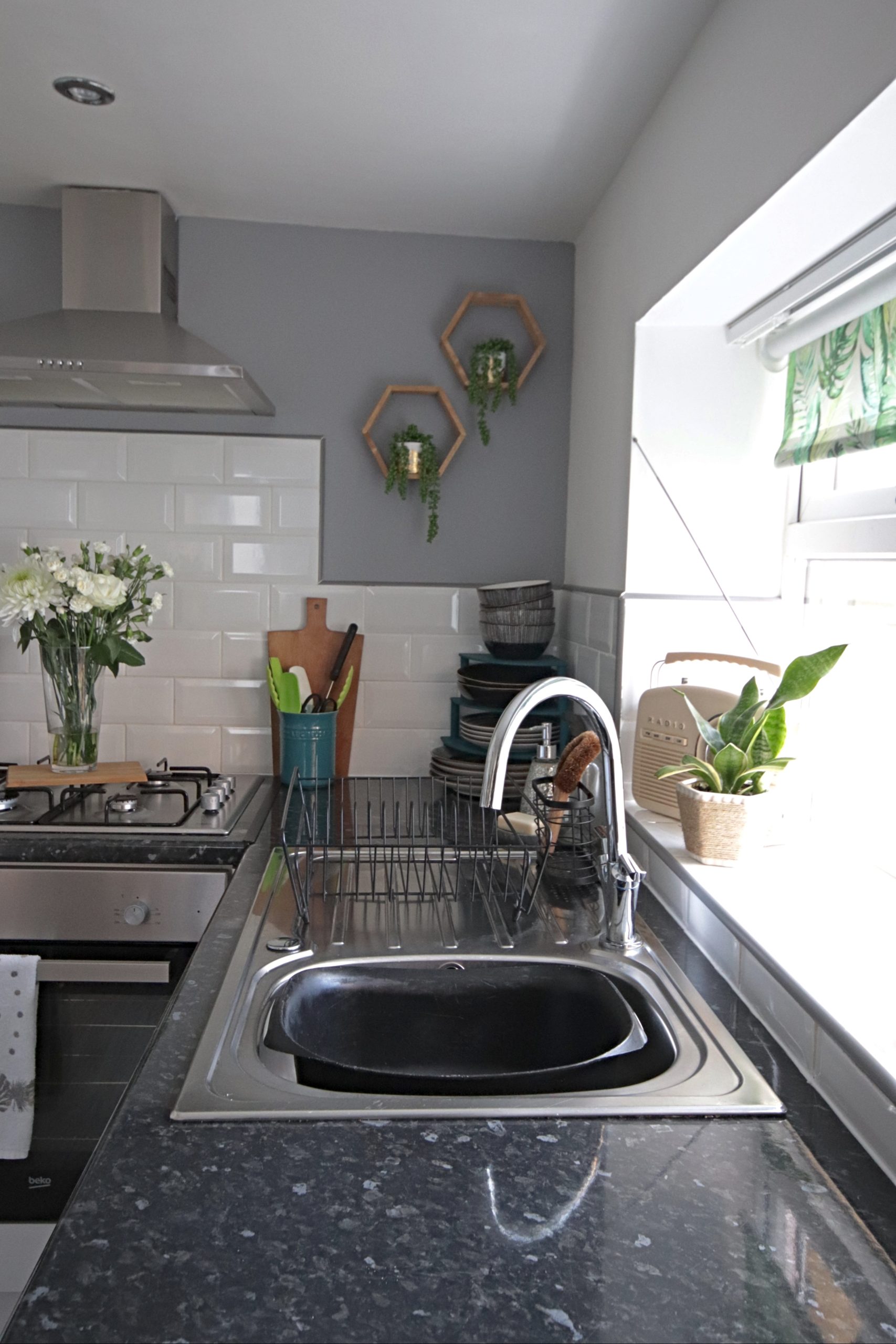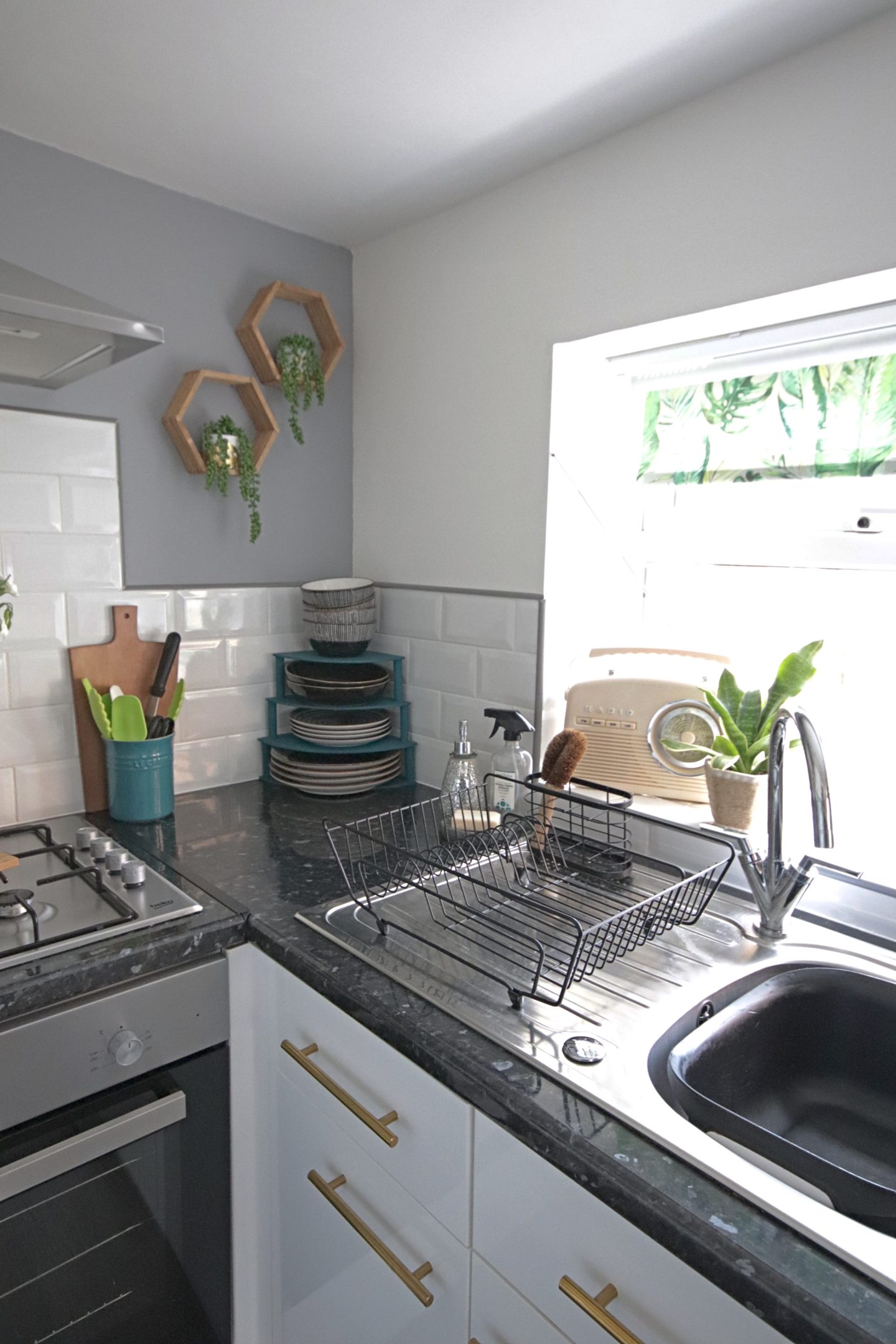 We're moving along the counter to the sink area now. Originally I had planned to paint the Fintorp hanging storage gold to match the cupboard handles but I decided to leave them as the black helps to tie in with this end of the room that has the black draining board, oven door and hob. You can also see my kitchen blind here that started the idea of me adding more leaves and green to the room. This blind was previously gifted and you can read my review here. The plate rack is another storage solution that I made myself (you guessed it there's a tutorial here!) Our plates didn't actually fit in any of the cupboards except the bottom big one and I needed that for appliances and cooking dishes so I needed somewhere to put them and this was the solution. I painted the plate rack in the same teal green that I used on the pasta storage jars. When planning the changes and styling of this room I knew I needed to add some wood to tie in with the trolley end of the kitchen. So I bought some wooden chopping boards from tk maxx to lean up behind my utensil pots ( I found these pots in tk maxx too and they match the colour of the plate rack perfectly) and I also wanted to add some decorative shelving. This shelving is another DIY (I didn't realise how much of this room I had DIY'd until I started writing this!!) and they are actually made using popsicle sticks. You can read how I made them in my popsicle stick display shelves post but this time I stained them in the same wood stain I used on the kitchen trolley. The little Artificial plants on the shelves are also a DIY 😀 I think if you read this post and all the others I've linked too you will be here all day 😀 😀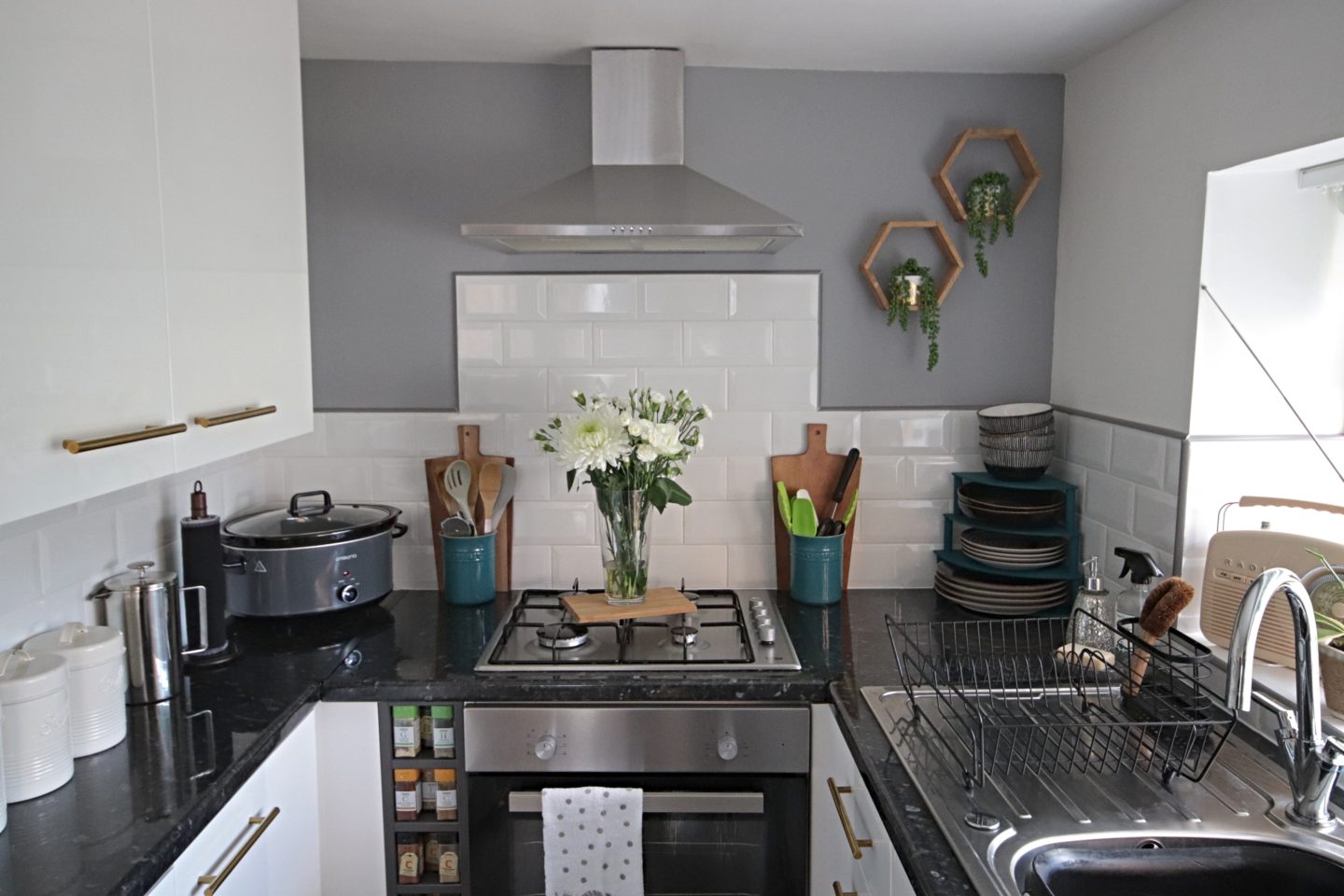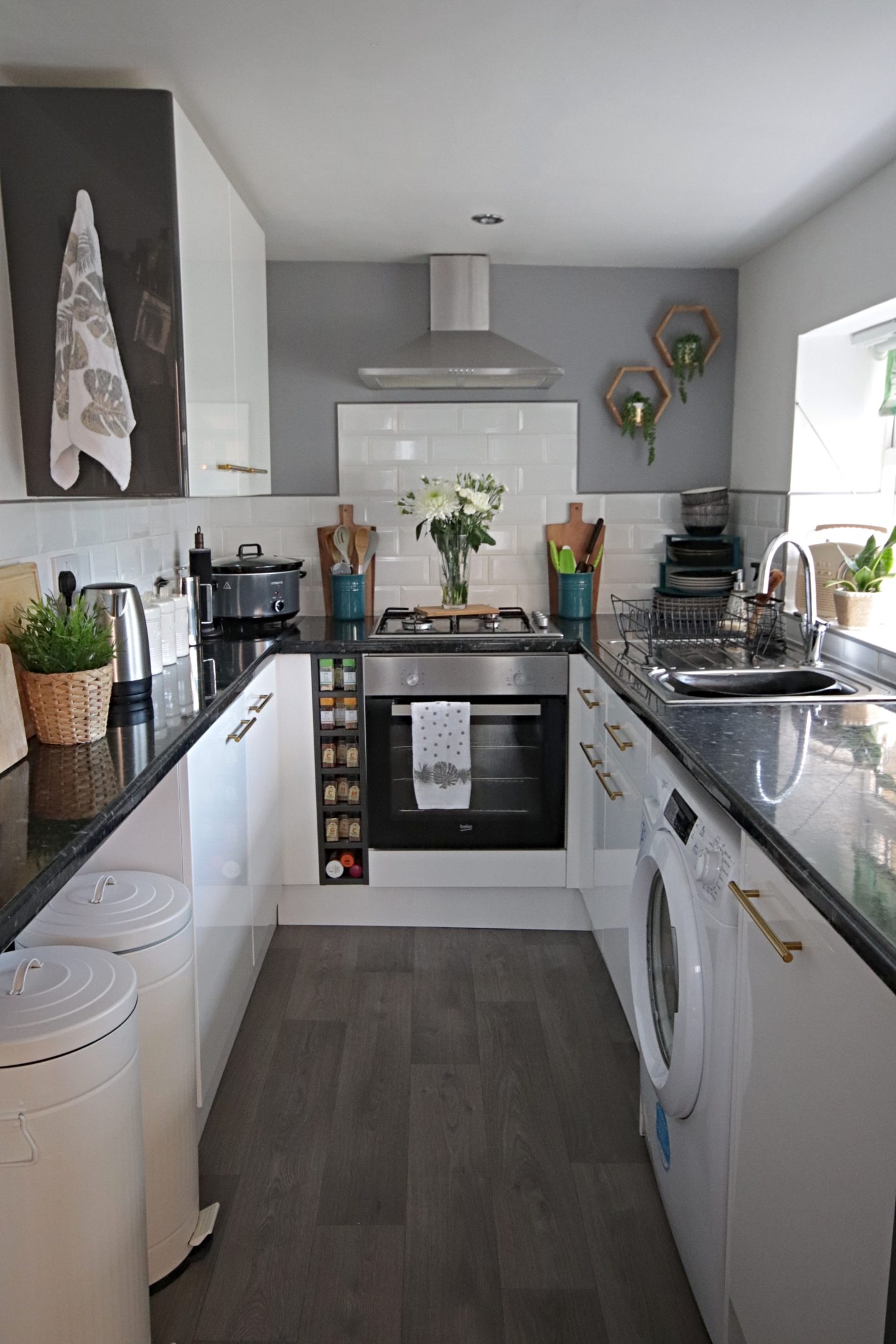 I love this shot of the full back wall of our rented kitchen! I love all the little details that make it feel homely without cluttering up the space because let's be honest I need every inch of counter space there is. You can see more of the gold handles here and also my wine rack that I use as a spice rack.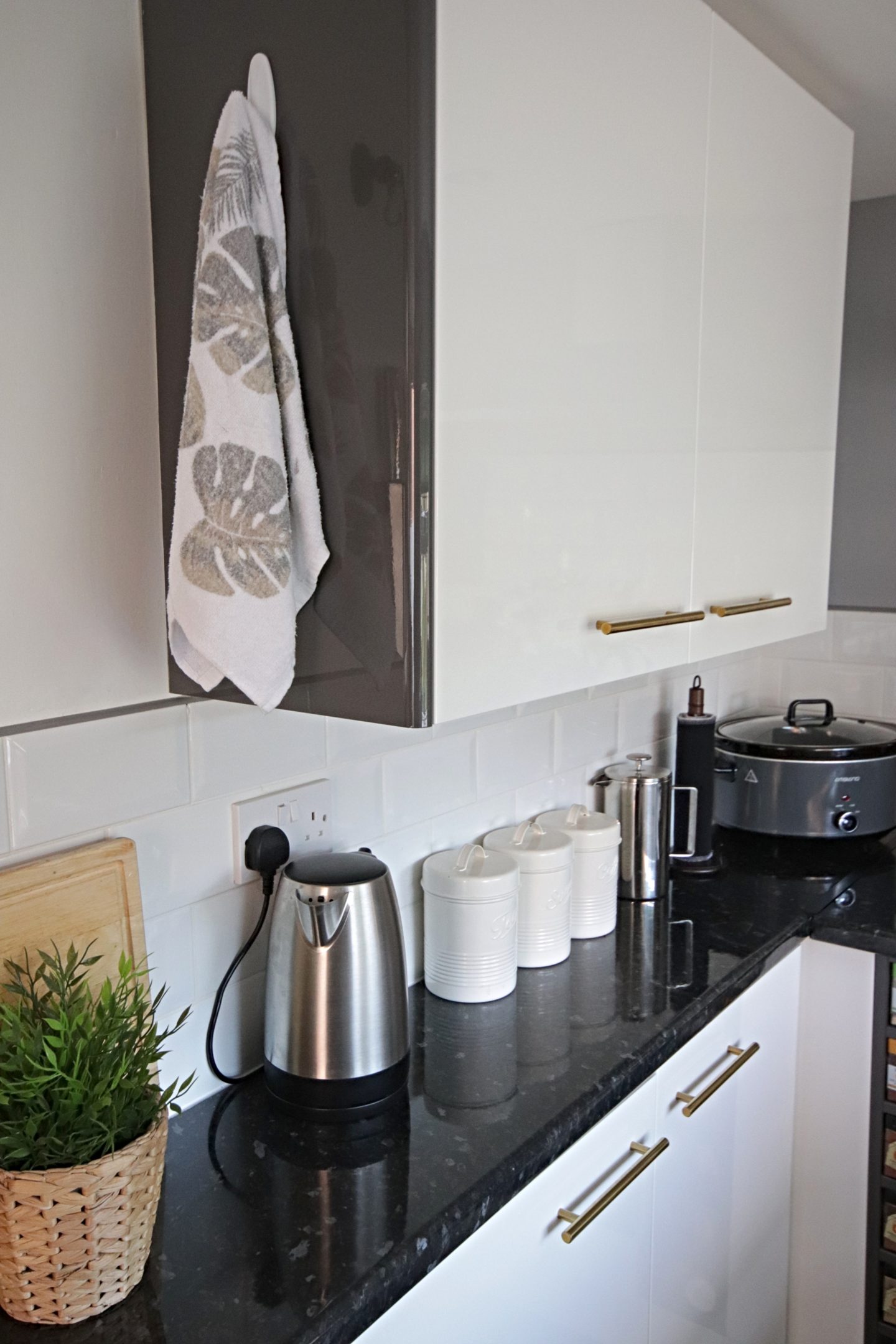 I found these monstera leaf tea towels in Wilko so I had to get them, they're not available online but you might still be able to find them in store. The counter on this side of the kitchen is only a half counter so its not big enough to work on but it's perfect for the drinks making area. I would love to work on this area a little more to make a coffee station but that will have to wait for now.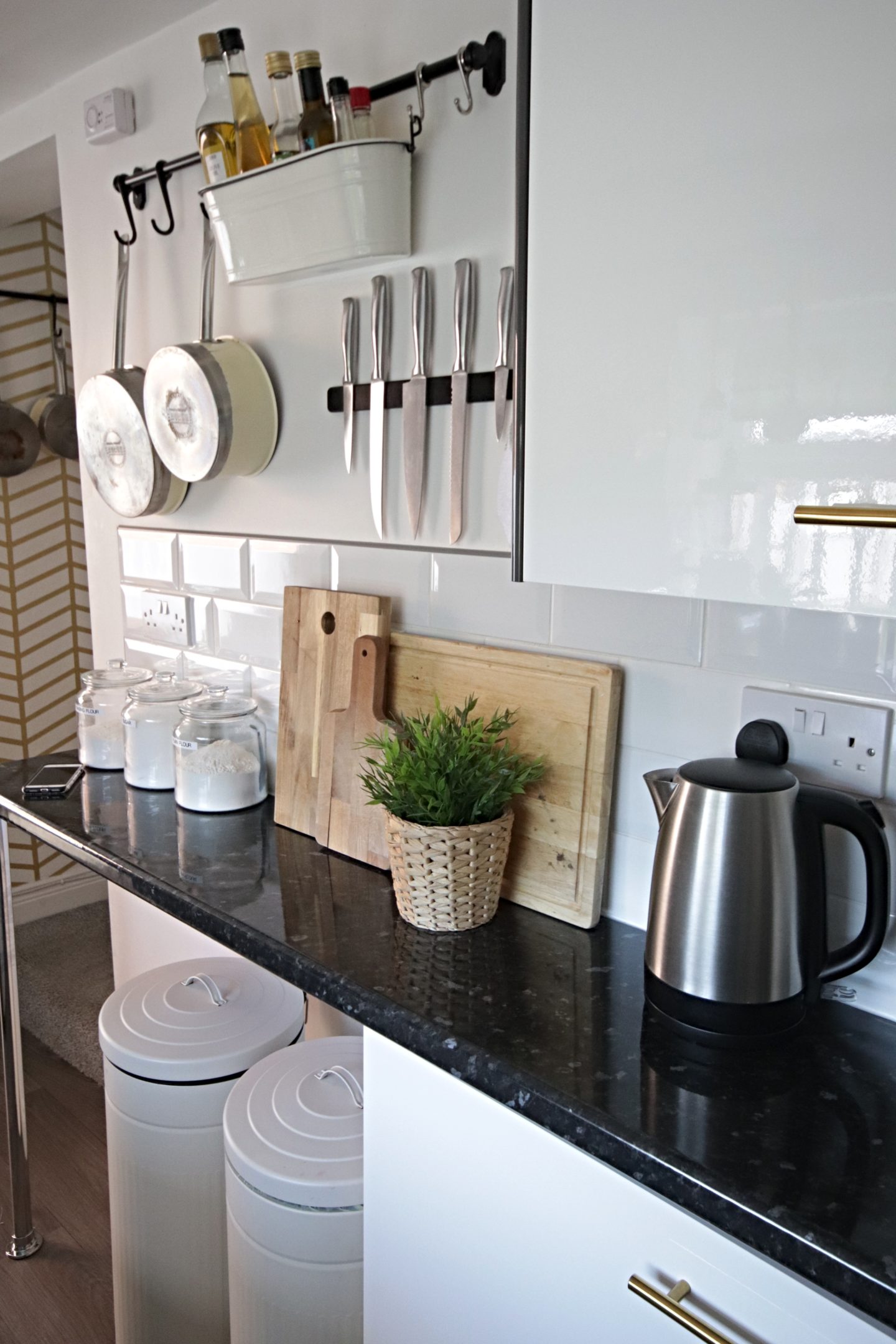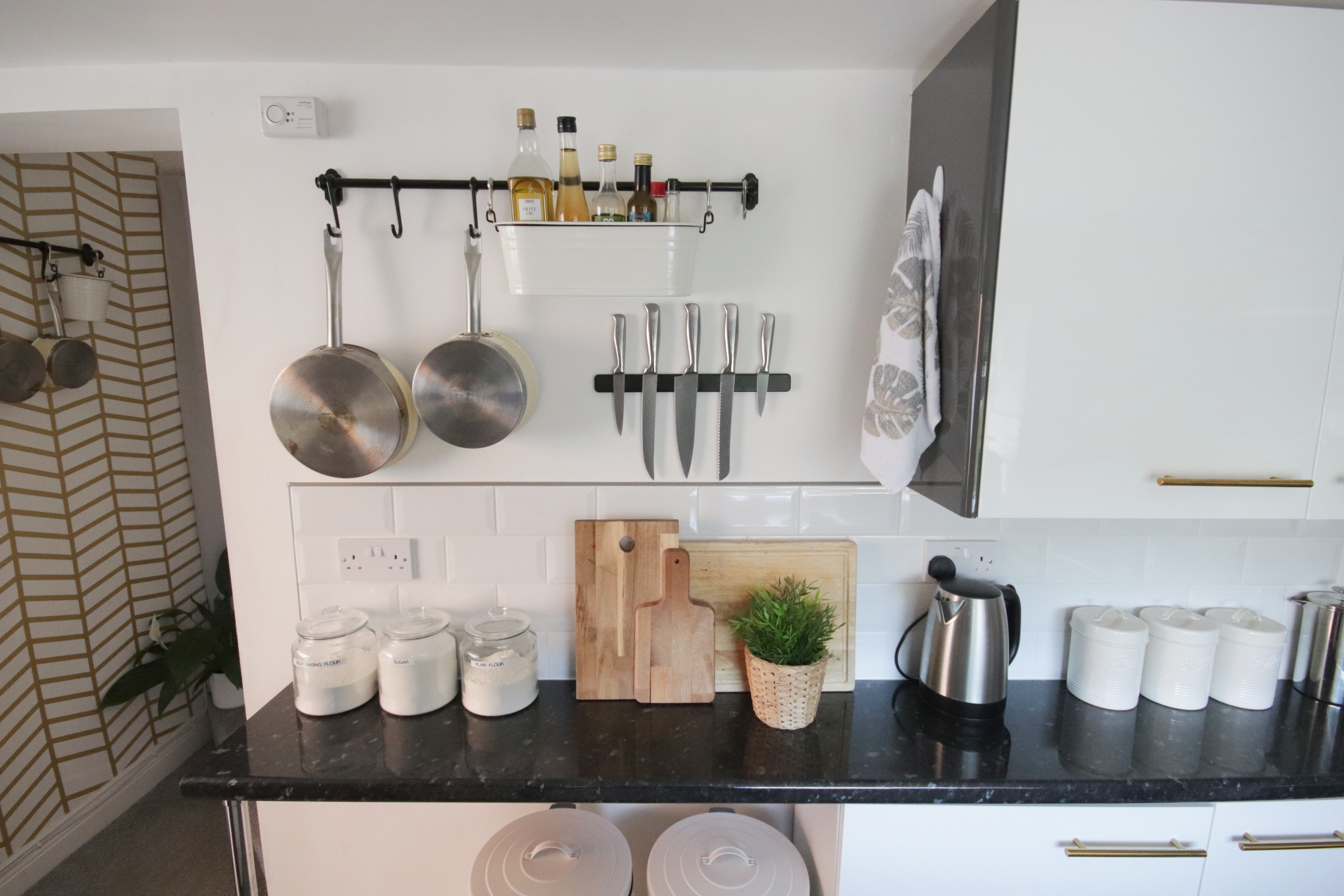 This wall is one of my favourite spots in the kitchen because it is set up for practicality. I need somewhere for my pans, knives, cooking oils, storage jars etc but at the same time it looks great and has created a feature out of what would have been a bare white wall. My bins also fit perfectly unter this counter, these bins were from home bargains about 5 years ago and they were under a tenner each so an absolute bargain! The Fintorp hanging storage, plant and plant pot, storage jars and chopping boards are all from Ikea. When we eventually buy our own home I am definitely getting my kitchen from Ikea.
So as you can see we are back around to the washi tape wall and back to the beginning of the rented kitchen tour. The changes in here are not huge, like I said already it's mostly styling but I really love my little rented kitchen now and I hope you do too. If you want to know where something is from that I've not already linked just send me an email or you could follow me on my Instagram. Have a great day!
Lianne x
Pin my Rented Kitchen Reveal to save it for later!