I thought we had a small kitchen with limited storage at Seaways but in comparison to our kitchen now it was huge! 😀 I prefer it in some ways. I like that it takes less time to clean for a start and it forces me to be a tidier worker. I have to clean up as I go along now because there just isn't the space not to. Downsides to a small kitchen are a lack of seating. I would love to have a table in the kitchen, especially as the kids get older so they can sit and do their homework while I'm cooking the dinner. It's one of the things that will be on our must have list when we finally (hopefully) buy. Another is that you can only really have one person in our kitchen at a time, two at a push and not a chance in hell of three! The biggest downside though is storage. Even in the smallest of kitchens you still need to have a certain number of things for it to be a functioning kitchen. Pots and pans, plates and dishes, appliances and of course food!
Working with a small kitchen has made me more creative and resourceful with the space I do have and don't forget, I work from my kitchen making cakes so I have to be clever with where and how I store my equipment and ingredients. I thought it might be helpful to share my small kitchen storage ideas with anyone else who has, or is moving into a house with, a small kitchen.
My Small Kitchen Storage Ideas
Declutter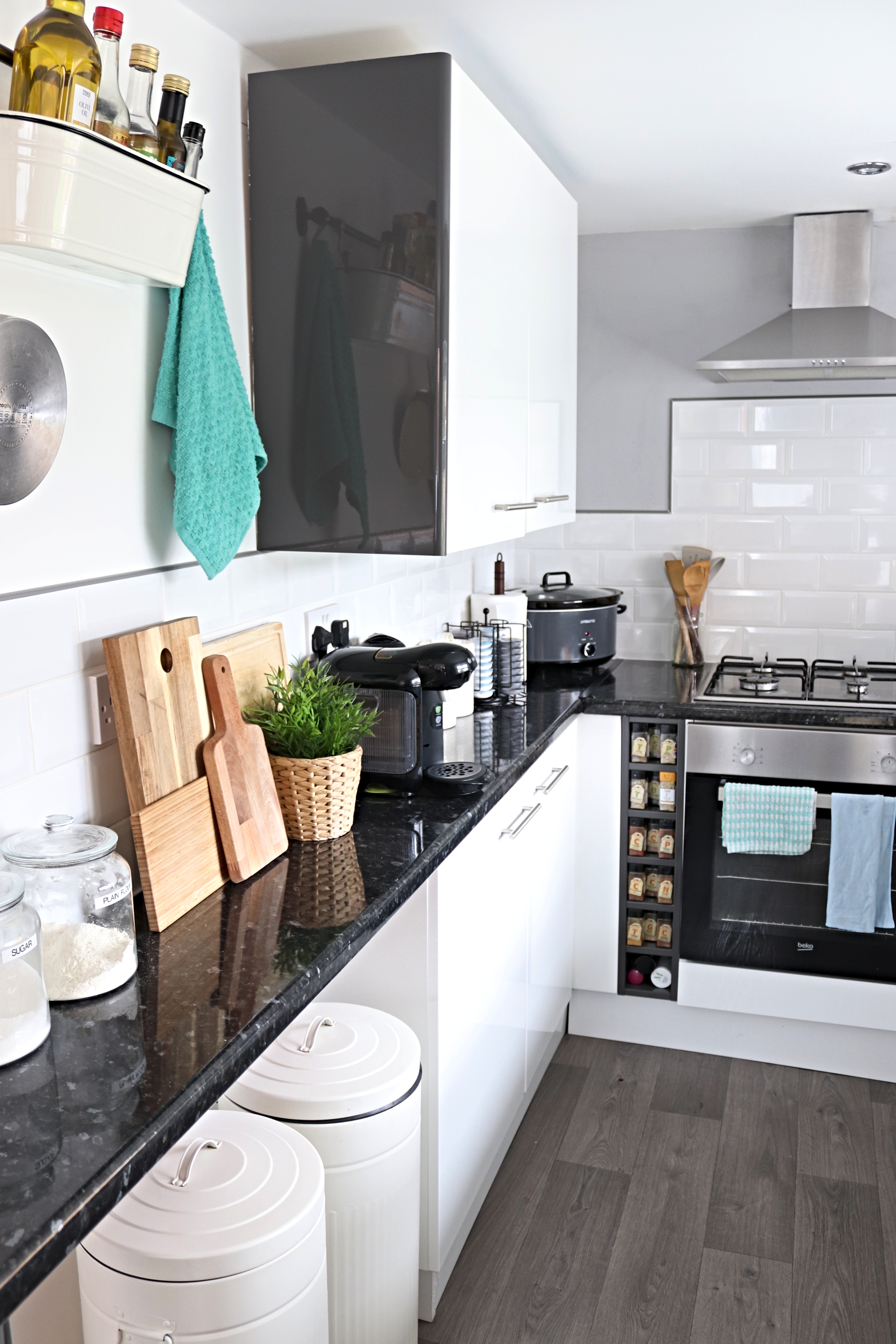 This is absolutely the most important first step to make the most of your space. You cannot waste space in your cupboards storing things that you do not use. When I packed up the kitchen at Seaways I was so strict with what I packed to come with us and what I put aside to get rid of. I had a bread maker that had been used just once, it went into the get rid pile. We also owned a Sandwich toastie maker and a panini press, so the press stayed as it can be used to make toasties too and the sandwich toaster went. But it's not just appliances that you can cut down. To save space I got rid of all my plates but one everyday set that lives in the kitchen and my best set that lives in the sideboard in my dining room. And if there is one thing in this world that we all have far too many of sat in our cupboards it's mugs. I know you can cut your mug collection in half!!!!
Buy a trolley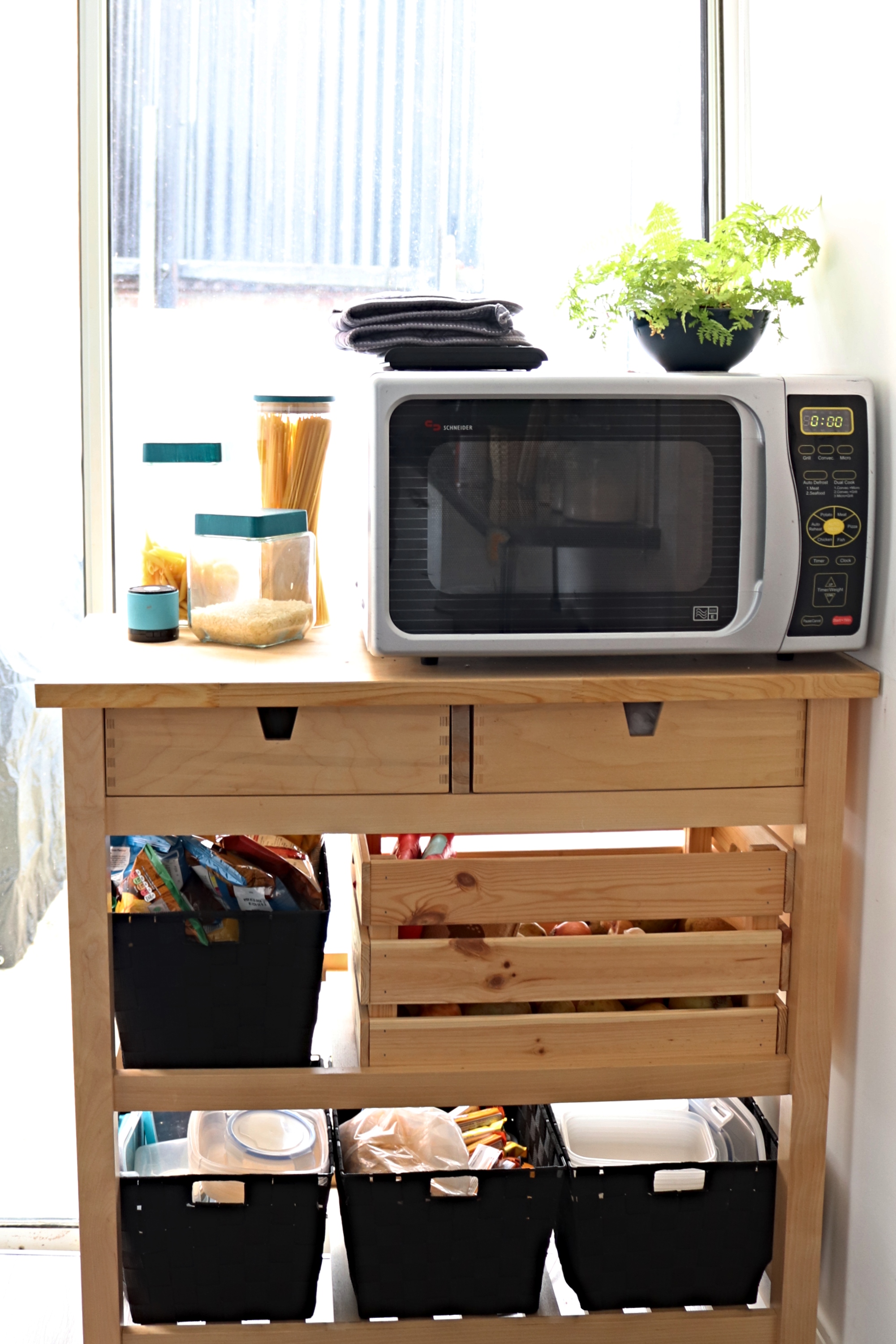 Sometimes you can be short on cupboards and surfaces but you do have the floor space to add some. In both my current kitchen and my kitchen at Seaways I used this trolley from Ikea. I had to cut it down to fit in our current kitchen but there are lots of options, including smaller trolleys, out there. The extra storage and surface space a trolley can provide can be invaluable. In our kitchen it has given us space to put the microwave that didn't fit on our existing counters. We also store our cloths in the drawers and a lot of other things on the shelves which leads me to my next small kitchen storage idea.
Baskets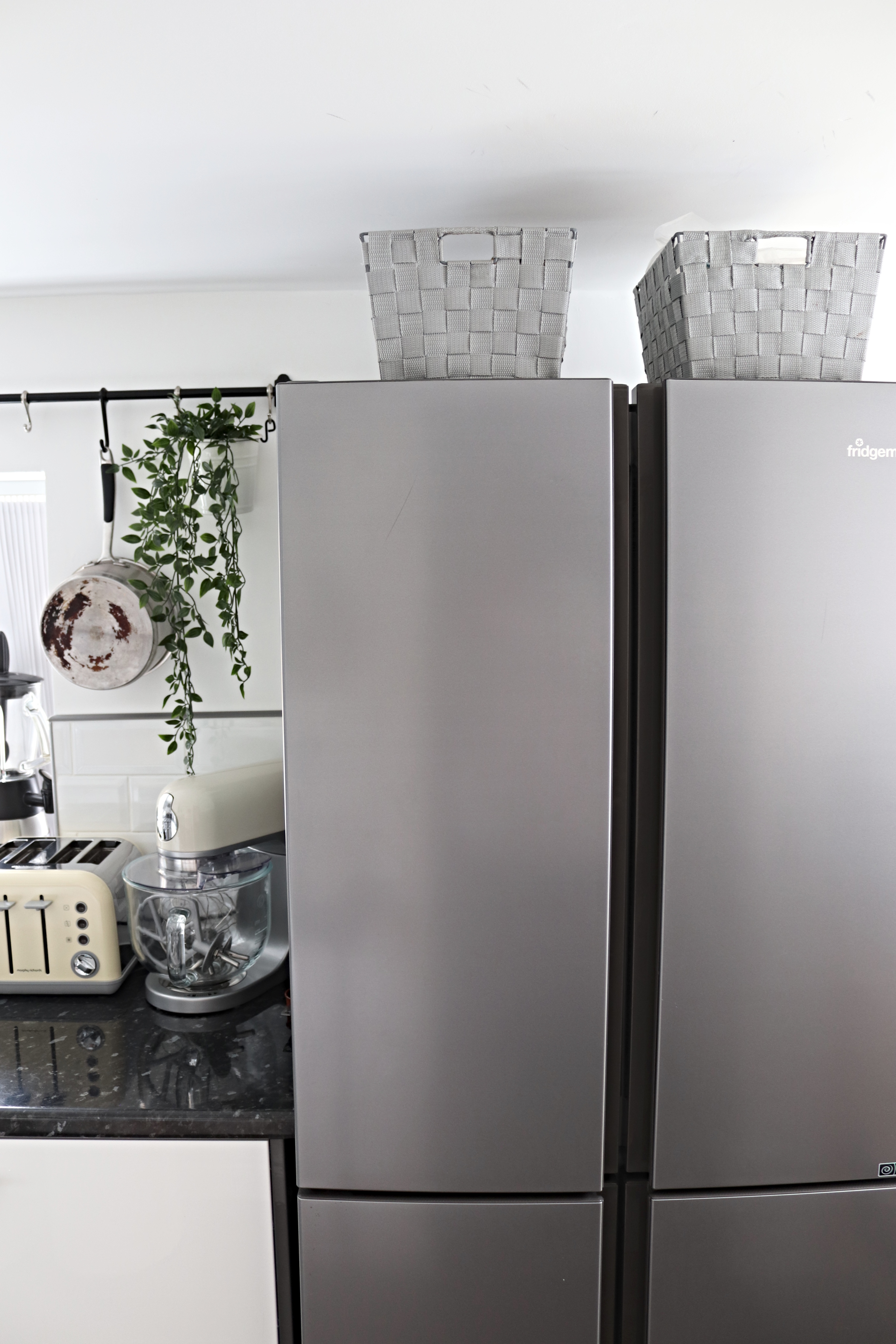 Just like Mrs Hinch I love a basket! They are perfect for storing smaller items on shelves and in cupboards. I have baskets inside my cupboards, baskets on my trolley that hold the kids snacks and baskets on top of my fridge that hold my baking supplies. The baskets on top of the freezer especially are a good example of how baskets can provide extra storage in a small kitchen.
Decant your food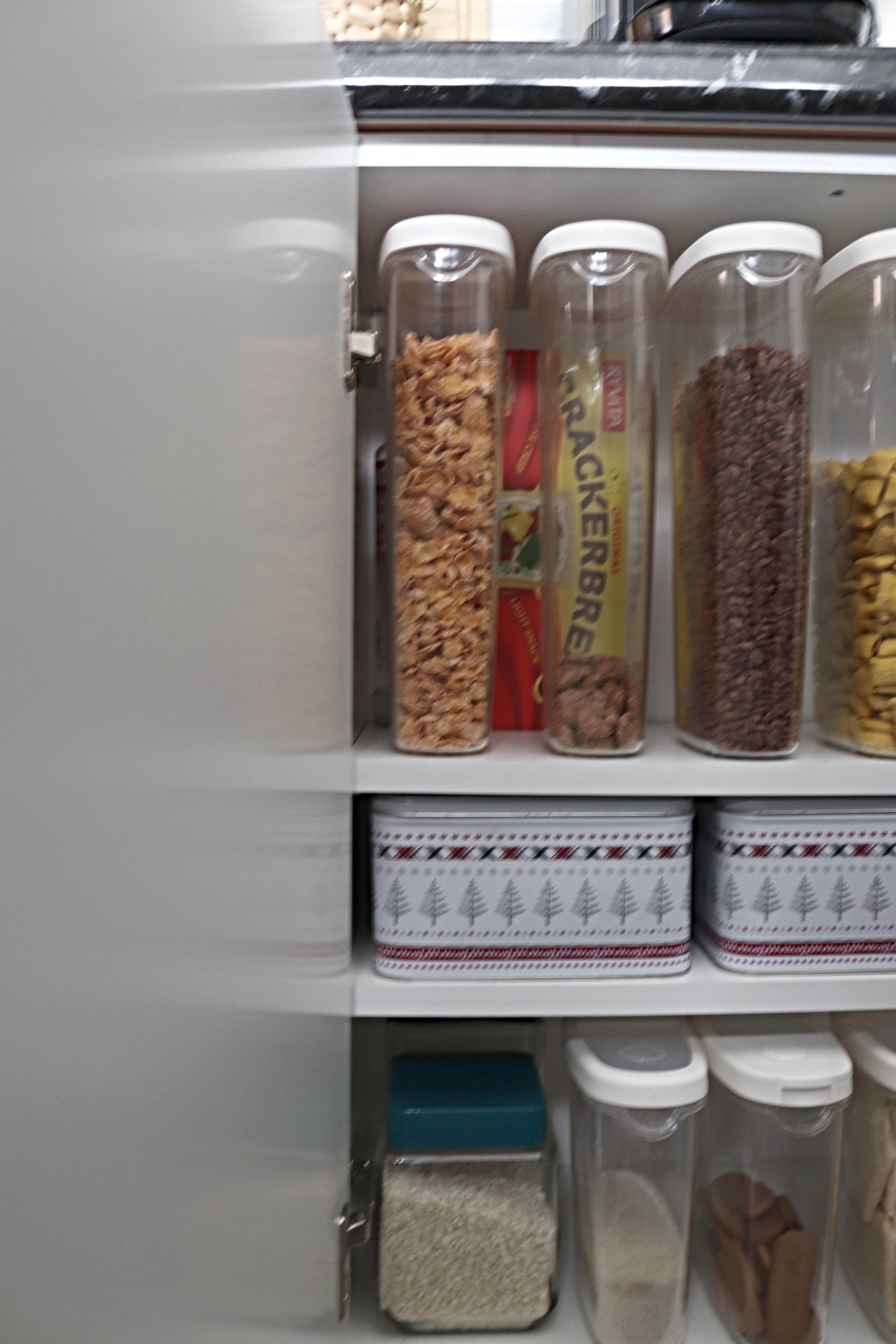 Half packets and boxes piled in the cupboard not only look messy but take up more space than necessary. These ikea food storage containers are an affordable way to make the most out of the space in your cupboards. You can arrange your shelves so that they fit in perfectly therefore using the space to its fullest potential.
Make any extra space you have work for you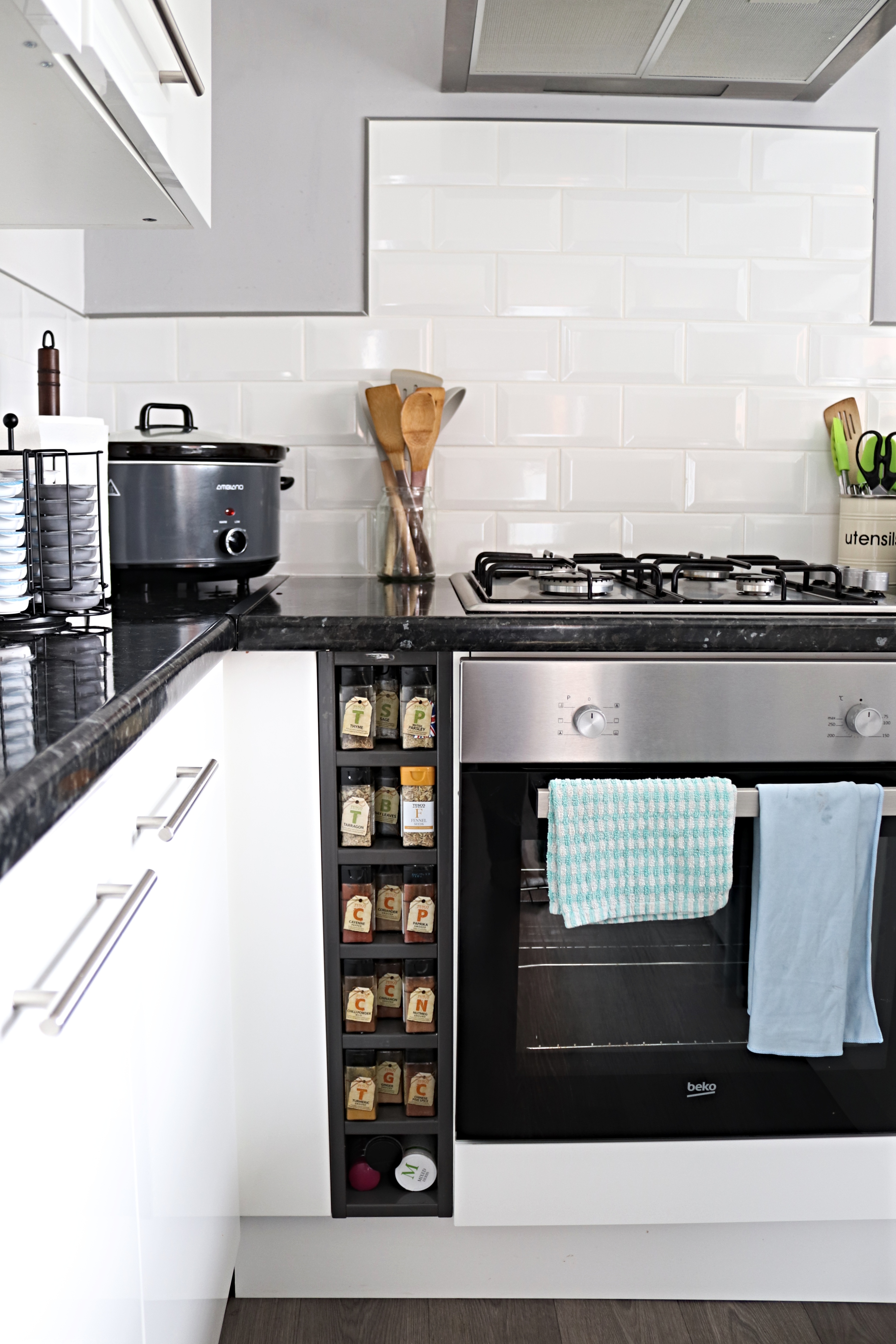 The best example I have for this tip is my wine rack that I actually use to store my herbs. I have no need for a wine rack, I drink white or rose that I purchase, chill and drink. Wine does not last long enough once I've purchased it to require a wine rack! 😀 So I found a way to use this useless space that worked for me. I have another useless space between my washer and counter (my washer is shorter than the under counter cupboards so there is gap between the top of the washer and the underneath of the counter) but I have utilised this space by storing my cling film, foil etc there.
Utilise the Counters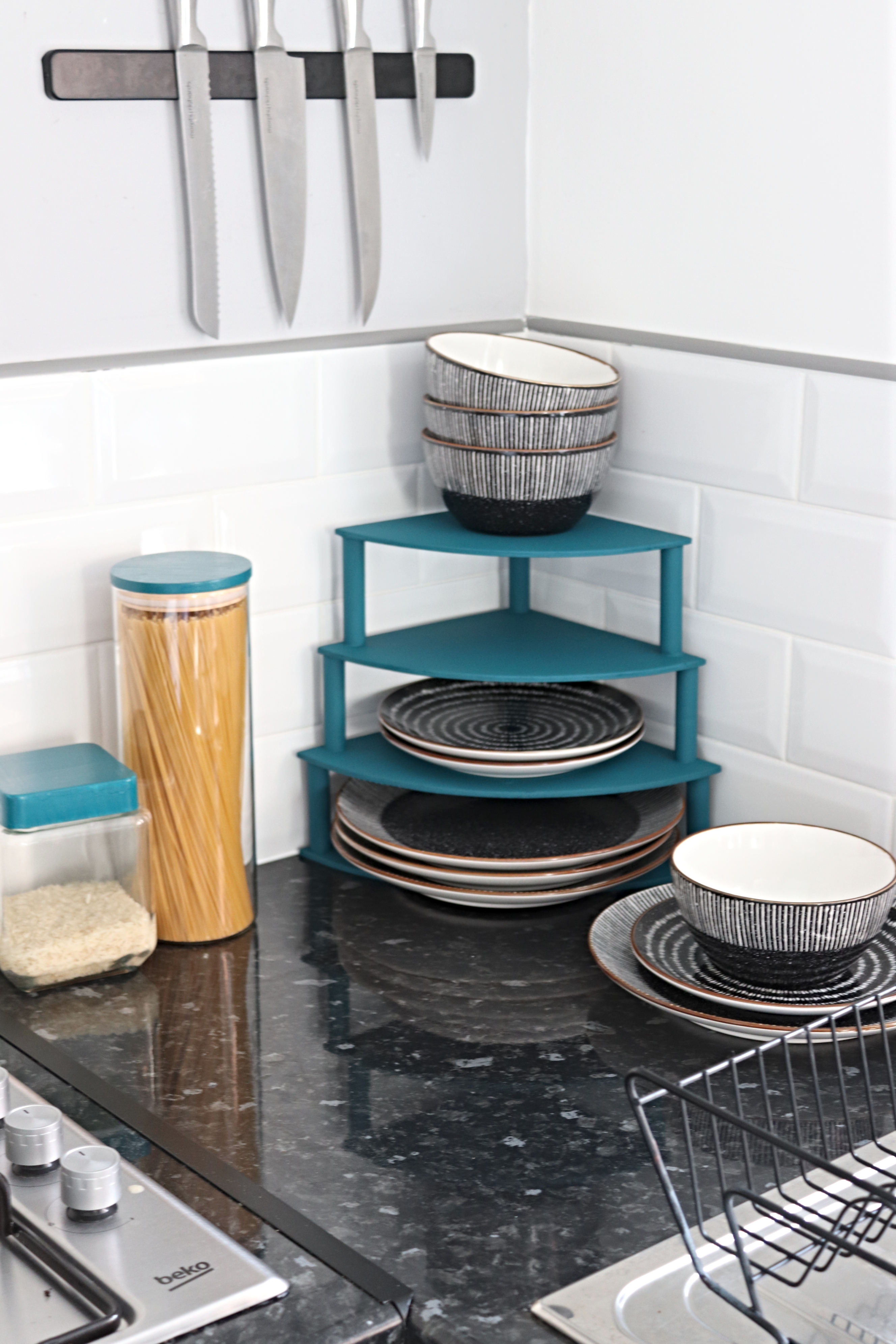 Keep utensils in pots on the counter, store food in jars on the counter and lean your chopping boards up against the walls. All of these things are not only useful but they look good and add character to your kitchen. I also store my plates and bowls on the counter using my Wooden Plate Rack DIY.
Utilise the walls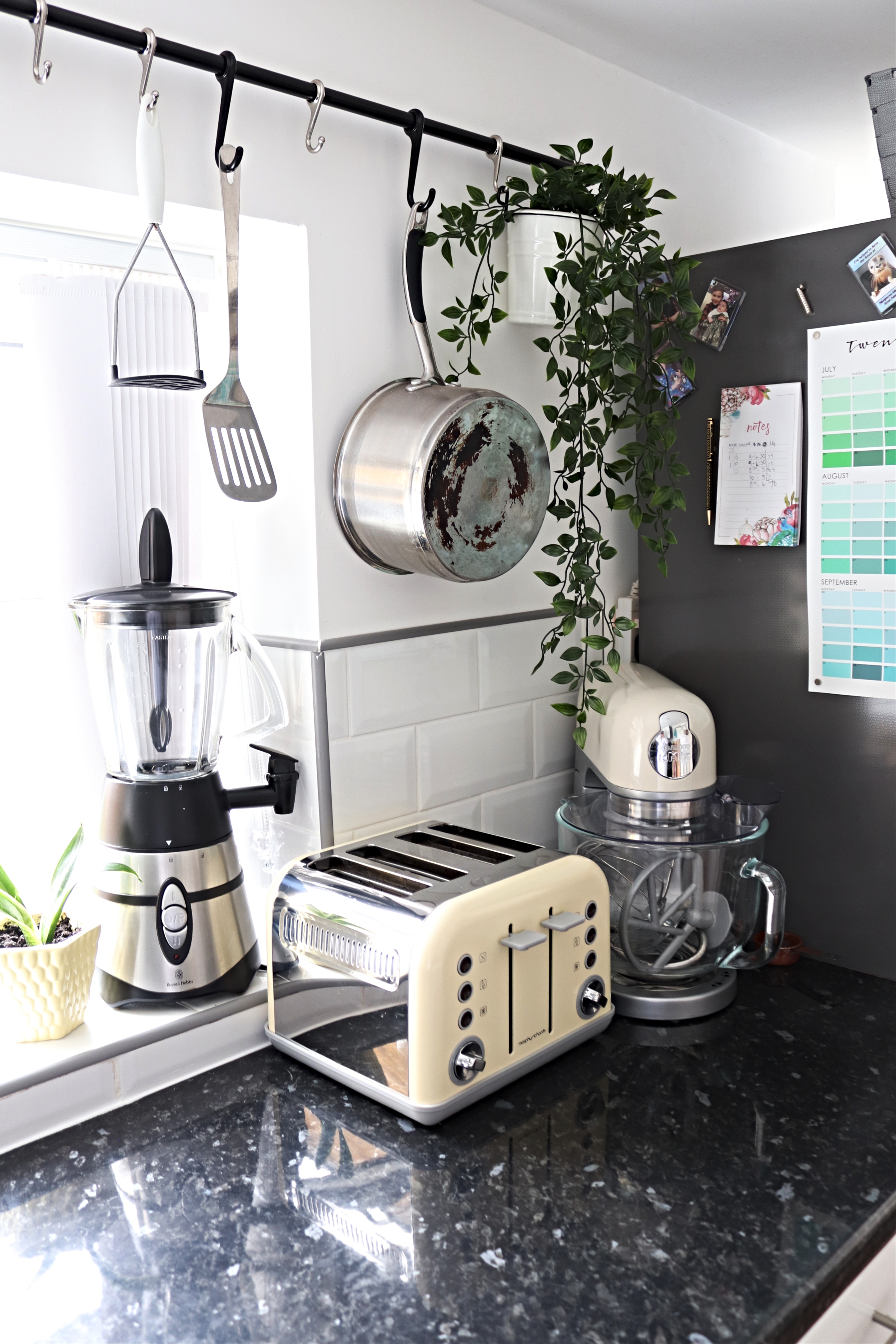 My Fintorp storage from Ikea is an absolute lifesaver! There is no way I would fit my sauce pans in the cupboard so the fact that I can hang them on the wall is great. Ikea have more than one hanging storage solution and they all come with different sized hooks, containers etc to hang and store many different things. I store my saucepans, knives, sauce/oil bottles, utensils and hang my tea towels all on the walls! Adding shelves is also a great way to add storage.
I really hope that you have found my small kitchen storage ideas helpful and if you have any tips of your own I would love to hear them. Just leave a comment or message me on any of my social media platforms.
Lianne x
Pin my Small Kitchen Storage Ideas to save them for later!