These Chocolate Marshmallow Crispy Squares are topped with delicious chocolate chunks and drizzled chocolate. They are the perfect chocolatly treat for the kiddos (and the grown ups).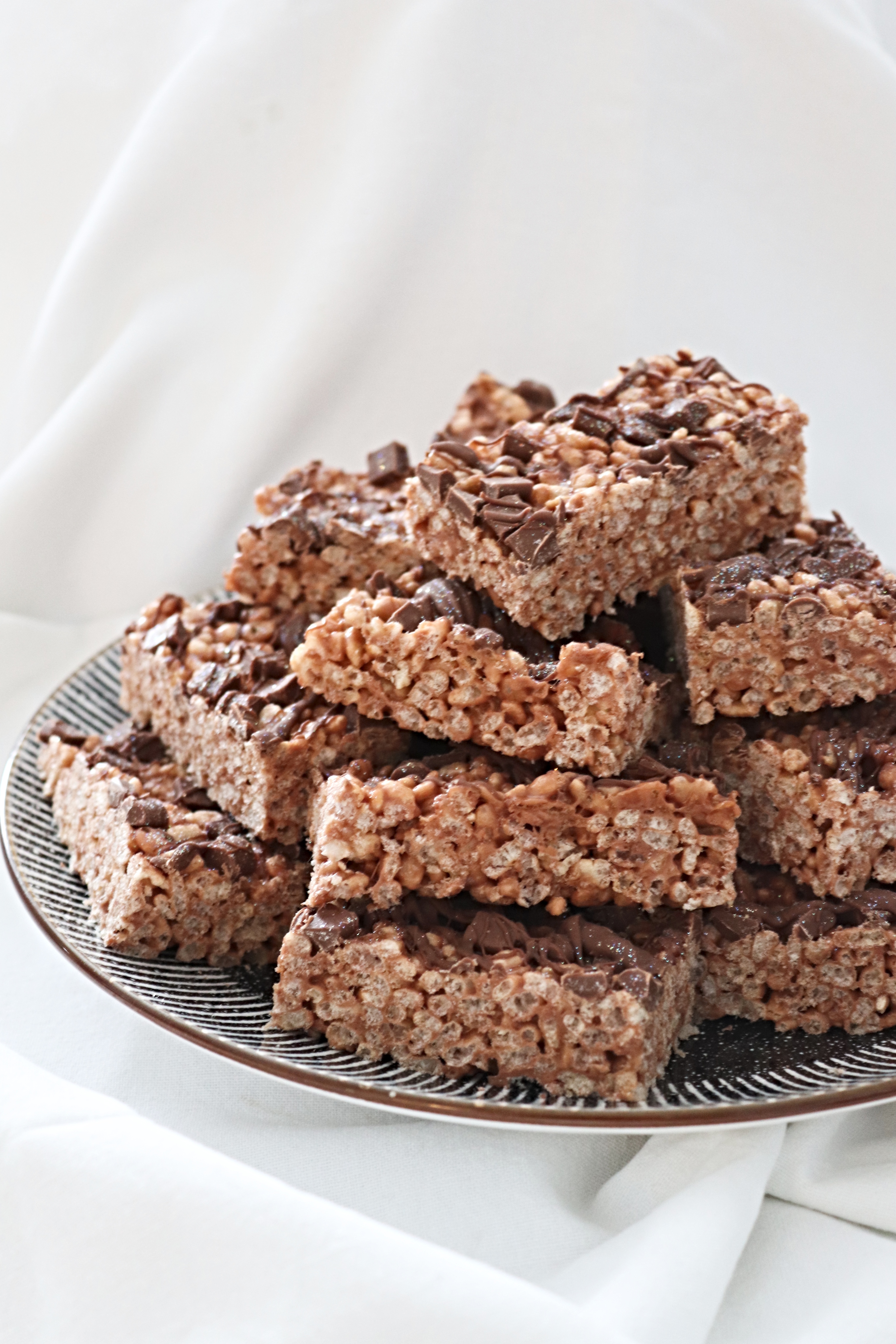 Something that we have been thinking about a lot in our household at the moment is reducing our non recyclable waste and plastic in general. One thing that makes up a lot of our rubbish is the plastic film packaging that most snacks, cakes, crisps and biscuits come in. So one way that I have wanted to reduce this is by baking our own instead of buying pre-packaged. One of Mason's favourite snacks/treats are the Rice Krispies marshmallow bars and although it's impossible to purchase marshmallows in recyclable packaging (as far as I could find), making these from scratch produced significantly less waste going in our regular bin than if I had bought the packs of them from the shop.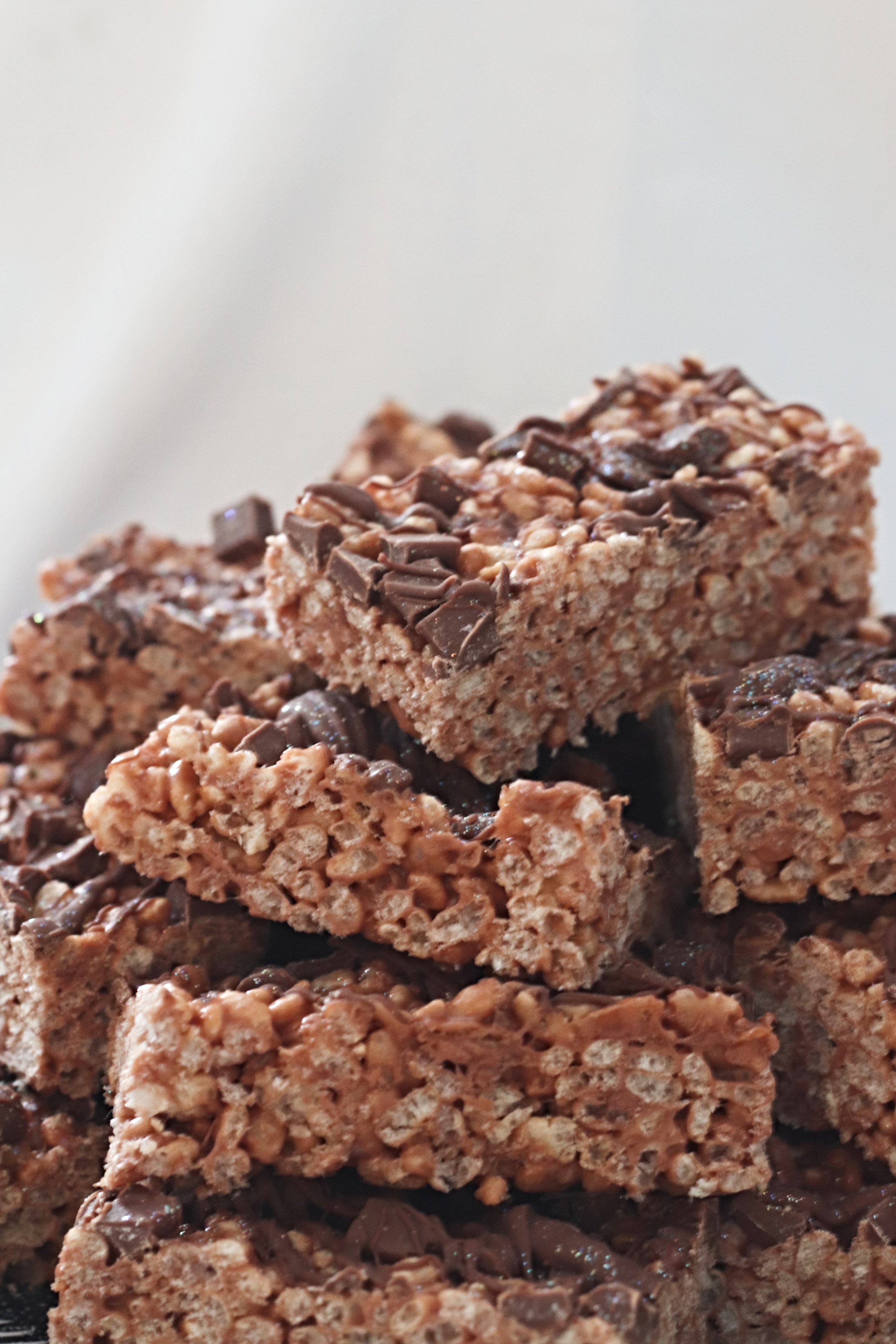 You only need four ingredients to make these. I decorated mine with a little edible glitter sprinkled over the top but that's completely optional. I would recommend reading through the whole recipe before you get started as once the marshmallows are melted you will need to work fast. The mixture is very sticky and it starts to set quickly once it's off the heat.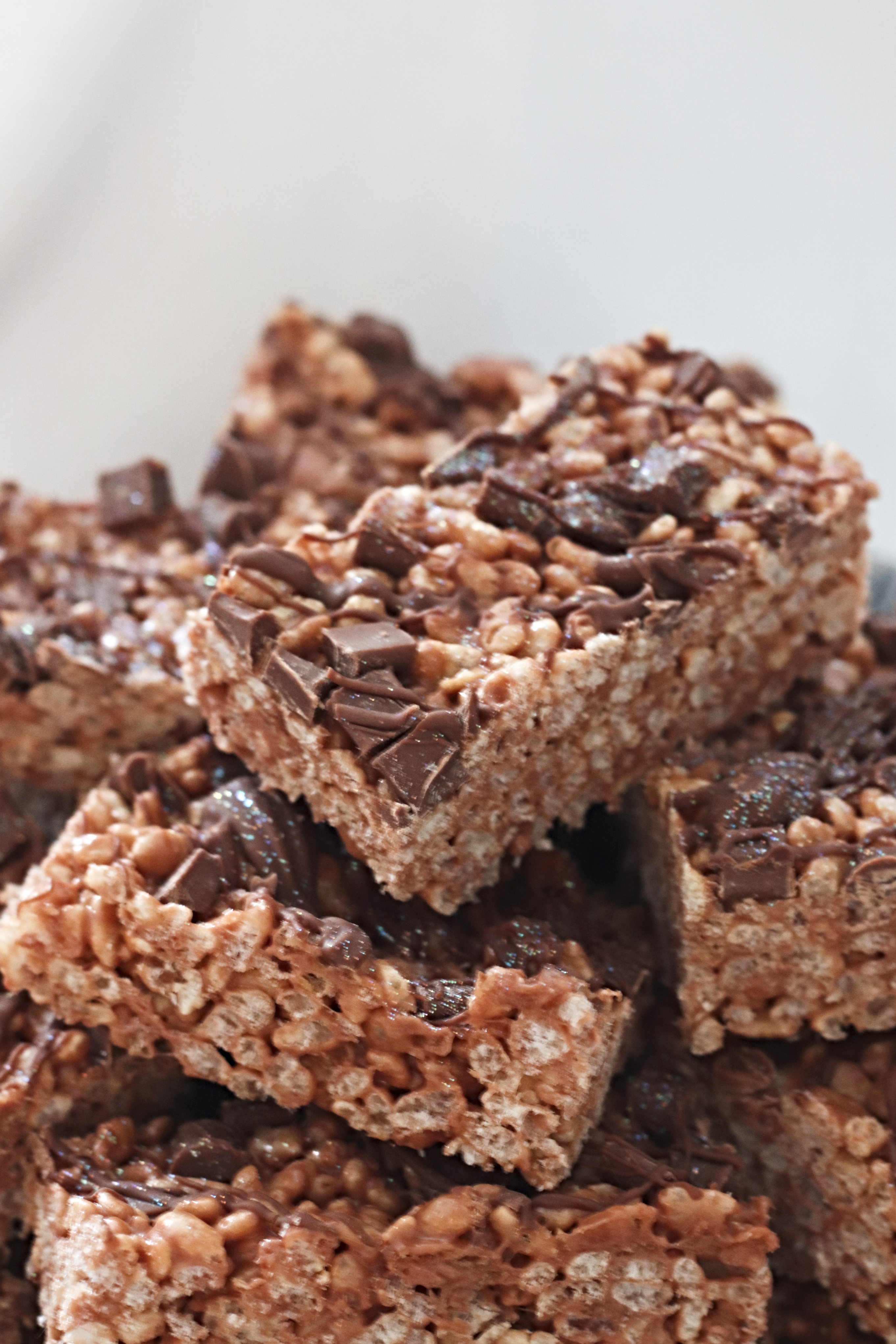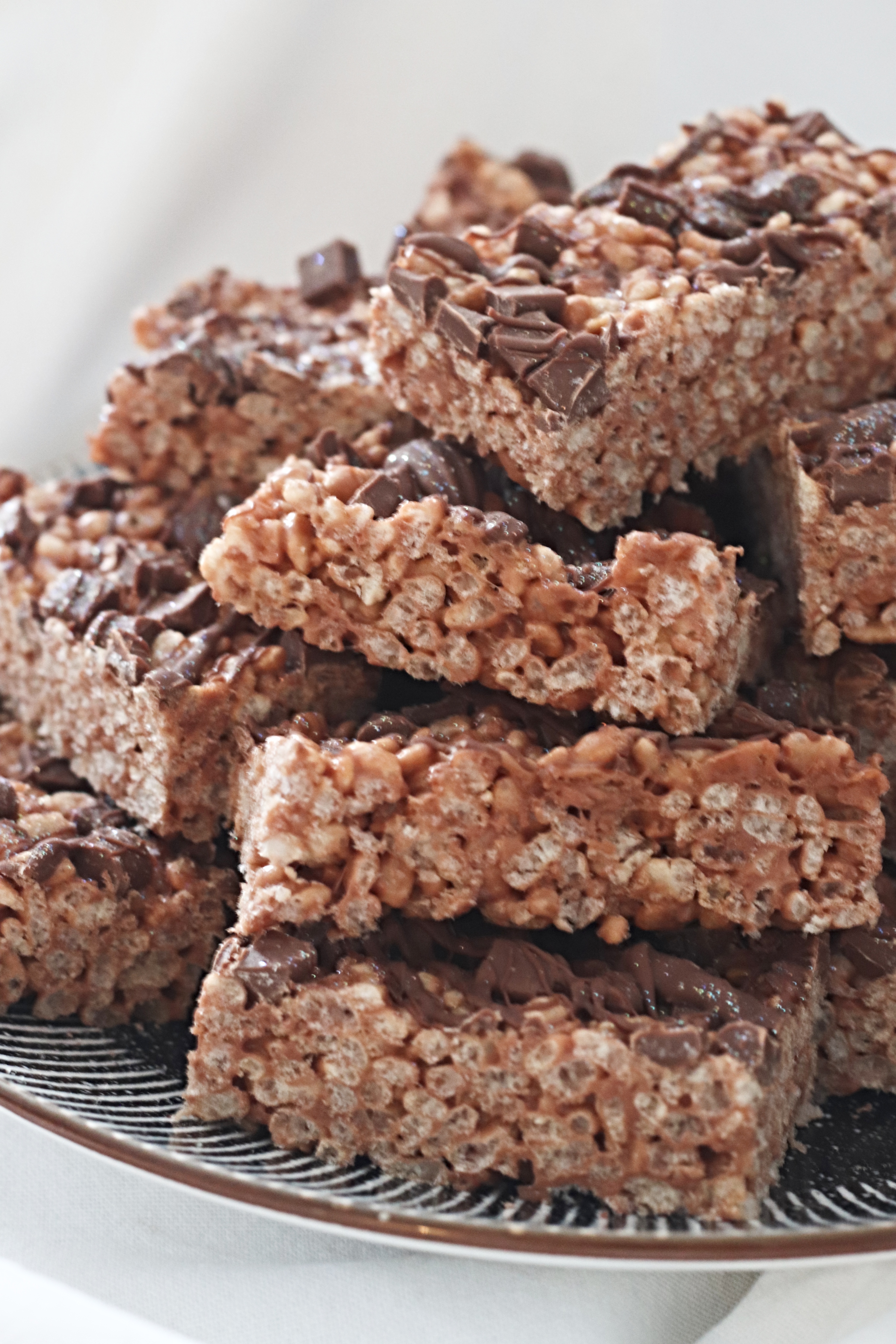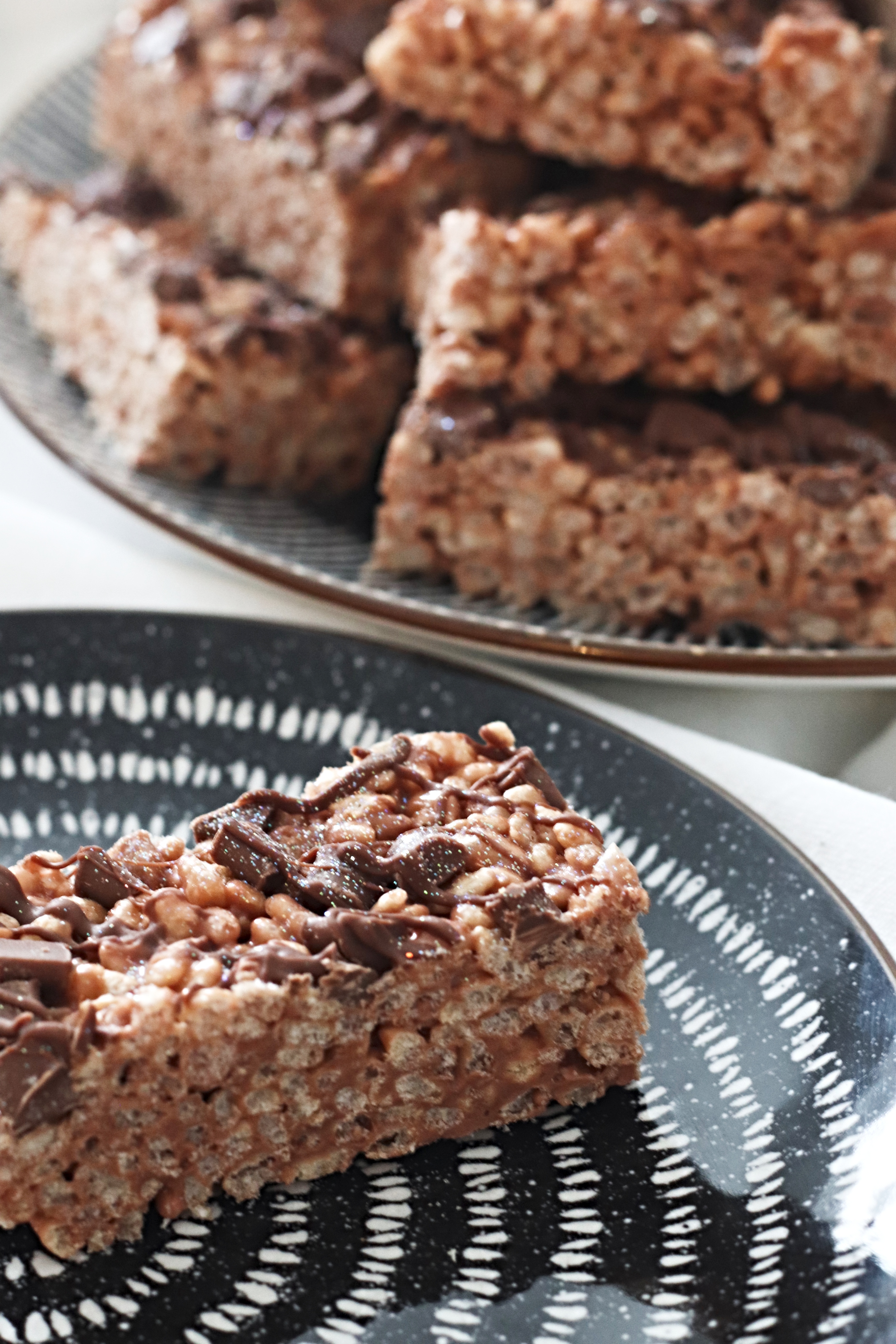 Did you check out any of the #choctoberfest recipes from yesterday? There's another link at the bottom of this post with all the recipes from today so make sure you take a look!
Lianne x
Chocolate Marshmallow Crispy Squares
Ingredients
45

g

butter

300

g

mini marshmallows

200

g

milk chocolate

200

g

Rice Krispies

100

g

milk chocolate chunks

or you could just chop a 100g chocolate bar into chunks
Instructions
Line a large baking tray with cling film or foil. Cling film is easier to remove once the squares are set but as we are trying to use less plastic I used foil.

In a large sauce pan add in the butter, mini marshmallows and 150g of the milk chocolate broken into chunks. Heat them over a medium heat, stirring occasionally until all fully melted.

Remove the pan from the heat and pour in the Rice Krispies. Stir everything together so it's all evenly combined and then turn out the mixture into the baking tray. Wet your hands and press the mixture down and out to fill the pan. Wet hands will stop the mixture sticking to you.

Sprinkle the chocolate chunks over the surface and gently press them in to the mixture. Melt the remaining 50g of chocolate and drizzle it over the surface. Put the whole pan into the fridge for it to set before removing the cling film/foil and cutting into squares/rectangles. I cut 24 but you could cut bigger squares for a larger snack or you could cut them into bite sized squares.
Pin my Chocolate Marshmallow Rice Crispy Squares to save them for later!