Here is another #Choctoberfest recipe for you. Jaffa Cake Cake. Layers of Chocolate sponge layered with Orange flavoured jelly and covered in a whipped chocolate ganache.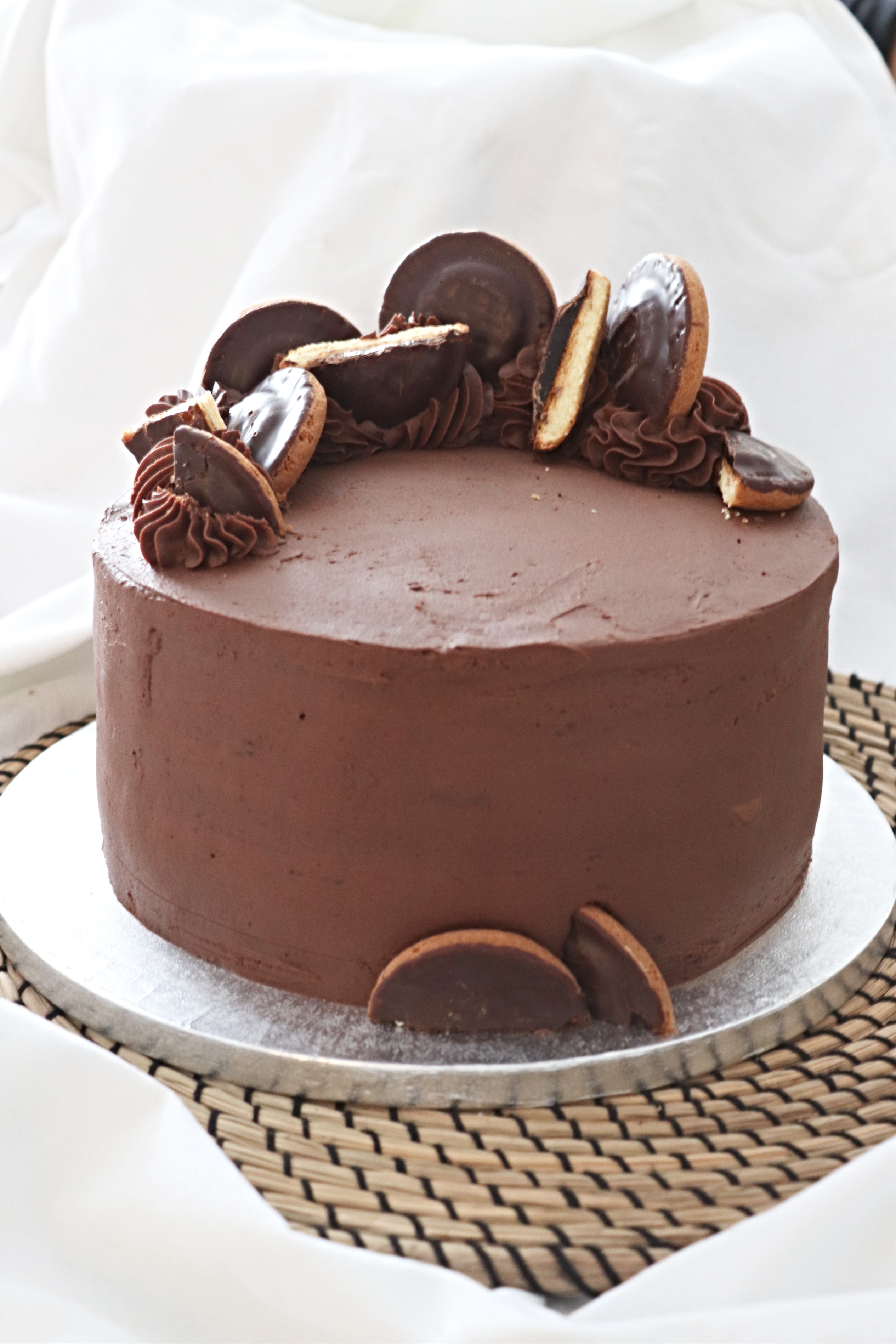 When I first started making cakes for The View I made them a Jaffa Cake Cake. I always wanted to try a slice, it looked so good, but as I was making it for someone else I couldn't (unless I wanted to buy a slice of course). They don't order it anymore and it's been years since I made it. As I couldn't find the recipe I thought I would give my own version a go, part from memory and part using my Best Chocolate Cake recipe and see how it went.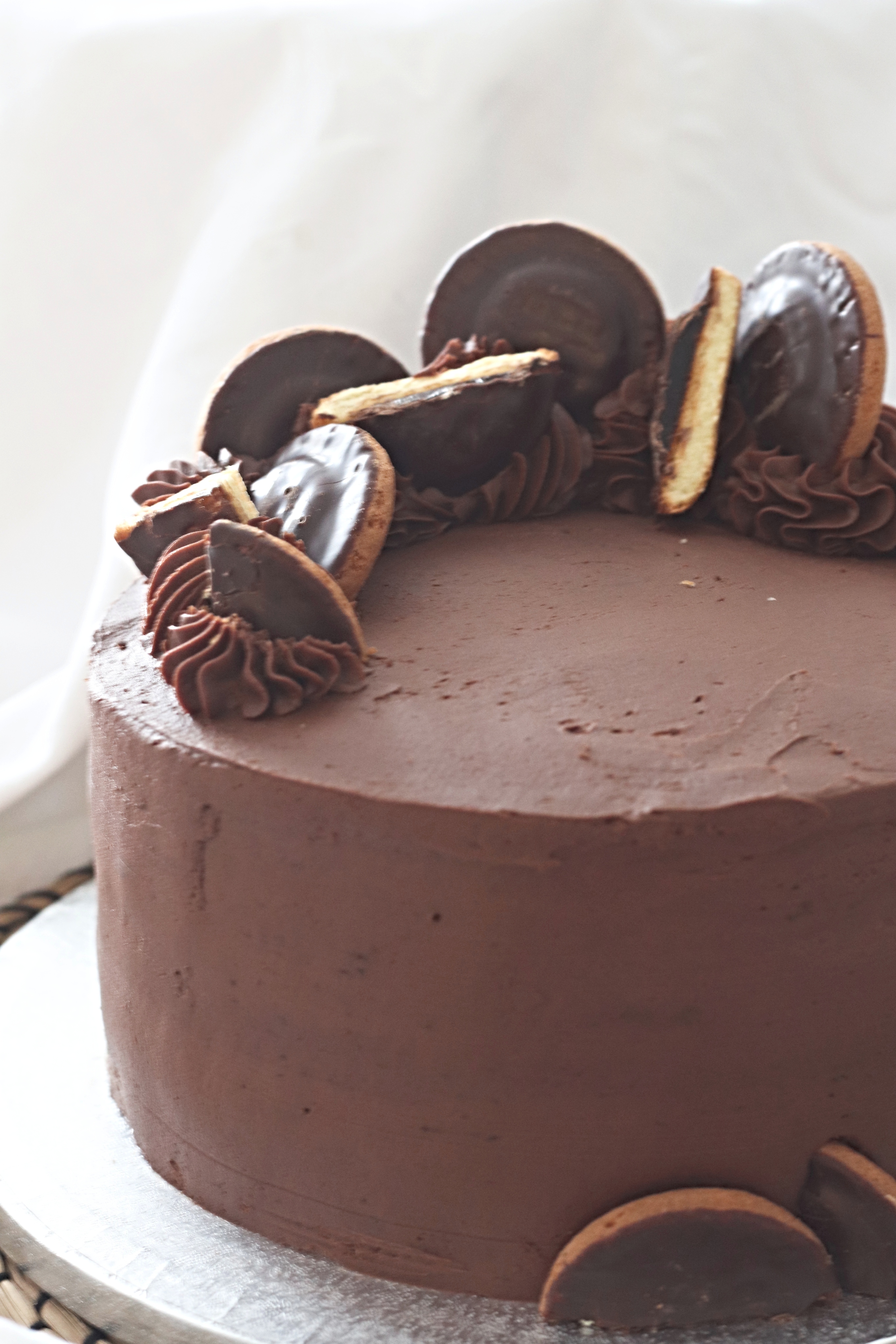 I'll be honest my first attempt at the jelly layers didn't go so great! I remembered that the original jelly recipe was made up of juice, gelatin and packet orange jelly. I figured surely it would taste better if I just used juice and gelatin and it did. But it also wasn't sturdy enough to layer up in the cake! It was all oozing out of the sides and it wasn't pretty!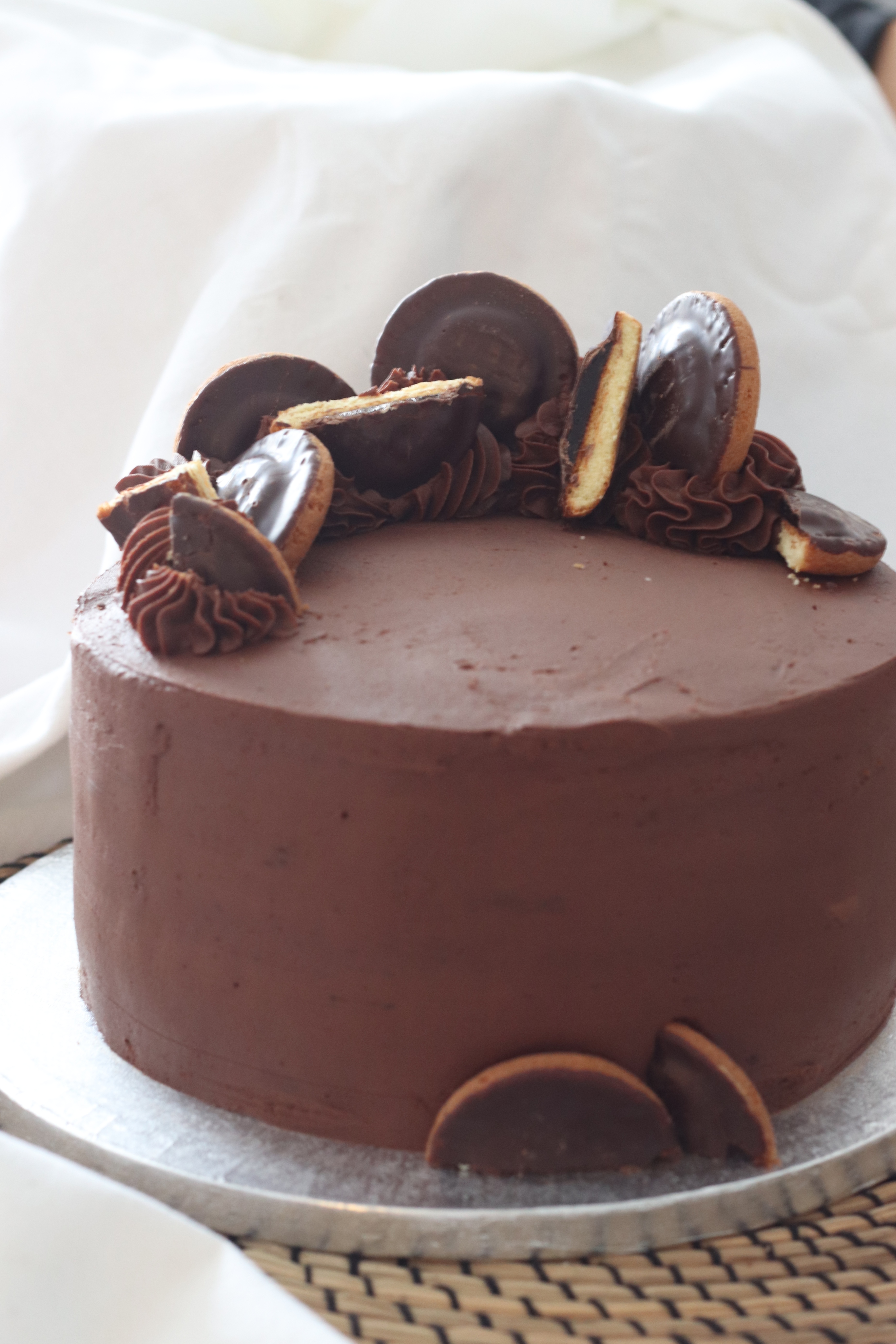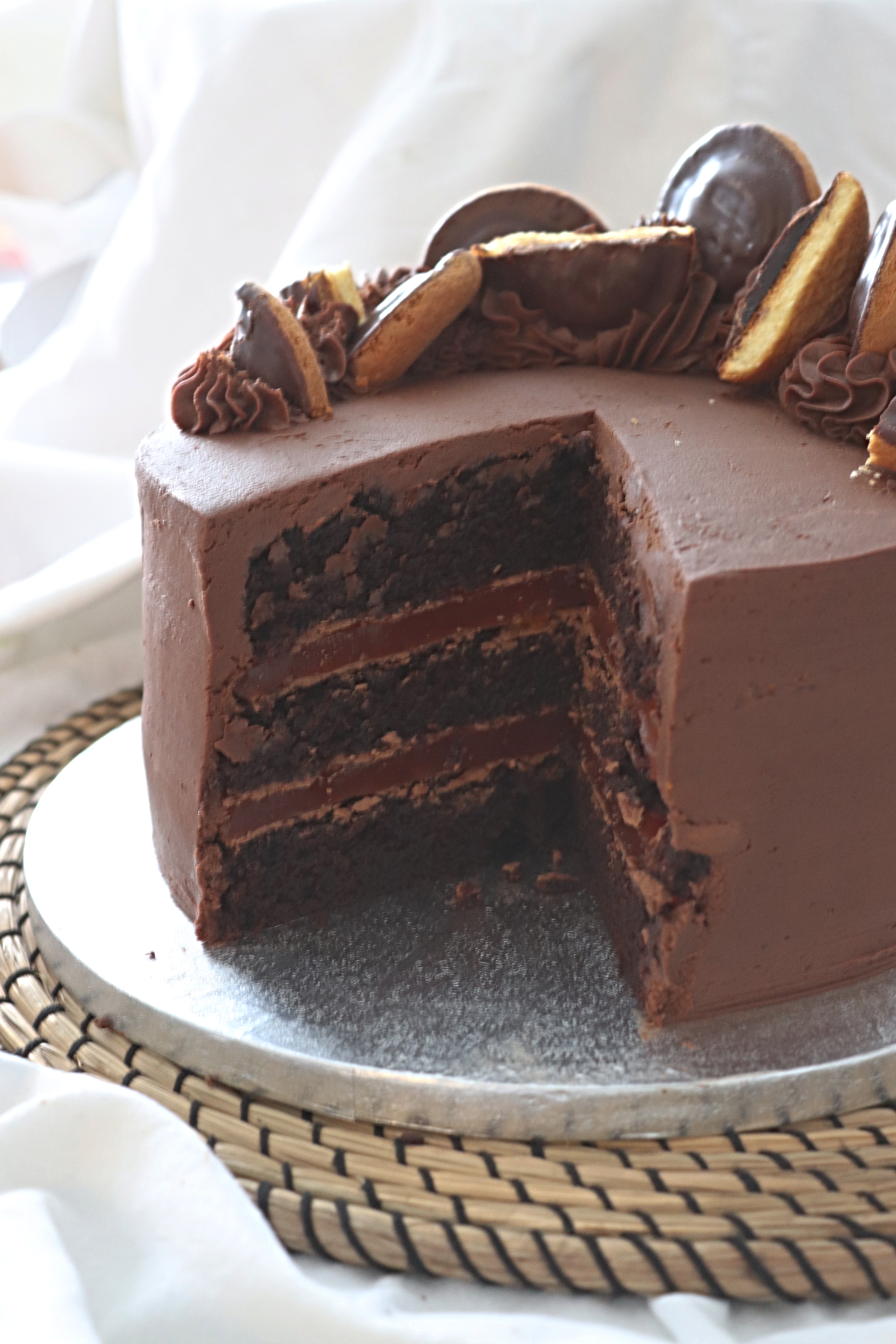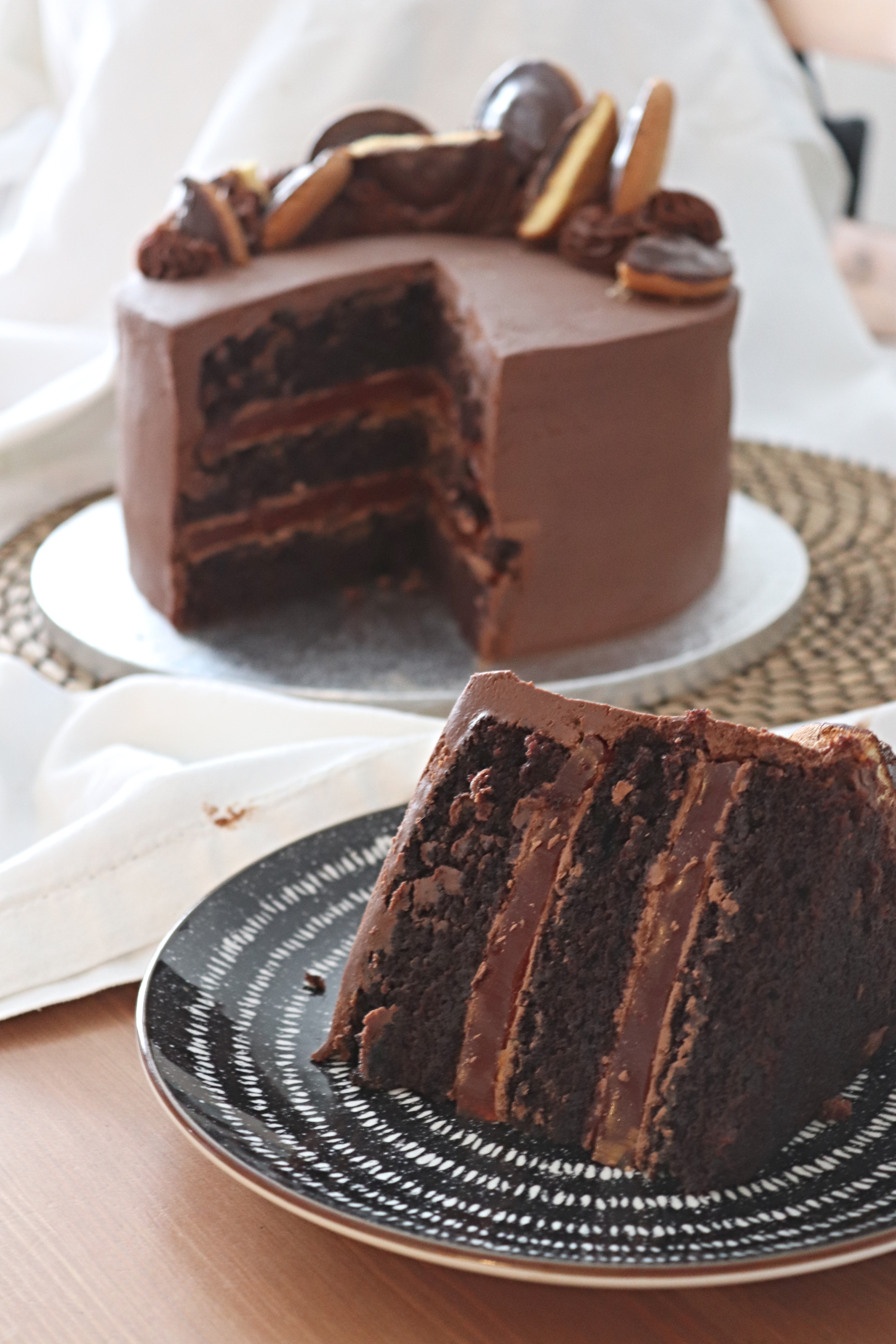 As you can see from the pictures my second attempt was much more successful and it tasted just as good as I thought it would. Again you can see all the other chocolate recipes from all the other bloggers taking part right at the bottom of this post!
Lianne x
Jaffa Cake Cake
Ingredients
For the cake
2

cups

plain flour

2

cups

caster sugar

2

tsp

bicarbonate of soda

3/4

cups

cocoa powder

1

cup

vegetable oil

1

cup

buttermilk

3

eggs

1

cup

hot coffee
For the jelly layers
1

sachet

hartleys instant jelly

3

sheets

gelatin

500

ml

orange juice
For the ganache
400

ml

double cream

400

g

dark chocolate

1

pack

Jaffa Cakes

to decorate
Instructions
To make the cake
Preheat your oven to 180c/160c fan oven and grease and line 3 8 inch cake pans.

In a large bowl sift in the flour, cocoa and bicarbonate of soda and then mix in the sugar. In a separate bowl add the buttermilk, oil, coffee and eggs and whisk together.

Pour the wet ingredients into the dry ingredients and mix until combined. Divide the mix between the three tins and bake in the oven for 30 mins or until a skewer inserted in the centre comes out clean. Leave them to cool.
To make the jelly layers
Place the gelatin sheets in some cold water and leave to soak for 5 minutes.

Heat up the orange juice in a pan and when hot remove from the heat, add in the gelatin sheets and the sachet of orange jelly crystals. Stir until fully dissolved.

Line two 8 inch cake pans with cling film. be careful not to rip any holes in as the jelly will just leak out. Pour the jelly mixture between the two pans and leave it to set.
To make the ganache
Heat up the double cream.

Chop up the chocolate and then stir it into the hot cream.

Leave it to cool, you could put it in to the fridge to speed it up but don't leave it too long as it will be set too hard. You want it to be set enough that its a spreadable consistency but thick enough so that it wont run off the sides of the cake.

When it is at the right consistency whip it up using an electric whisk, it will become paler in colour.
To assemble the cake
On a plate or cake stand place one of your cake layers. Spread a thin layer of the ganache, just enough to stick the jelly. Carefully remove one jelly layer from the cling film and place it on top of the cake layer. Add another thin layer of ganache and add the second cake layer.

Repeat this process with the other jelly layer and cake layer.

Cover the entire cake with the remaining ganache leaving just a little to pipe a few swirls on the top. Use the Jaffa Cakes to decorate the top of your cake and you're finished
Pin my Jaffa Cake Cake to save it for later!