This post, Ideas for the Garden, contains affiliate links, find out what that means here.
Some people spend the bank holidays in May getting their garden ready for the summer. I always plan to spend the May bank holidays getting my garden ready for summer but I never get round to it! In fact we only just painted the shed, that has needed painting since we moved in two years ago, last week. I always get to July thinking we need to get on in the garden right now or Summer will already be over! So this is why I'm only just sharing a post about ideas for the garden now, as maybe some of you leave it to the last minute too.
Seating Ideas for the Garden
Having good seating in the garden is so important! If you don't have a seating area that works for you, you just won't use it. At the moment in our garden we have a bench at the top which I sit on all the time to look out at the sea and a bench at the bottom which looks up at the garden and house. We also have a table with chairs and a parasol that we use to eat outside. We still have a lot of work to do in the garden yet. It mostly just has large areas of patio that I want to be able to section off better!
Before you even look at buying any seating you need to decide what you want to be doing in the garden the most. If you want to eat outside more you will want a table and chairs. If you want somewhere to relax maybe you should look for loungers or a sofa set. Below I've picked my favourite seating options from John Lewis.
If you want to eat outside but there is just the two of you this bistro set is perfect. They are also good for smaller gardens.
This hexagonal set it great if you have more people to seat and I love the style.
This set is great for dining and lounging.
A lounge set like this one still gives you plenty of seating.
A bench is perfect for sitting and enjoying the view.
Light ideas for the garden
If you are planning on using your garden in the evenings you might want to think about lighting.
One of the most popular kinds of garden lights are solar powered stake lights. These are easy to add wherever you want, power themselves and even turn themselves on and off.
Fairy lights can be a fun way to add some light.
Lanterns are great as you can pick them up and take them wherever the light is needed.
Fire pits give both light and heat for those cooler evenings.
Outdoor Eating Ideas for the Garden
We've yet to buy a barbecue for the garden as my husband and I are unable to agree on which kind to purchase. I prefer a charcoal grill whilst my husband wants a gas one.
A fancy barbecue deserves some fancy barbecue utensils.
Melamine dinner sets are great for the garden and you can get them in so many fun colours and patterns like these Joules plates, bowls and cups.
Decorative Ideas for the Garden
I love to add little details to the garden, cushions, throws, tealight holders and little ornaments. Here is a selection of my favourites! Just click the images for all the details.
All the items featured are from John Lewis and there are so many other options over on their website for any sized garden. I hope all of my Ideas for the Garden have inspired you to get out there and get things sorted. Nobody likes weeding but it's all worth it when you get to sit and enjoy the sun and admire all your hard work. The summer always passes by so quickly so make the most of your gardens and outside areas whilst you can!
Lianne x
Pin Ideas for the Garden to save it for later!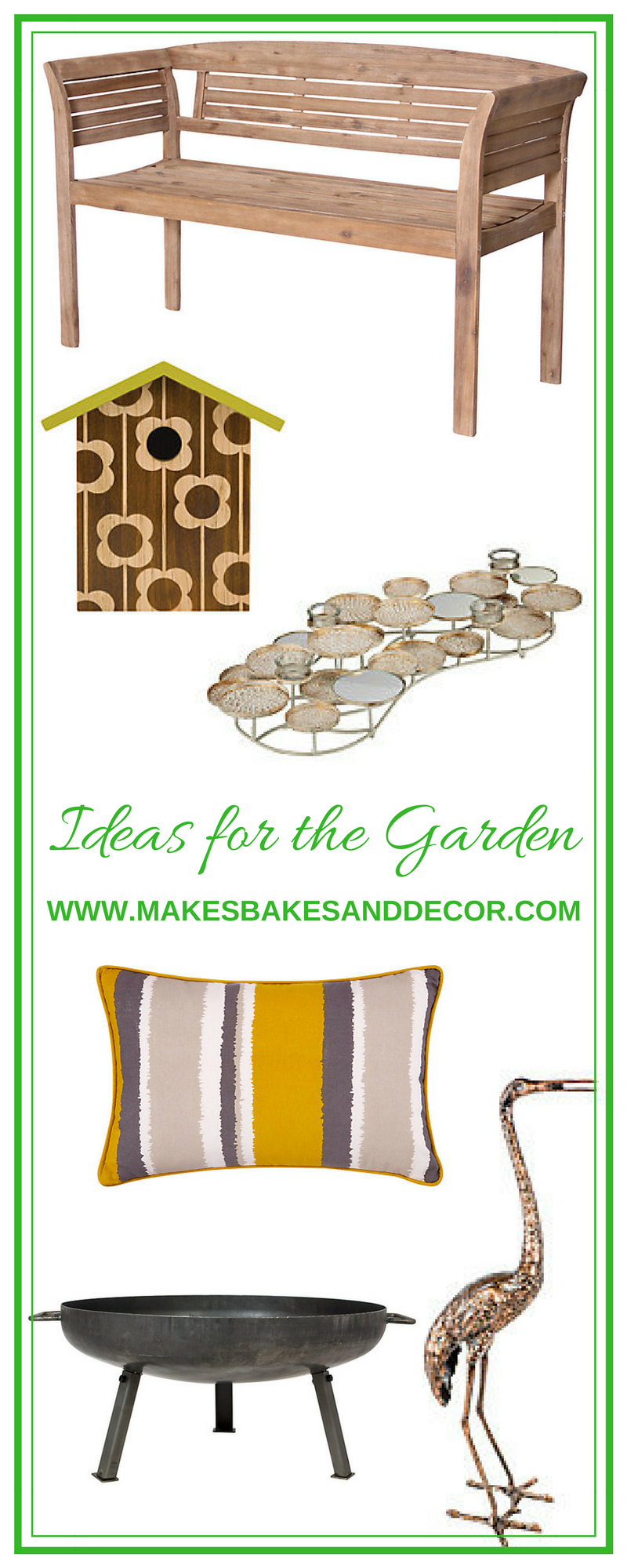 Find lots more garden inspiration by following my Gorgeous Gardens board on Pinterest!