This post for Summer Festival Feather Earrings contains affiliate links, find out what that means here.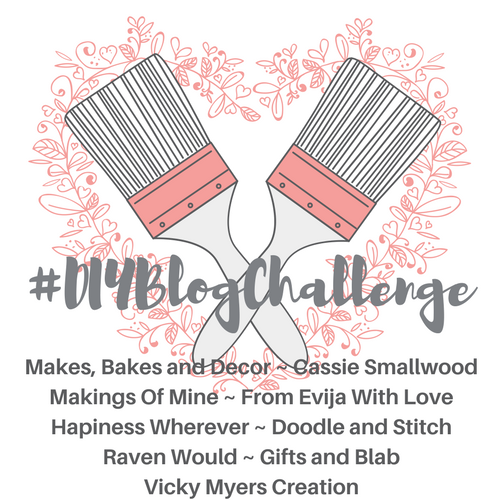 It's time for July's #DIYBlogChallenge and the theme for this month is Summer Festival. When I think of Summer Festivals I think of the fashion. I think these feather Earrings would be perfect to wear this festival season!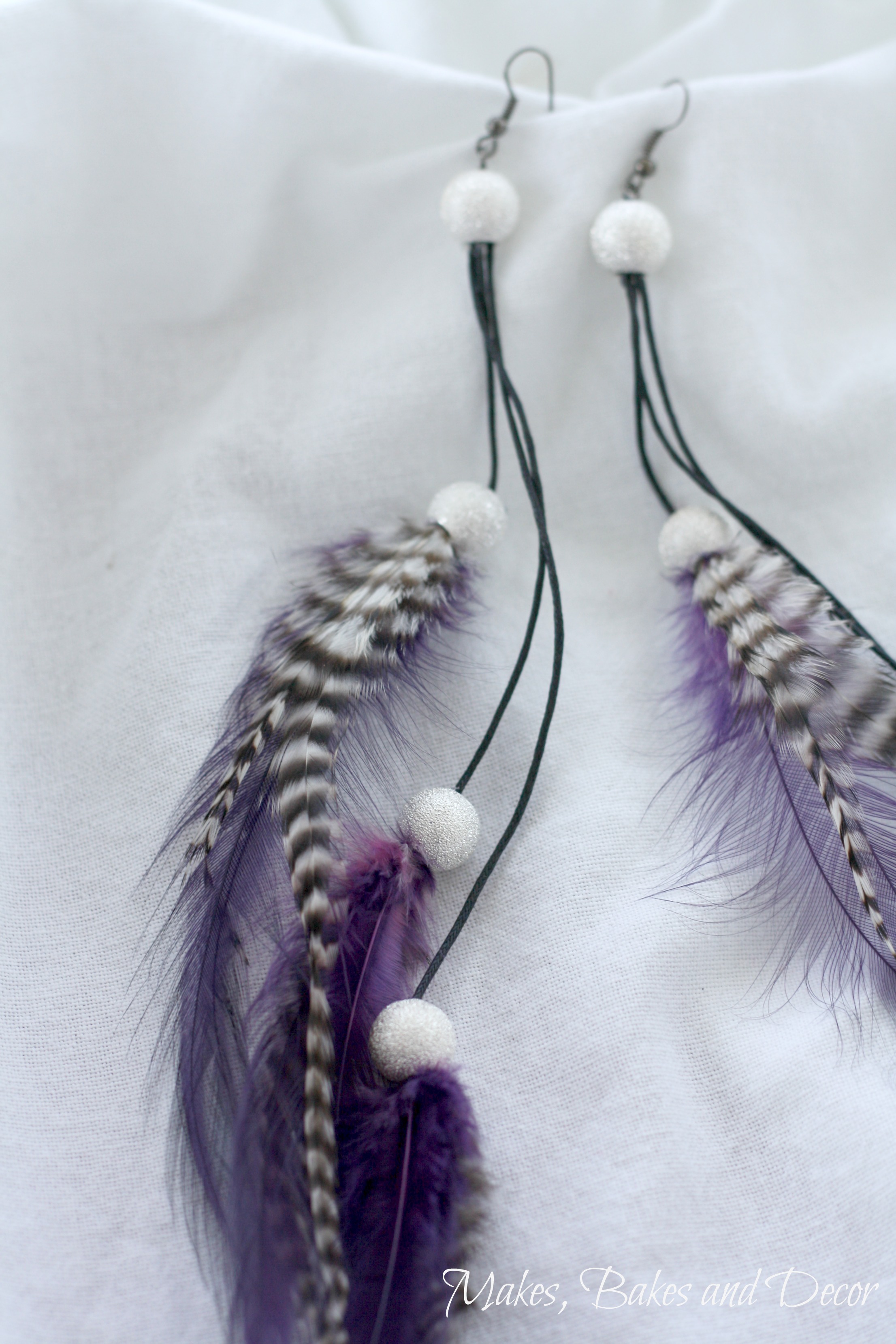 There are so many feathers available to choose from on Amazon. Here are some purple and black and white feathers similar to the ones I used.
You are also going to need some beads, 8 all together. You need beads with quite a large whole in the middle as you need to be able to thread feathers and cord into them. Here are some options.
There are a couple more things that you need to make these, here is everything that I used.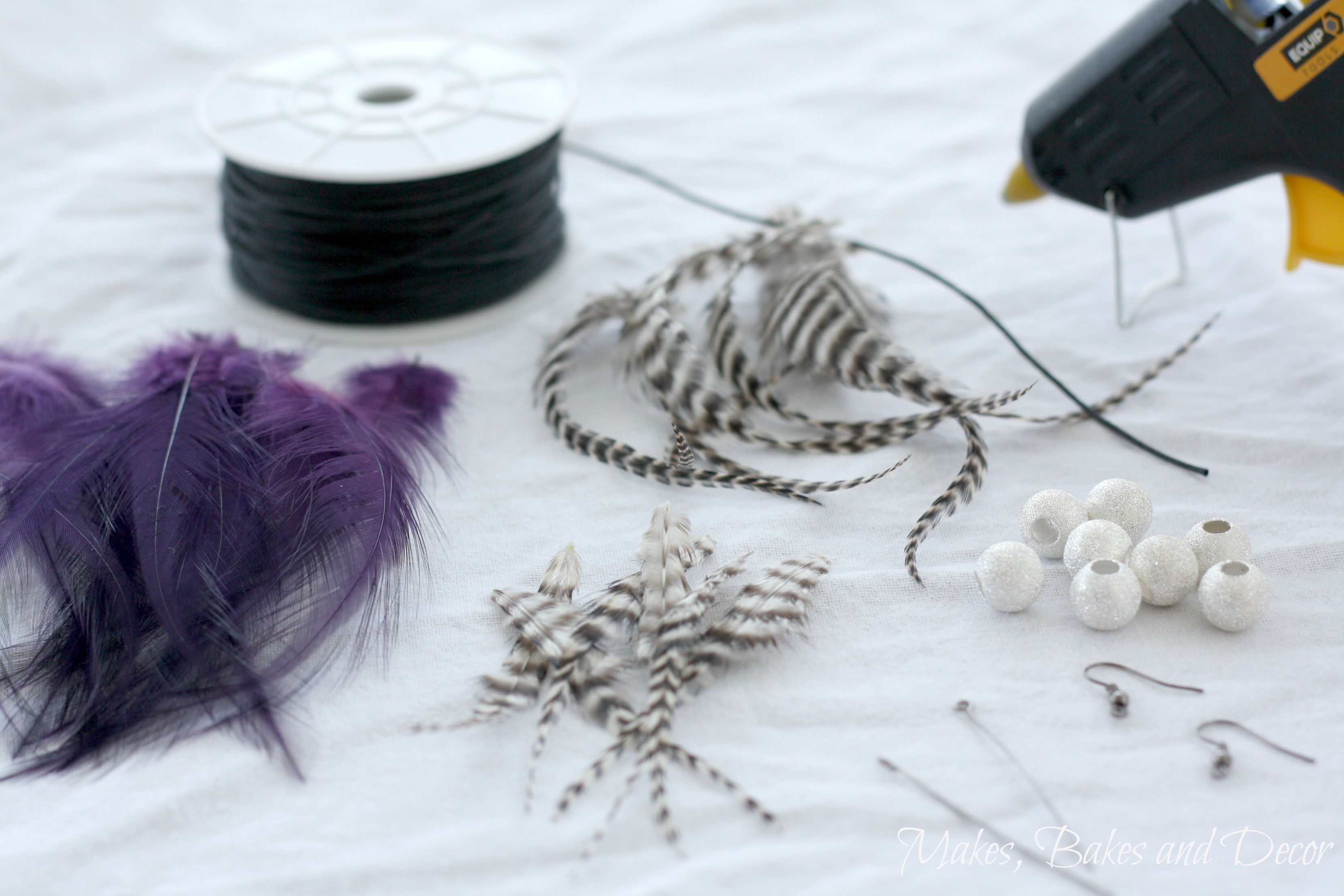 The first thing you need to do is decide on the length of your earrings. Mine are quite long with three bunches of feathers on each but you could make them shorter with just one or two bunches. Then you need to decide which feathers to use. I used two purple and two black and white in each bunch.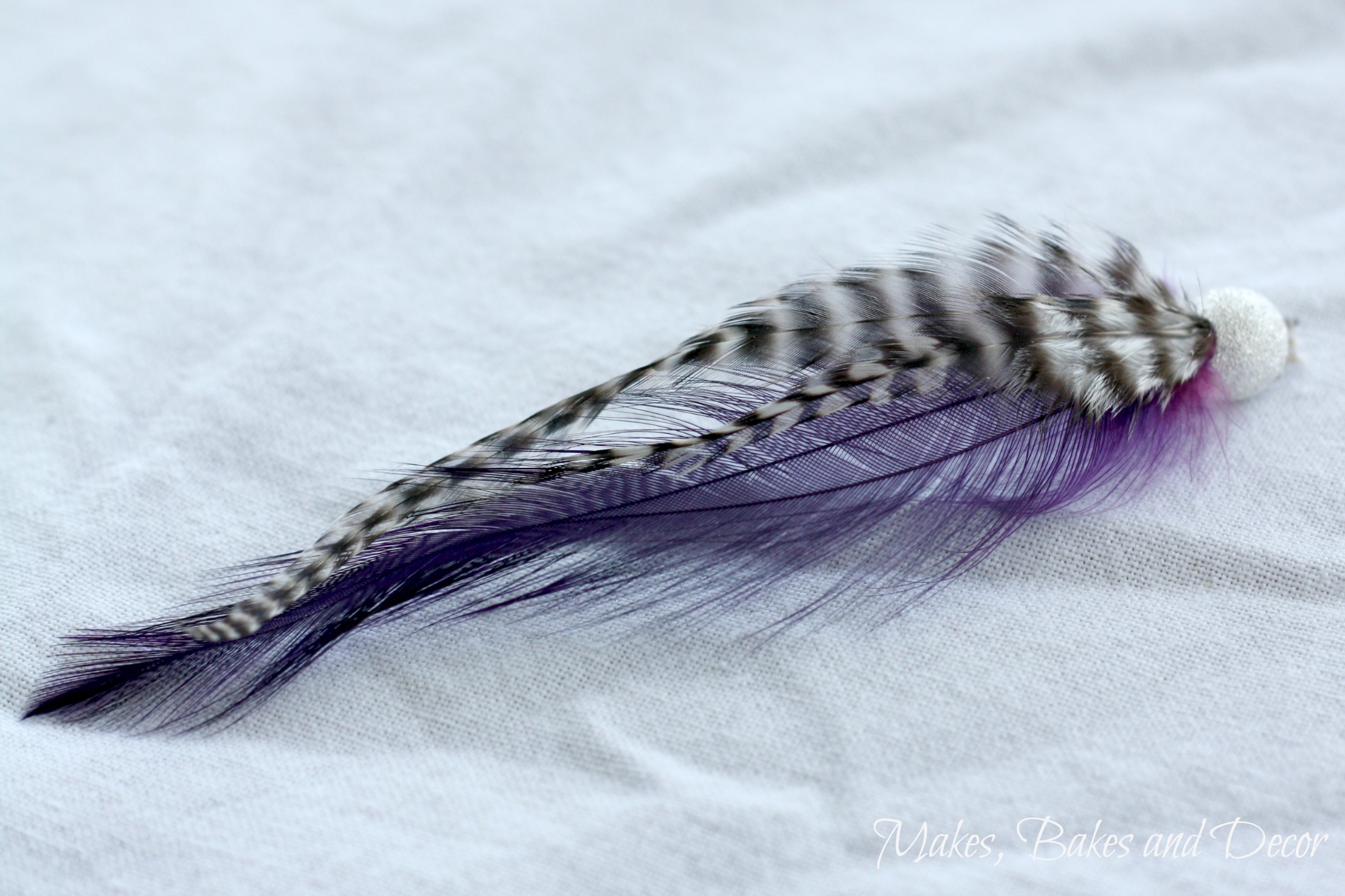 You really need to have everything set out and ready as because you are working with the glue gun you need to get everything together before the glue sets. So first cut six lengths of cord, I cut them about 15cm long but you will trim them later on.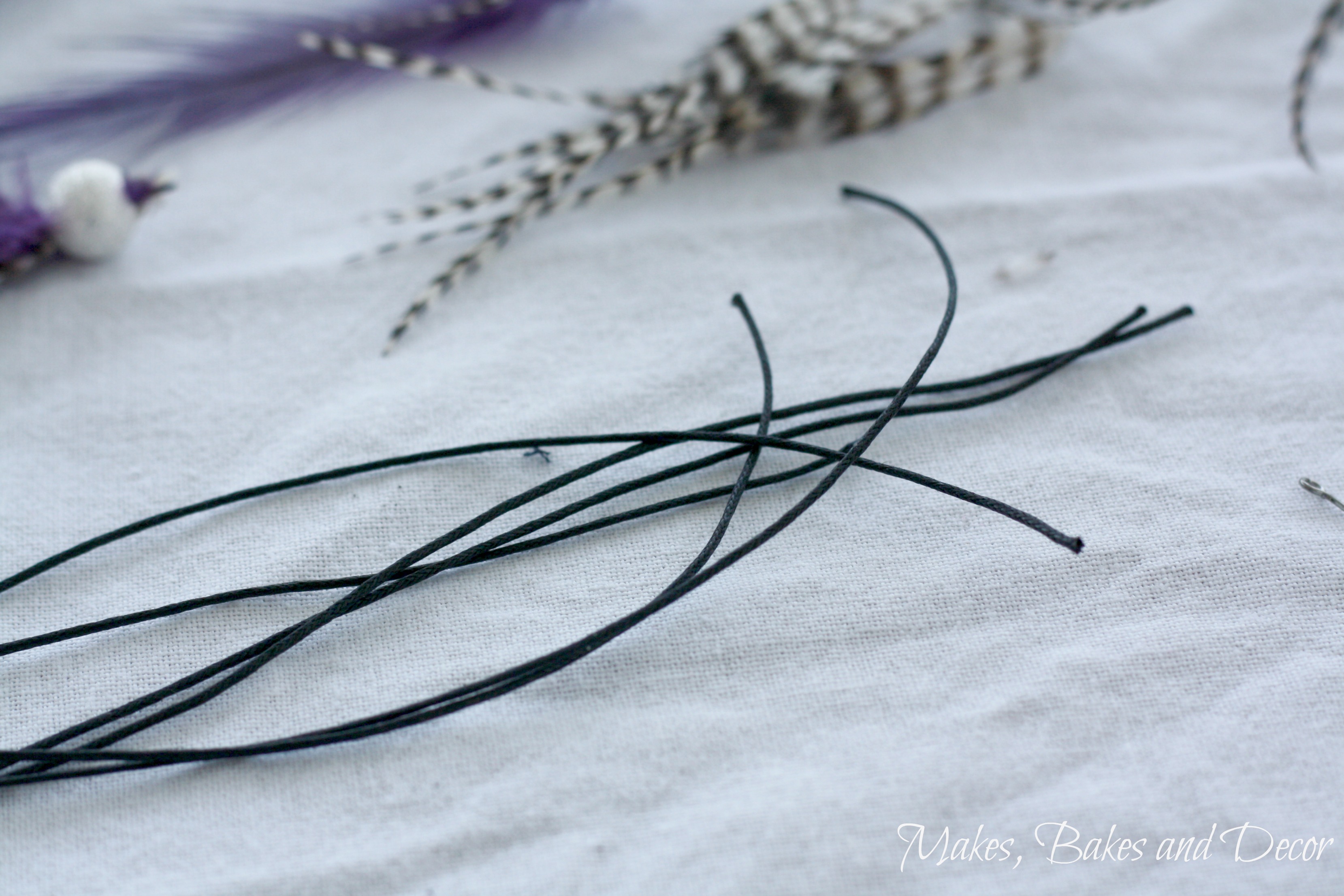 With your bunch of feathers and length of cord ready to go, fill one bead hole with hot glue. Quickly insert the bunch of feathers in one side of the bead and the end of the cord in the other. Hold it until the glue has set (be careful at this point, I was using metal beads so once filled with glue the whole bead got very hot).
Repeat this step until you have all of your feather bunches on their cords. Take three (or however many you are using per earring) bunches and stagger them to your desired length.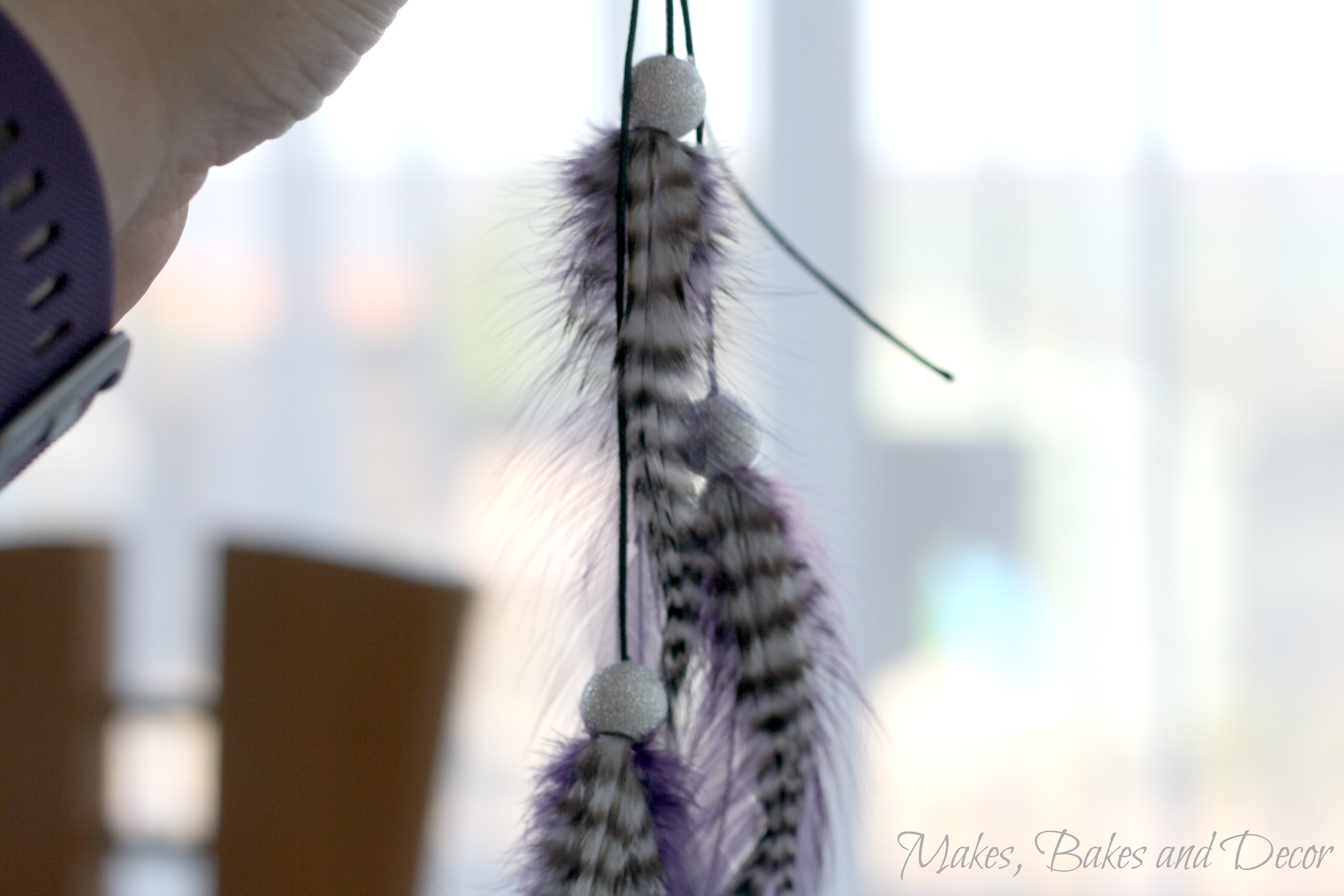 Cut off any extra cord that you don't need.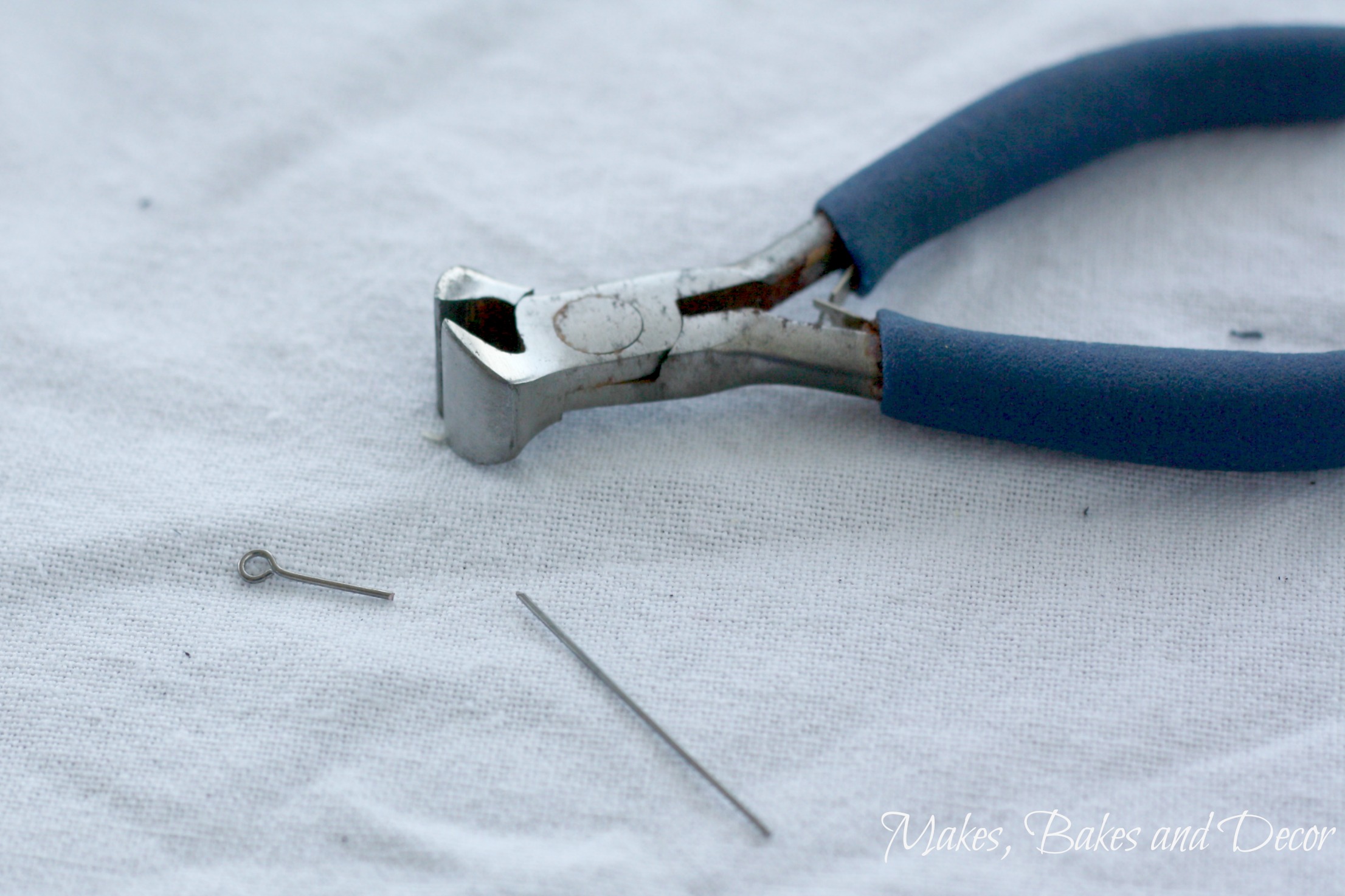 Also cut down your eye pin to fit inside the bead. Again, working quickly, fill a bead with hot glue and add the ends of your cords in one side and the eye pin in the other, hold it until set.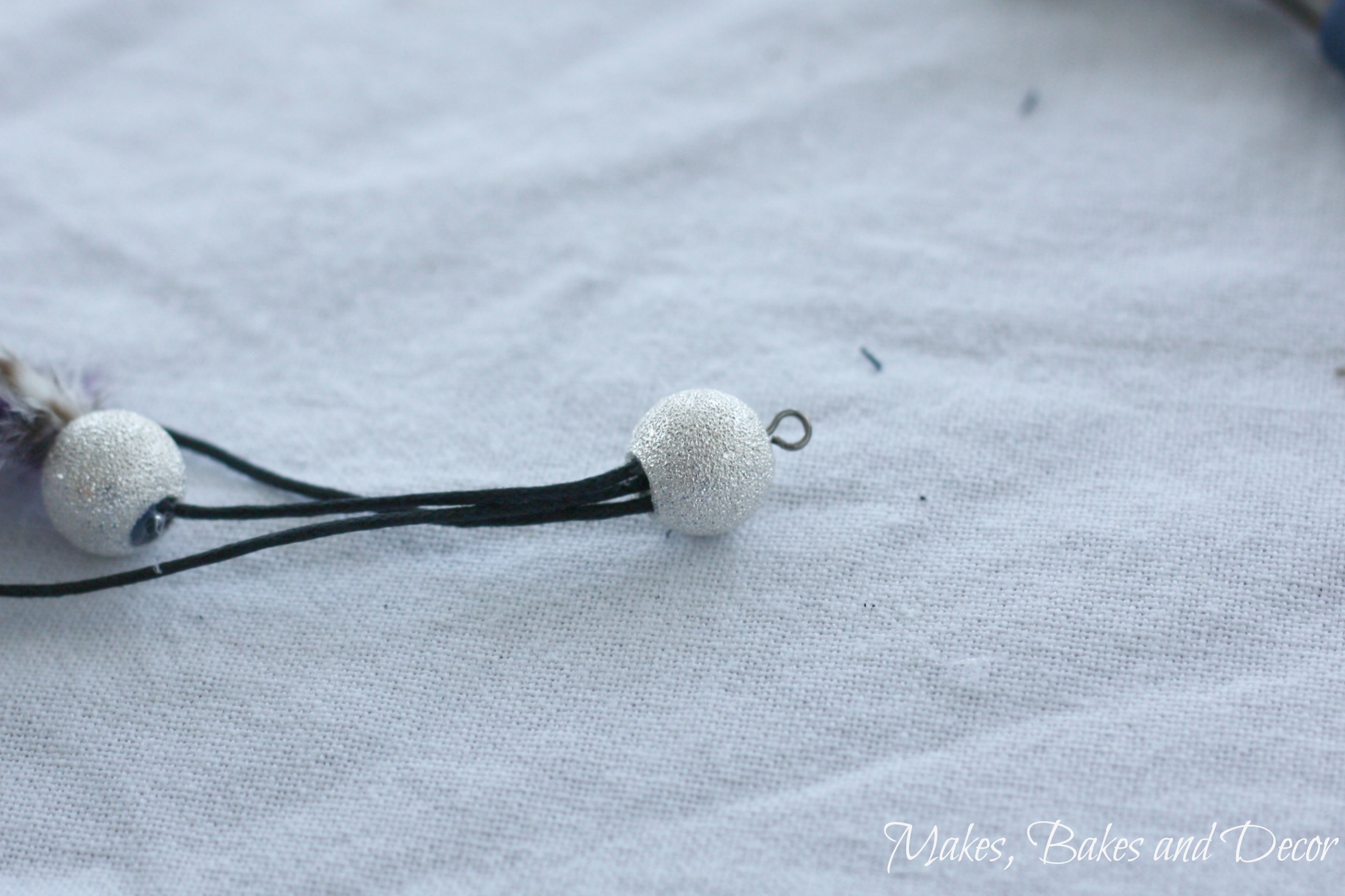 Next slightly open the loop on your earring hook.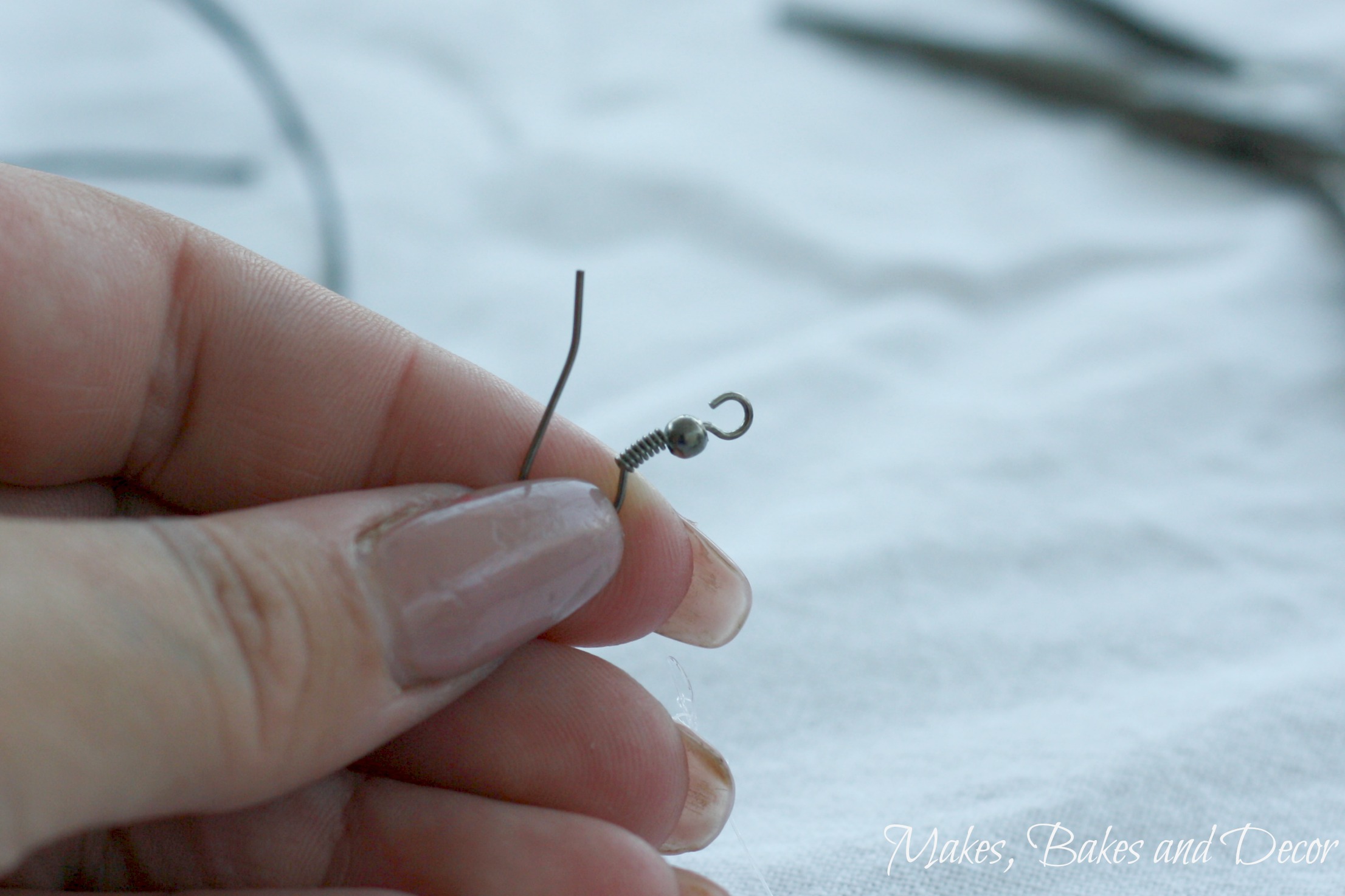 Then thread your eye pin on and re close it.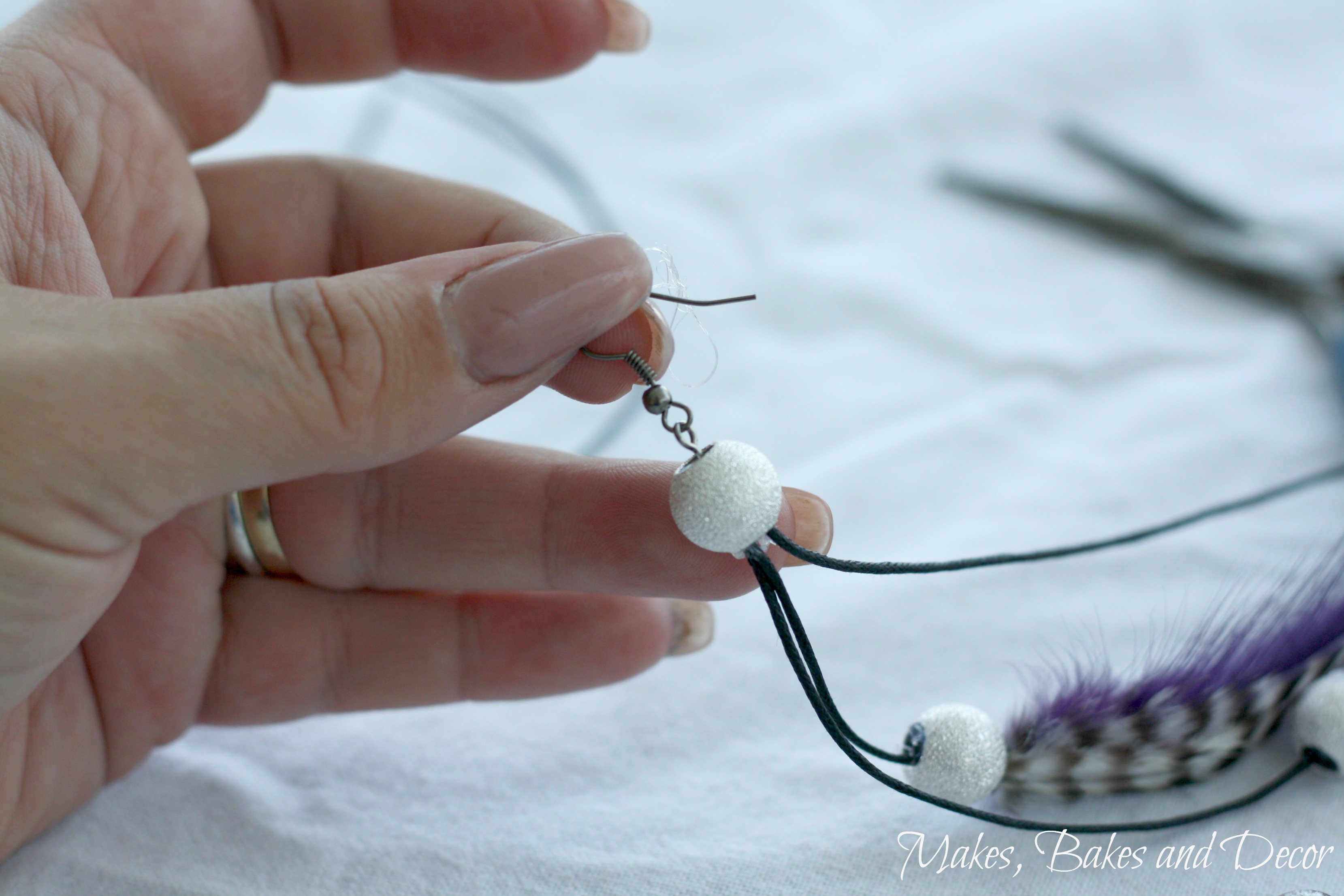 Repeat these few steps for the other earring and you are finished!
I think these make a real fashion statement and are perfect for Summer festivals. I've made many pairs of these using different feathers and beads. The options are endless. I love wearing them, I'm wearing a pair in my blog profile picture!
Below are the rest of the projects from everyone who took part this month. Make sure to visit everyone as we have a great mix of projects this month!
Lianne x
Cassie Smallwood
Makings Of Mine – From Evija With Love
Hapiness Wherever ~ Doodle and Stitch
Raven Would ~ Gifts and Blab
Vicky Myers Creation
Pin Summer Festival Feather Earrings to save them for later!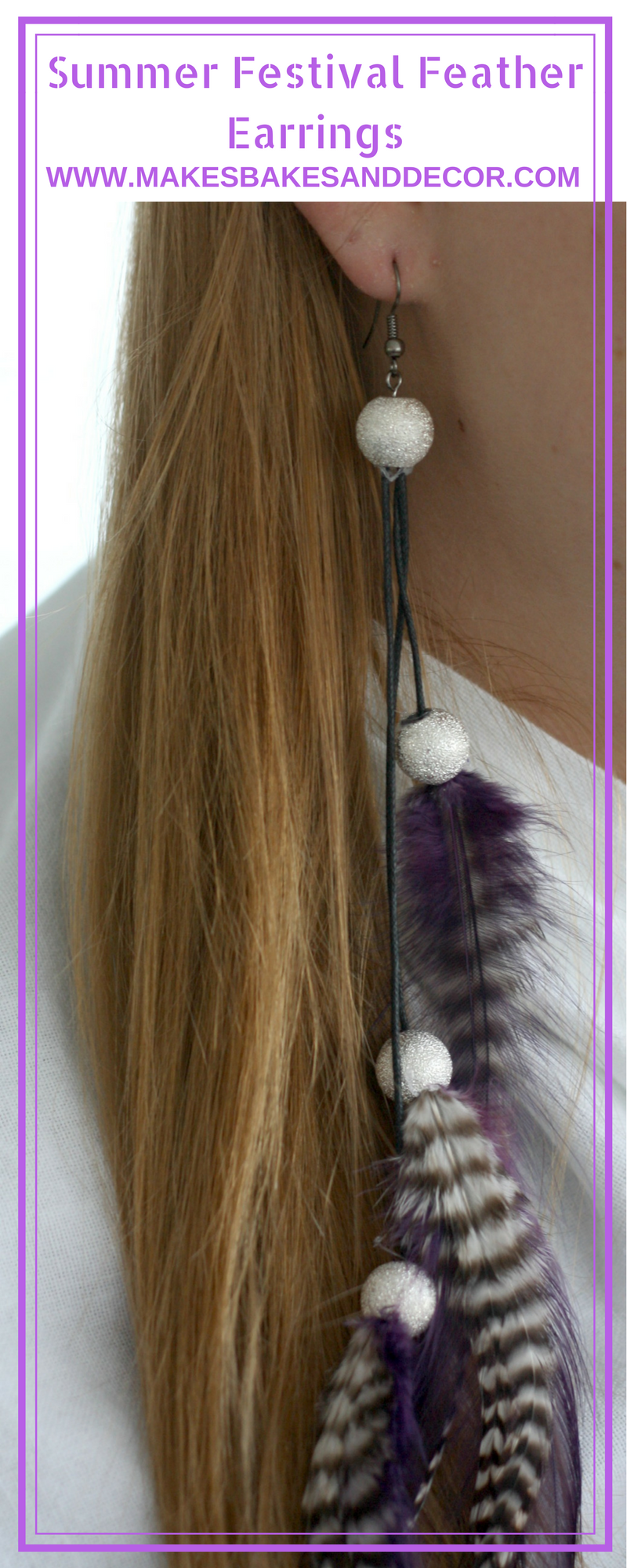 See more tutorials for clothes and accessories by following my DIY | Clothes and accessories board on Pinterest!
[bws_pinterest_widget type="board" url="https://uk.pinterest.com/makesbakesdecor/diy-clothes-and-accessories/"]
Don't forget to follow me on Instagram, Like me on Facebook and Follow me on Twitter!