This post for Baileys Chocolate Cupcakes contains affiliate links, find out what that means here.
With St Patrick's Day on its way I couldn't not share a Baileys irish cream recipe, right?! These Baileys Chocolate Cupcakes are super yummy. The chocolate cupcake is flavoured with baileys and then you get a big swirl of baileys buttercream on top. Drizzled chocolate ganache and some gold confetti sprinkles finish everything off.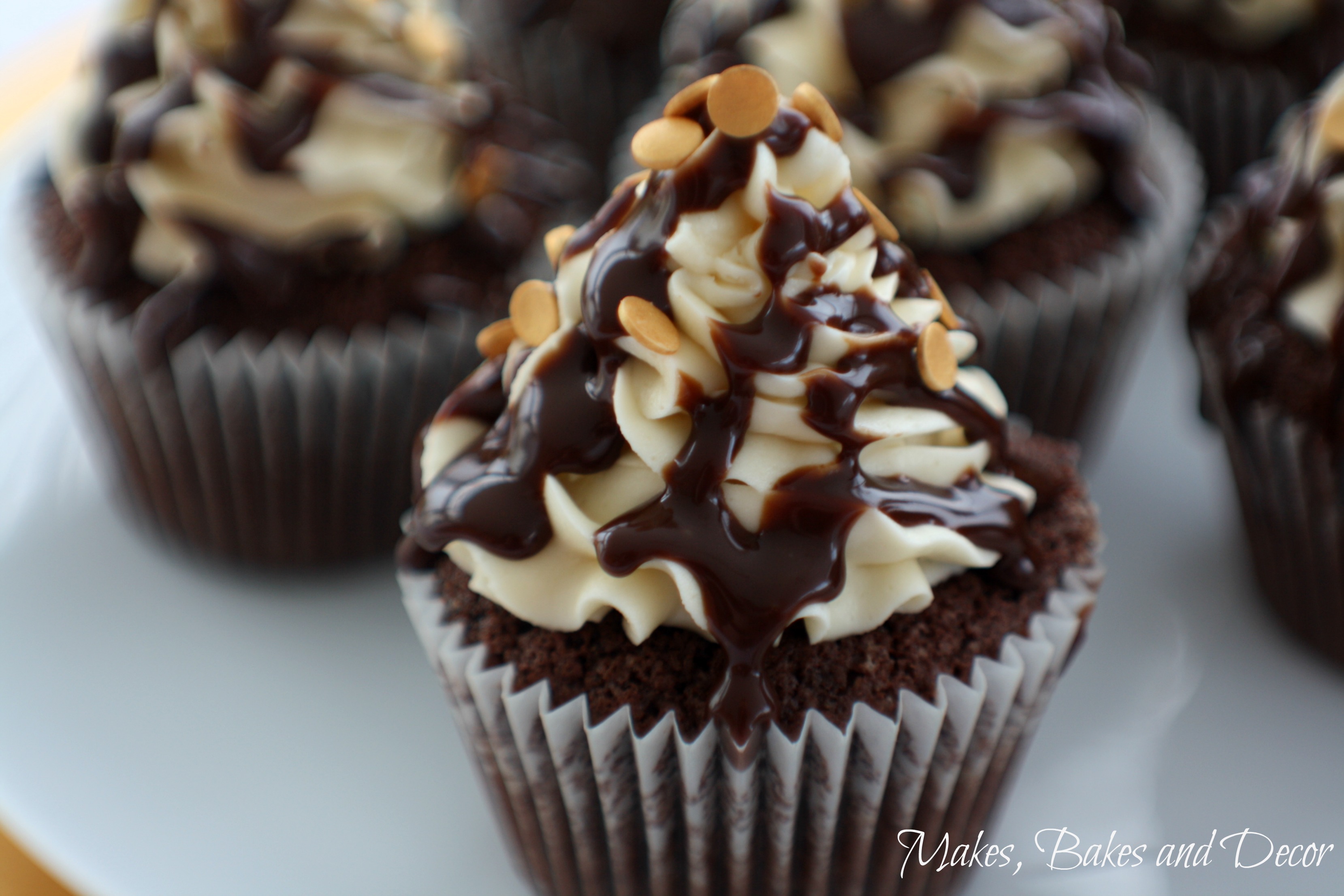 They look sooooo good, and they taste even better. I love Baileys! The only time I buy it though is for Christmas and for St Patrick's celebrations. It's a flavour that I associate with those times and wouldn't want to change that by using it more often. If you love Baileys like I do you will really want to try my Whipped Baileys and Chocolate Truffles.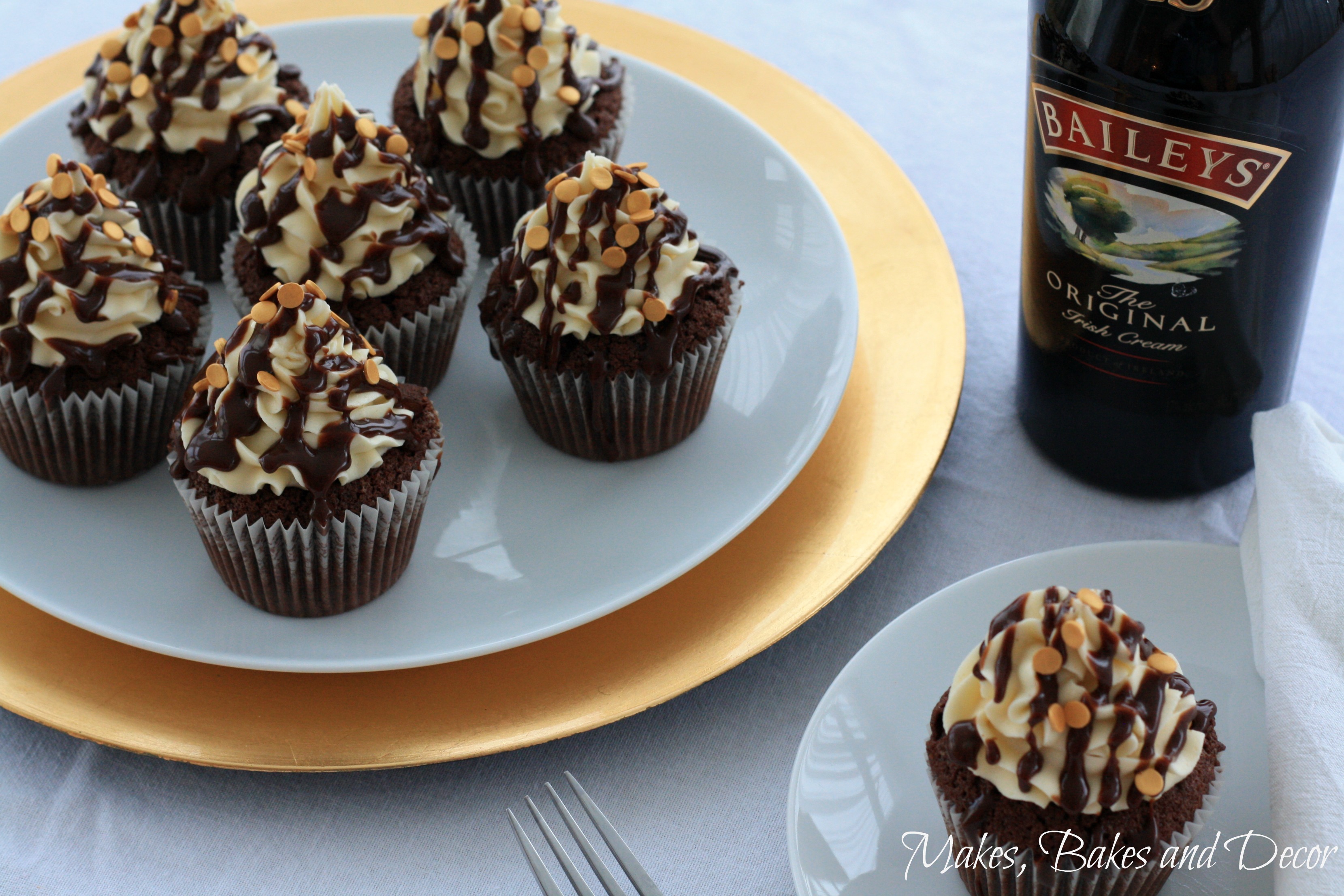 Also if you are a cupcake lover, take a peek at my Very Vanilla Cupcakes and my Salted Caramel Cupcakes!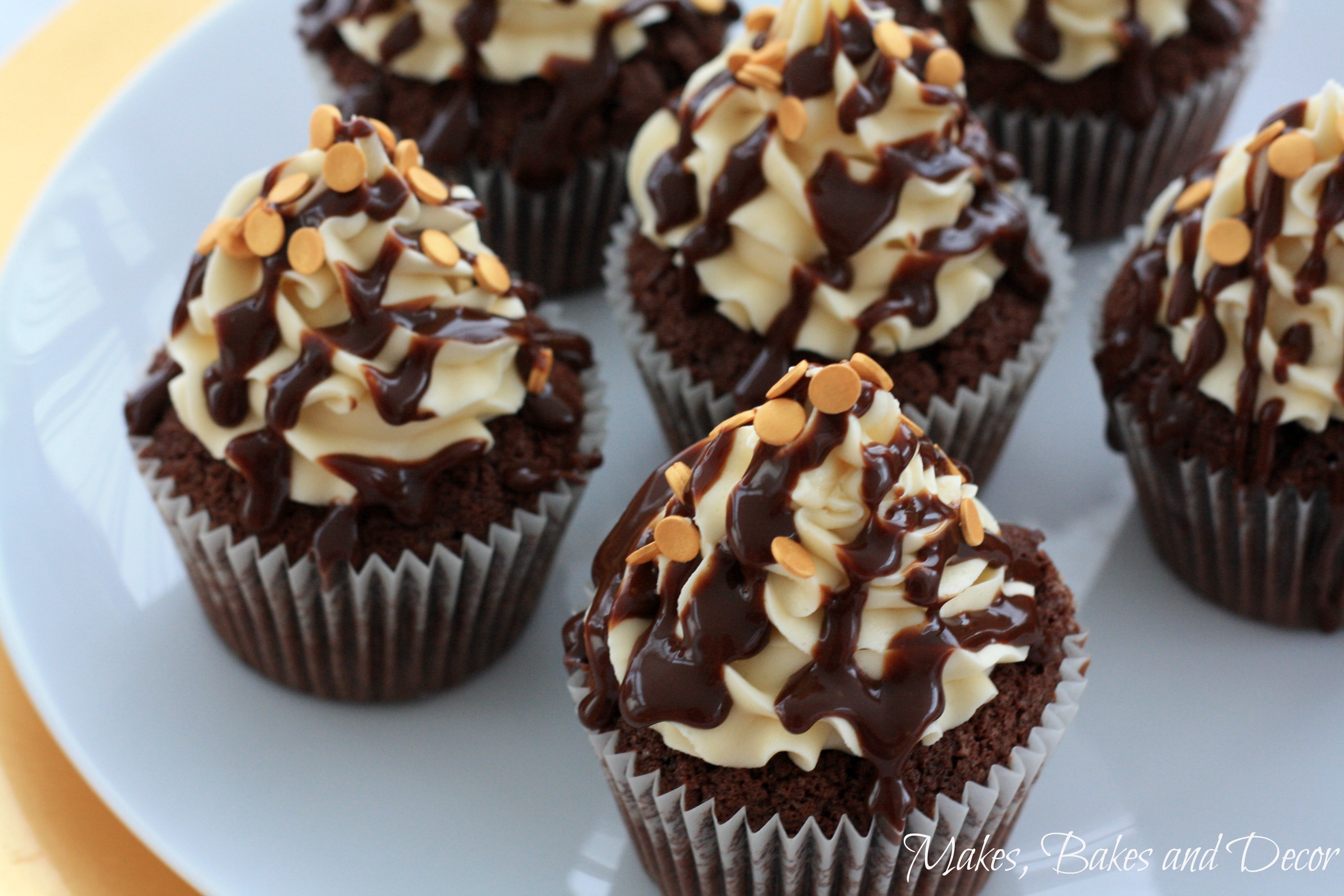 I used the gold confetti sprinkles because I thought they would be perfect for St Patrick's or for Christmas. If you had some gold cupcakes cases they would look great!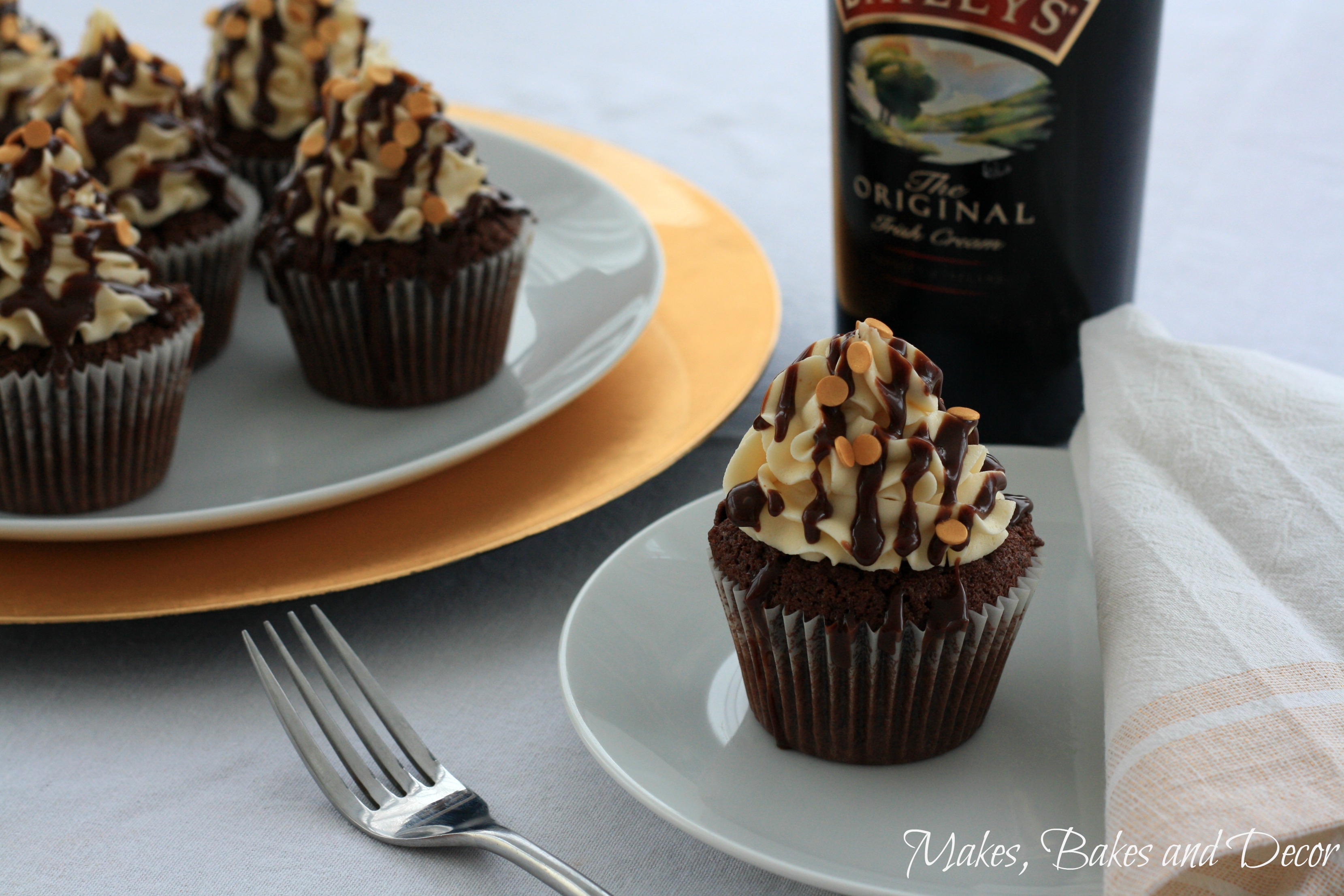 When making cupcakes I usually use my handheld mixer because it's a smaller amount of batter and I find it much easier. I still use my main mixer for the buttercream though because it just makes it so much lighter and fluffier. I used a large closed star nozzle to pipe the swirls fitted into a disposable piping bag. I always use disposable piping bags as I hate to wash the reusable ones! You can see the bottles I always use for my ganache below, I fit them with a very small round nozzle.
Shop the Post!
Do you do anything on St Patrick's Day? We don't really go out for it, but I always like a reason to drink Baileys and Guinness and make lot's of yummy recipes with them. I'll be sharing a Guinness cake with you next week so look out for that! If you try the recipe let me know! I hope you enjoy them as much as I did.
Lianne x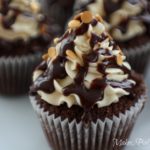 Baileys chocolate cupcakes
Ingredients
For the cupcakes
40

g

cocoa powder

2

tbsp

boiling water

3

tbsp

Baileys irish cream

175

g

butter

165

g

caster sugar

3

eggs

115

g

self raising flour

1

tsp

baking powder
for the buttercream
200

g

butter

400

g

icing sugar

3

tbsp

Baileys irish cream
for the ganache
50

g

dark chocolate

50

ml

double cream
Instructions
to make the cupcakes
Preheat the oven to 180c/160c fan oven and add 12 cupcake cases to your cupcake pan.

In a small bowl add the cocoa powder, boiling water and Baileys and mix into a paste.

In a large mixing bowl, beat together your butter and sugar until light and fluffy. Beat in the eggs and chocolate/baileys paste. Sift in the flour and baking powder and fold the mixture until just combined.

Divide the batter between the 12 cake cases and bake in the oven for 15-20 minutes. Check they are cooked by inserting a cocktail stick in the centre. If it comes out clean they are done. Remove from the oven and leave to cool completely.
to make the buttercream
Beat your butter until pale and fluffy then gradually add in the icing sugar. Then add in the Baileys and continue to beat the buttercream until it is light and fluffy!
to make the ganache
Put the cream and chocolate into a small microwavable bowl. Heat for 45 seconds and then in the microwave without opening the door for a minute. Remove the bowl from the microwave and mix the cream and chocolate to gether until it's combined and glossy.
to assemble the cupcake
Put your buttercream into a piping bag fixed with a large closed star nozzle and pipe a large swirl on to the top of each cupcake. Pour your ganache into a piping bottle with a very small round nozzle and drizzle the ganache over each cake. You could also just drizzle it over using a teaspoon if you wanted. Sprinkle over the gold sprinkles if you are using them and your cupcakes are complete!
Pin Baileys Chocolate Cupcakes to save them for later!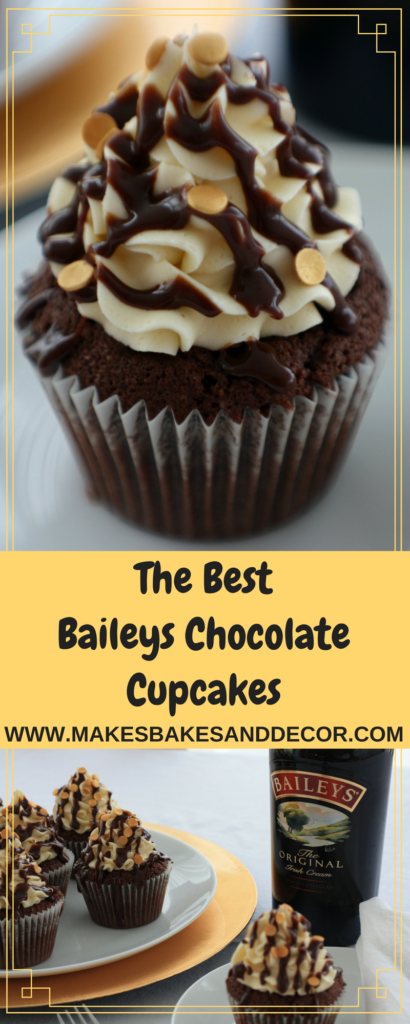 Find many more cupcake recipes by following my Cupcakes! board on Pinterest!
[bws_pinterest_widget type="board" width="360″ height="60″ thumbnail="60″ url="https://uk.pinterest.com/makesbakesdecor/cupcakes/"]
Or you can just follow Makes, Bakes and Decor for lots of different recipe, craft and decor ideas!
[bws_pinterest_widget type="profile" width="360″ height="60″ thumbnail="60″]