I don't know about you but this month has been tough. Lockdown is much harder and more miserable when it's cold and wet and dark early. Things weren't helped by the fact that Shaun and I were due to go away for our 10 year anniversary the day lockdown 2 started. It took me a few days to get over the disappointment of that one. I was meant to wake up child free in a luxury hotel with breakfast in bed. Instead the first thing I had to do on the morning of our 10 year anniversary was change Noa's nappy 😀 This is how the Dining room update came about. I decided that if we couldn't go away we could make a sizeable Ikea order instead!!
This post is sponsored and in collaboration with Lakeland furniture.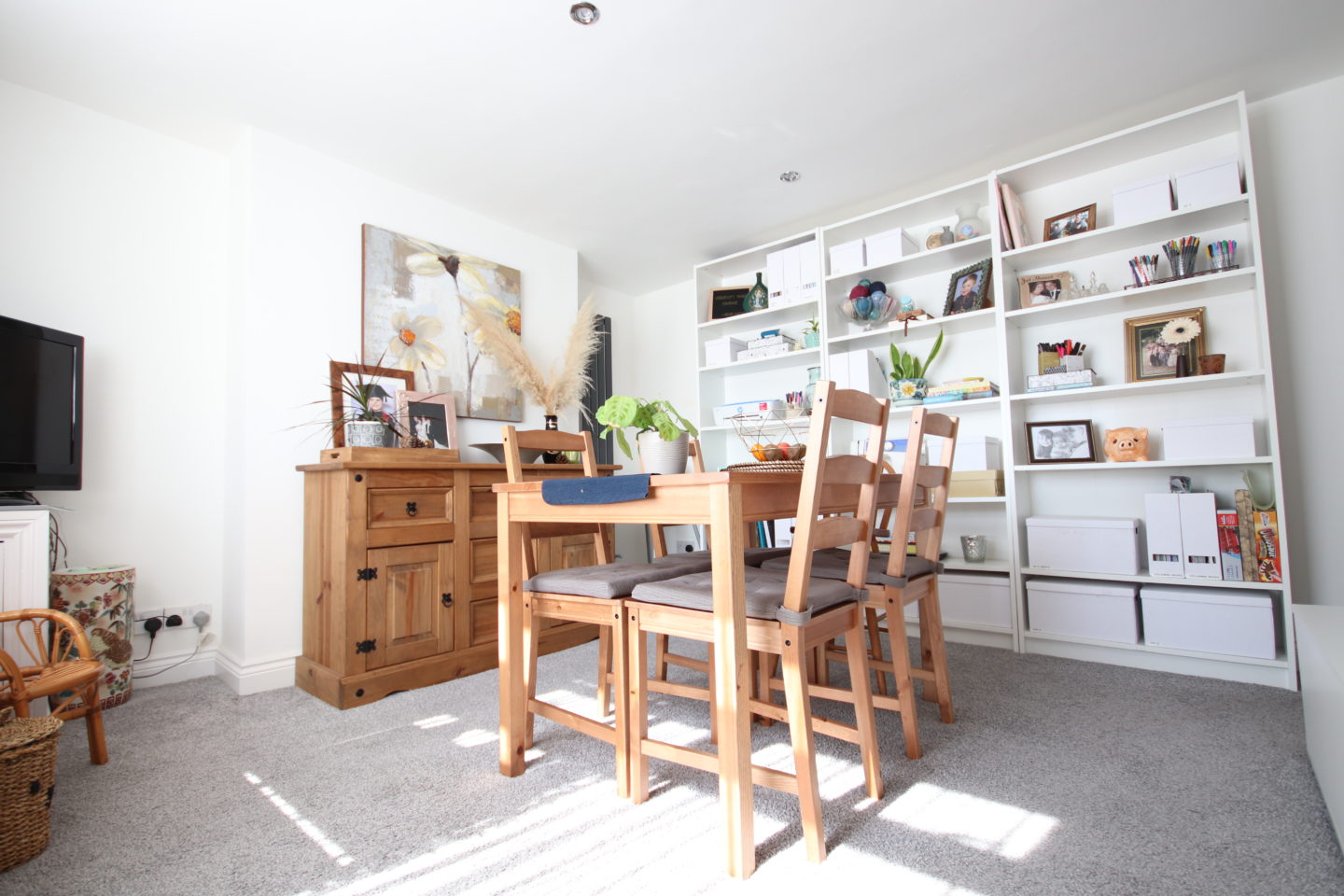 Here is a picture of what the dining room looked like not long after we moved in. The thing about this room is that is has a lot of different functions. It's the kids tv room and where Noa plays during the day. It's my office where I sit and work and all of my office and craft supplies are stored in those boxes on the bookcases. For that reason it's also my craft room and finally of course where we eat our meals.
I have/had a lot of plans for this room, I want to add more black in here. There is lots of white and natural tones that I love but I think some black would really make the room pop. One way I was able to do this was by changing the chairs. The table and chairs in the before picture are from Ikea that we purchased when we moved in as a quick and cheap option. The table we had at our old home was too big for here and we needed something straight away.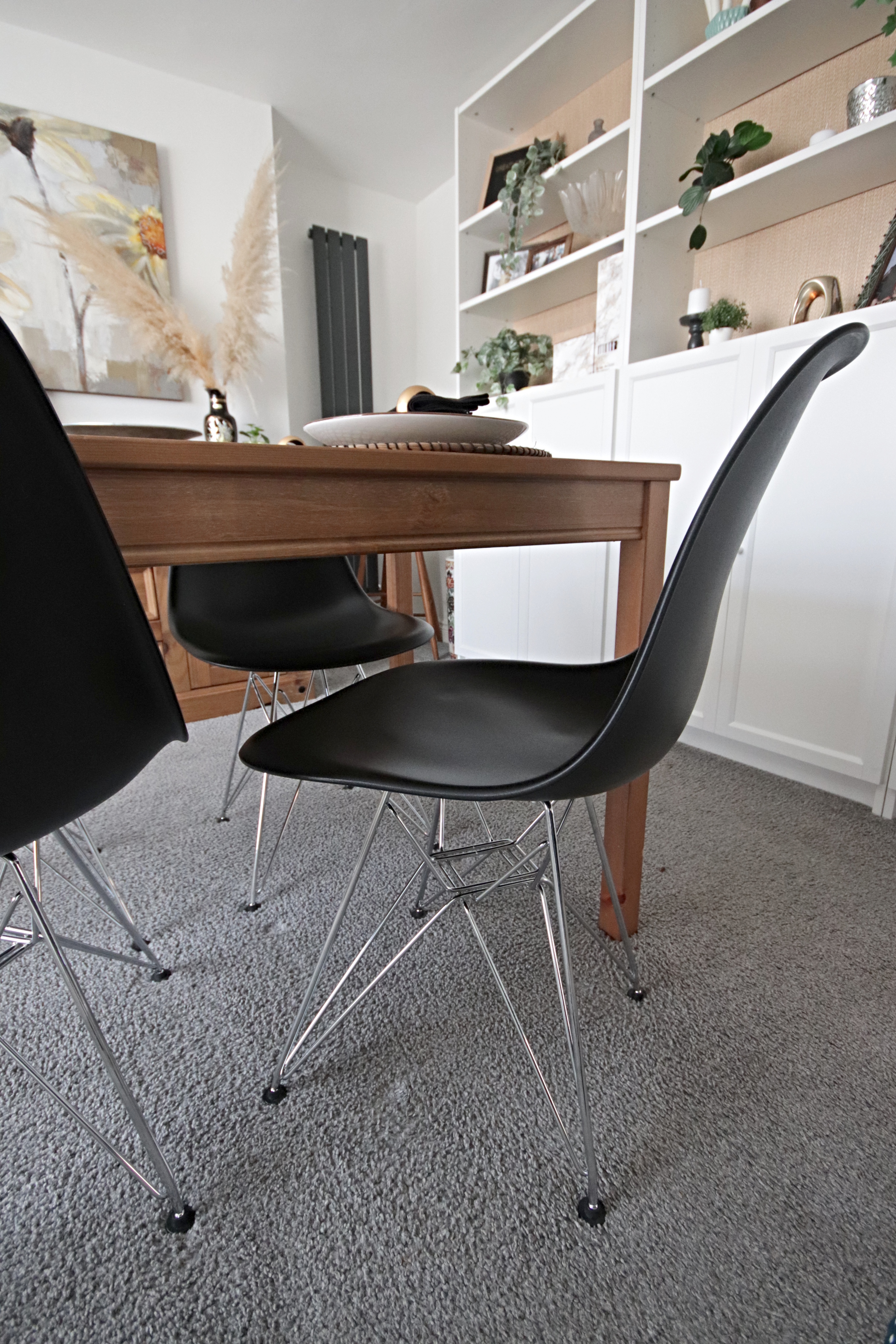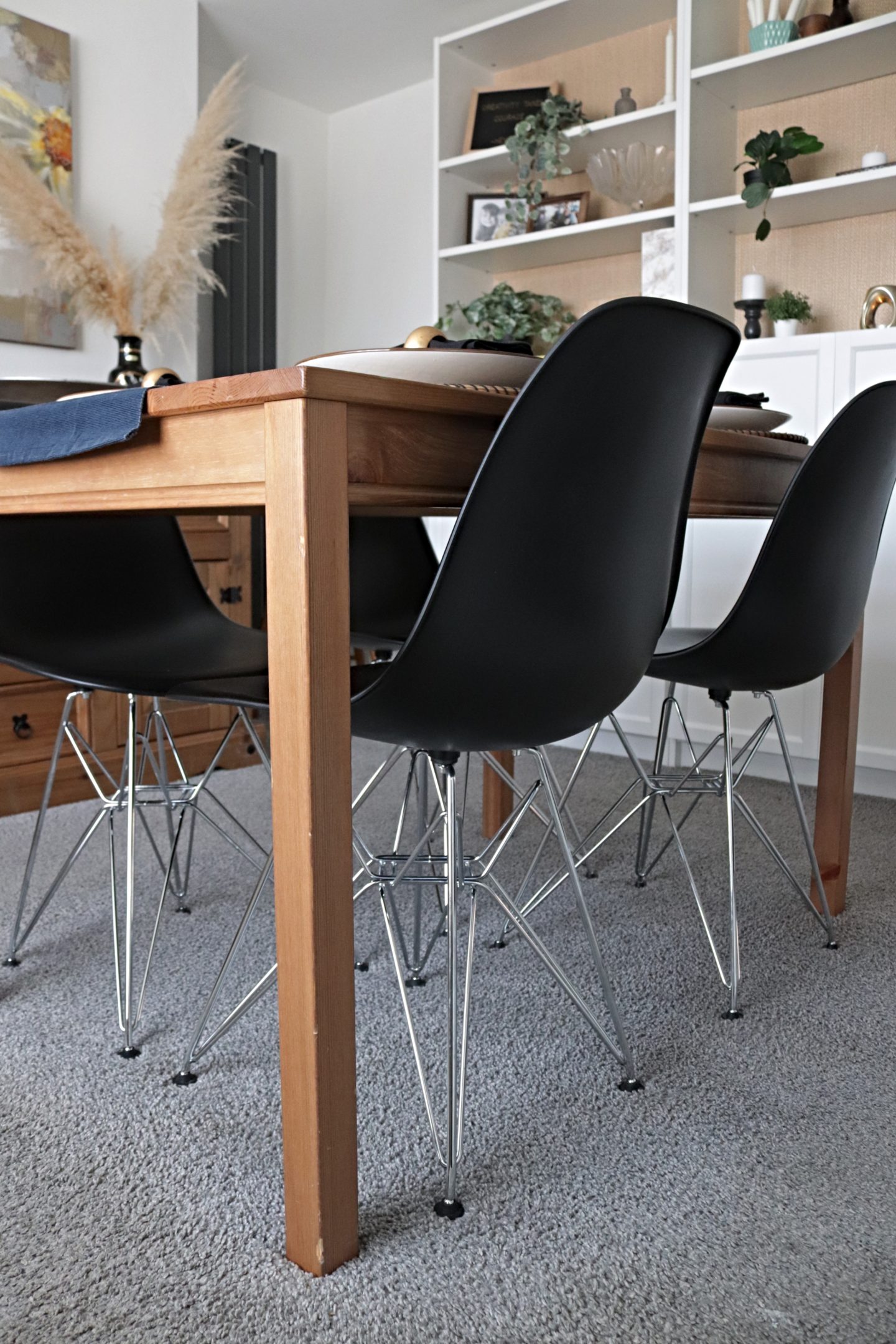 Now with these Replica Eames Chairs the dining table has a brand new look. At some point we would also like to paint the base of the table black and just leave the table top wood. We've had the chairs for a little over a week now, they look great but they are also very easy to clean which is brilliant for us with young kids. They also seem to take up less space than our old ones so there is more room to move around the table too.
The other big change in here are our Billy bookcases. When we bought these my intention was always to get doors for them eventually. I wanted all the storage boxes to be on the bottom shelves hidden by the doors and then the top shelves left for decor pieces. After a year and a half we finally got the doors, I wallpapered (left over from Seaways living room) the backs of the top part of the bookcase and they are transformed!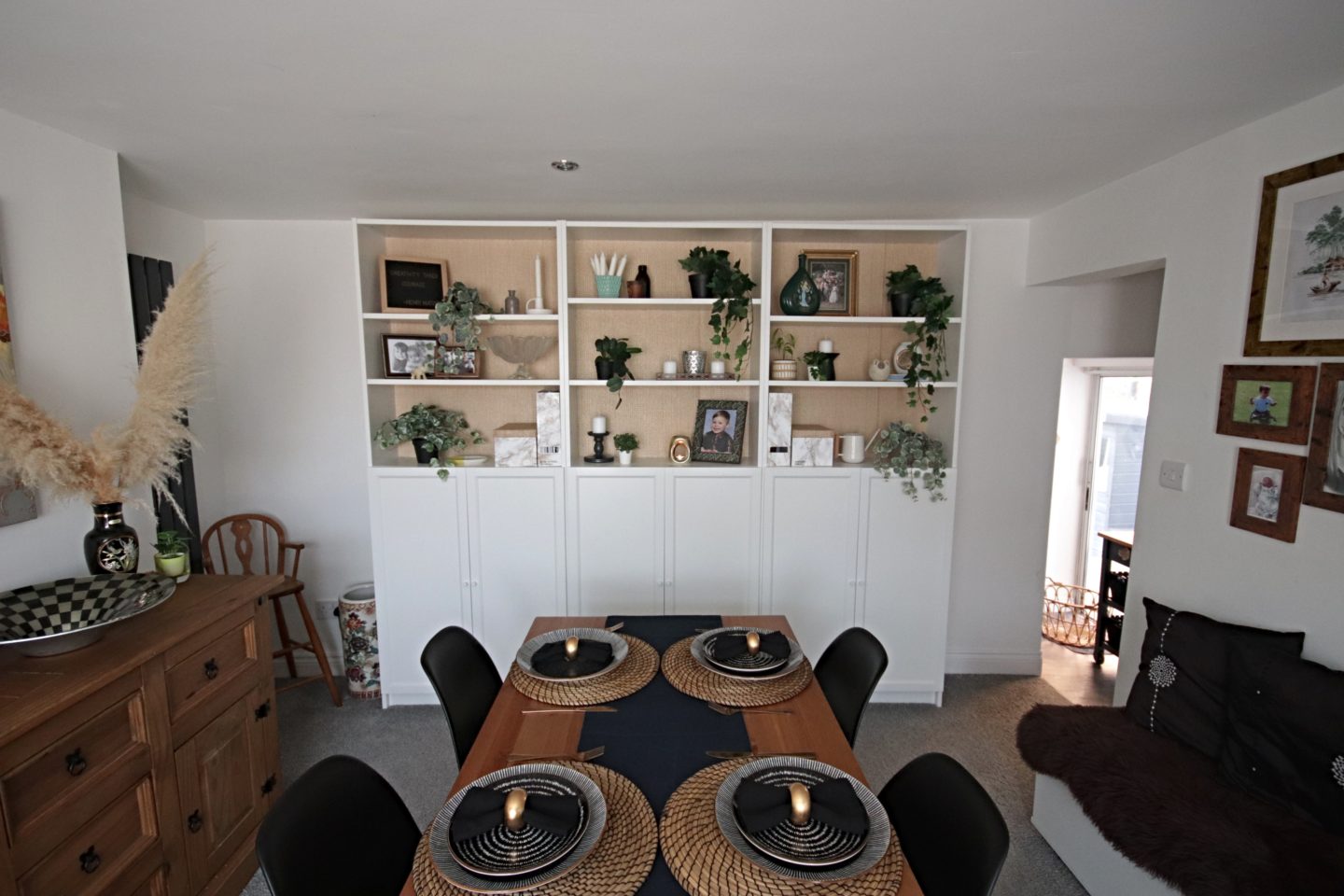 Today as I've been writing this post, I've been sat at the table in the dining room. I just keep looking up and smiling because I feel so happy with how this room looks now. We ordered most of these artificial plants from Ikea the same time as the doors. I do love real plants but I don't want to overwhelm myself with having to keep so many alive so I have a mixture of the two.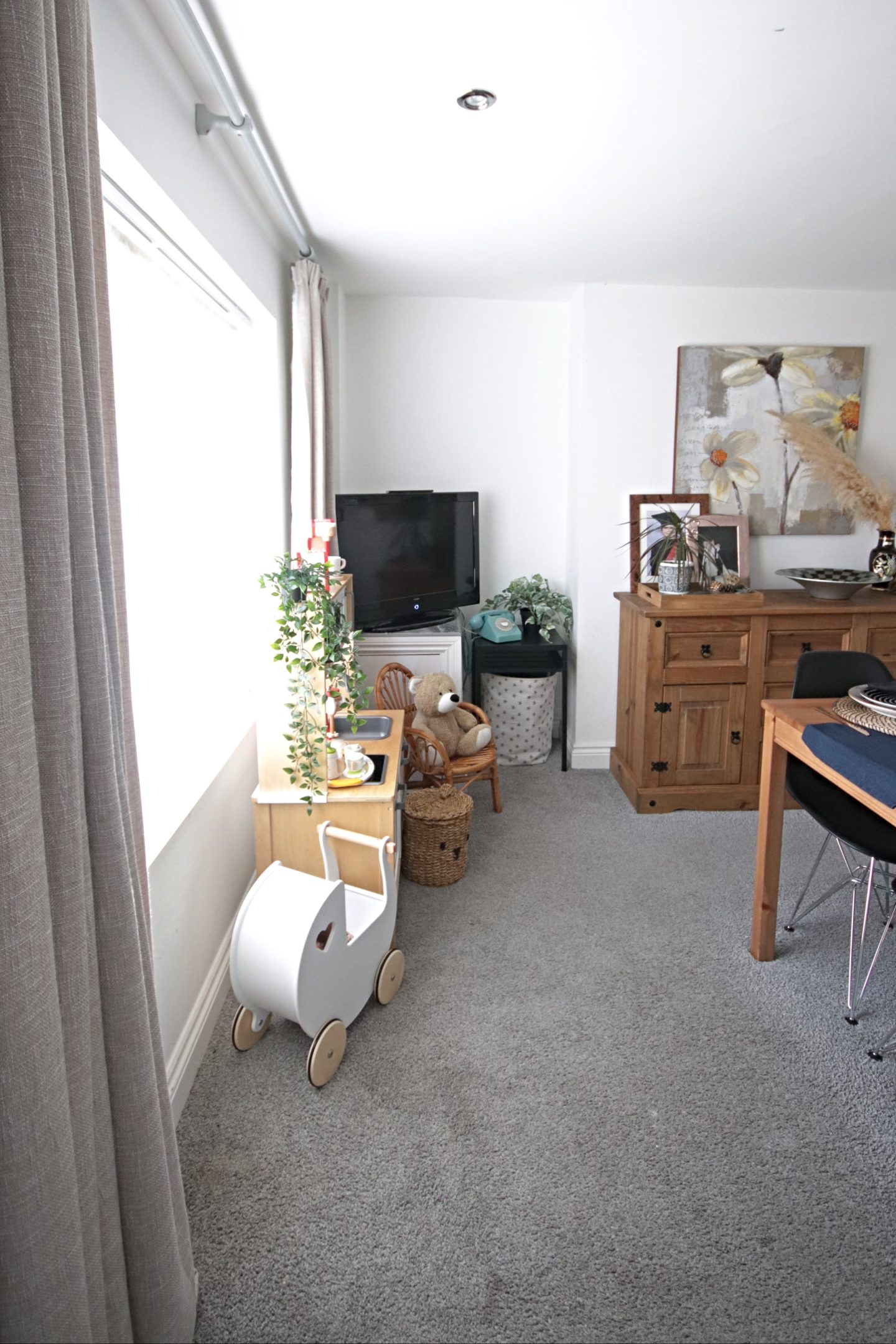 In this picture you can see Noa's play nook. We have added in this black side table that is also from Ikea for the telephone to sit on. The telephone that has actually lived behind the tv for a year and a half because there wasn't anywhere else to put it! Although I love this room now there are still a few things I want to do. One is to add some kind of feature wall behind the tv. I'm thinking gold with the same kind of vibe as my Washi Tape Feature Wall.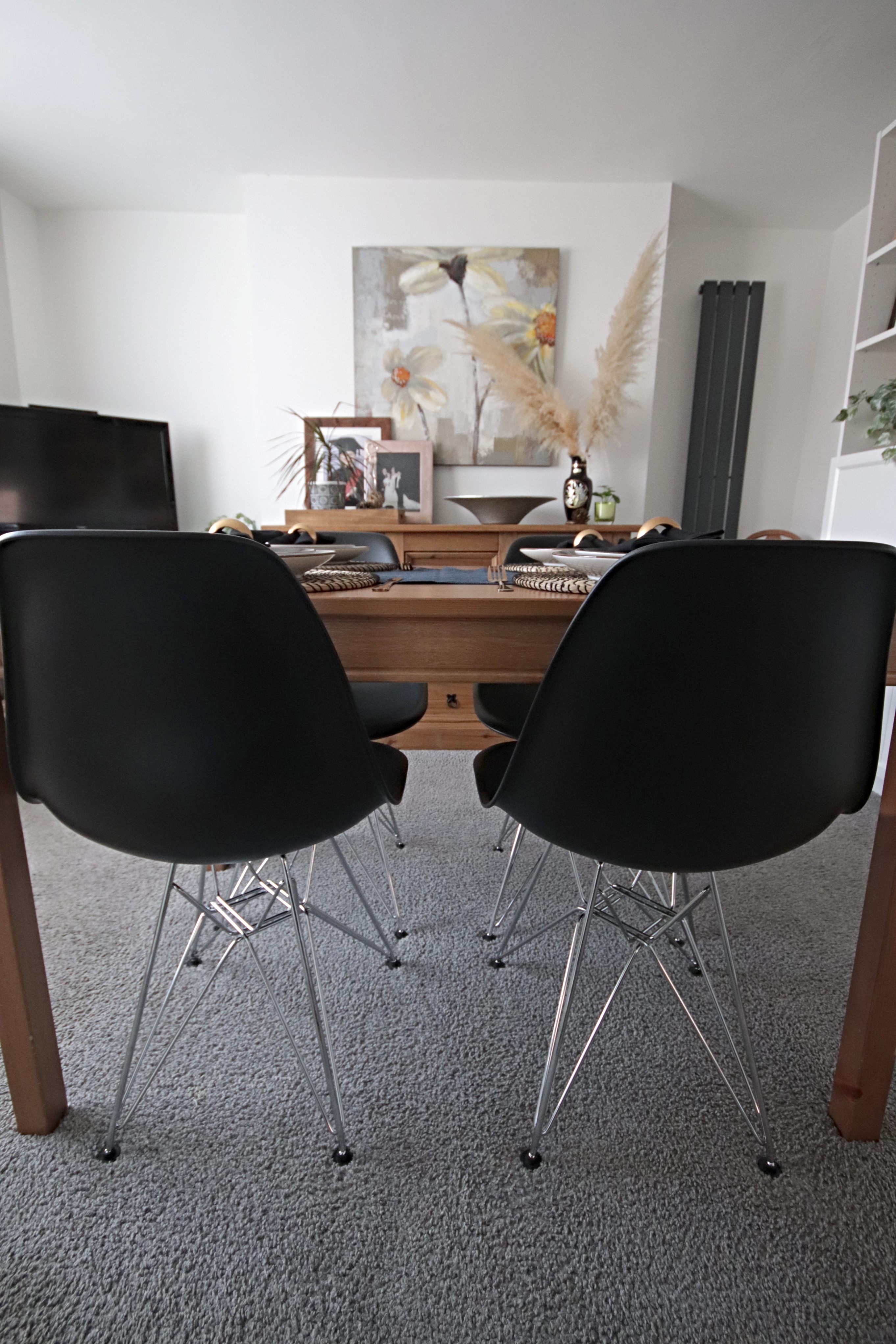 I also want to frame this canvas with just a simple black border. I love my pampas grass here but I would like to update the vase they are in and also the two framed pictures. I think some prints would look better here than photos.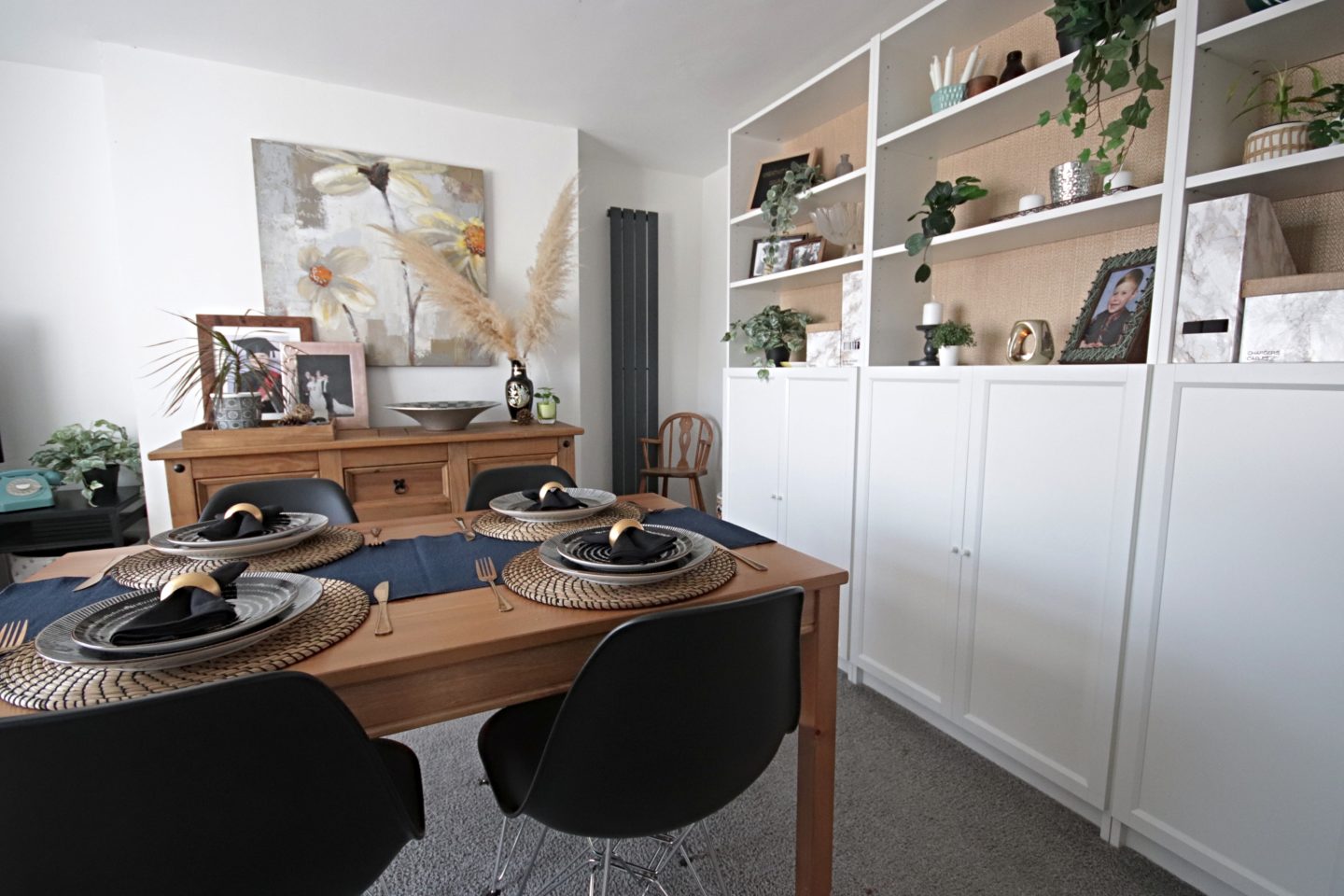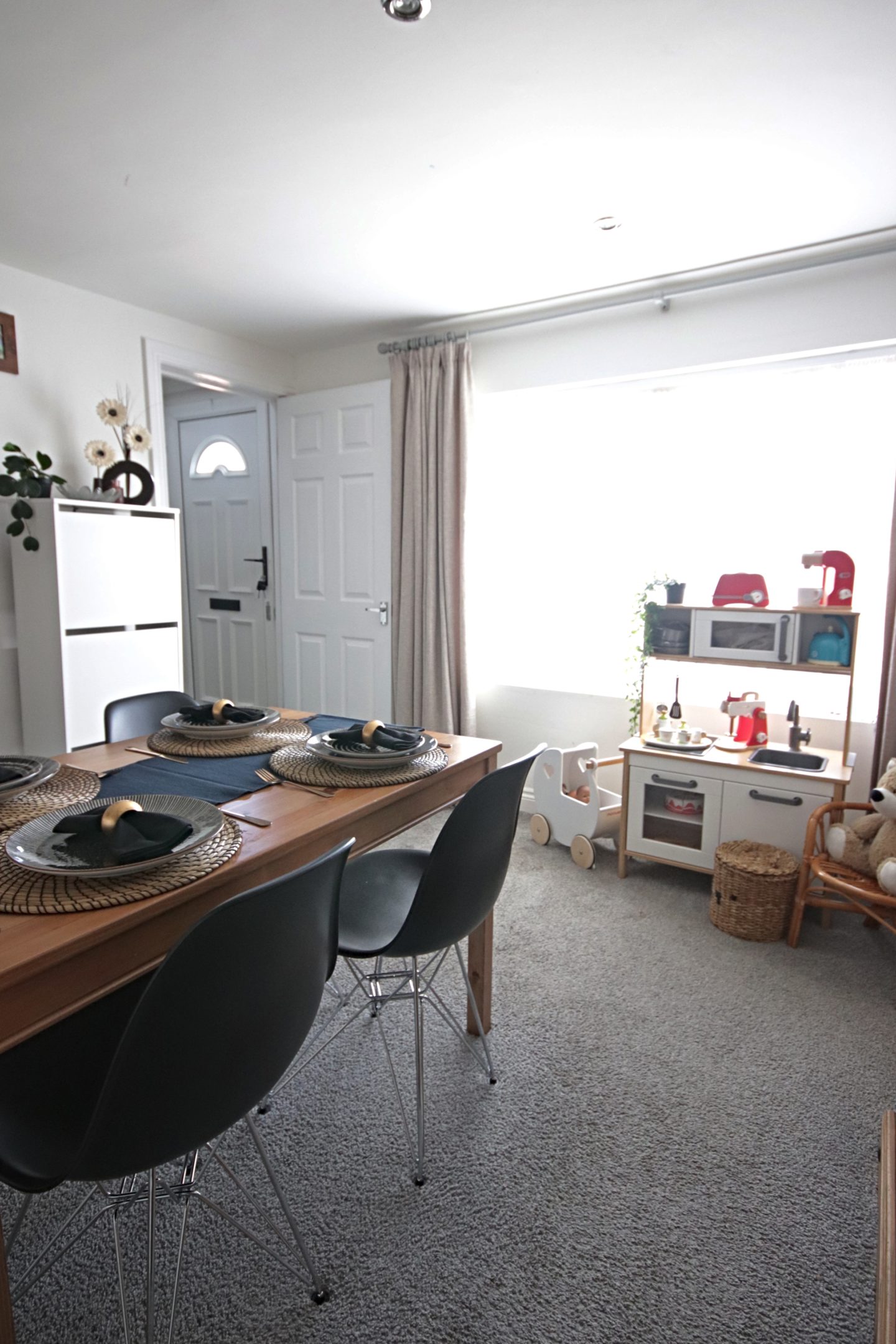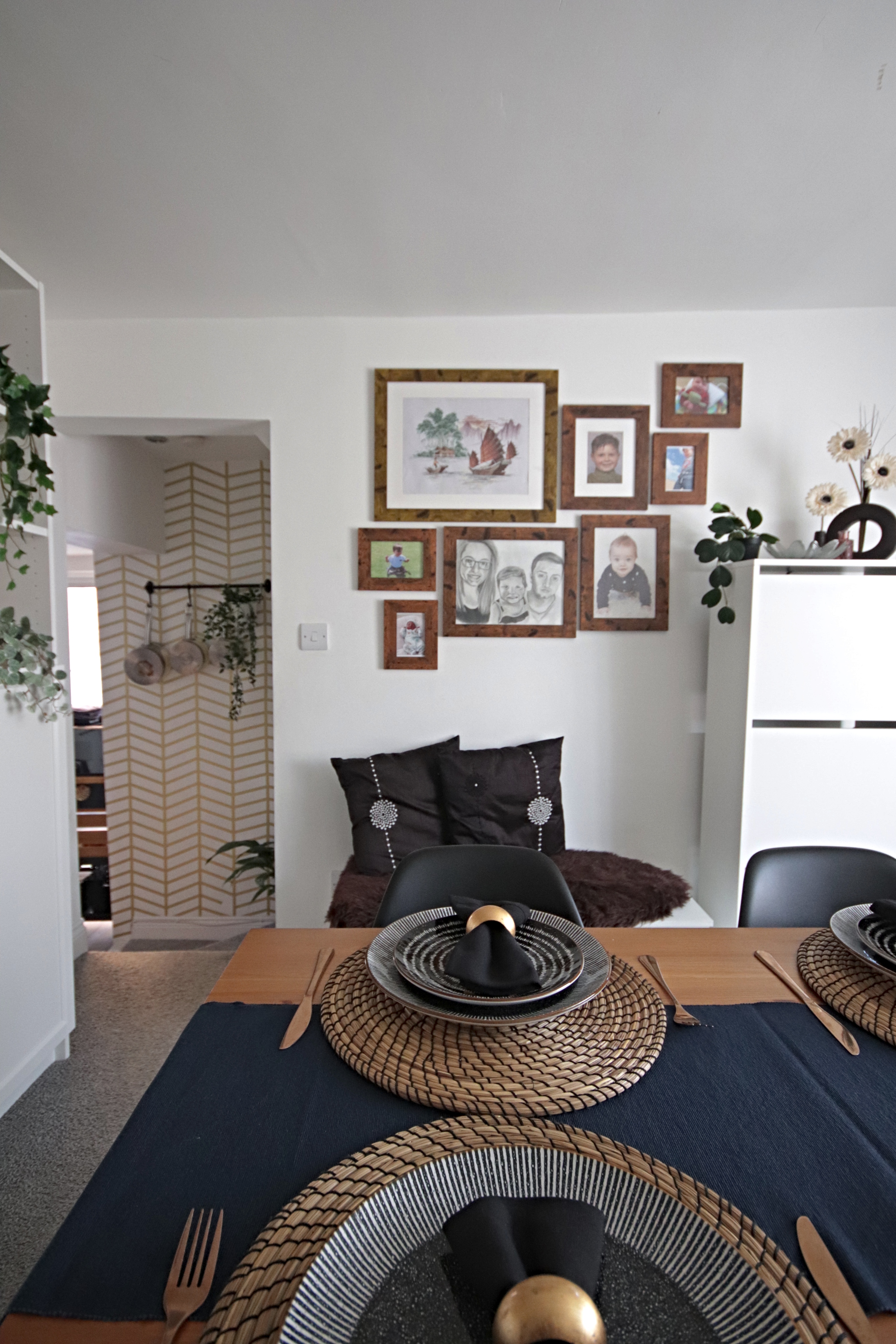 The frames for this gallery wall are going to get an upcycle eventually too. I'd like them to be black with some gold and I also want to add handles to the shoe cupboard. Another function of this room! We don't have a hallway so our shoes are in here and our coats under the stairs which is the space to the right of the washi tape wall.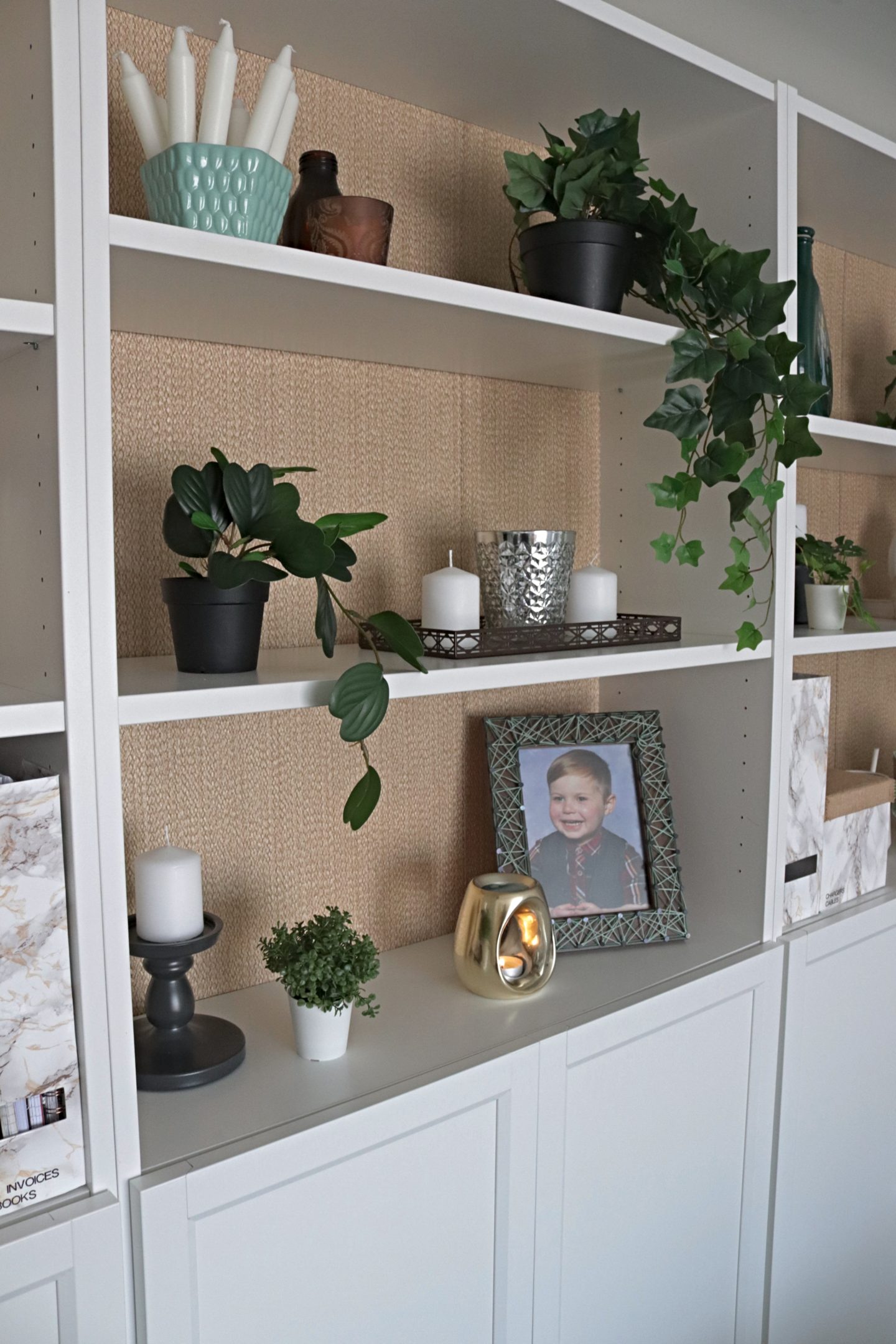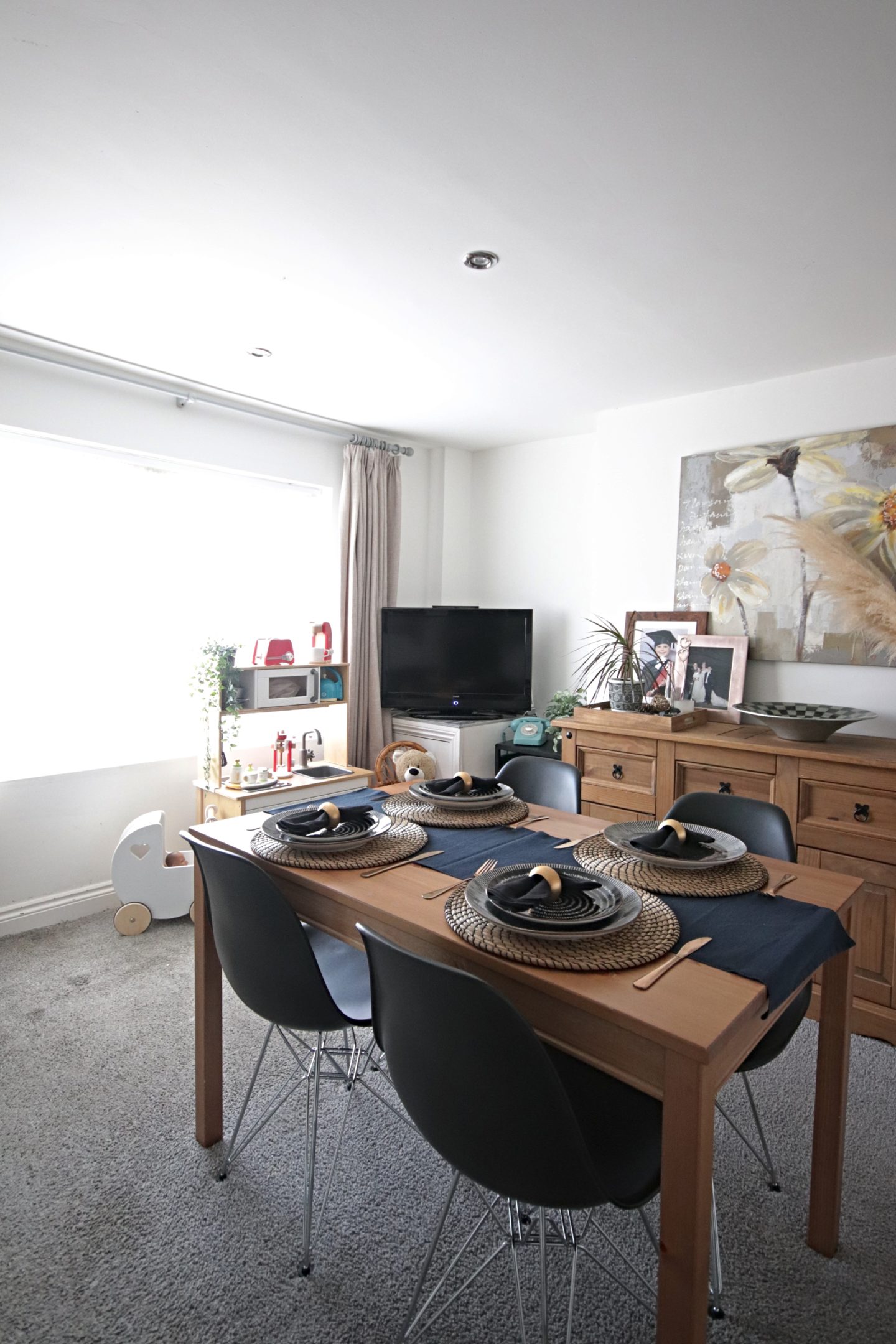 I could share a lot more photos, believe me when I say that I took a lot! 😀 I won't but I will share a couple of before and afters from similar angles because who doesn't love a good before and after!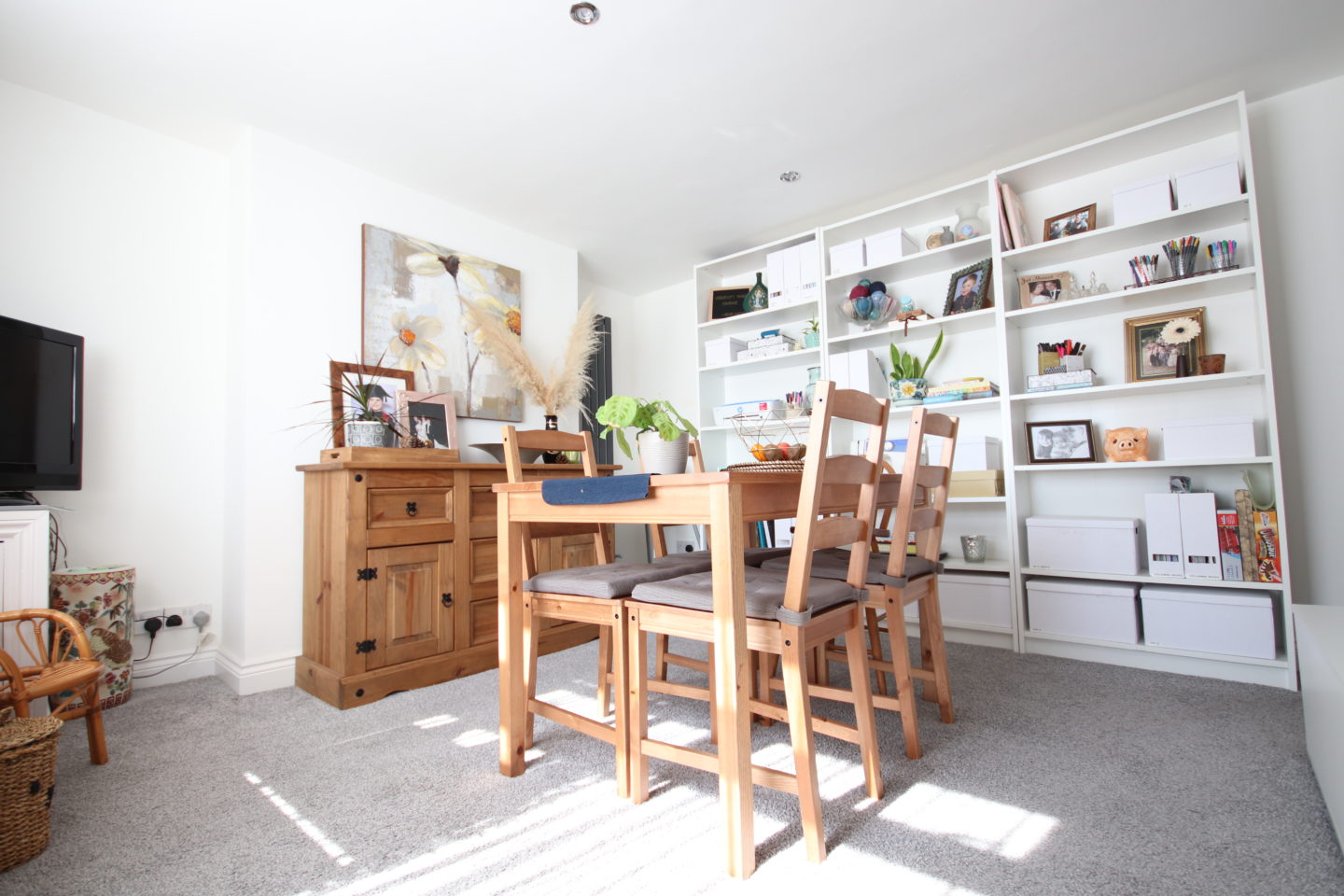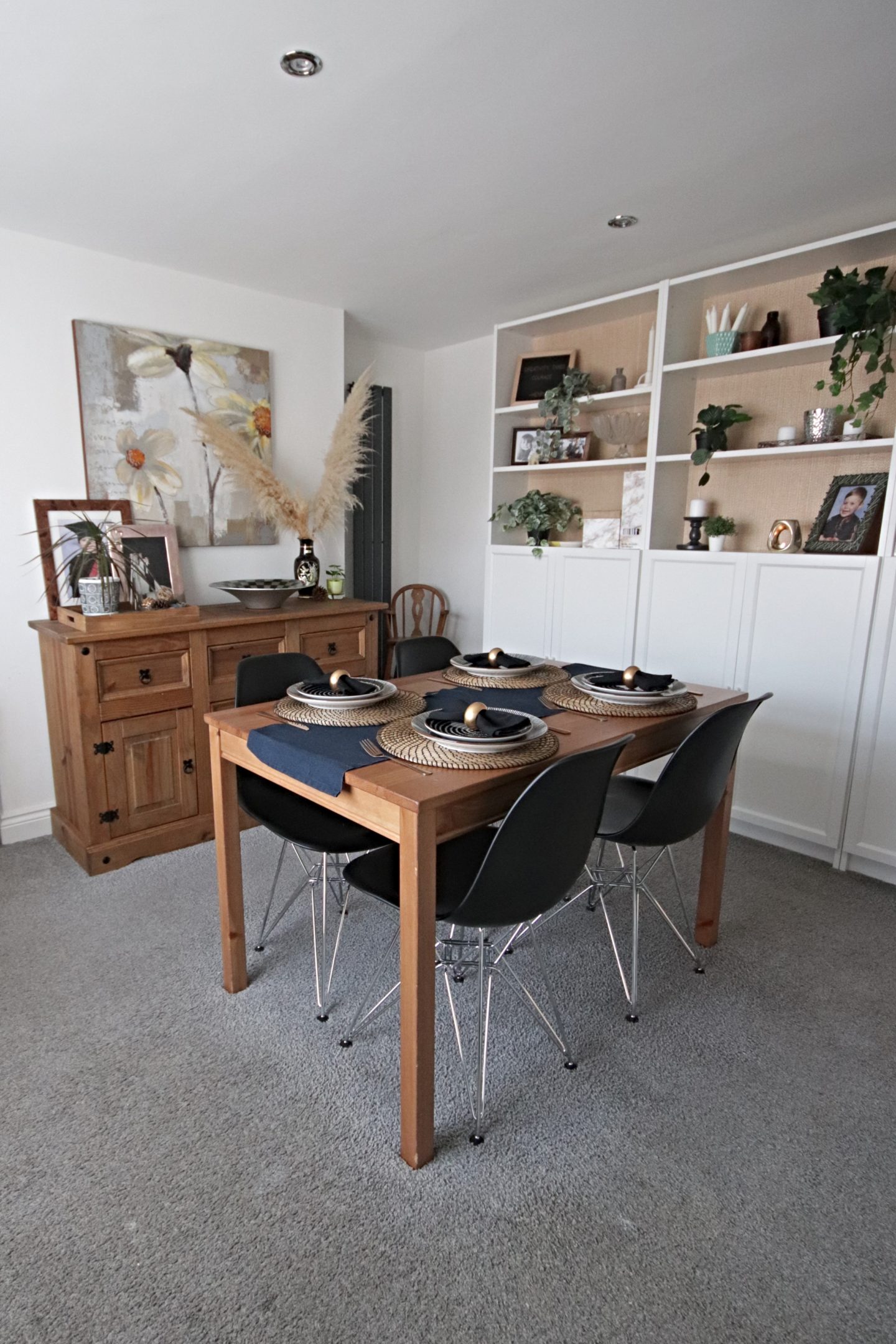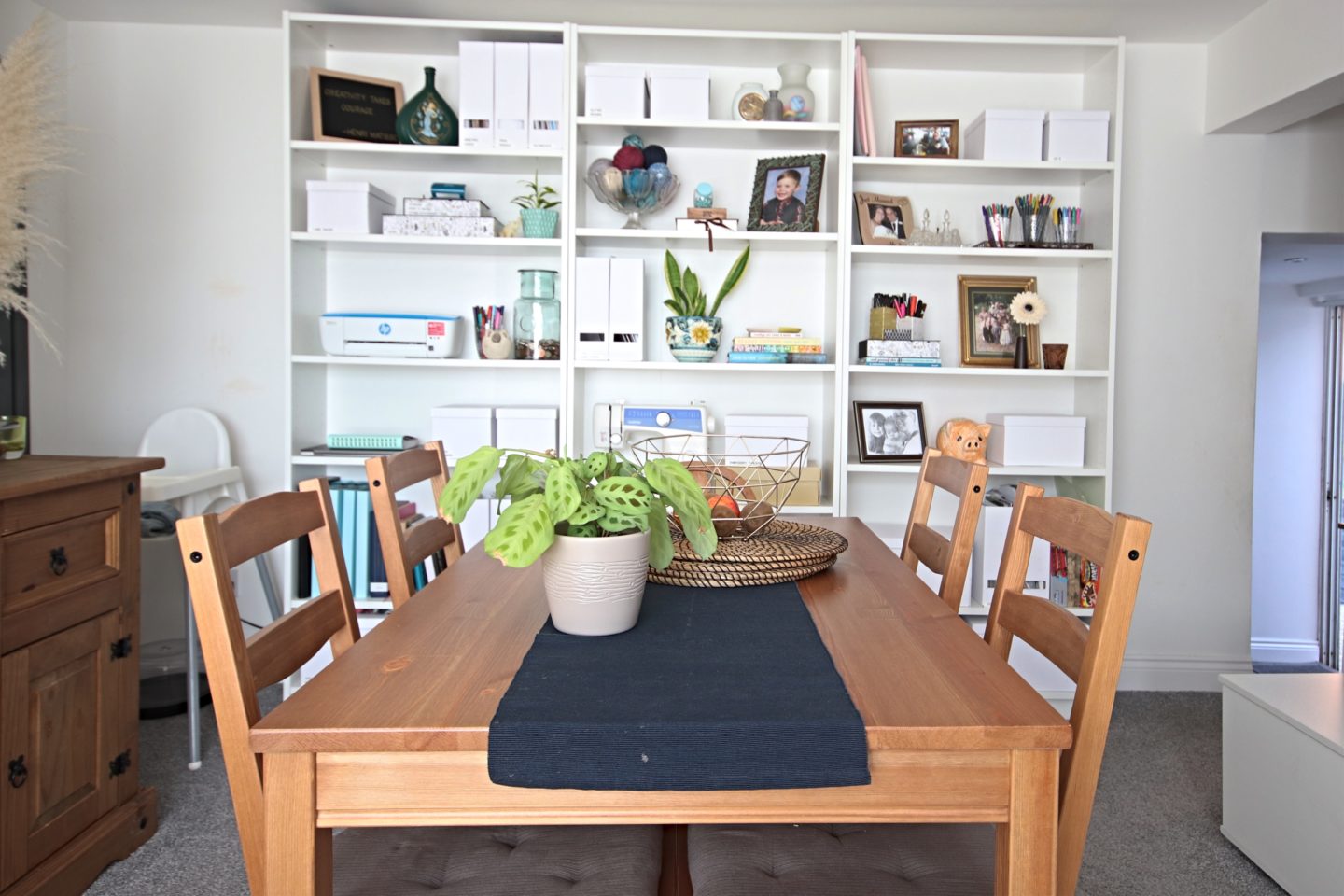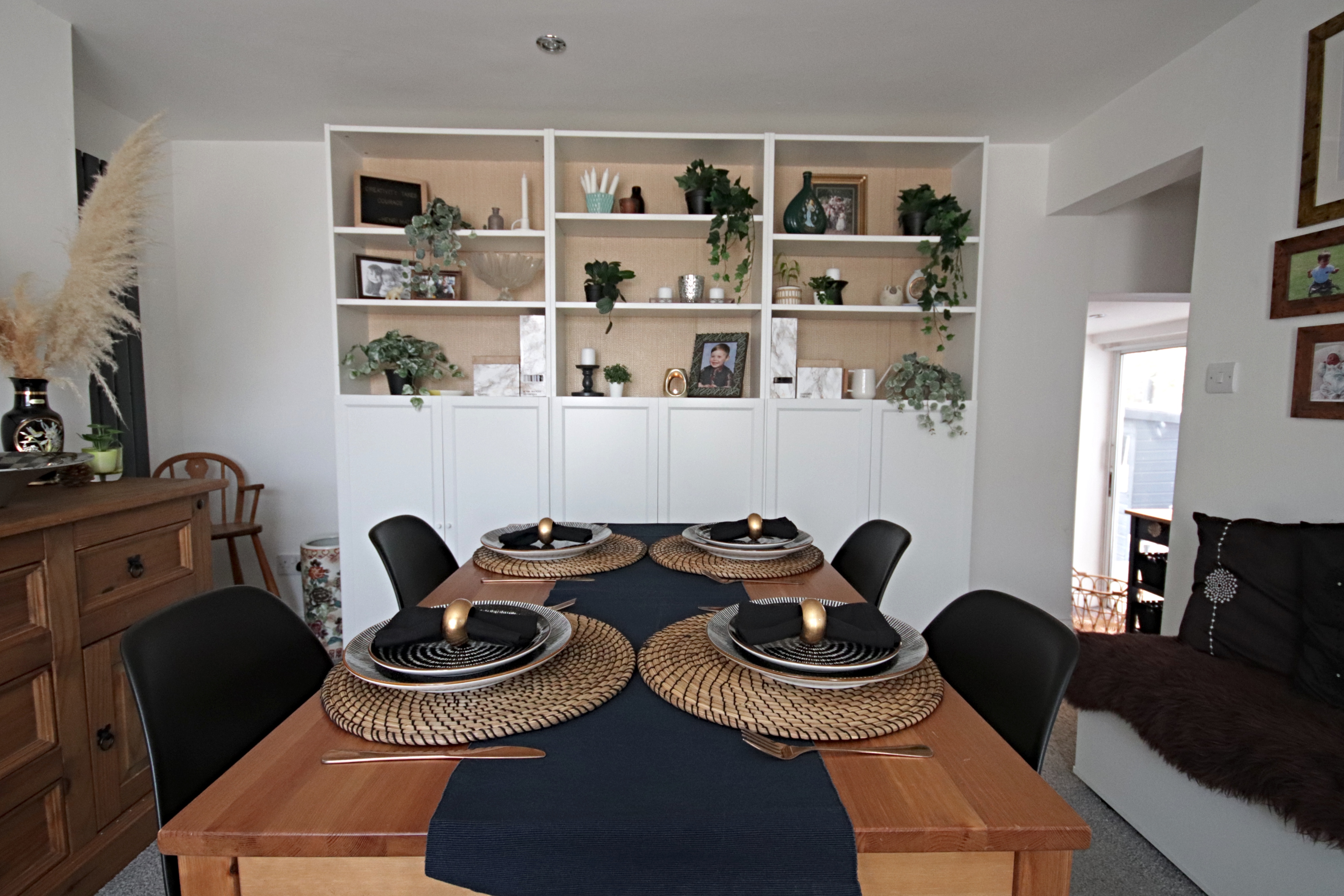 I hope you love the room as much as I do, I can't wait to get started on the next bits but that's going to be after Christmas now. If you have any questions about where anything is from just send me a message in the comments below. I hope you all have a great week. 🙂
Lianne x
Pin my Dining Room Update to save it for later!