My Living Room Reveal is finally here. I would say this room is about 95% complete. We still need to add some pelmets above the curtains and I want to make the ledge on the mantel bigger, but we ran out of funds this side of Christmas, and I wanted to share it with you before I share any pictures of my Christmas decorations and ruin the surprise! To be honest we hadn't really planned to decorate this room yet. It all started when I bought a tester pot of paint to paint the fireplace recess as there were some cracks that we had filled and it bothered me that they were visible. Once I had painted it though I just wanted to get the room done! We took a trip to B&Q the next week and picked up the wallpaper. Here are some pictures of the room I took before we had moved in.
It's a lovely sized room and I loved the log burner. The walls were in a good condition and although it wasn't how I wanted it, it was perfectly serviceable and over the past couple of years (until now) we have done very little with it.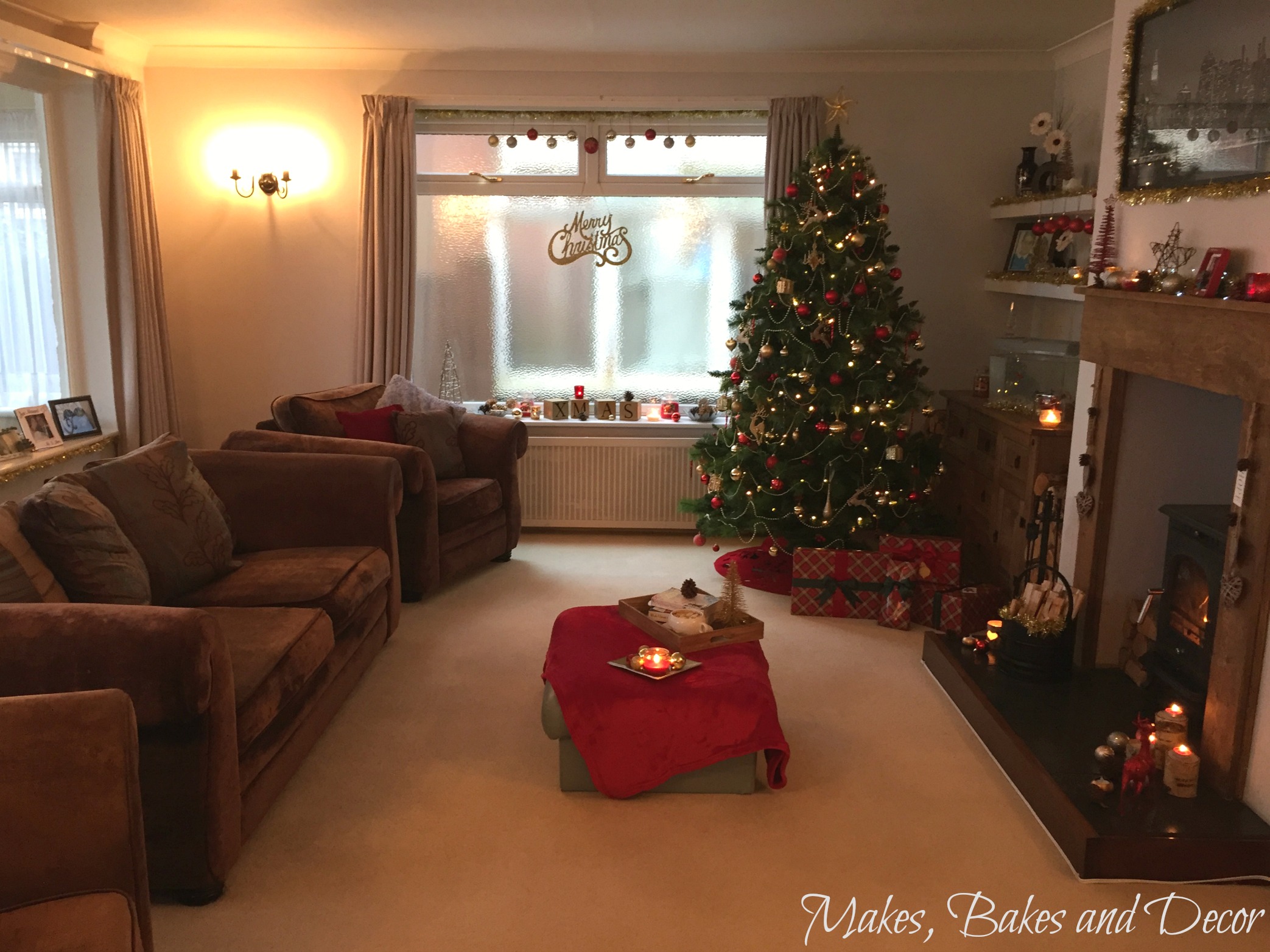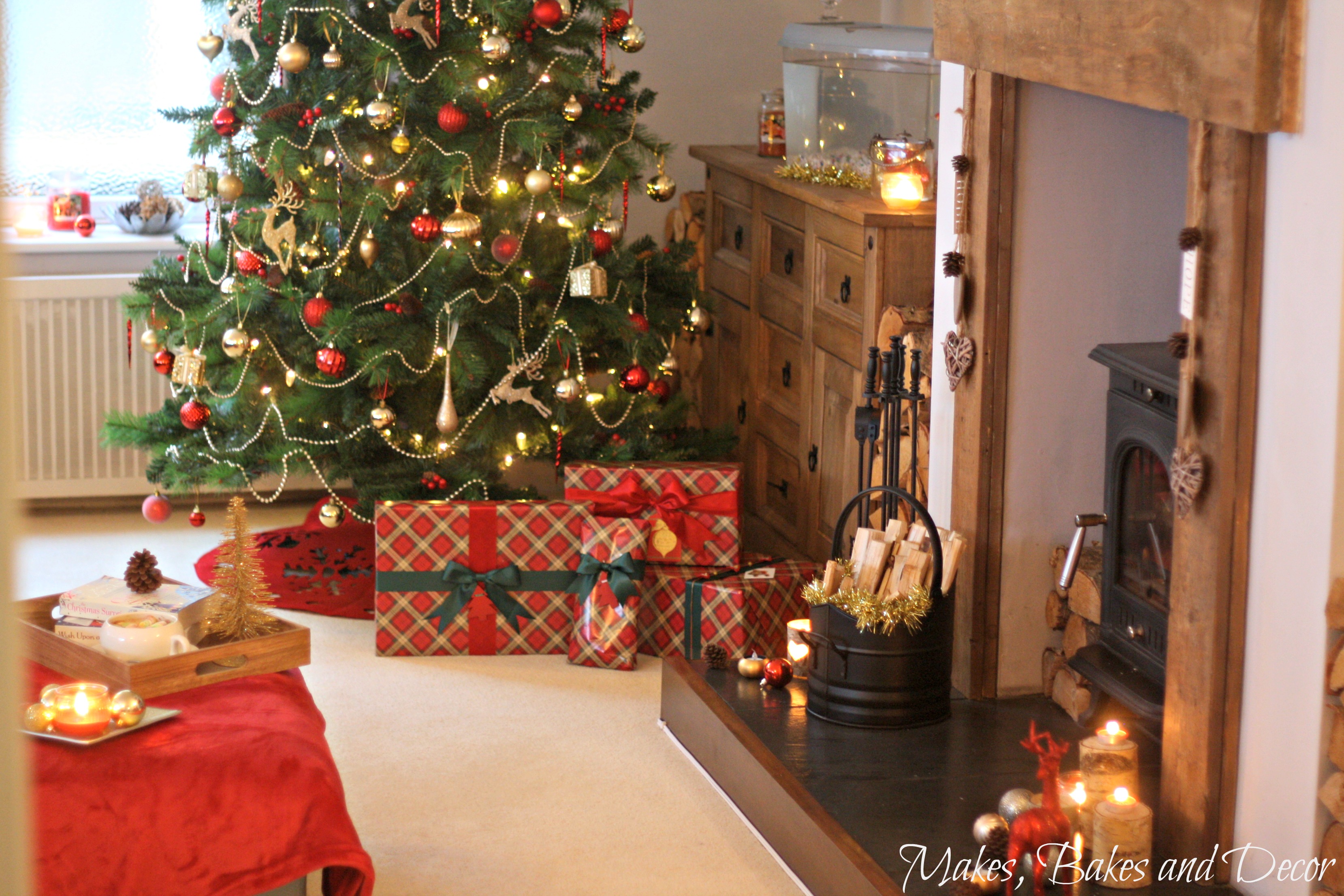 Last year just before I took photos for my Christmas tour we added in the fire surround. We literally cut down some old wood sleepers and fixed them to the wall with no more nails. Not the most elaborate DIY project ever lol, but it's just the look I wanted.
And these are a couple of pictures from my Spring Decor Update. This is basically what my living room has looked like for the past 2 years. I wanted some thing a little more dramatic though. Our finished living room is quite bold but I absolutely love it and I hope you do to.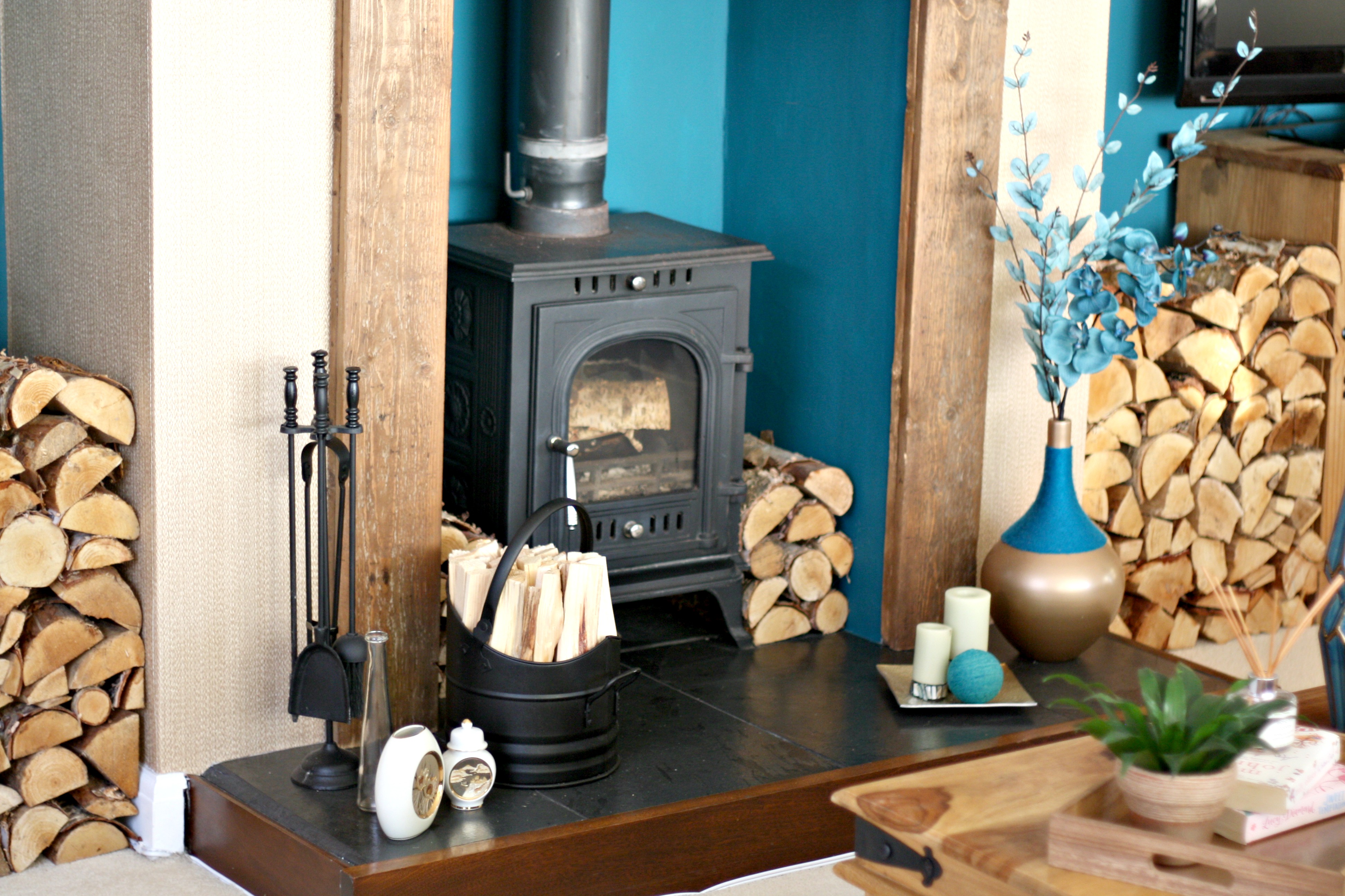 So here is the teal colour in the fireplace recess that started the whole makeover. We picked it up from Wilko and it's called Jaded Teal. I've dressed the hearth with some simple log stacks, then added the coal scuttle, which we use for our kindling, and a fire companion set. Both of these are from Home Bargains. You can also see my DIY decorated Vase which now matches my decor perfectly. The plate, candles and small vases are items that I've owned for a while.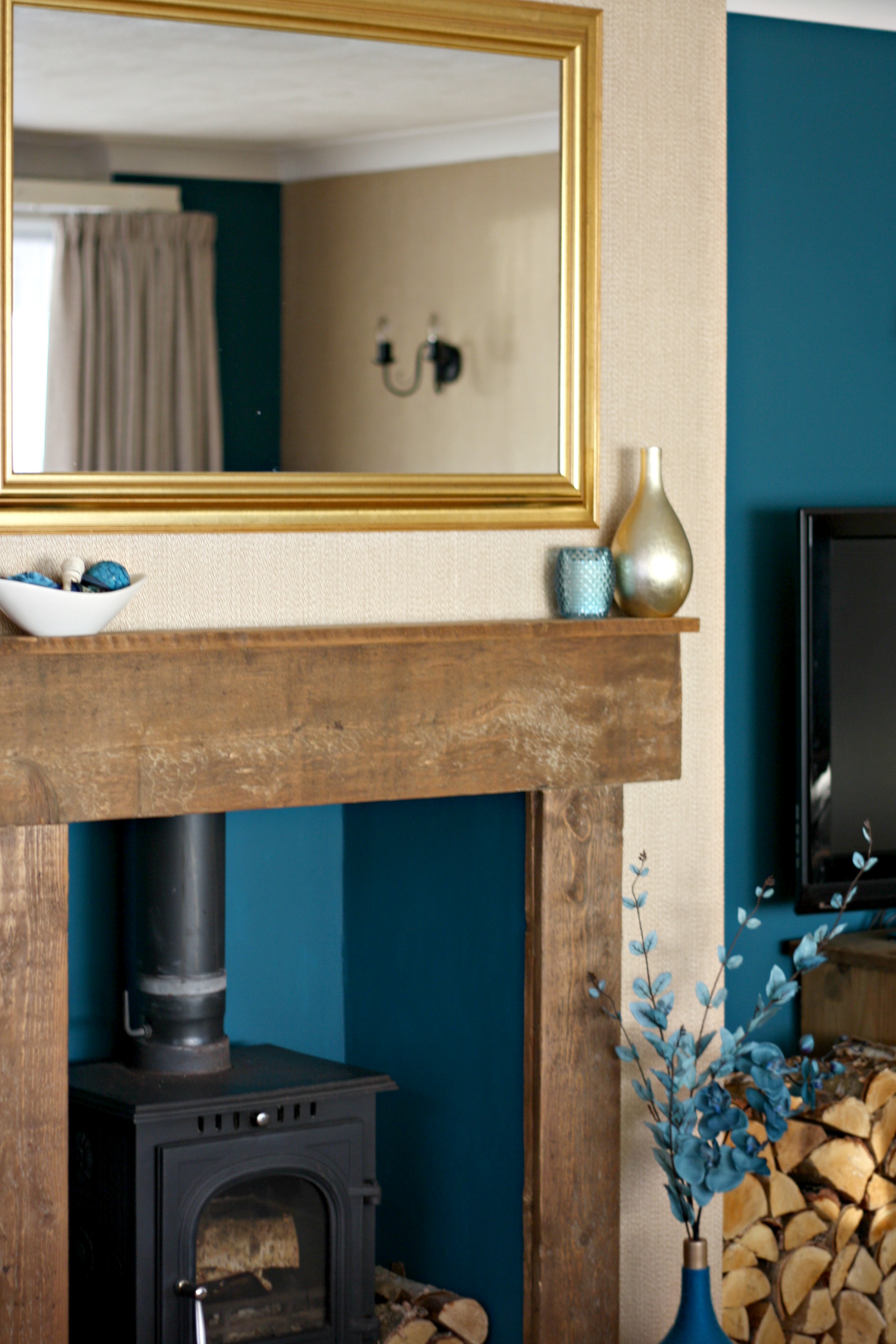 We picked up this gold mirror for a fiver from Facebook marketplace. We have picked up a few bargains from here, so you should check out what people might be selling locally. We got the gold vase for £1 in a charity shop, the small candle from B&M and the pot pourri dish and pot pourri from Wilko.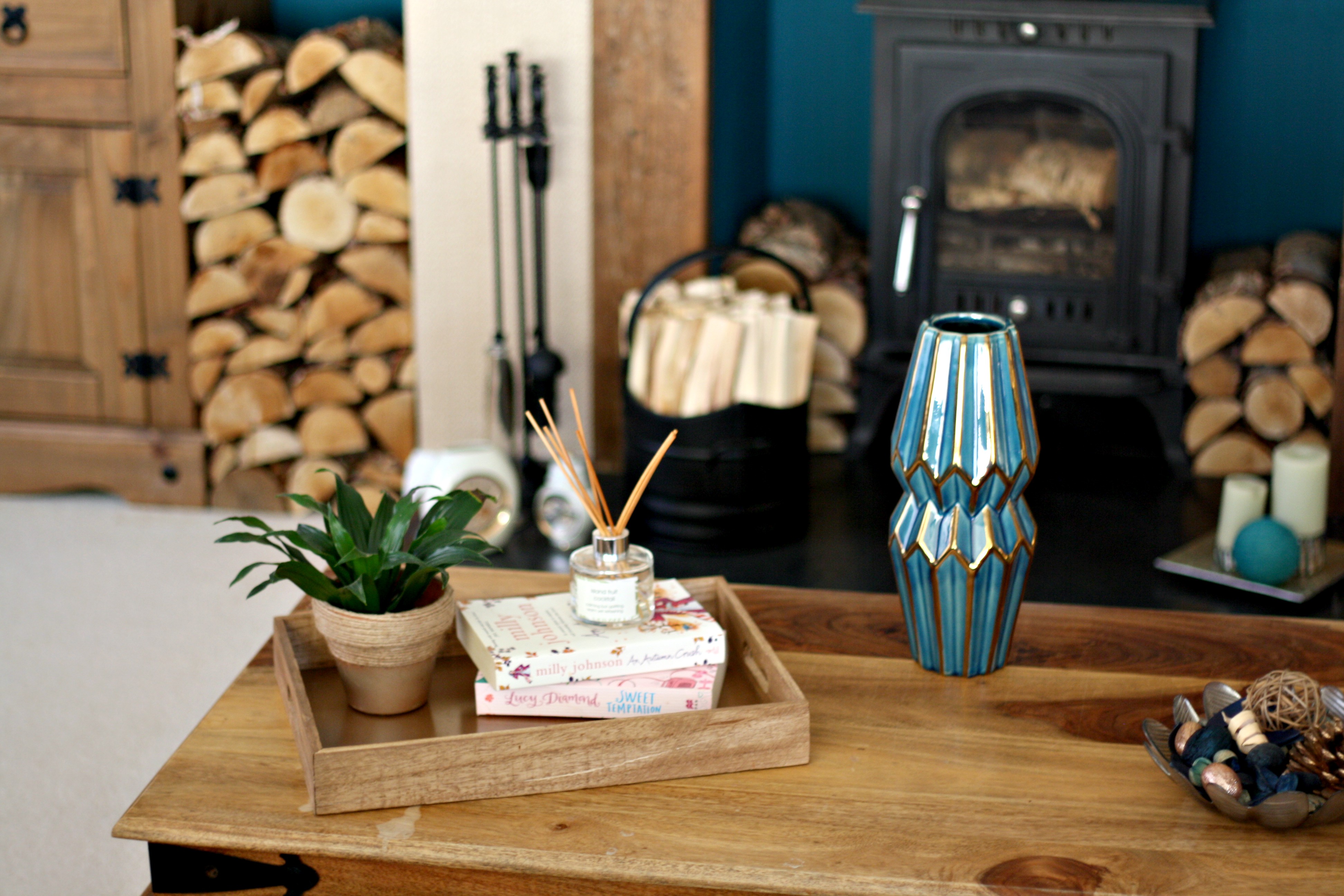 The coffee table is another Facebook marketplace find. I plan on giving it a makeover soon. I picked up this tray a couple of years ago from Home bargains and just painted the base. The dish we've had for a long time and the vase we picked up from a local home decor store.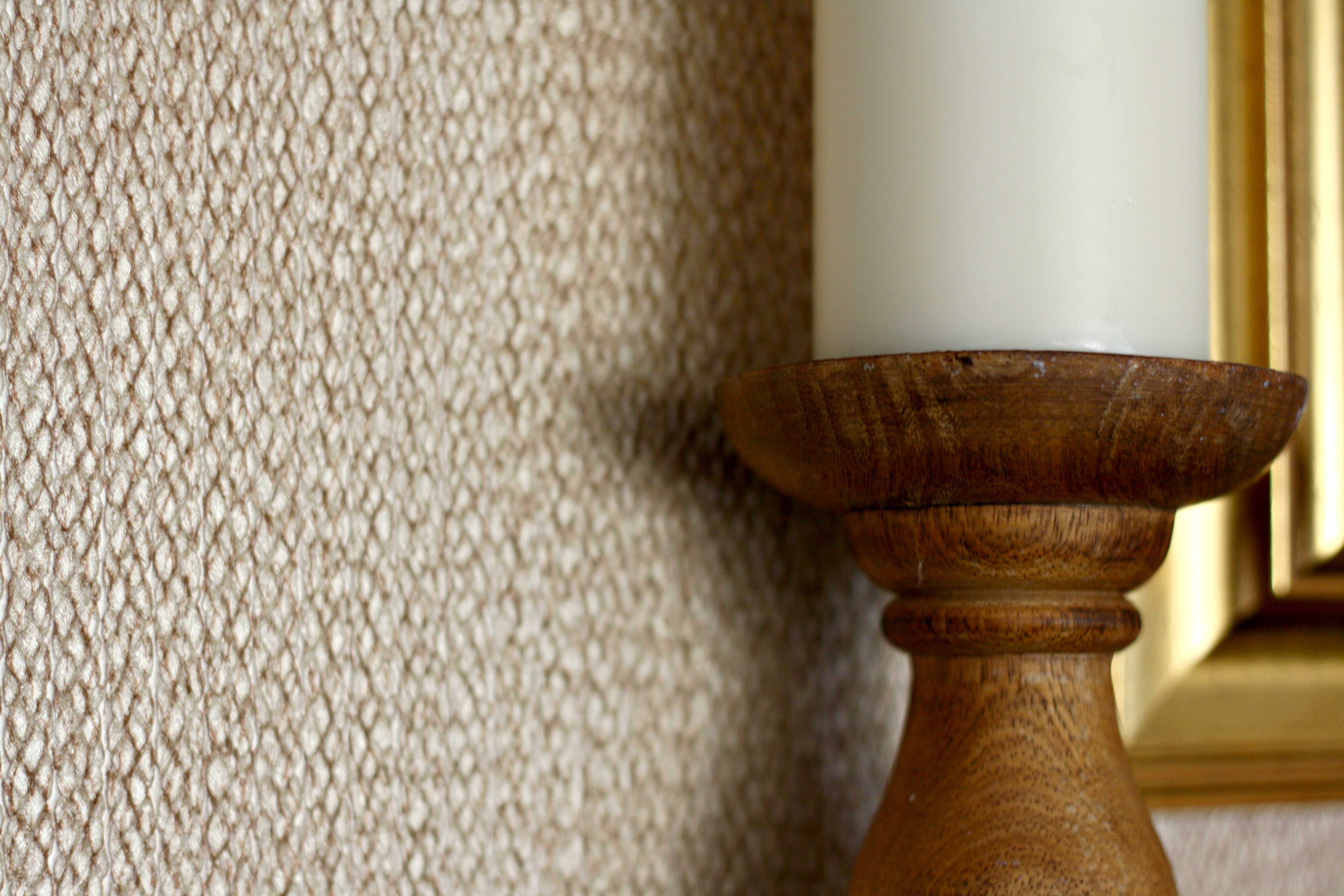 This stunning wallpaper came from B&Q. It has an amazing texture, it almost looks plaited. It makes the room much cosier and the contrast between the wallpaper and the teal is just gorgeous.
You can see the teal details on our furniture that inspired the colour scheme for the room.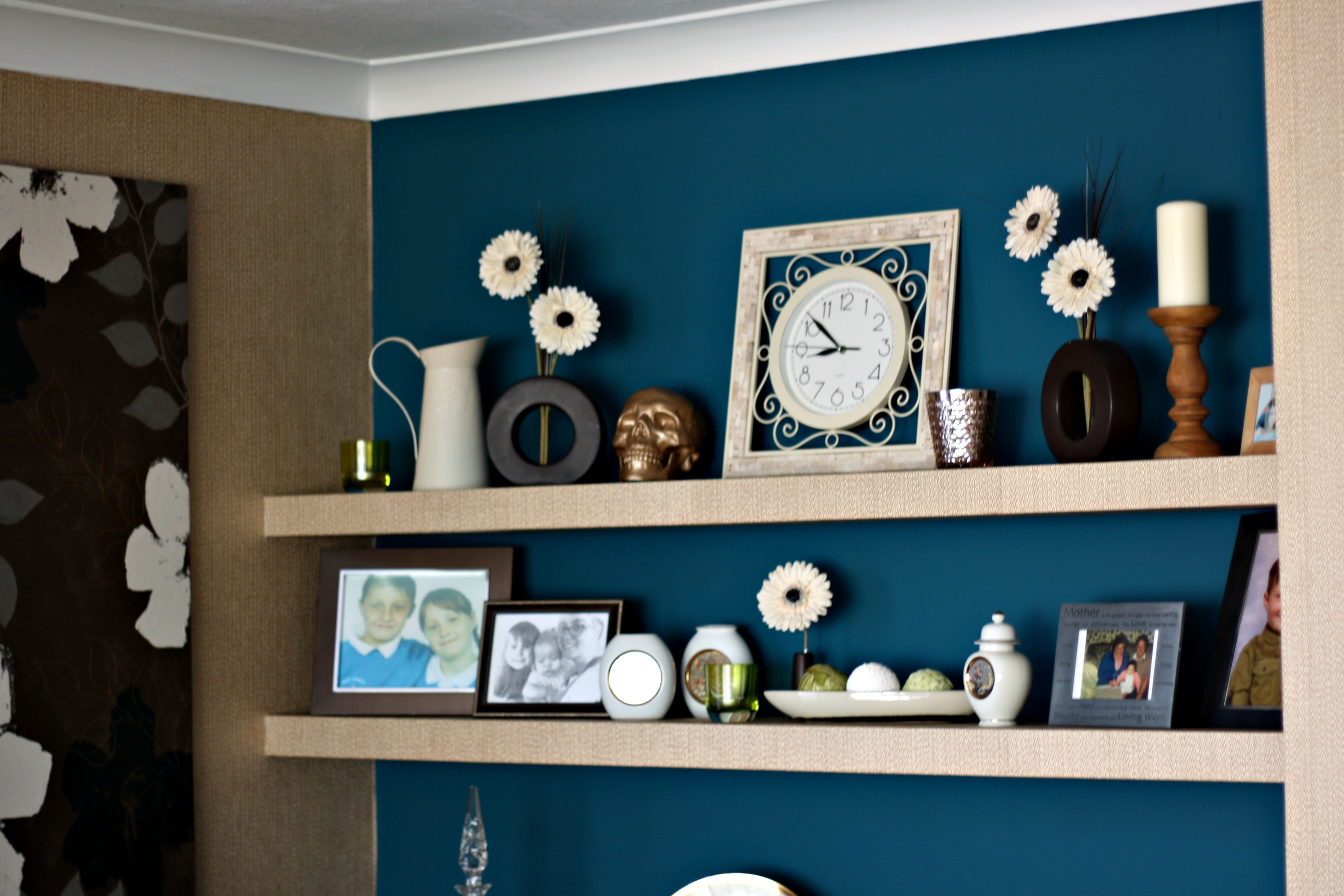 My favourite feature in the room after the fireplace are these display shelves. I had an idea to wallpaper the shelves so that they ran seamlessly from the fire place to the side wall. With the teal in the background they really stand out and I love that the gold in the wallpaper gives the room such a luxurious feel. With all the wood furniture, stacked logs and wood fire surround it would have been very easy to go for a farmhouse feel in this room but I wanted the opposite of that. I love the juxtaposition of all the wood against the luxury of the gold wallpaper and teal feature walls.
There are no ceiling lights in this room, there are 3 wall mounted lights which makes it very tricky to hang any kind of artwork as there isn't a lot of wall space. Both of these pictures were purchased from a local home decor store for our first home about 10 years ago. The brown canvas is supposed to be hung horizontally but I think it looks good and fits in well hanging vertically too. In the winter we use the log burner most nights so we like to stock up on logs. Stacking them along the back wall in between the sideboards creates a great feature and I love the smell of the wood, it makes me think of Christmas.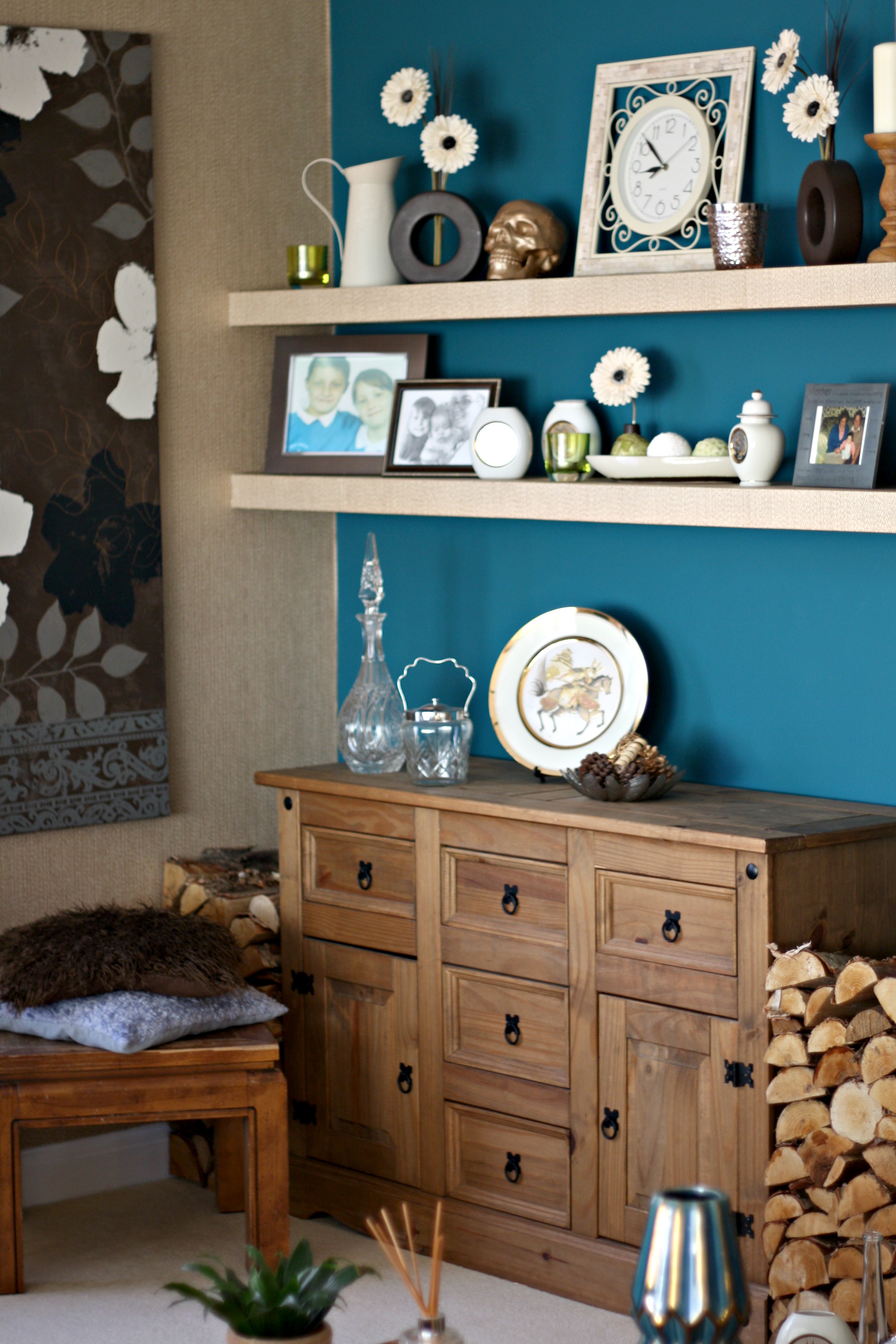 So that's it! I couldn't be happier with the finished room. I love the colours and I just smile every time I walk in here. What do you guys think of the Living Room Reveal? Do you like the bold colours we went for? Let me know and if you have any questions about where we picked things up just add them in the comments and I'll try to help. I can't wait to show you the room decked out for Christmas we have a new tree colour scheme to match the room!
Lianne x
Pin My Living Room Reveal to save it for later!