Hello and welcome to my Mini Christmas Home Tour! Why is it a mini tour? I hear you ask. Well let me tell you!
Since the middle of November when I first got my decorations out of the cellar ready to decorate, I've been debating whether to do a home tour or not. I love home tours! I love to see what other people's homes look like, how they are set out, how they are decorated so I look through a LOT of home tours. All of these homes look perfect! They are all perfectly decorated with amazing furniture, decor and Christmas decorations. Let me tell you they make me feel my home is inadequate, as my home is very much still a work in progress. We have done some painting here and some wallpapering there but we haven't completed a whole room yet!
I know logically though that it will take time to get my home the way I want and just because it isn't finished doesn't mean I can't make my house look beautiful at Christmas. So, with that in mind, back to why it's a mini tour. I'm only sharing a few pictures of my kitchen, office, living room and conservatory instead of all the rooms. One, because the bedrooms and front entrance definitely aren't ready for sharing and two, because I don't own enough Christmas decorations to decorate these yet anyway!
So on with the tour!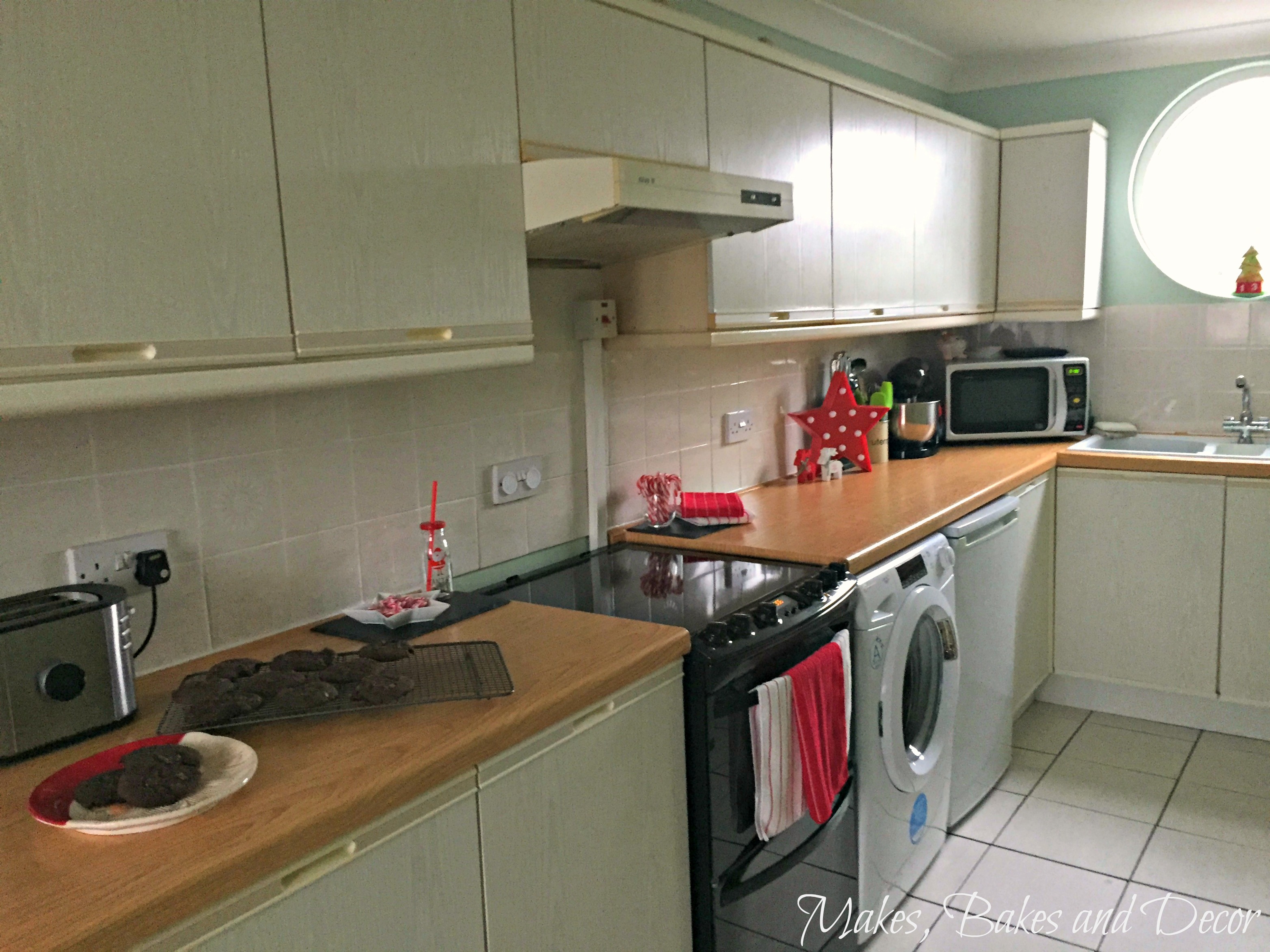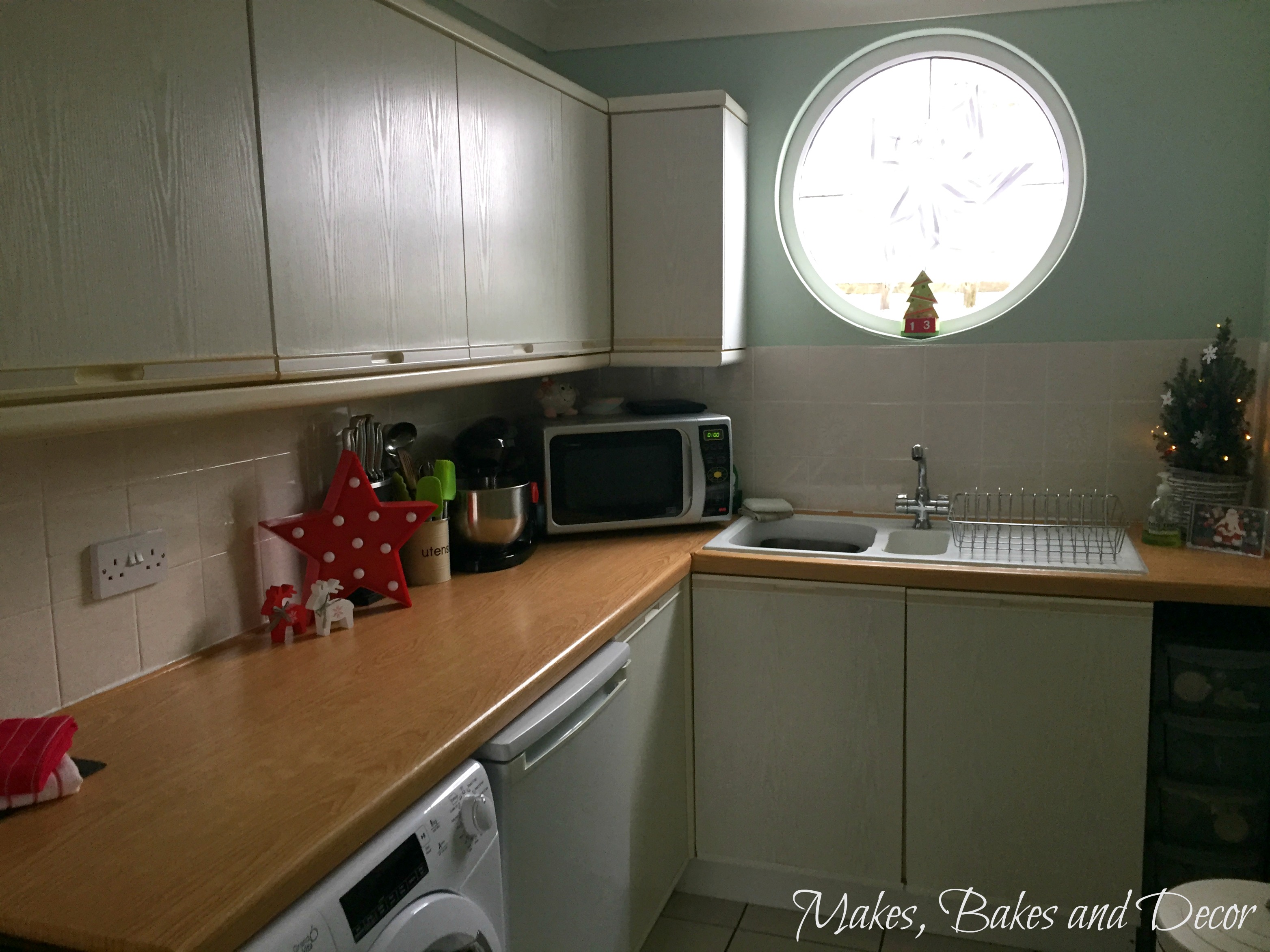 Let's start with the kitchen. Our kitchen is long and narrow and since we moved in all we have done in here is paint the walls and cover the kitchen counters. All I did to decorate in here was add a few red and white pieces here and there. We've never decorated the kitchen before but as it is where I do spend a lot of my christmas morning I wanted to make it a bit more festive.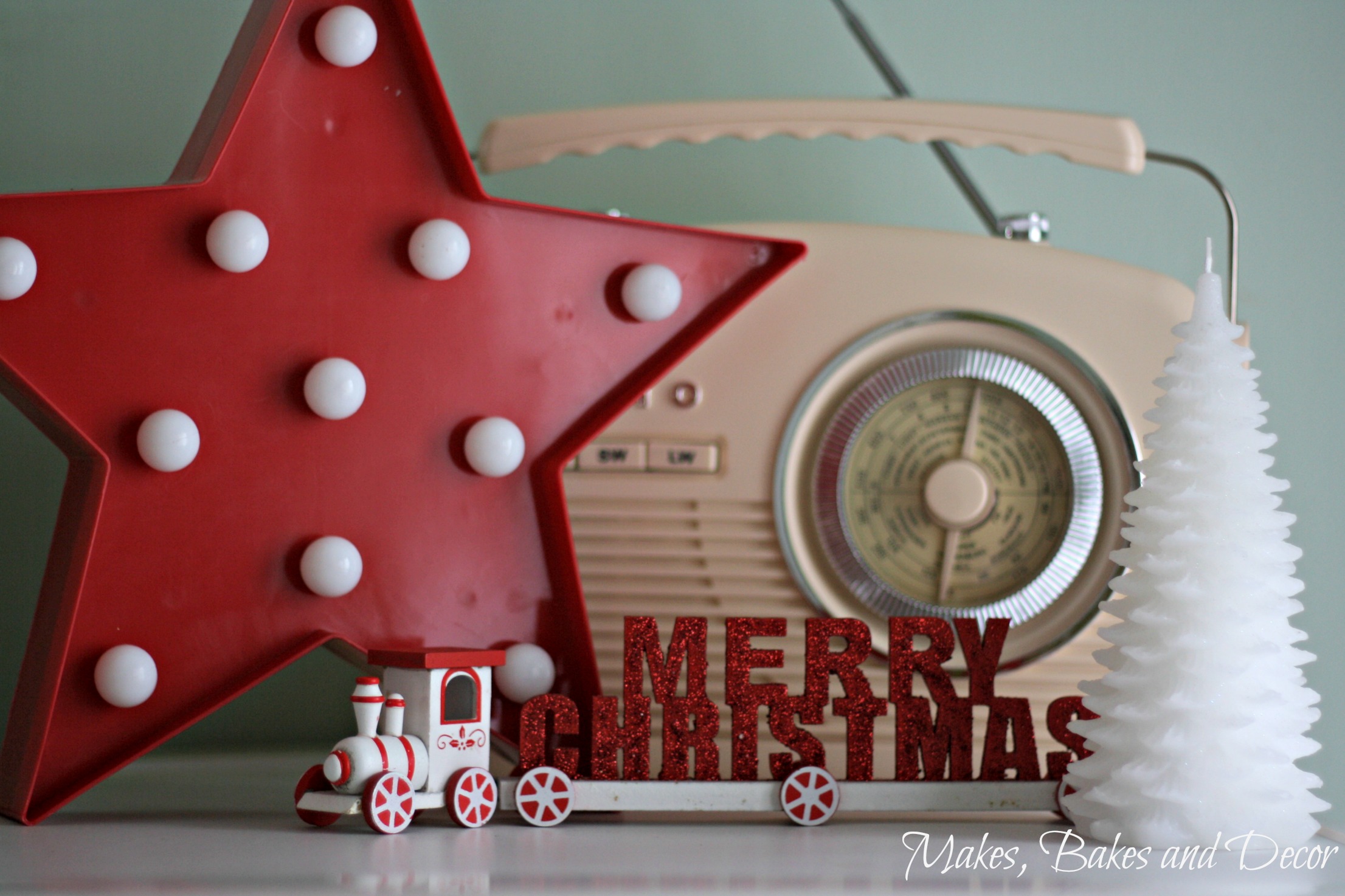 My retro radio that I absolutely love, currently lives on top of the fridge, I've just added this cute train we've had for years, the tree candle and the star light.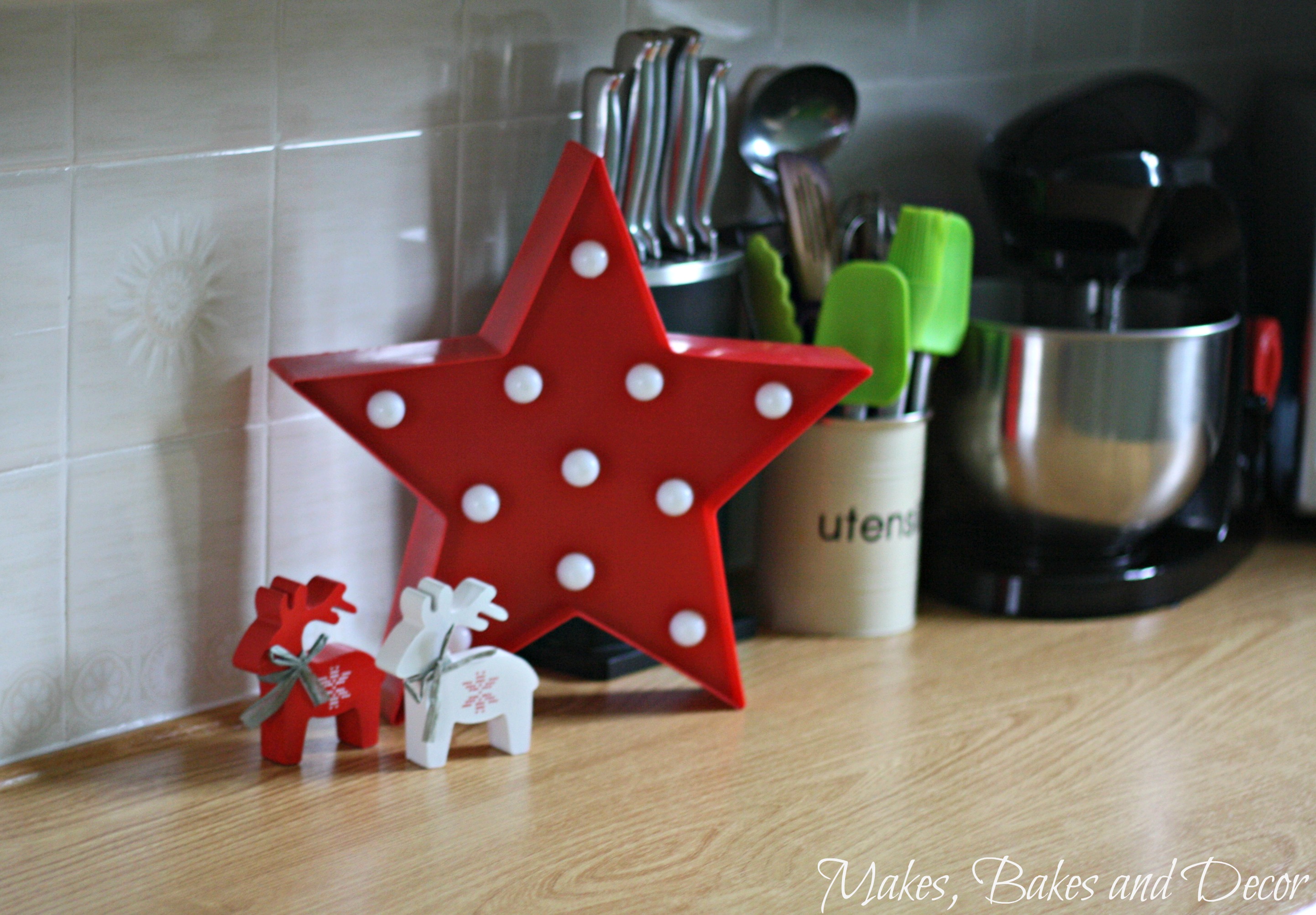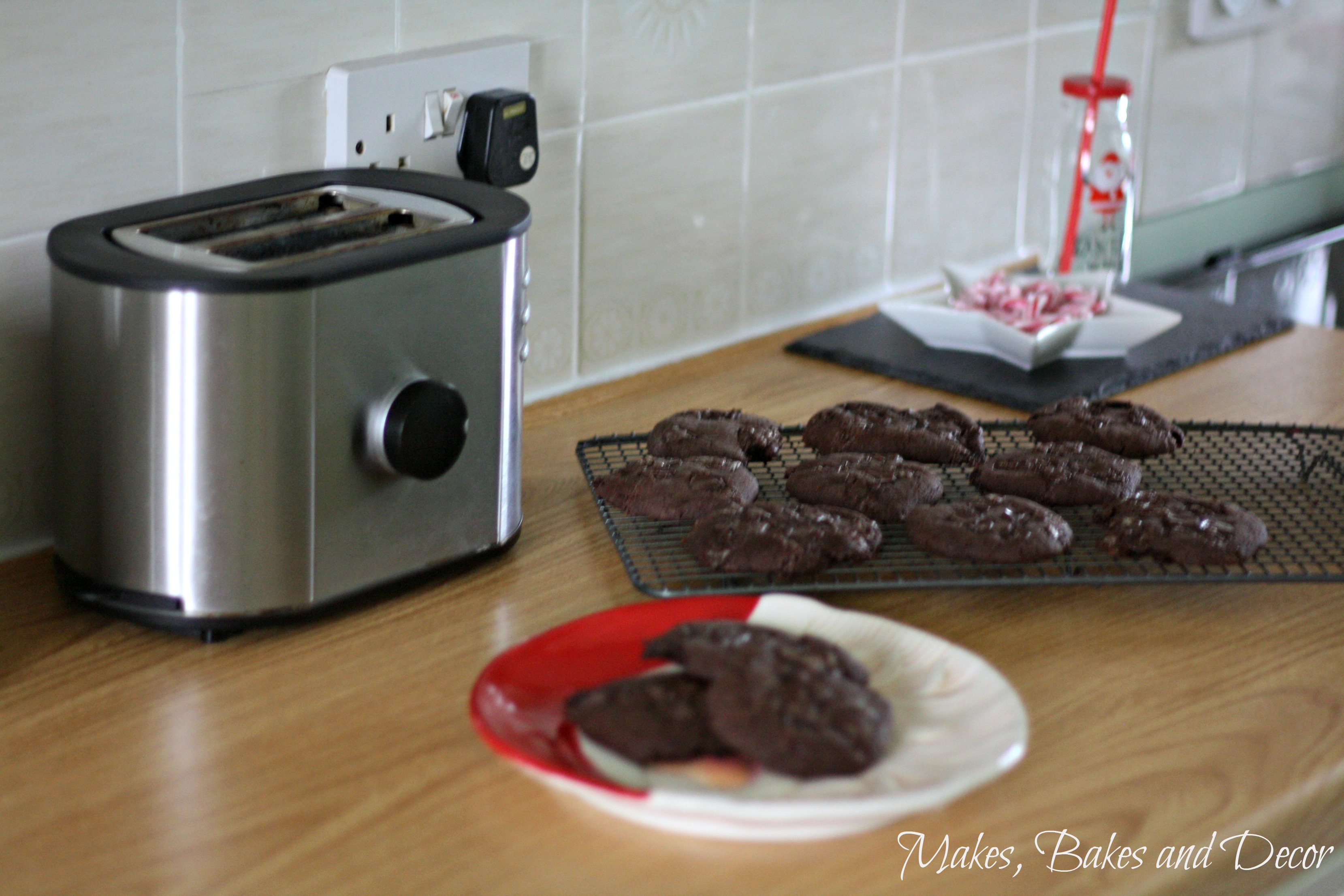 Most of the things I've used on the main counter I picked up this year so if you want to know where to get them check out my Christmas decoration haul 2016. By the way, the cookies on the counter are After Dinner Mint Chocolate Cookies and I'll be sharing the recipe next week!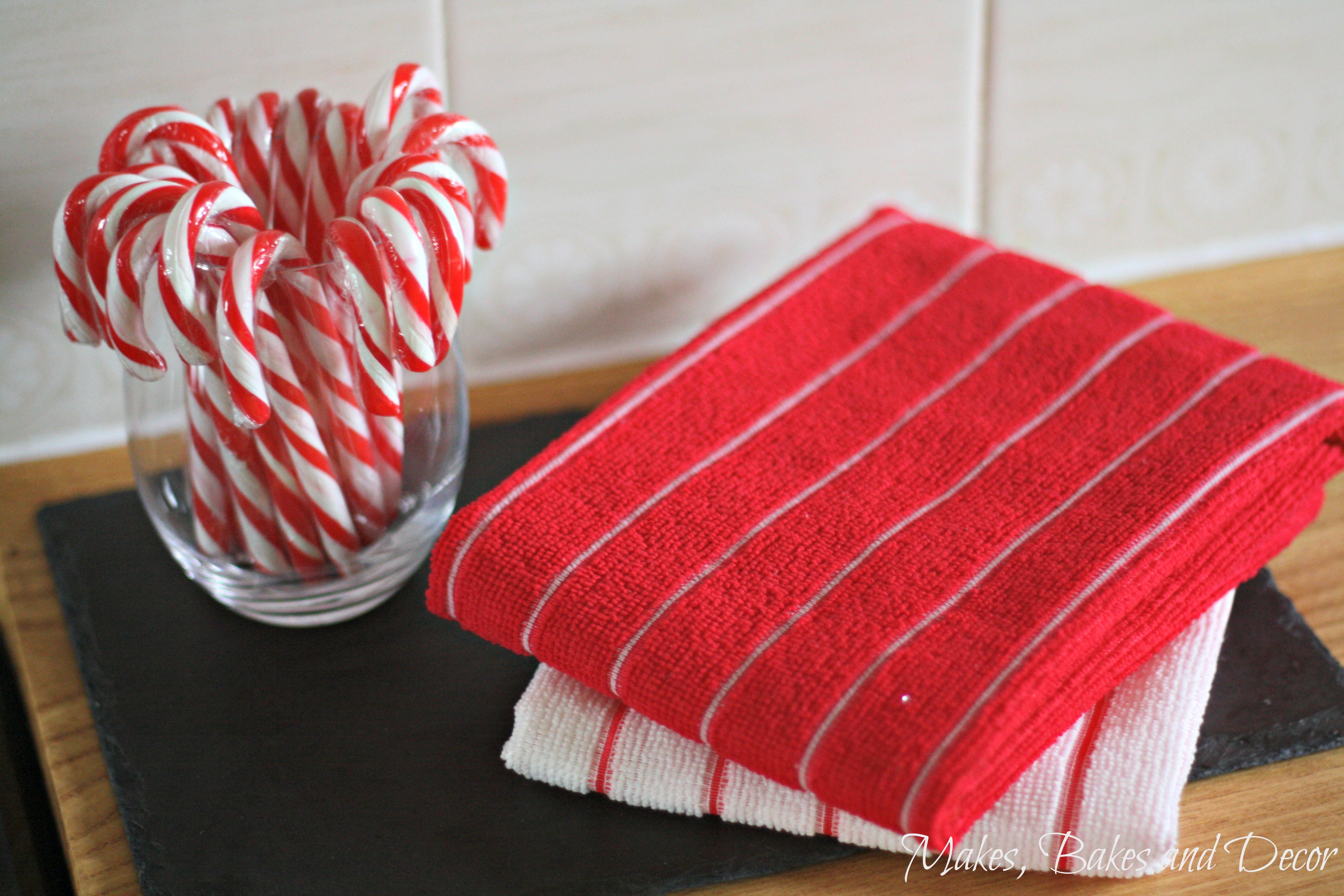 You have to have some festive themed or coloured tea towels to get through all that drying up on the big day, and displaying some candy canes in a glass is a cheap and easy idea.
Moving on the the office/library space, we have re-wallpapered and painted in here and we plan on changing the flooring in here as soon as possible! You can see my phone table upcycle here.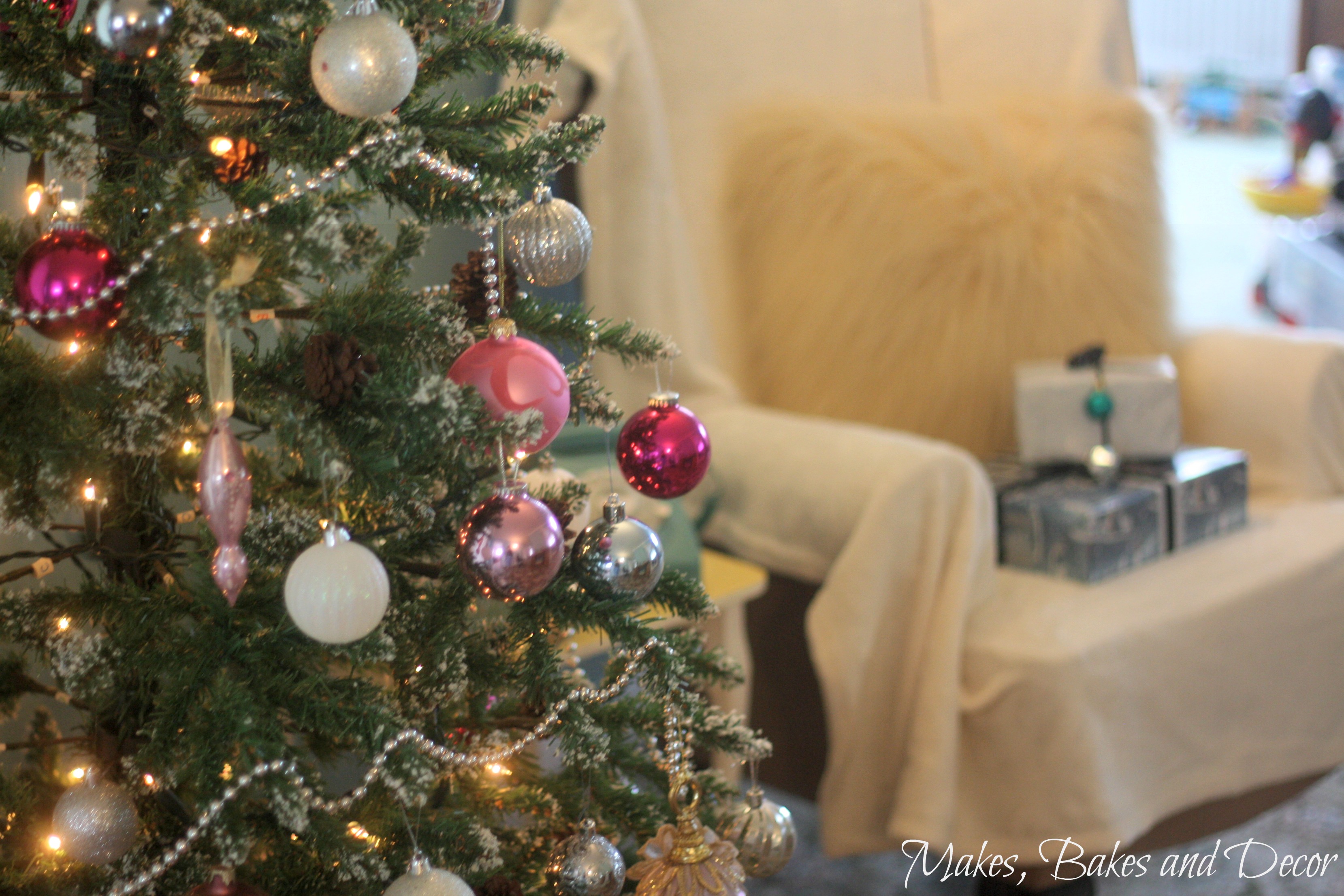 I put a tree up in here, It's about 5.5 foot and I decorated it with silver, pink and blue baubles that I've had for years but not used for quite a while. I think the pink looks great against the duck egg blue walls.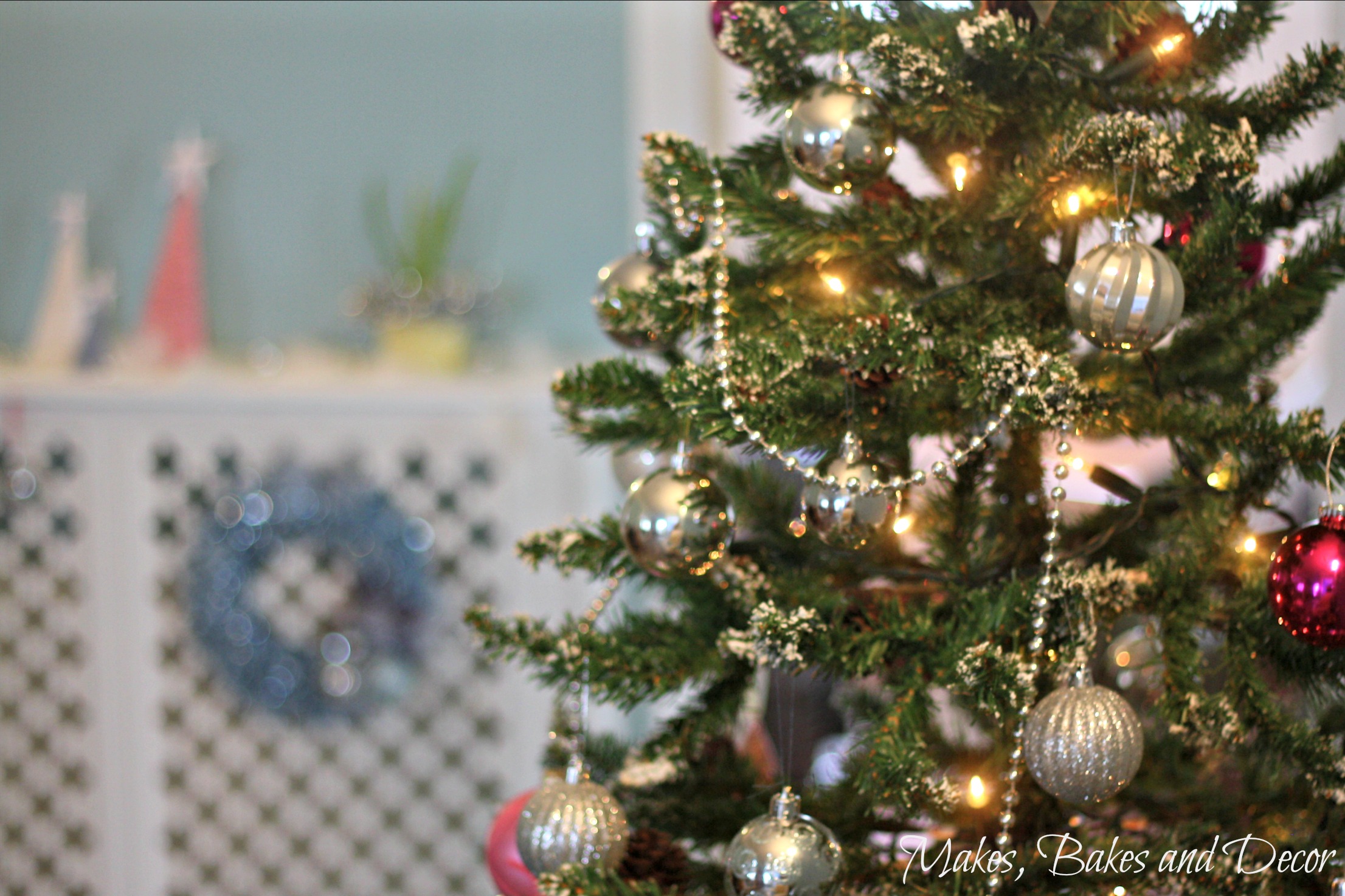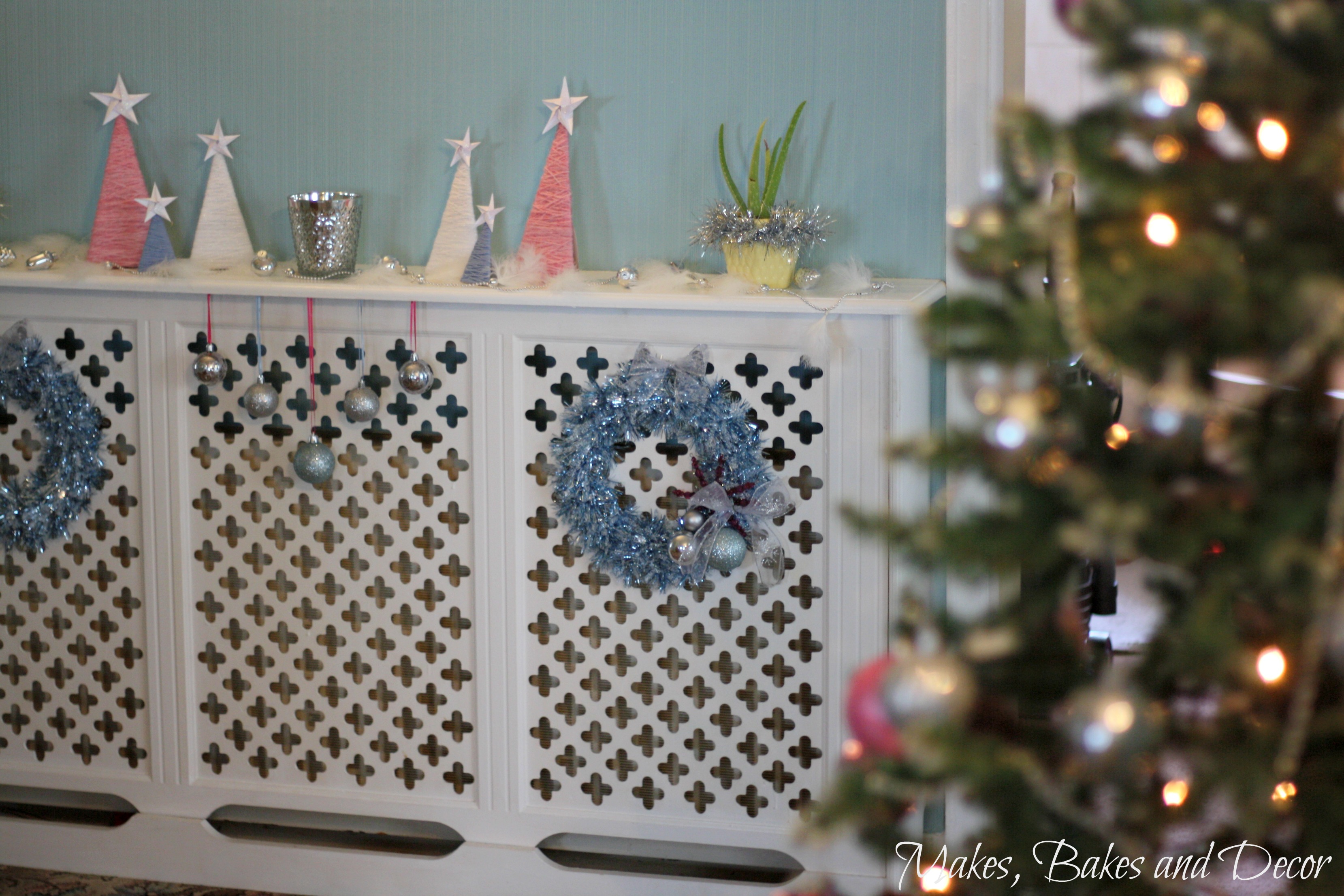 To decorate the radiator cover in the room I used a selection of decorations we already owned plus my DIY Christmas tree decorations, you can find the tutorial to make them here .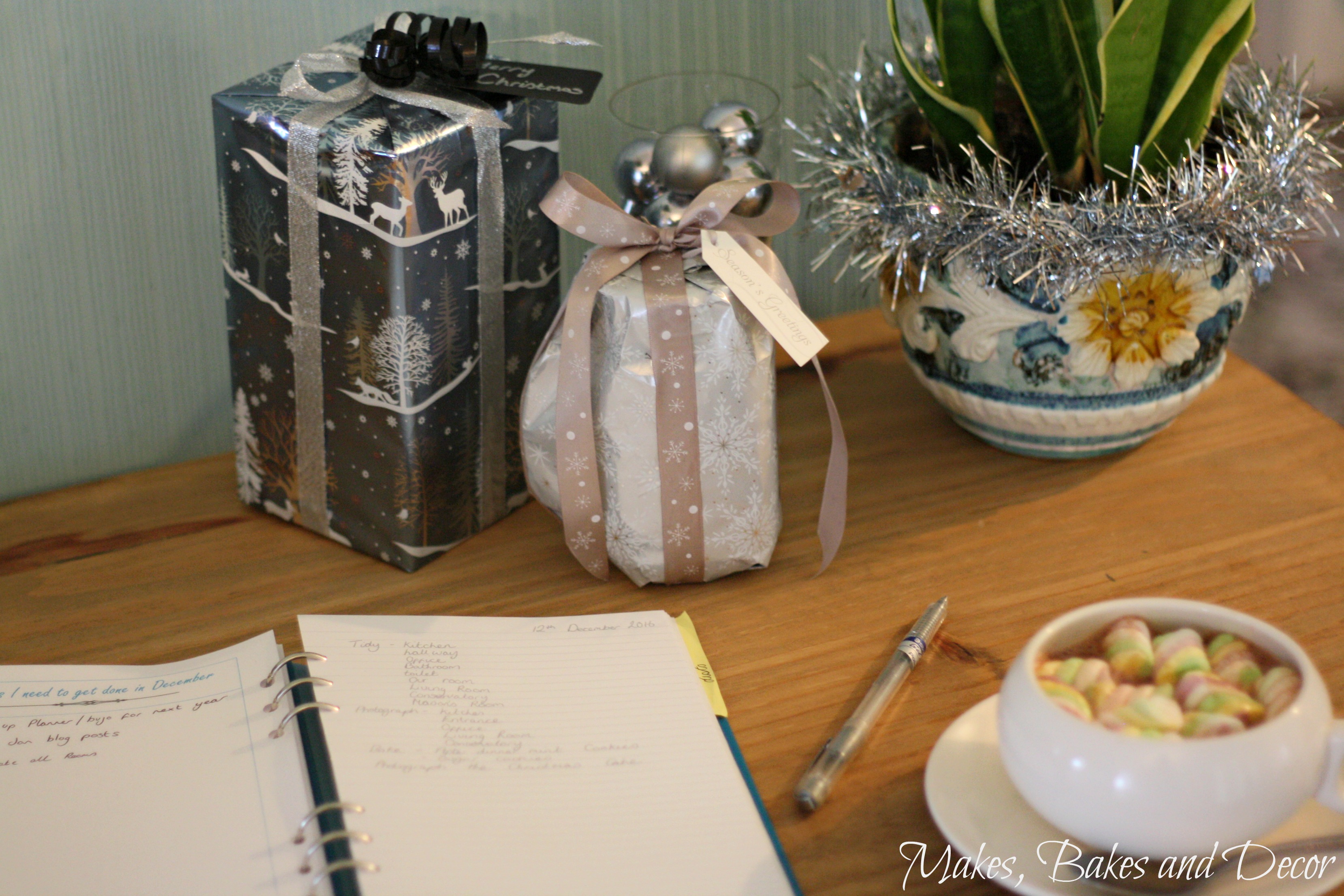 I'm a big fan of wrapping tinsel around anything and everything :D. I also like filling glasses or vases with baubles.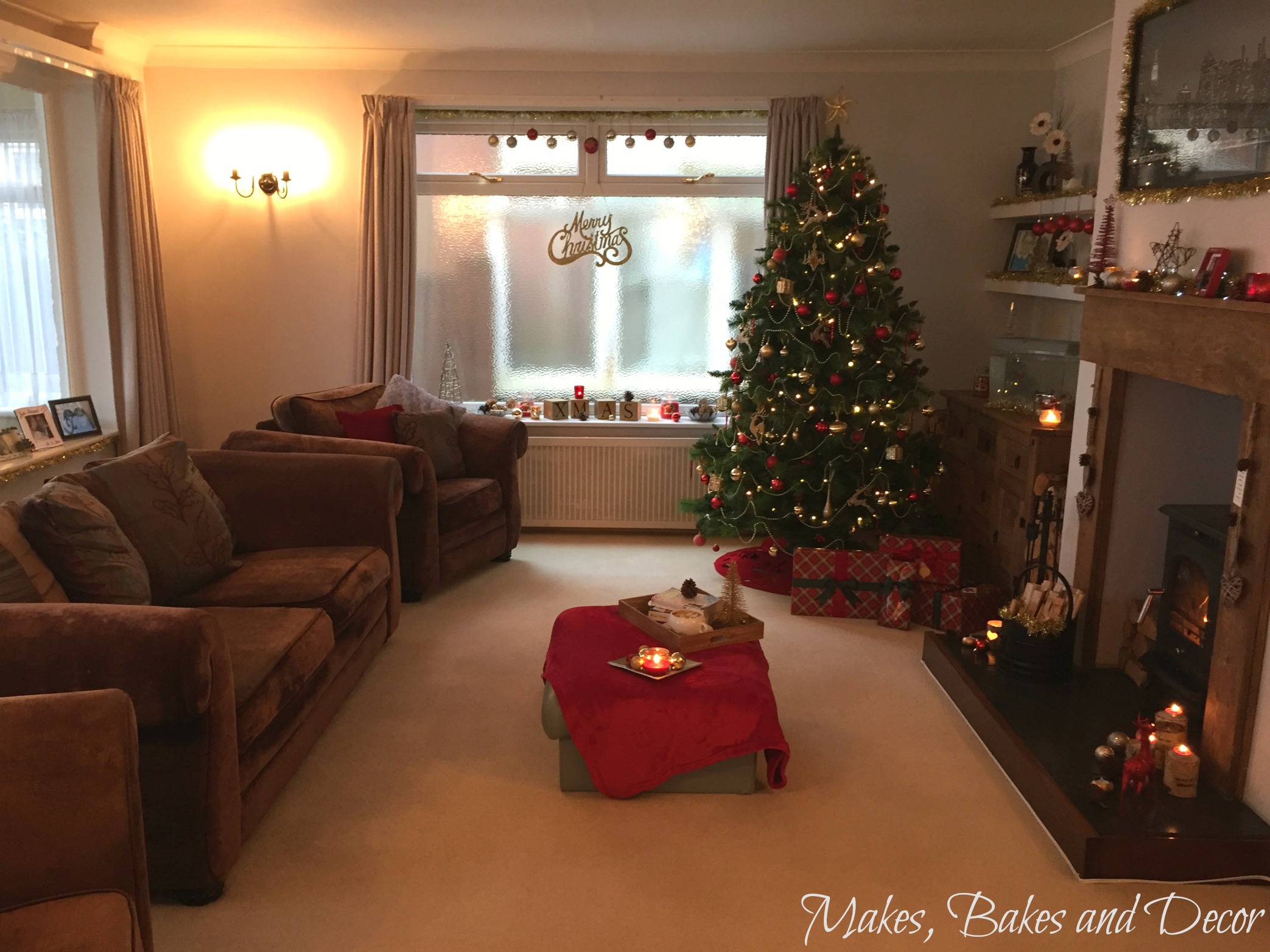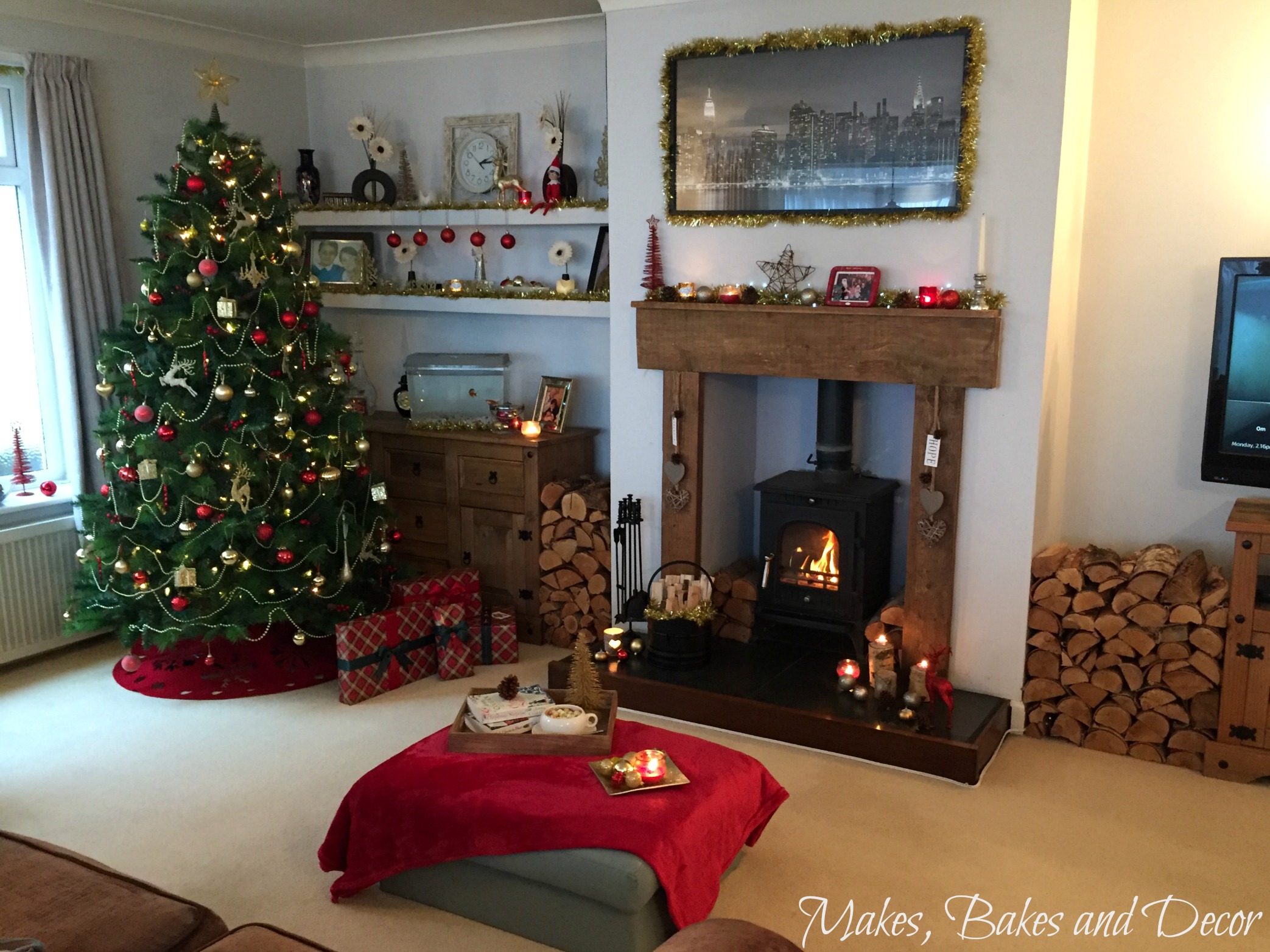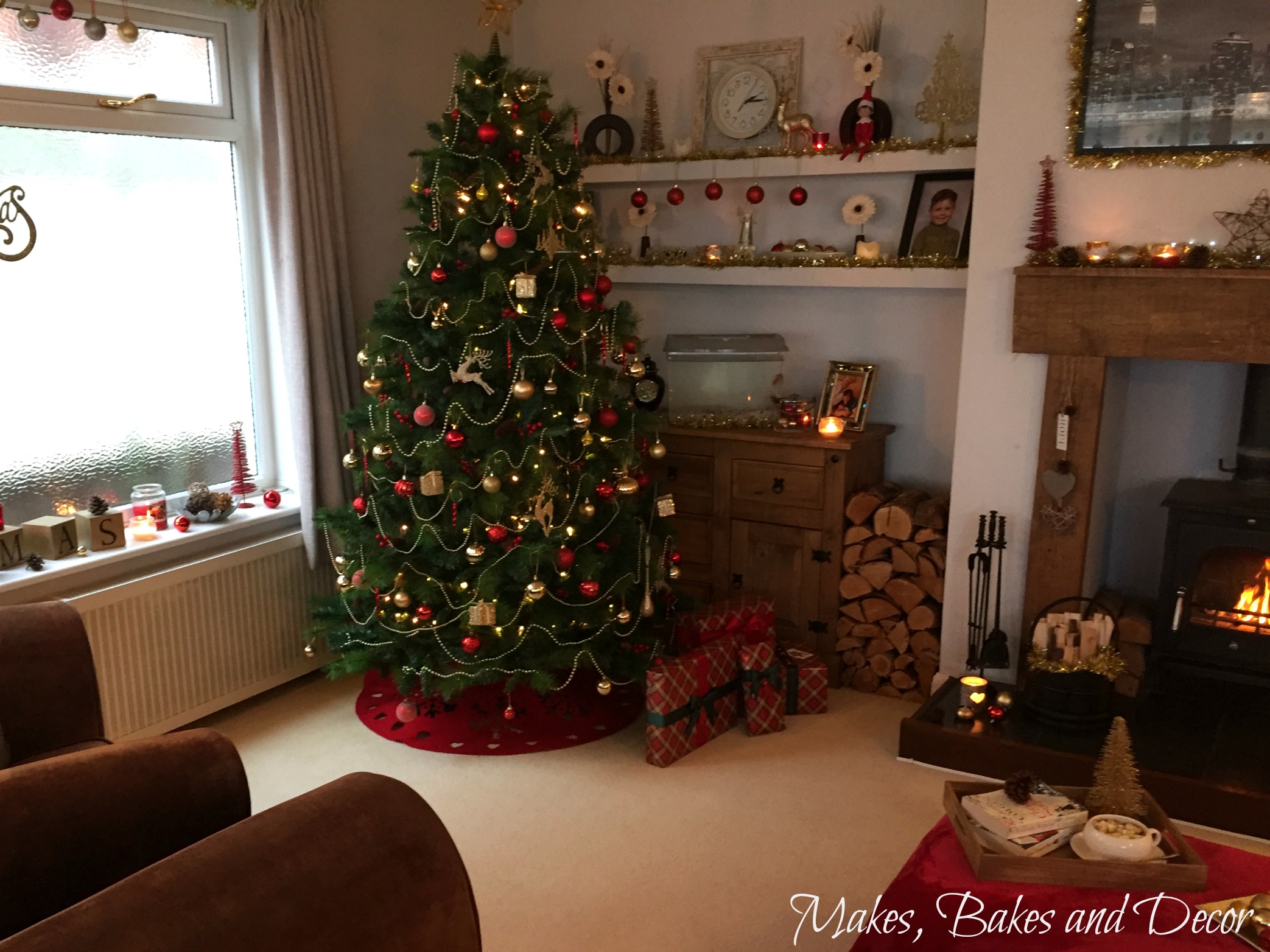 In the living room, since we moved in we have built the fire surround but apart from that all we have done is put the furniture in there and hung the curtains. Even though we haven't done any decorating in here it is still my favourite room! I love having the log burner, in the winter having a proper fire just makes it feel so cosy.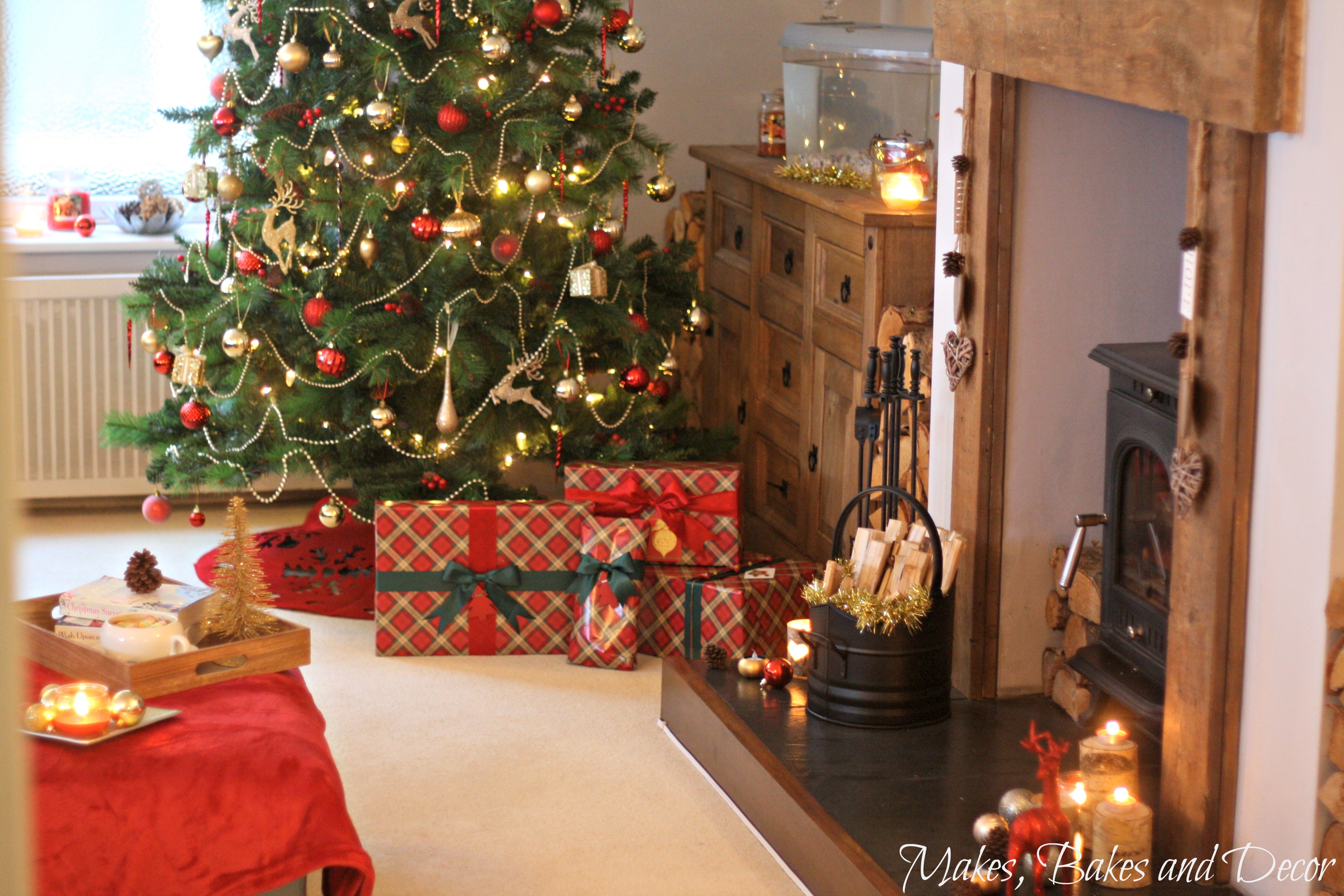 I have red and gold in my living room every year. One year I changed the colour scheme to black, gold and teal (which I now use in my conservatory) but I didn't like it in my main room so changed it back the next year. Red and gold it traditional but also, I think, warm and welcoming.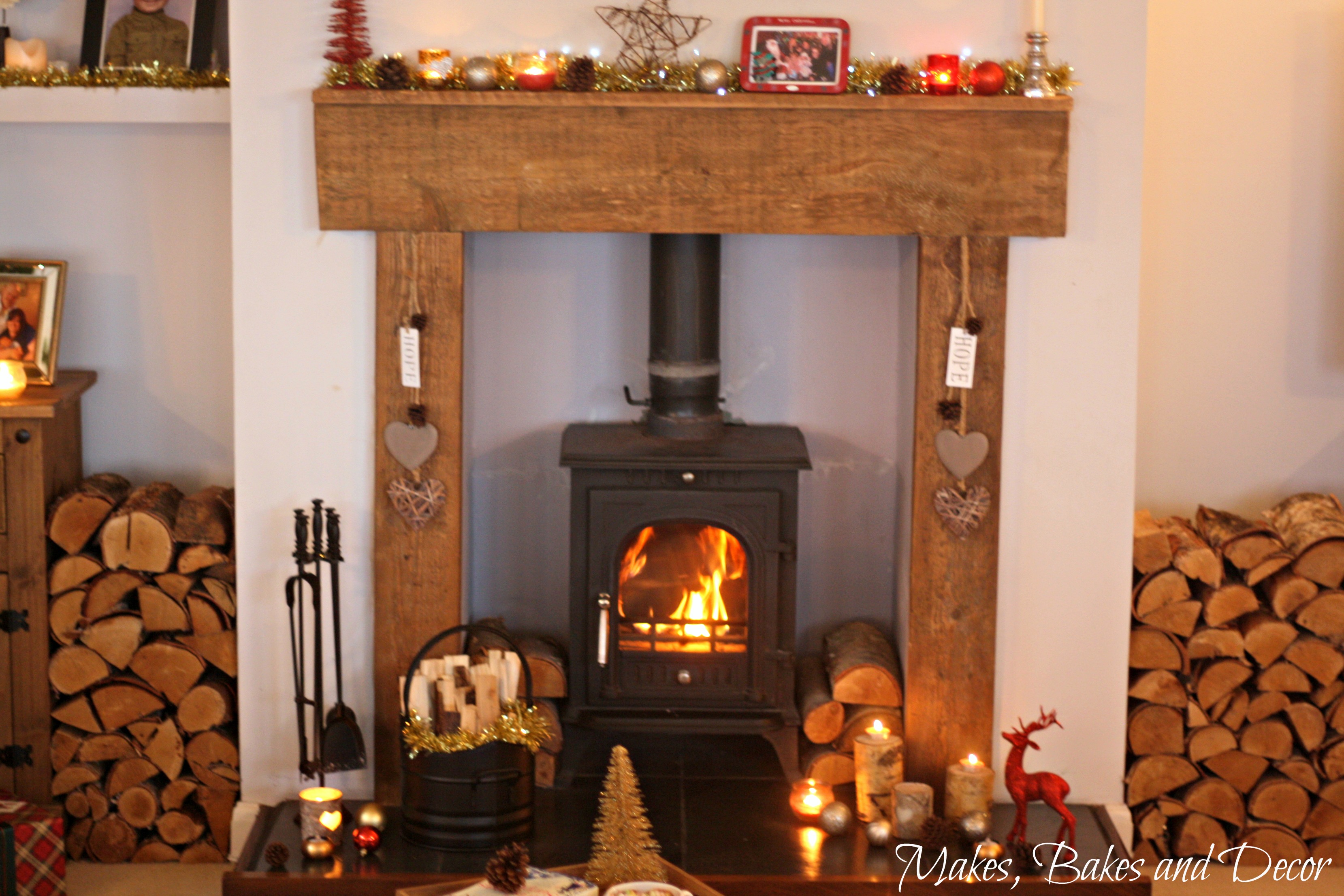 The fireplace is the focal point of the room. We built the surround ourselves using old scaffolding boards. We literally cut them to the size we wanted, fixed them to the wall with no more nails and added a wood stain. I love candles everywhere at Christmas, Shaun (my husband) laughs at how long it takes me to go round and light them all every night!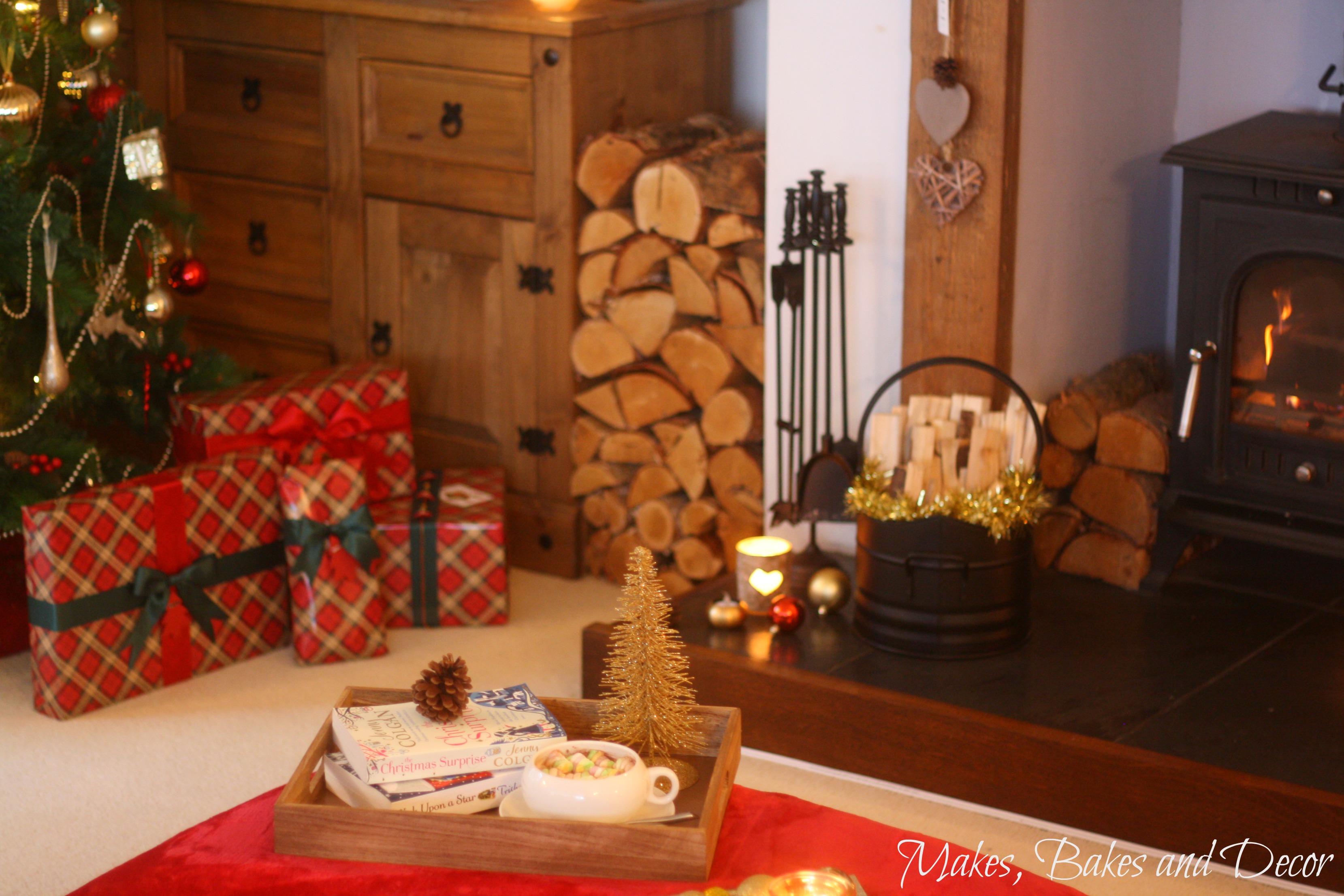 The 'coffee table' doesn't match the room at all so I covered it with a red throw. I dressed it using a tray, some books and a few decorations.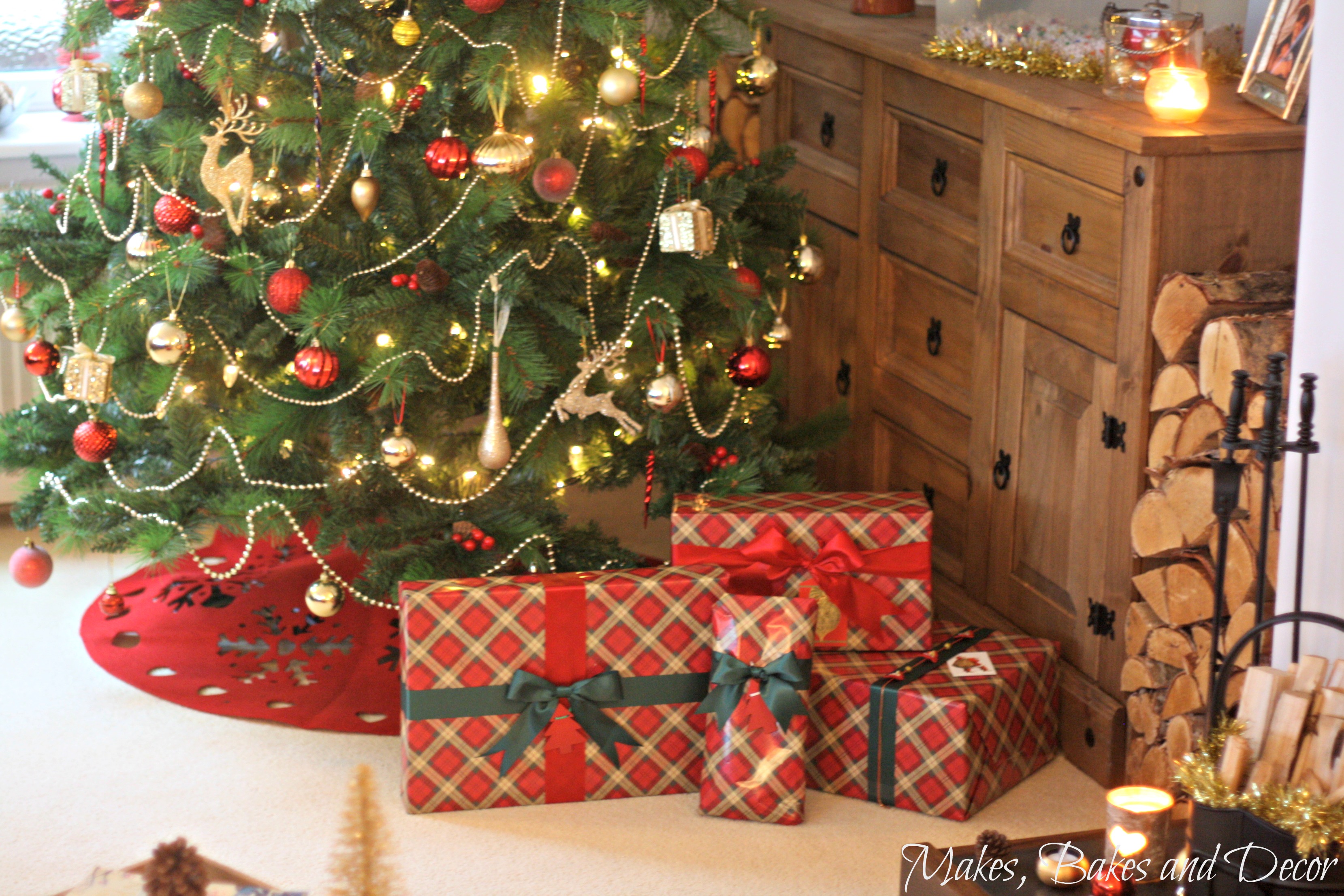 This wrapping is from poundland! to see how I wrapped all of my gifts this year just read 3 ways to wrap your gifts this Christmas.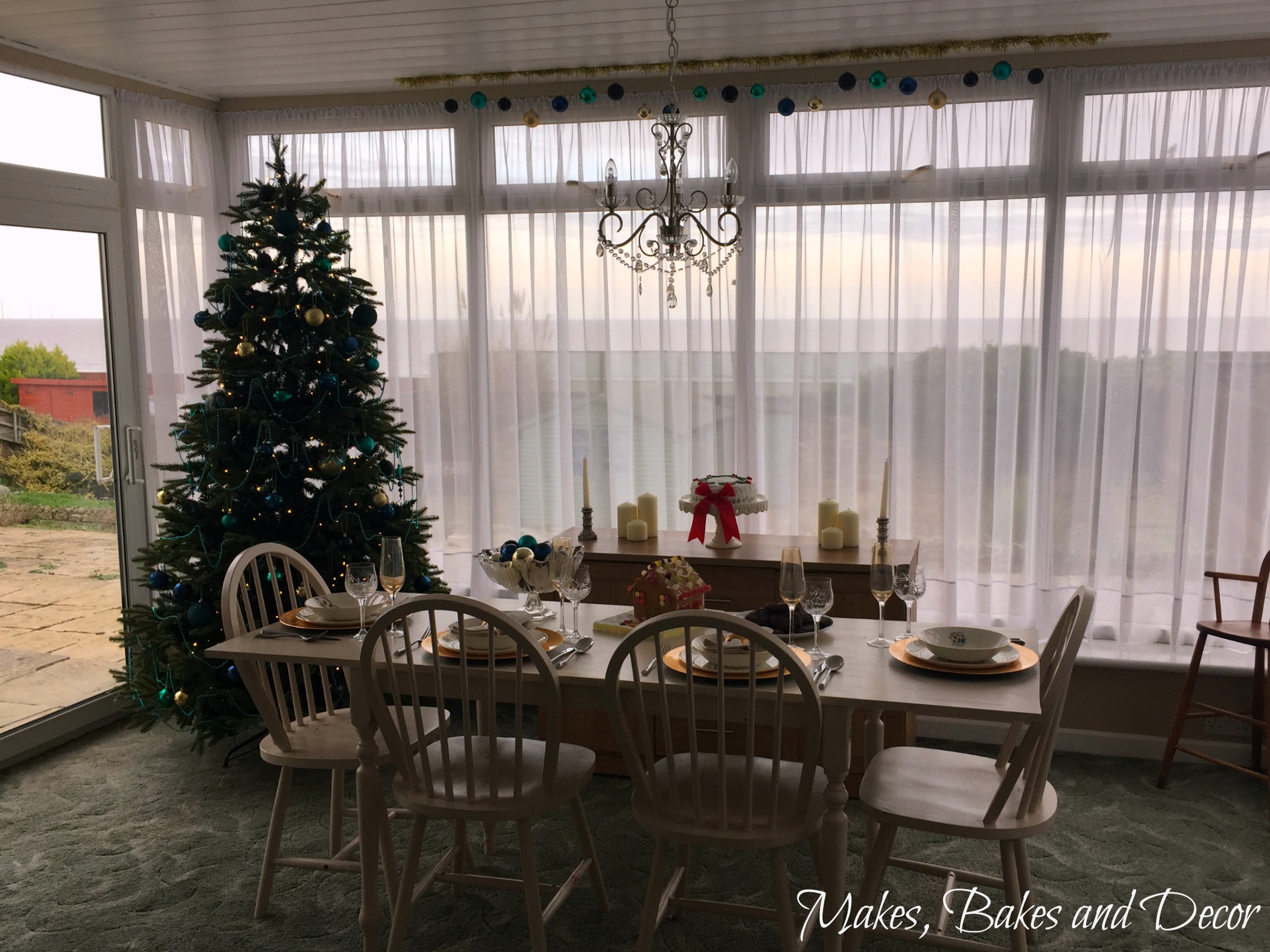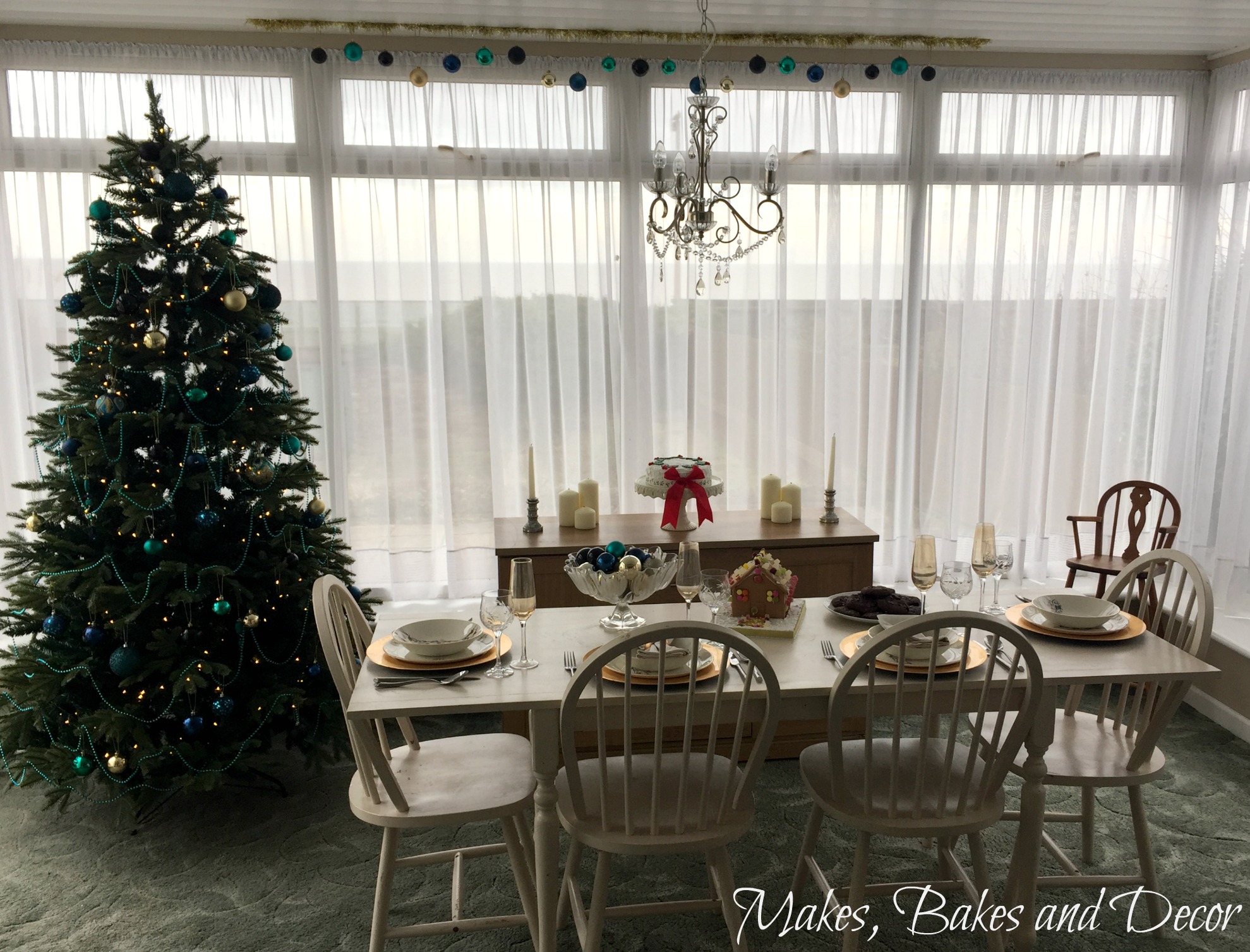 The last room I'm sharing with you is my conservatory/dining room. we've painted in here (when we moved in the ceiling was varnished wood, I hated it!) and we have put the chandelier up too.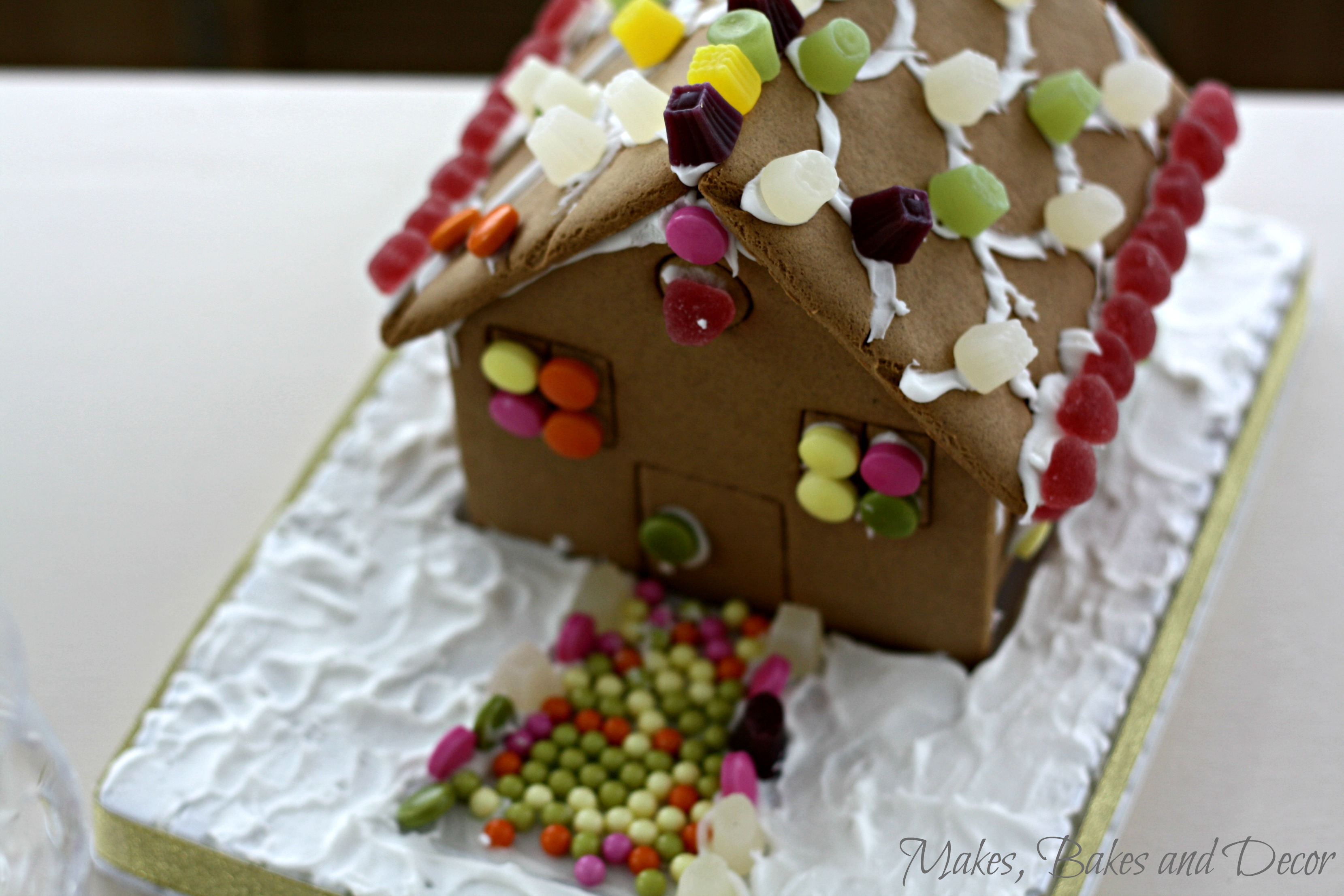 The gingerbread house we all decorated together this year.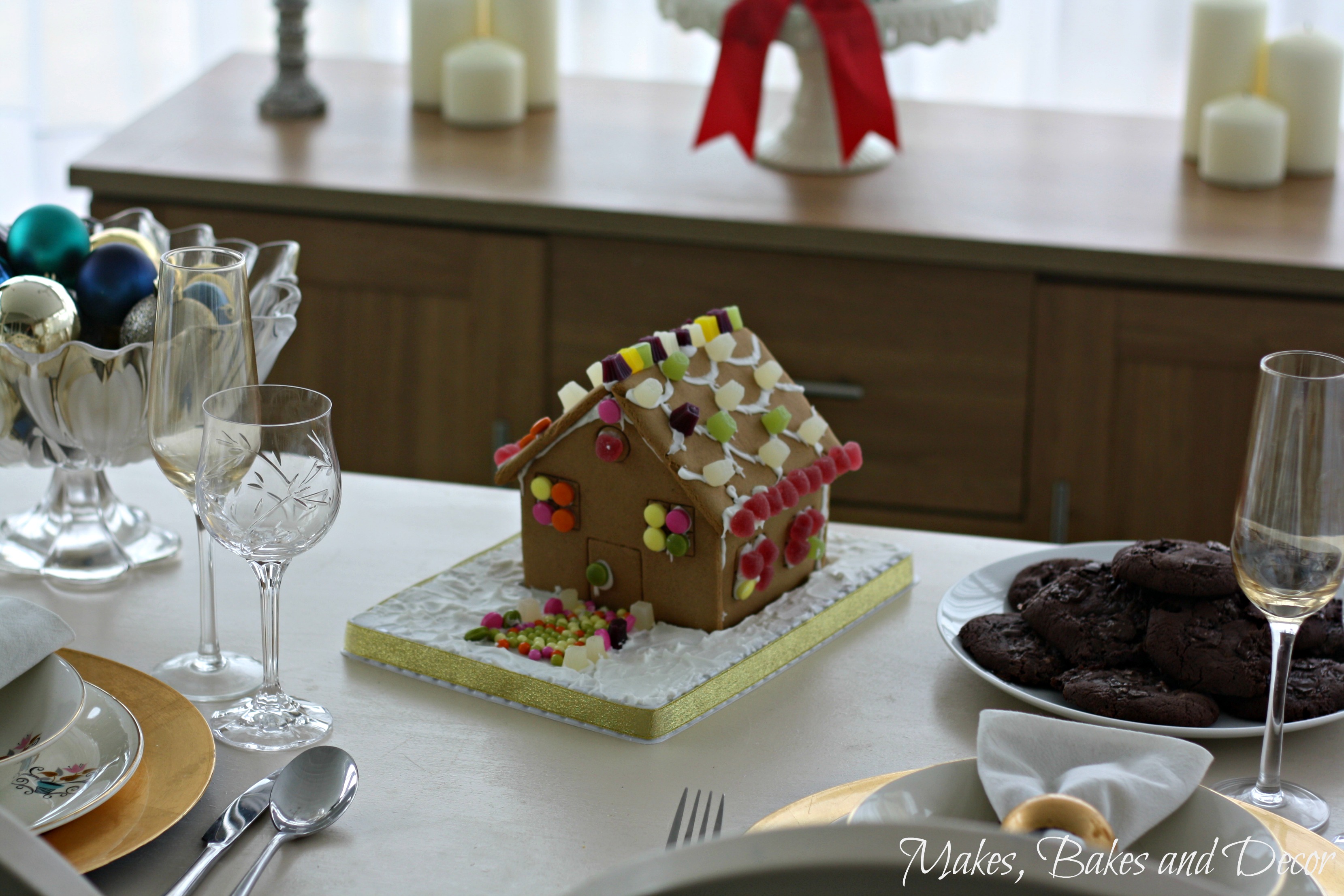 On the sideboard you can just see the red ribbon of my Christmas cake, which I will be sharing how I decorate on friday, you can find the recipe to bake it here.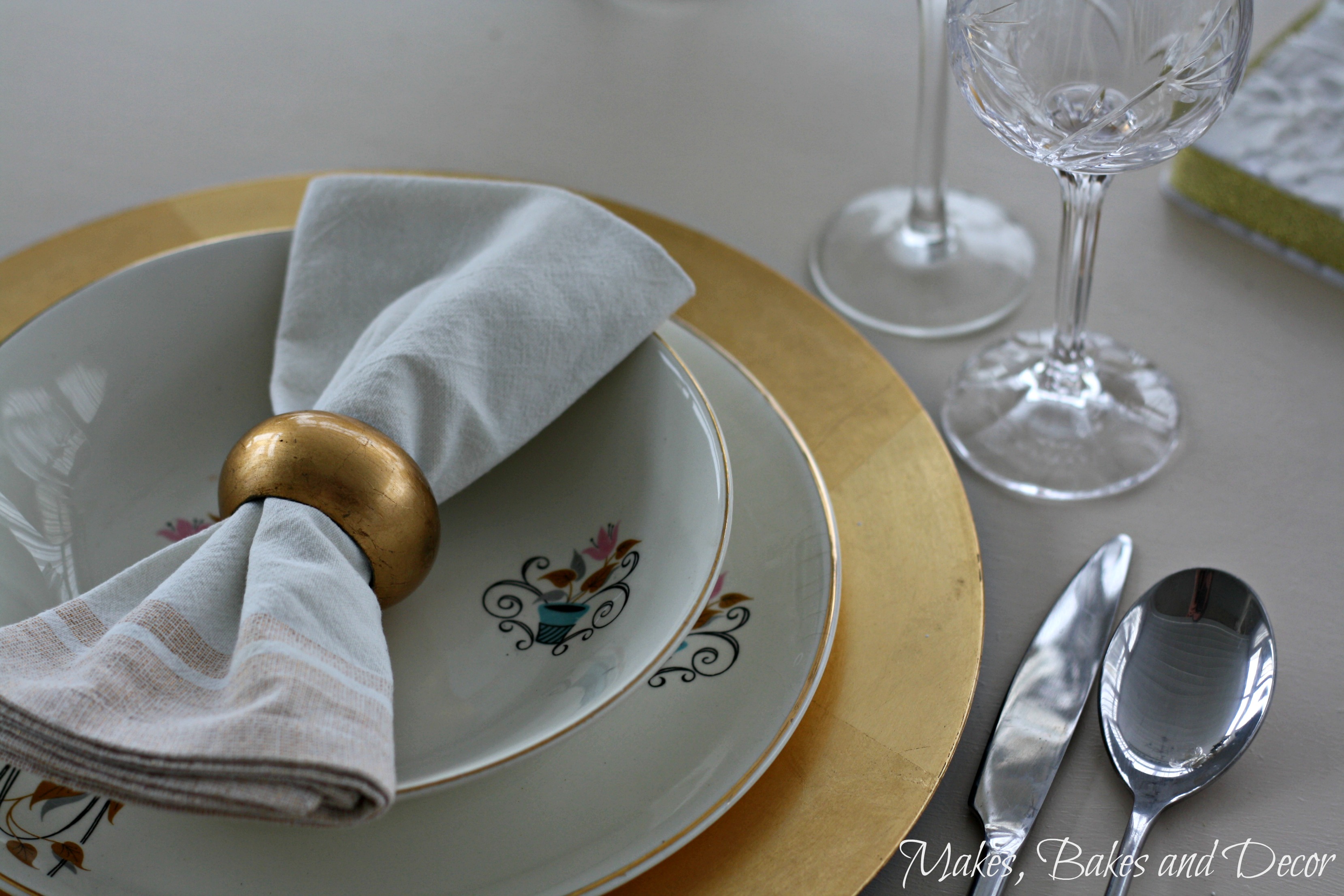 I haven't decided exactly how I will be laying my Christmas table yet this year, but I will be using my Nan's wedding china that I use at Christmas every year.
So that's it, my mini home tour. I hope you've enjoyed looking at the pictures (even though I don't have a perfect show home) and maybe picked up some decorating ideas to use in your own home. Please leave me comments at the very bottom of the page. I love to hear what you think!
Lianne x
If you enjoyed this post why not sign up to the newsletter? I'll send you an email when there is something new to read!
[optin-cat id="355″]
Pin Mini Christmas Home Tour to save it for later!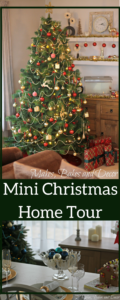 Why not follow me on my social media accounts?!
Some other post you might like!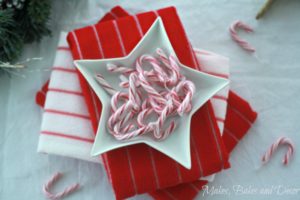 Christmas Decoration haul 2016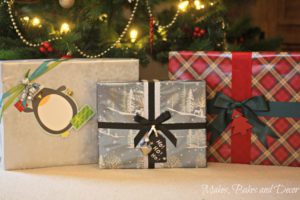 3 ways to wrap your gifts this christmas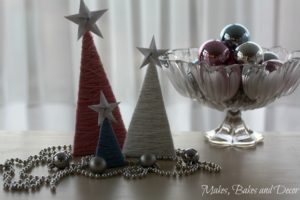 DIY Christmas tree decorations