Faux Flower Letter for the #DIYBlogChallenge
Hi guys! It's time for our next #DIYBlogChallenge already! Time seems to keep flying by lately. The theme for this month is Faux Flowers and I've had this particular project in mind for a while but have been waiting for this theme to come around to give it a go. I'm very happy with the results of my Faux Flower Letter, it's just what I wanted and I'm going to share how I did it with you all!
This post contains affiliate links, find out what that means here.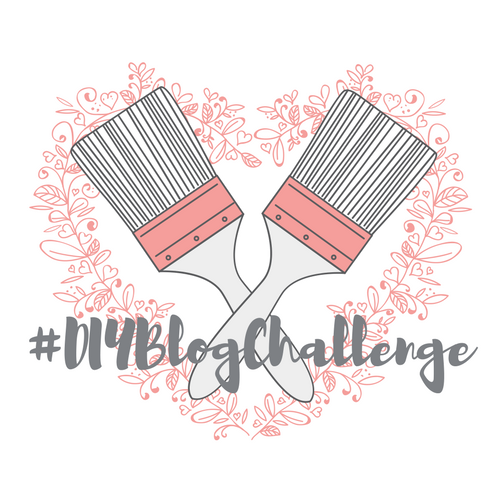 What you need to make your own Faux Flower Letter
When first thinking of doing this project I had a look around for some wooden Letters that I could use as the base but for the size of letter that I wanted the price was way too high. Especially as I already knew it would be pricey for the amount of faux flowers I would need to use. So I had a think and decided to make my own cardboard, paper mache base to fix the flowers to, bringing the cost of the finished project way down to make it more budget friendly. So here is the list of items I used and some affiliate links in case you want to purchase some of them.
Cardboard box
wire cutters/pliers
Marker pen
Metal ruler
Craft knife
Masking tape
PVA glue
Brush or spatula
Strips of newspaper/scrap paper
Paint in colour of your choice (I used white emulsion I already had)
Glue gun and glue sticks
Selection of faux flowers in colour of your choice (my colour scheme is green and pink)
To keep the price as low as possible I would shop around for the Faux flowers if you have the time. I went to my local home decor store as their quality and selection of flowers is really good. Also try to find individual sprays that have as many flowers as possible on. All together I spent £12 on my faux flowers and that was the only purchase I made for this project as I already had everything else needed but I would put the total cost of this project at around the £20 mark.
How to make your Faux Flower Letter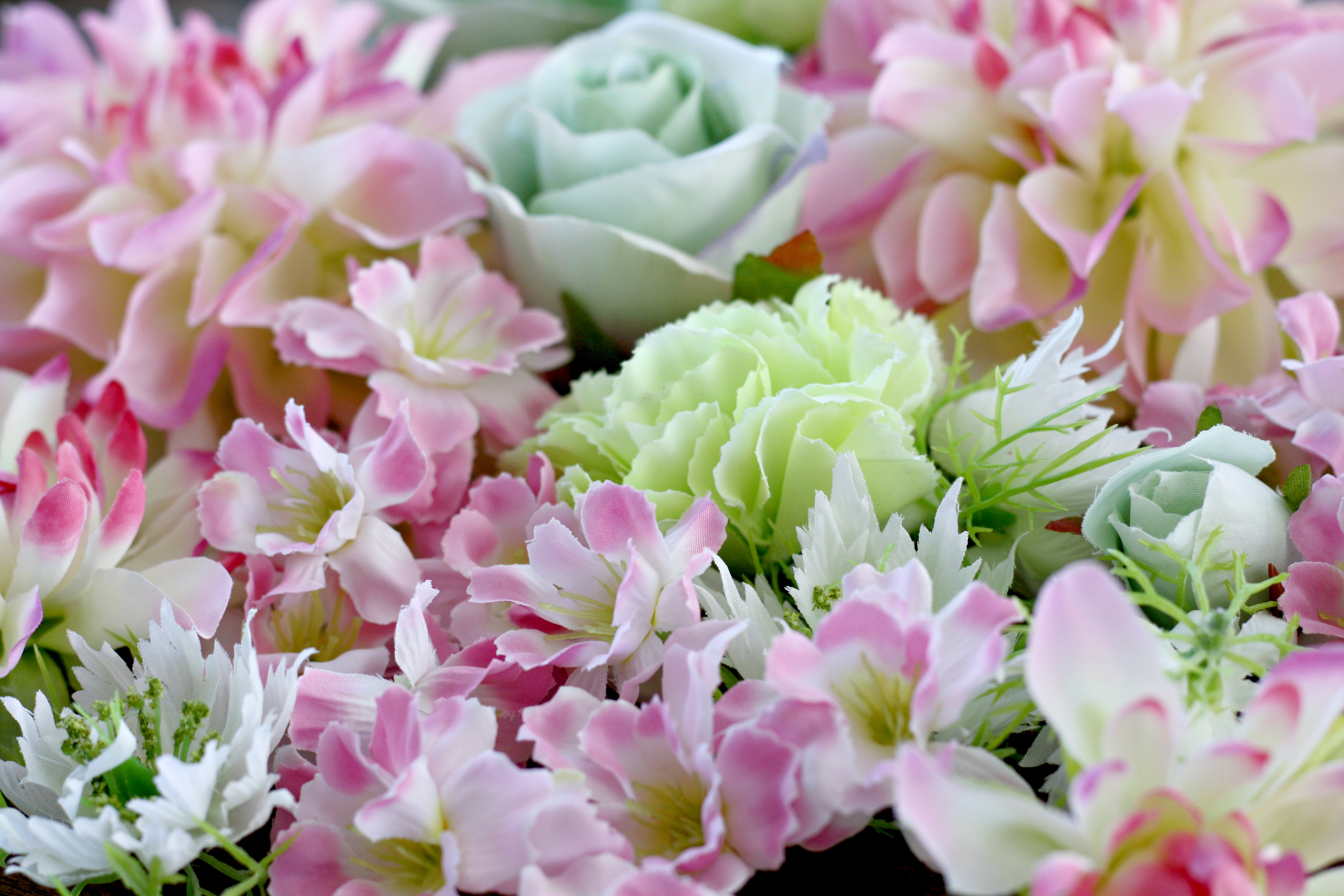 The first step is to use your wire cutters/pliers to cut the flowers heads from their stems. Be careful that you don't cut too close as the flowers can fall apart.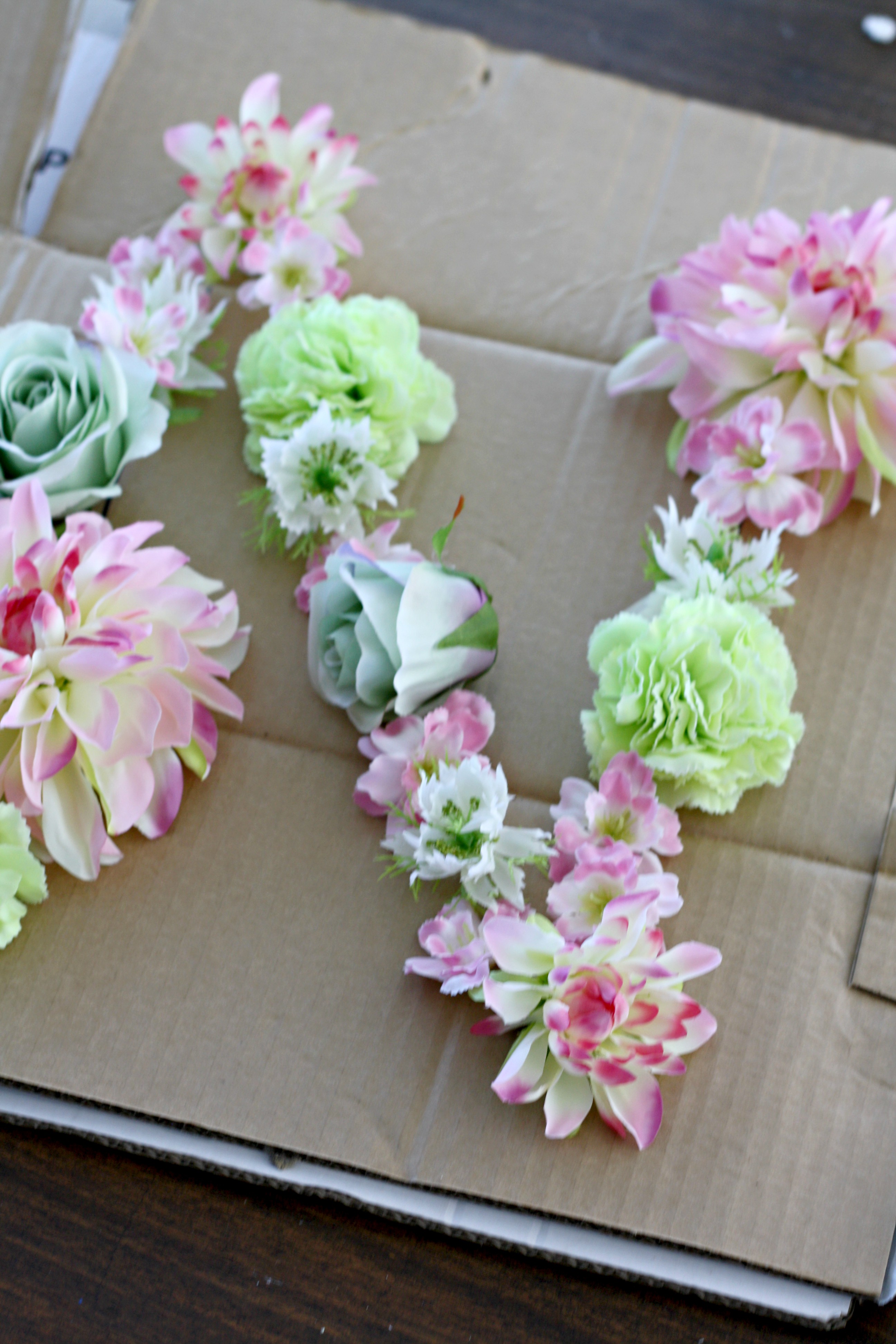 Next, I laid out the flowers in a rough shape and size that I wanted.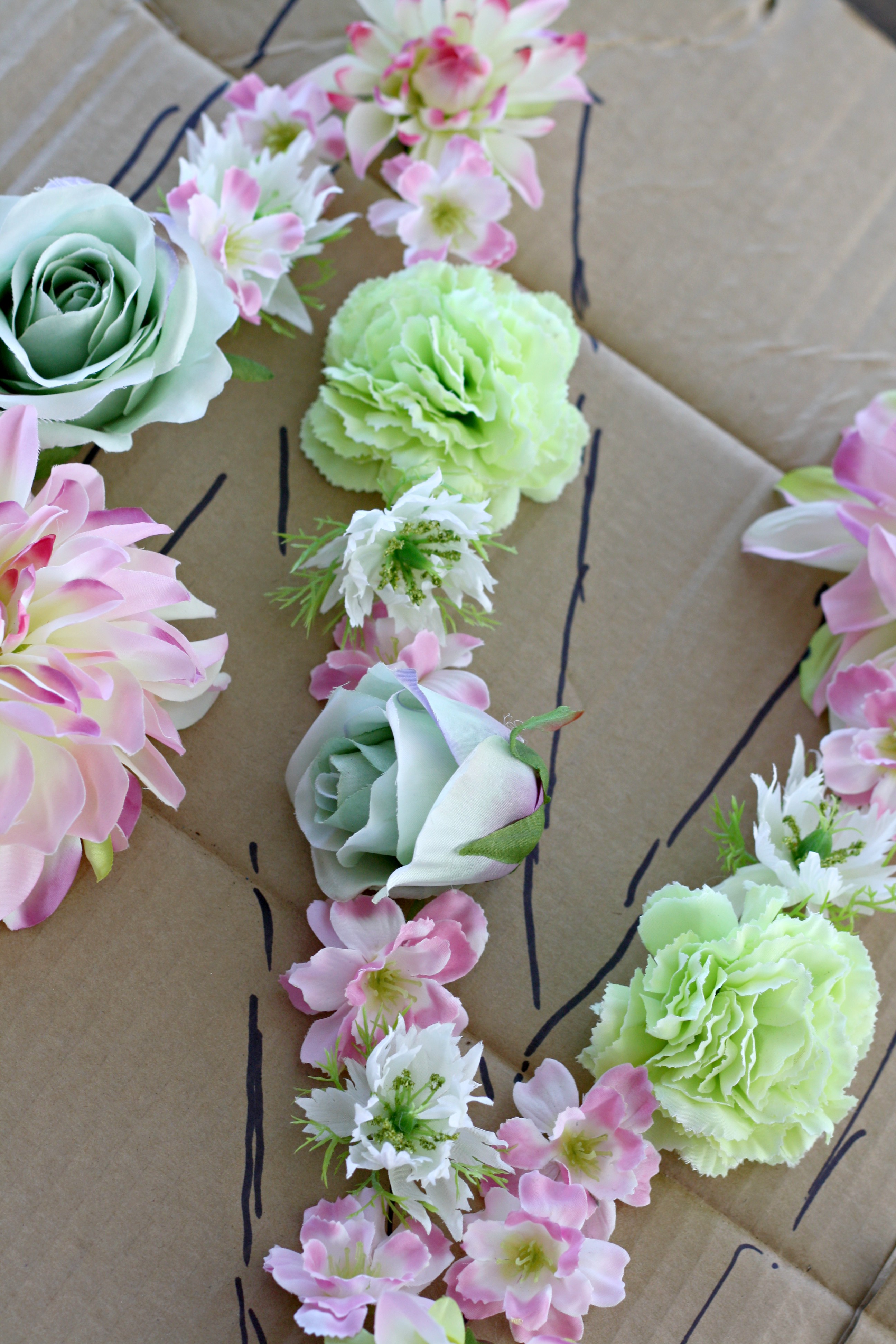 And roughly drew out my letter around them using a marker pen.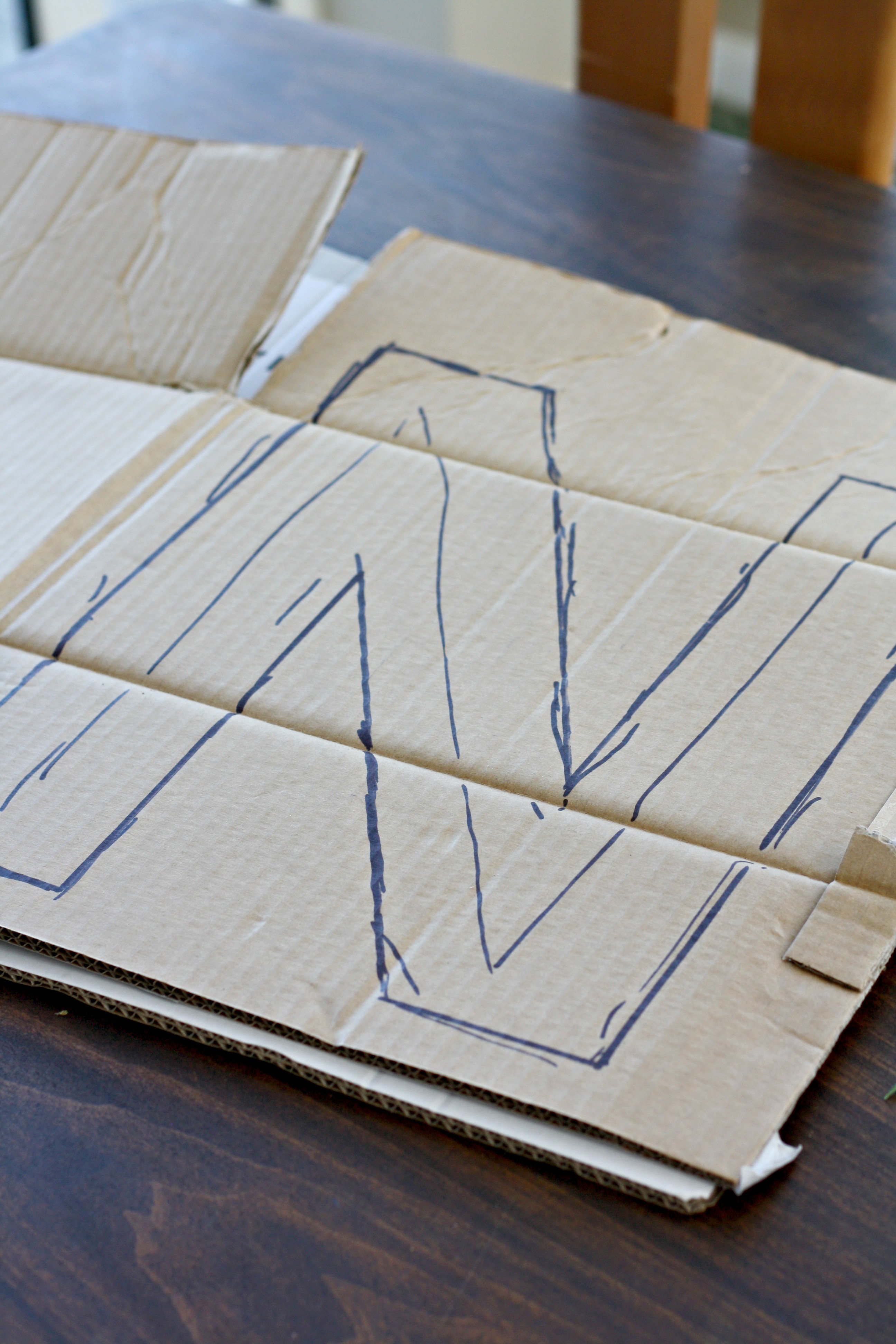 I then moved away the flowers and used a ruler to neaten up the letter ready for it to be cut out.
Use a craft knife to cut put your letter, draw around it and then cut out a second. Stick these together with the masking tape.
Paper maché your letter to make it more sturdy. Do this by adding a layer of PVA glue then sticking a strip of newspaper/scrap paper on top. Then add another layer of glue over the paper strip. Keep doing this until the whole letter is covered. It might be easier to do half the letter, let it dry, then do the other half.
Once the paper maché had dried I gave the letter a coat of white paint, (you can use whatever colour you like) I just used some white emulsion I already had. Leave this to dry completely.
The last step is the fun part where the project quickly comes together! Use your hot glue gun to stick the flowers onto your letter base. Spread out any larger flowers you have first then begin to fill the gaps with any smaller flowers. I also added in some of the leaves from the flower sprays. Keep going until the letter base is full and that's it you're done!
I hope you love this Faux Flower Letter project as much as I do! Be sure to let me know if you have a go at this yourself. You can leave me a comment below or you can contact me through my social media on Instagram and Twitter. If you love my project, you will love the faux flower projects from my fellow #DIYBlogChallenge bloggers. You can see their finished pieces in the collage below and click through their individual links below the collage.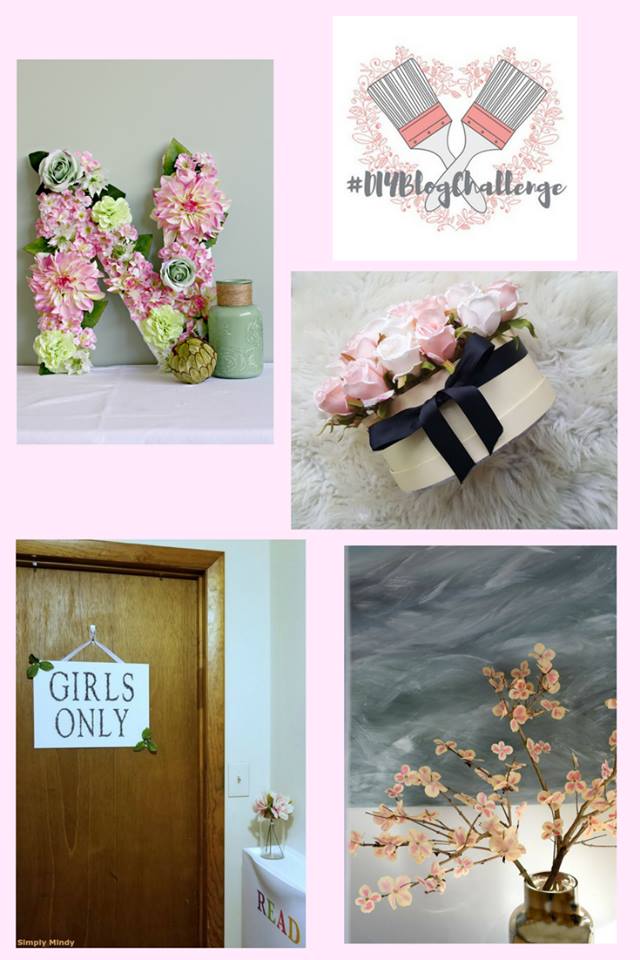 Simply Mindy
Pin my Faux Flower Letter to save it for later!