We have lived in our two bed house for about 8 months now so I decided it's time to decide on Our Living Room Plans. Living here is very different to the other homes we have rented in the past. At Seaways for example, we were able to decorate however we pleased and didn't have to get permission everytime we wanted to change something. Here, all the walls are white and although the landlord has given us permission to paint one of the rooms he has done so on the understanding that we will paint it back to white when we leave. We haven't asked to paint any other rooms yet but I would assume his answer would be the same. And because he wants it back to the way it is when we leave I'm pretty sure wallpaper is out of the question.
With that in mind we probably won't be painting too many of the rooms. After all the plan is to be here 5 years at the most and to save up as much as we can as a deposit to buy in that time. Painting ALL the rooms just to paint them back would cost us money that would be better off saved.
The reason I'm waffling on about painting walls is because one of the rooms that we are just going to keep white is the living room. Now if you've been with me long enough to have seen my Seaways living room you know white walls are very far away from what I would usually choose. Because the walls are staying white there isn't going to be a huge makeover of the living room but there are things I want to do/change in there to get it the way I want it. I would also like to get as many of these things done before Christmas as I can. So my plan is to write a list of every little task and purchase I need to make to get the room done. I got the idea to do this from Victorian Adventure who print out lists at the beginning of each of their renovations so they know exactly what there is to do. (Now my list is going to be nowhere near the same as theirs! They are completely renovating a victorian house and if you have not seen their blog or instagram I would recommend that you go and check it out.) I also find putting things down on paper really helps me to focus instead of having all these ideas bouncing around in my head.
What are our living room plans?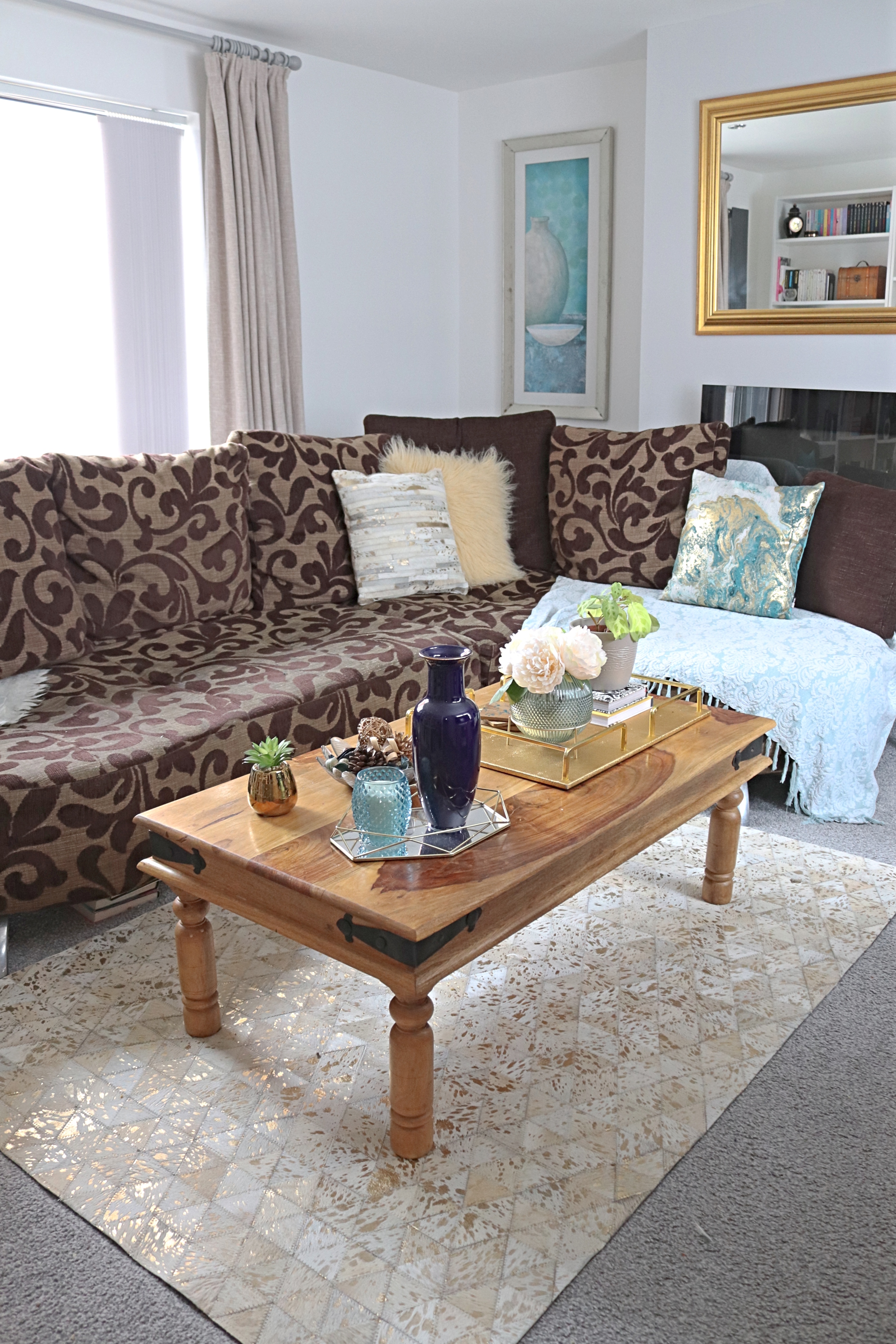 So this is the view from the doorway of the room. I would love to be able to get new sofas but as that is not on the cards anytime soon I would just like to lighten this view up with some cushions and throws. It's such a big and dark sofa and I think a few more cushions would just break it up a little.
We already updated the rug in here for this cow hide one and it is literally my favourite thing in the whole house! It led to me spending the most amount of money on one cushion that I've ever spent in my life (just because it matched the rug). You can see it n the middle of the sofa.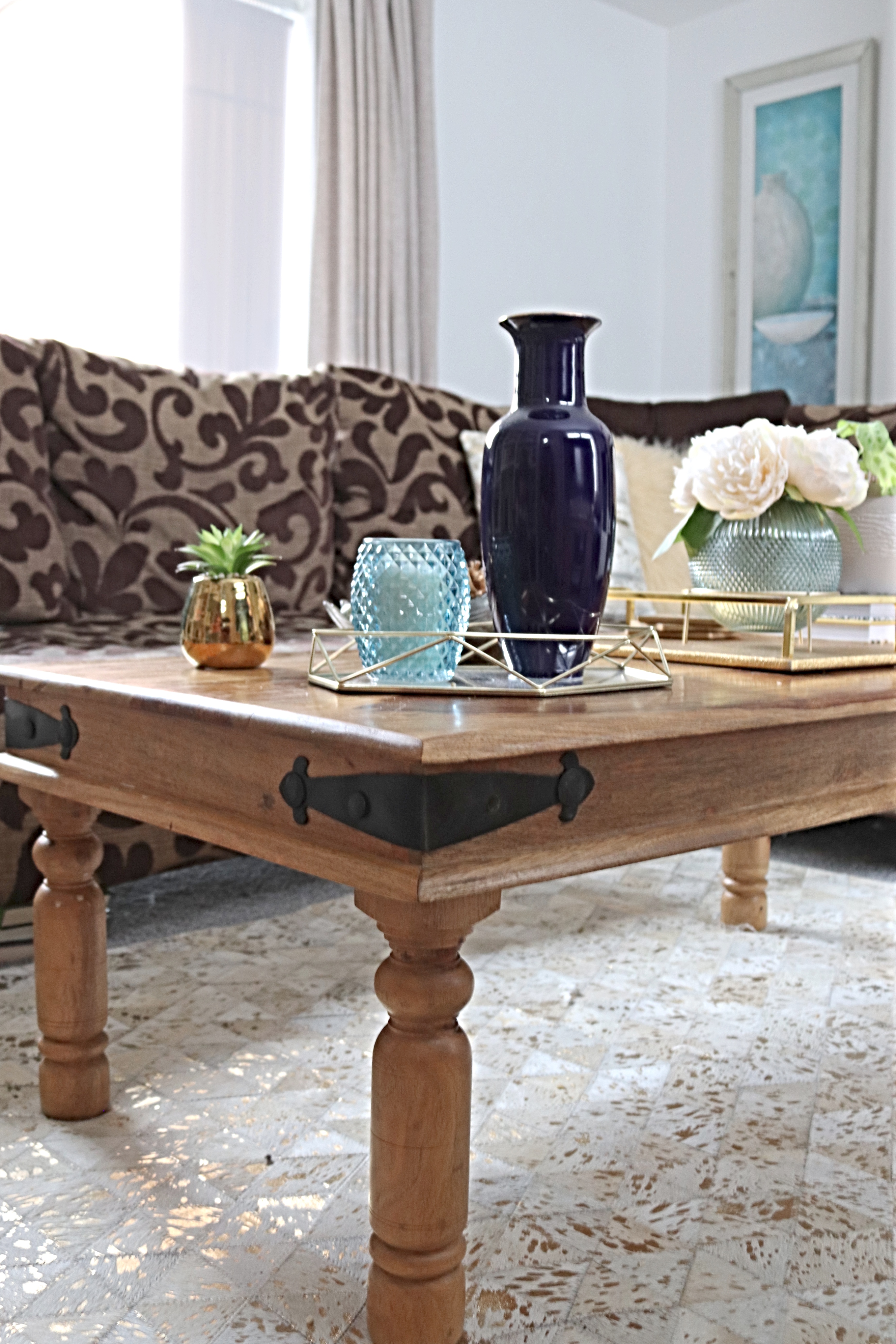 I also have big plans for this coffee table that I really hope work out! The Diy in itself will be low cost but to do it I need to buy a rotary saw so that is a pretty big purchase. The legs on this table are not my style and my plans would really modernise the whole look. I will do a full blog post on this project when the time comes so keep you fingers crossed that it works for me. 😀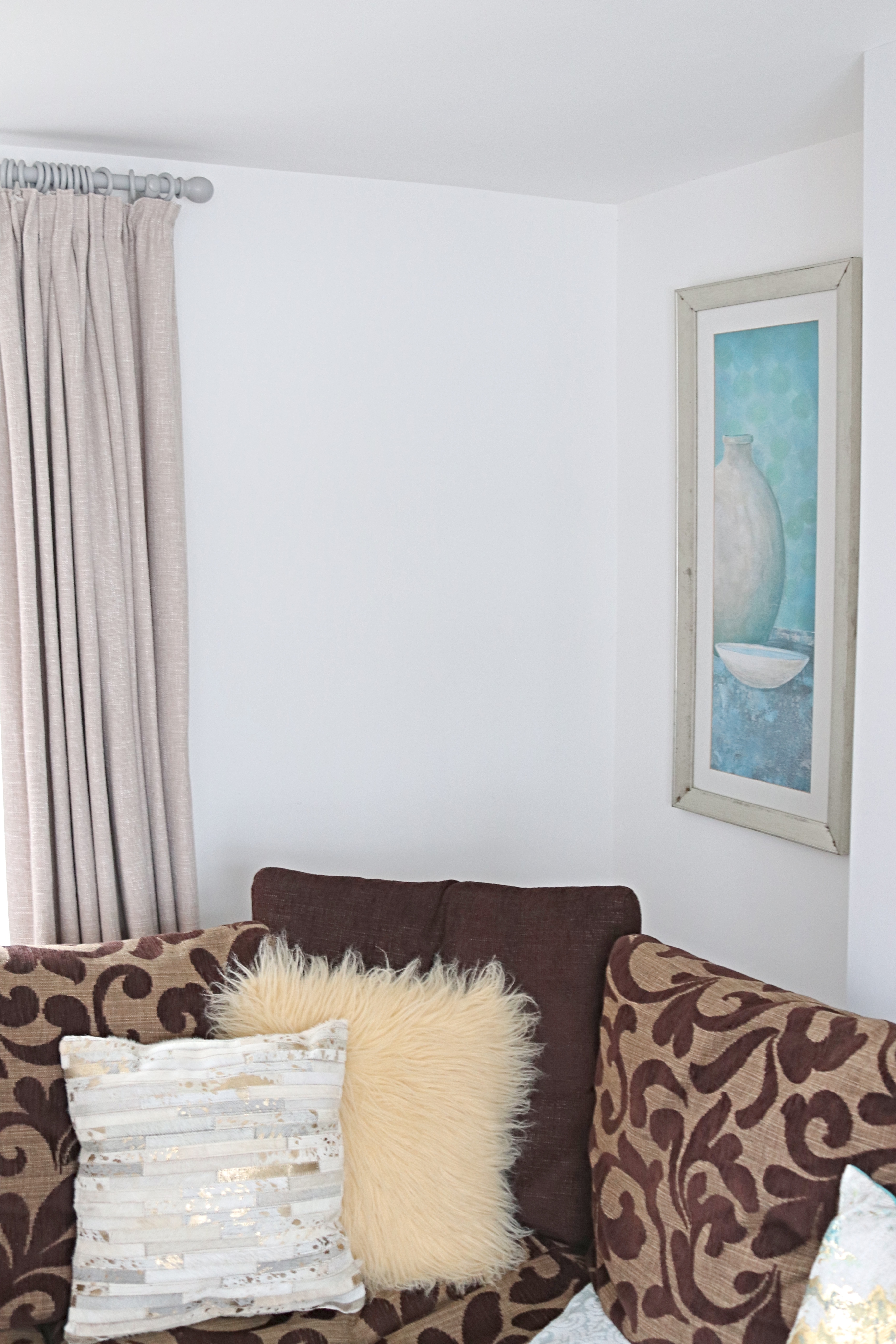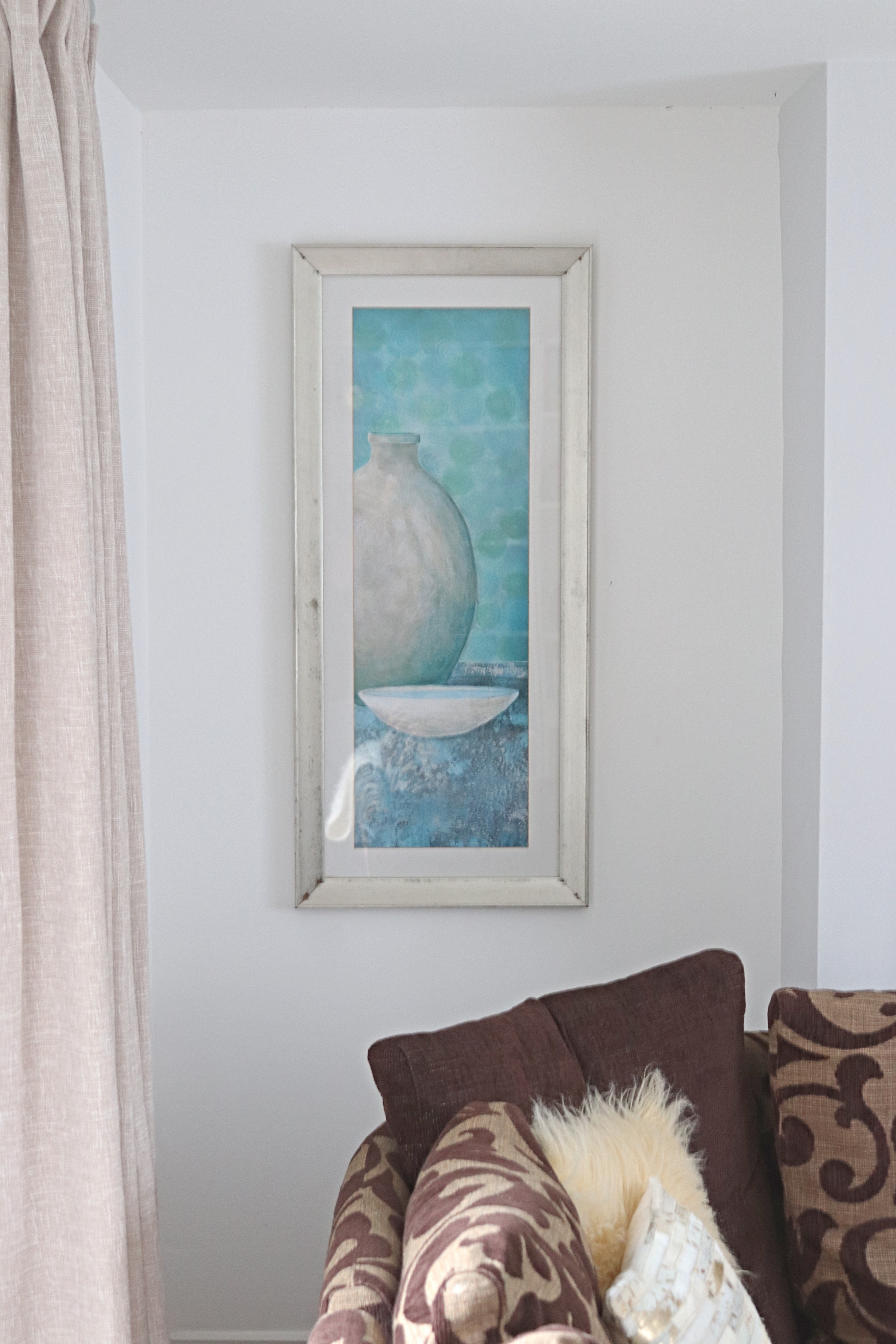 Our sofa is set forward slightly from the wall because of the sliding doors out to the garden so there is this space in the corner behind the sofa that is a bit wasted. For now we have hung this picture so the space doesn't look empty but I want to put a display cabinet in this spot. I think I have found the perfect one but it has gone out of stock!! I'm constantly checking to see if it's available again because I've set my heart on it lol. When the cabinet is in place I will move this picture next to the curtains instead and also paint the frame gold.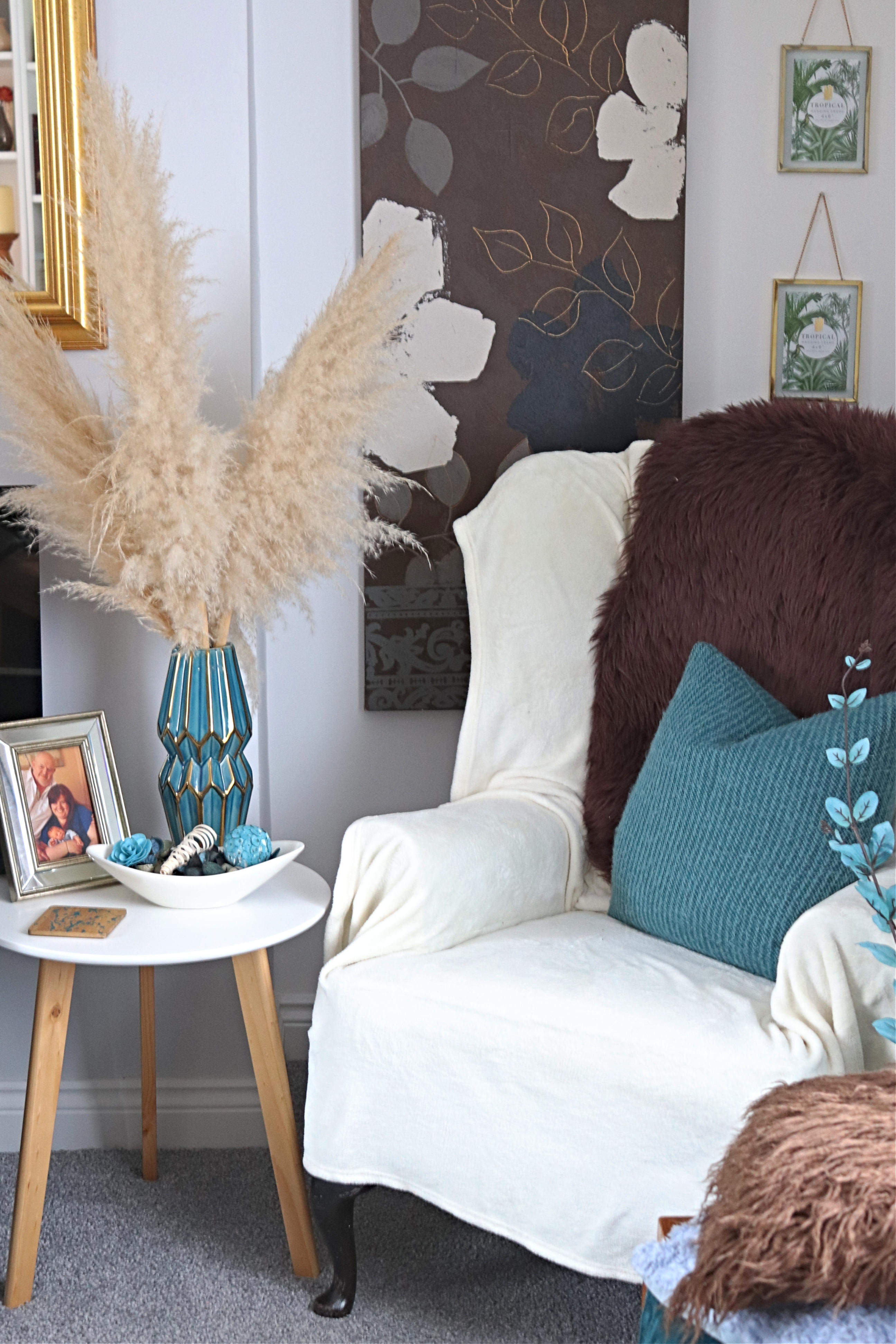 To the right of the sofa we have this wingback chair in the corner. We picked it up for a fiver on facebook marketplace about 4 years ago with the intention of reupholstering it and it's just been covered in throws ever since 😀 . This is one thing that will not get done before Christmas (we will have to move it out of the room anyway to fit the Christmas tree in) but I am definitely going to get stuck in in the new year. I've put it off for long enough now. I have picked the fabric though which is going to be a gorgeous teal green velvet!!
It is hard to tell in this picture but the chimney breast in this room is painted in a pale grey so I want to paint it white like the rest of the room. While we are painting that I want to give all the walls a fresh coat of white just to freshen it up. I'm not sure what paint the decorators used on these walls before we moved in but it marks so easily and with a one year old toddling around we already have a fair few sticky finger prints on the walls that just won't wipe away. In fact when I tried the paint just wiped away too 😀 .
Another thing that needs completing in this corner is adding photos to the gold frames. I was very pleased with myself when I finally got them up on the wall but they have been hanging there without pictures in for 2 months now.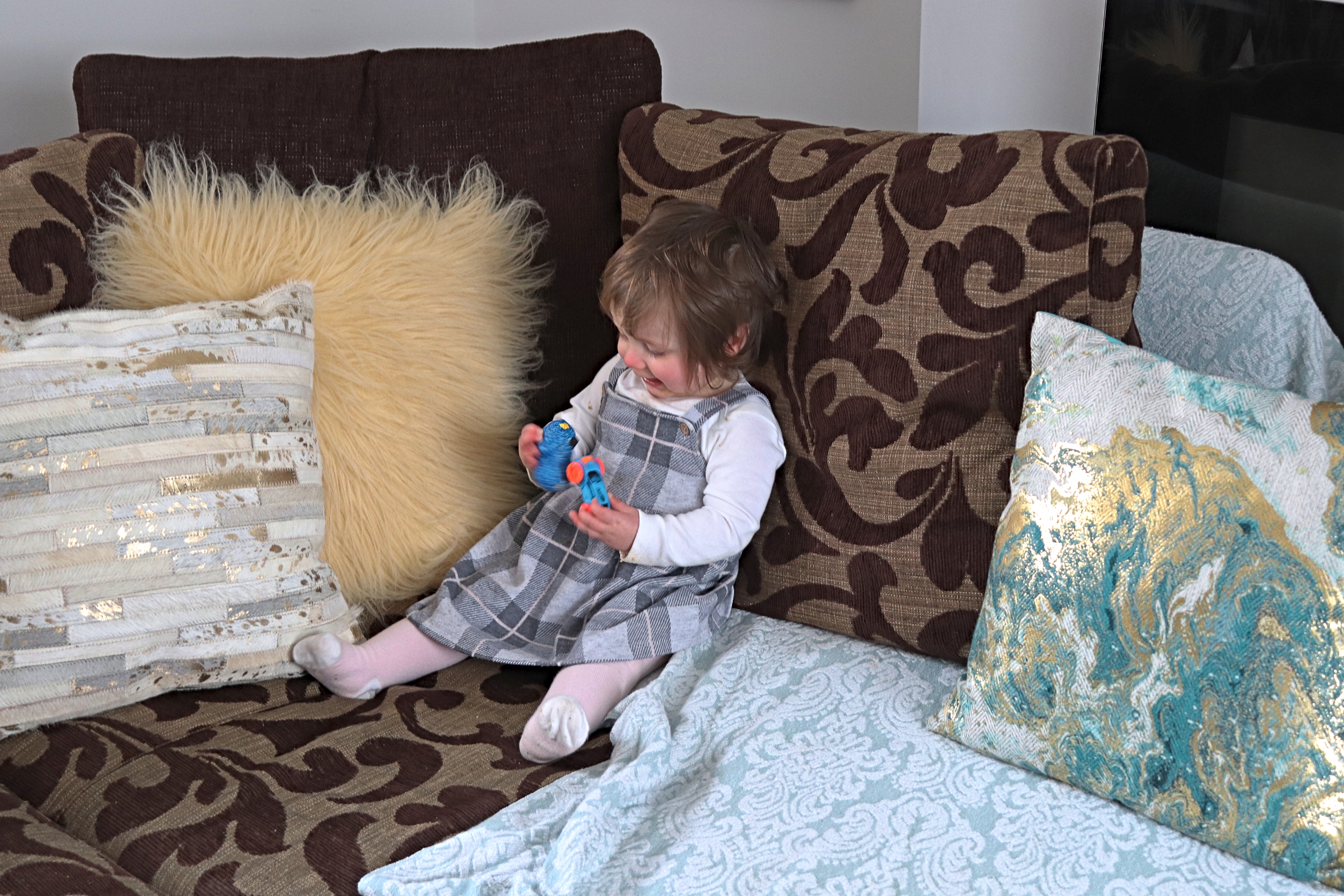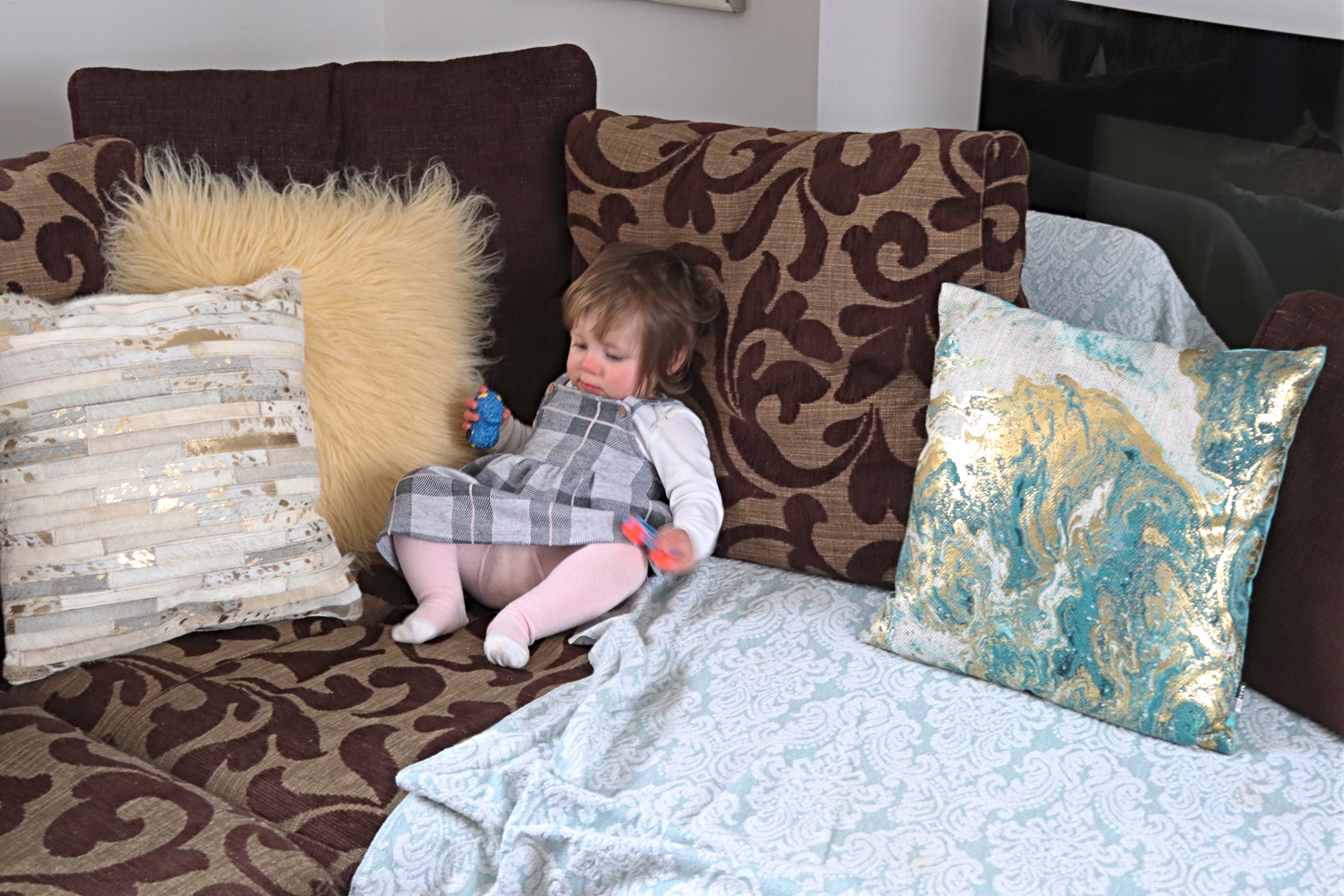 Speaking of one year olds, Noa wanted to be part of this post. As soon as I finished arranging the cushions for photos she jumped up onto the sofa and climbed all over them! 😀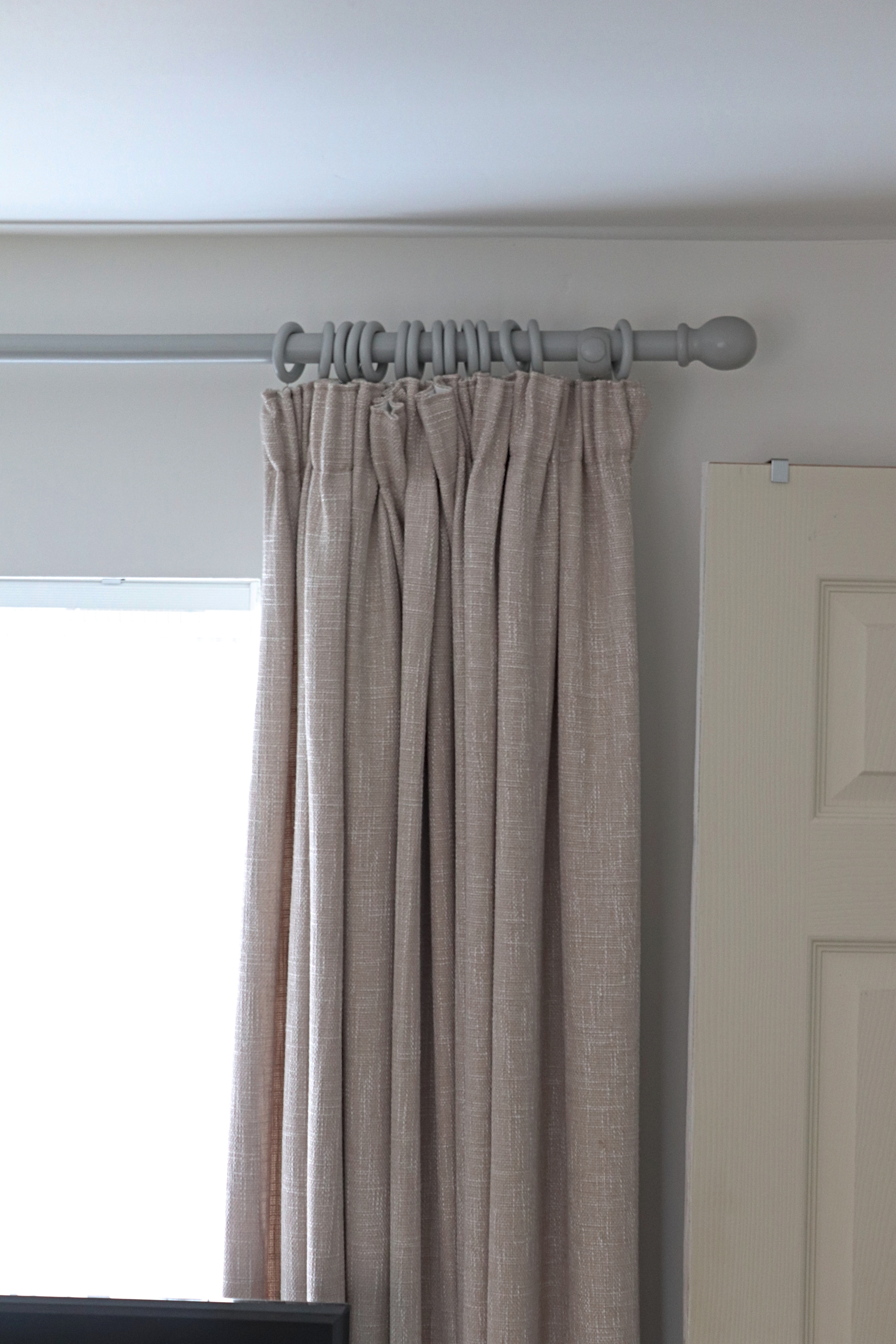 If you move around the room to the right of the chair we have the tv cabinet on this wall and there is also a window. There are two sets of curtains in this room, on this window and on the opposite wall up at the doors to the garden. As we needed to buy four curtain poles as soon as we moved in (for this room, dining room and bedroom) to get the curtains up quick we just bought these basic wooden ones from Wilko. There isn't anything wrong with them but I would like something more fancy for in here so I have a plan to glam them up by spraying them gold!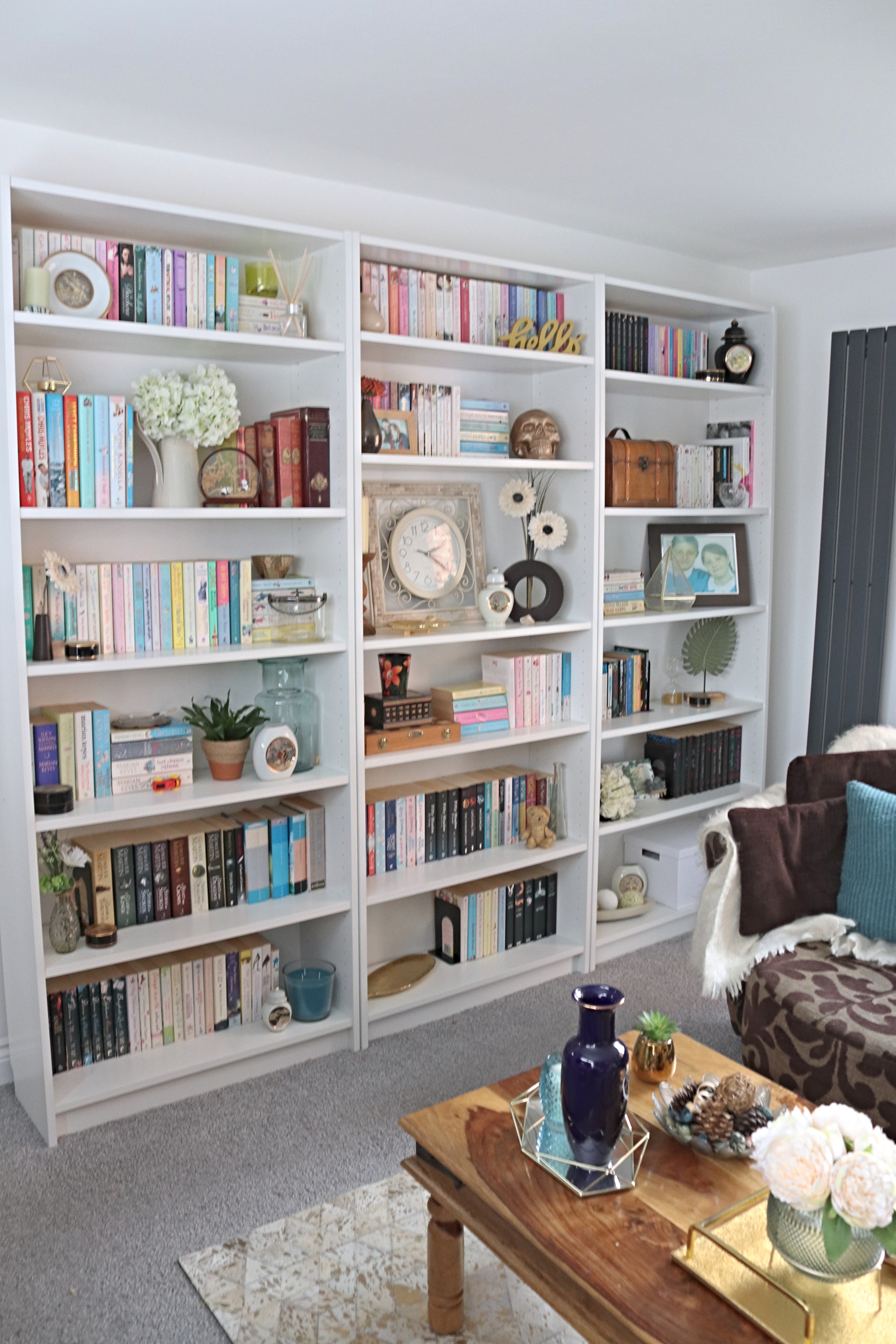 If you move around to the right again, past the door to the room, this wall is filled with three Billy bookcases from Ikea. You can see from this picture that they are to the left of the sofa so we have made it the whole way around the room. I plan to paint these bookcases in Jaded Teal from Wilko. Again, if you've been with me for a while you will recognise this colour from the living room wall in Seaways. The overall makeover of these bookcases is still undecided. I have a couple of ideas including wallpapering the backs of them or gold leafing the front edges of the shelves. I don't think I will decide until I've got the main paint on them. Painting these bookcases is going to make the biggest difference to this room. It will add in some much needed colour and be the focal feature of the room.
So they are all the Living room plans that we have. It won't be a huge transformation but I think it will give the room an overall finished and cohesive look. I've included a full check list of tasks below that I will mark off as I complete them over the next couple of weeks. Fingers crossed I can get a lot of it done before I need to put the Christmas decorations up!
Lianne x
Living Room Plans Checklist
Find and buy sofa throw and cushions
Purchase rotary saw
Buy the wood for coffee table DIY
Remove coffee table legs and sides
Sand and stain coffee table top
Build new coffee table legs
Paint coffee table legs
Attach coffee table legs to table
Order new display cabinet
Paint frame of picture gold
Order fabric for wing back chair
Reupholster wing back chair
Print photos for the gold frames
Give all walls a fresh coat of white paint
Buy gold spray paint
Spray paint the curtain poles
Buy primer for bookcases
Order the paint for bookcases
Order gold leaf
Empty bookcase 1
Prime bookcase 1
Paint bookcase 1
Wallpaper back of bookcase 1
Restyle bookcase 1
Empty bookcase 2
Prime bookcase 2
Paint bookcase 2
Wallpaper back of bookcase 2
Restyle bookcase 2
Empty bookcase 3
Prime bookcase 3
Paint bookcase 3
Wallpaper back of bookcase 3
Restyle bookcase 3
Add gold leaf to bookcase edges
Pin my Living room plans to save them for later!