Paint Splatter Drinks Coasters
I've said it before and I'll say it again, I do love a quick and easy craft. These Paint Splatter Drinks Coasters took me a day to make but most of that was drying time for the paint. I purchased the wooden coasters I've used as the base for this project from B&M for a couple of pounds I think (I can't remember exactly) because I thought they would be perfect for a quick revamp/craft project.
This post contains affiliate links, find out what that means here.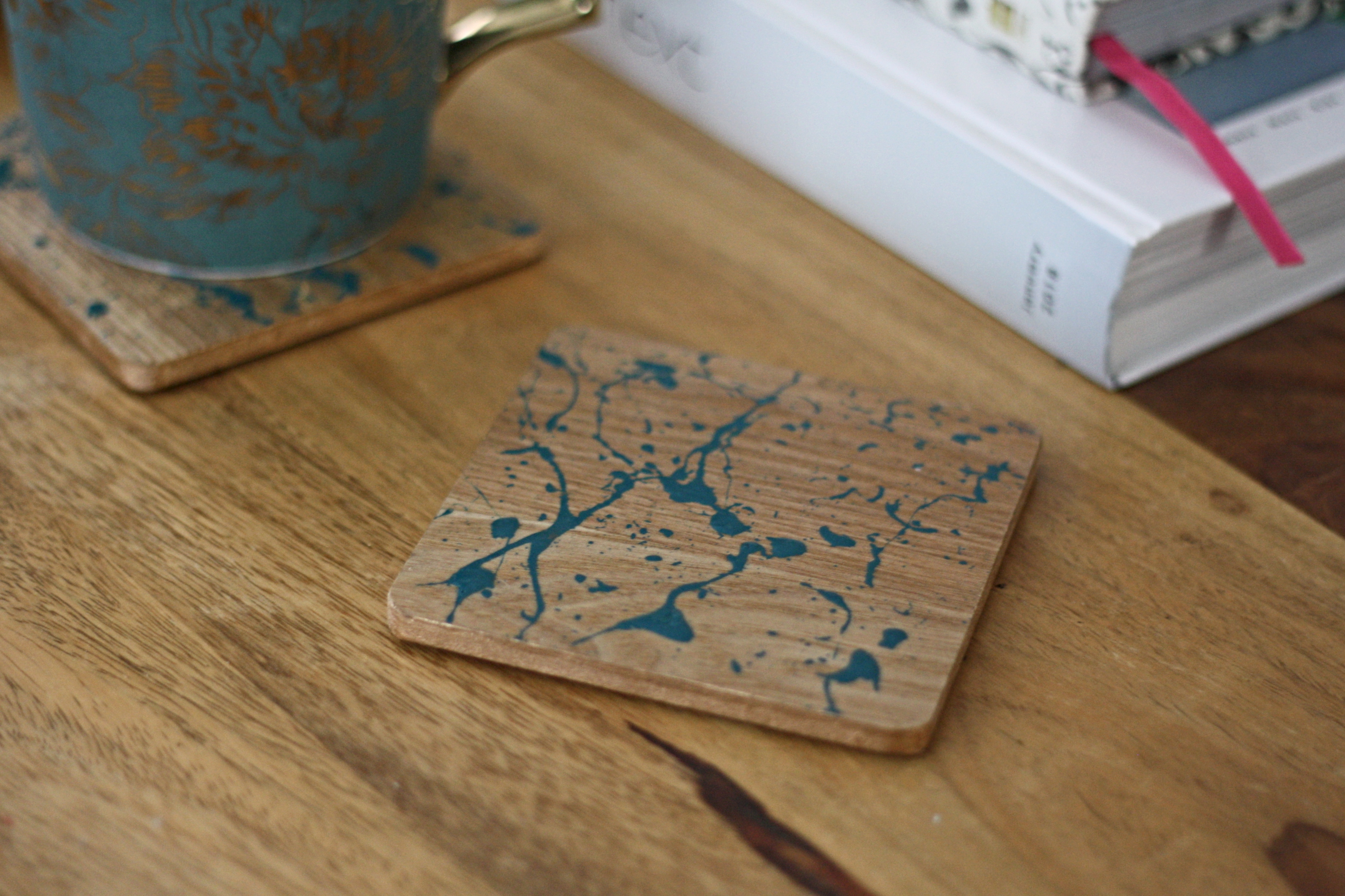 Colour wise I went with gold and teal (surprise, surprise) to match the living room but they would be great using bright and bold colours too.
Paint Splatter Drinks Coasters – What you need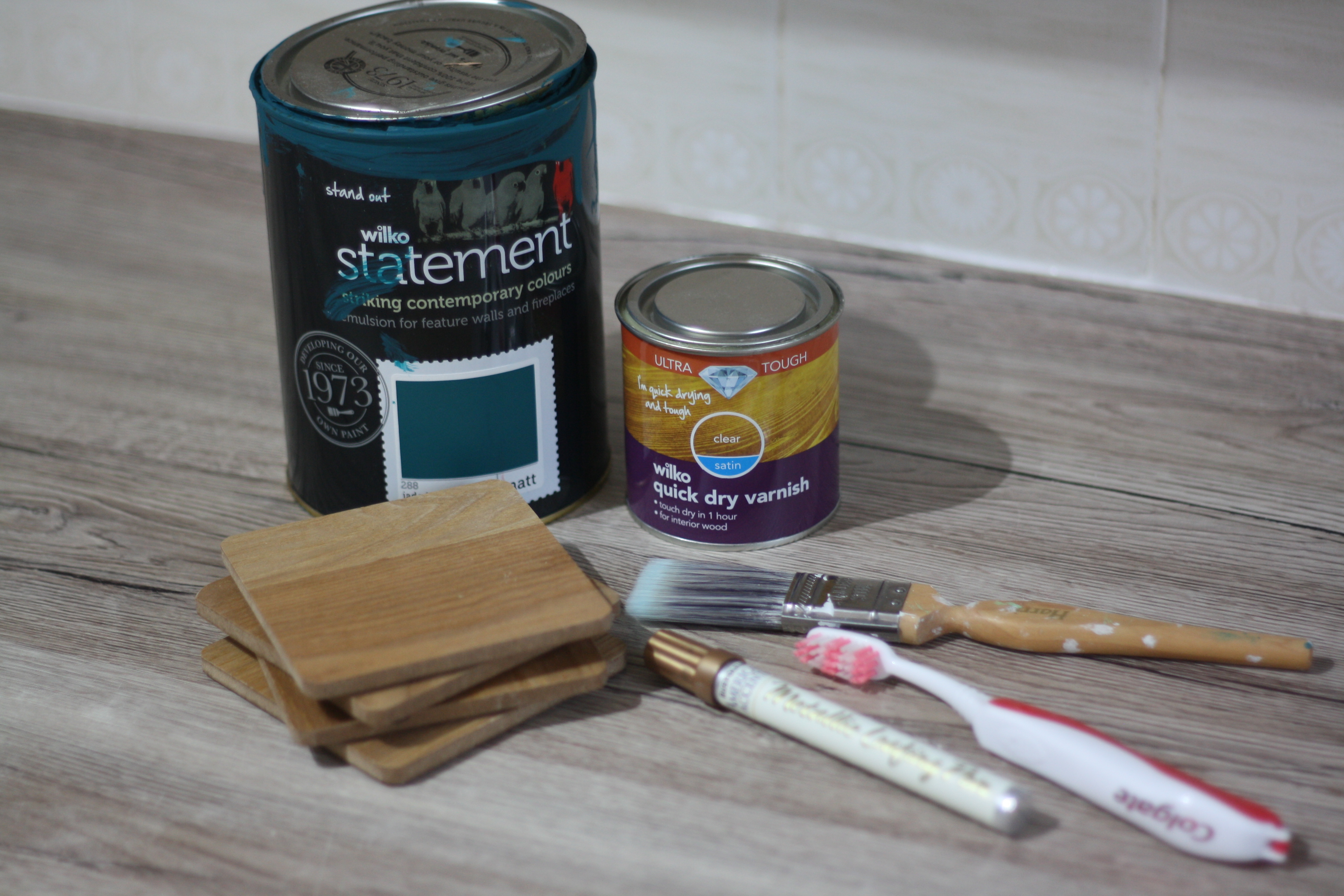 I managed to make these with things I already had so the cost for me was very low. Even if you did have to buy paint etc the cost for this is still minimal. I used leftover teal emulsion from my Living Room Makeover, a Rustoleum paint pen I used for my Navy and Gold End Table Upcycle and some clear varnish I purchased for Mason's Superhero Bedside Table. I also used an old toothbrush to splatter the paint and a paint brush for the varnish.
Items that might help you with this project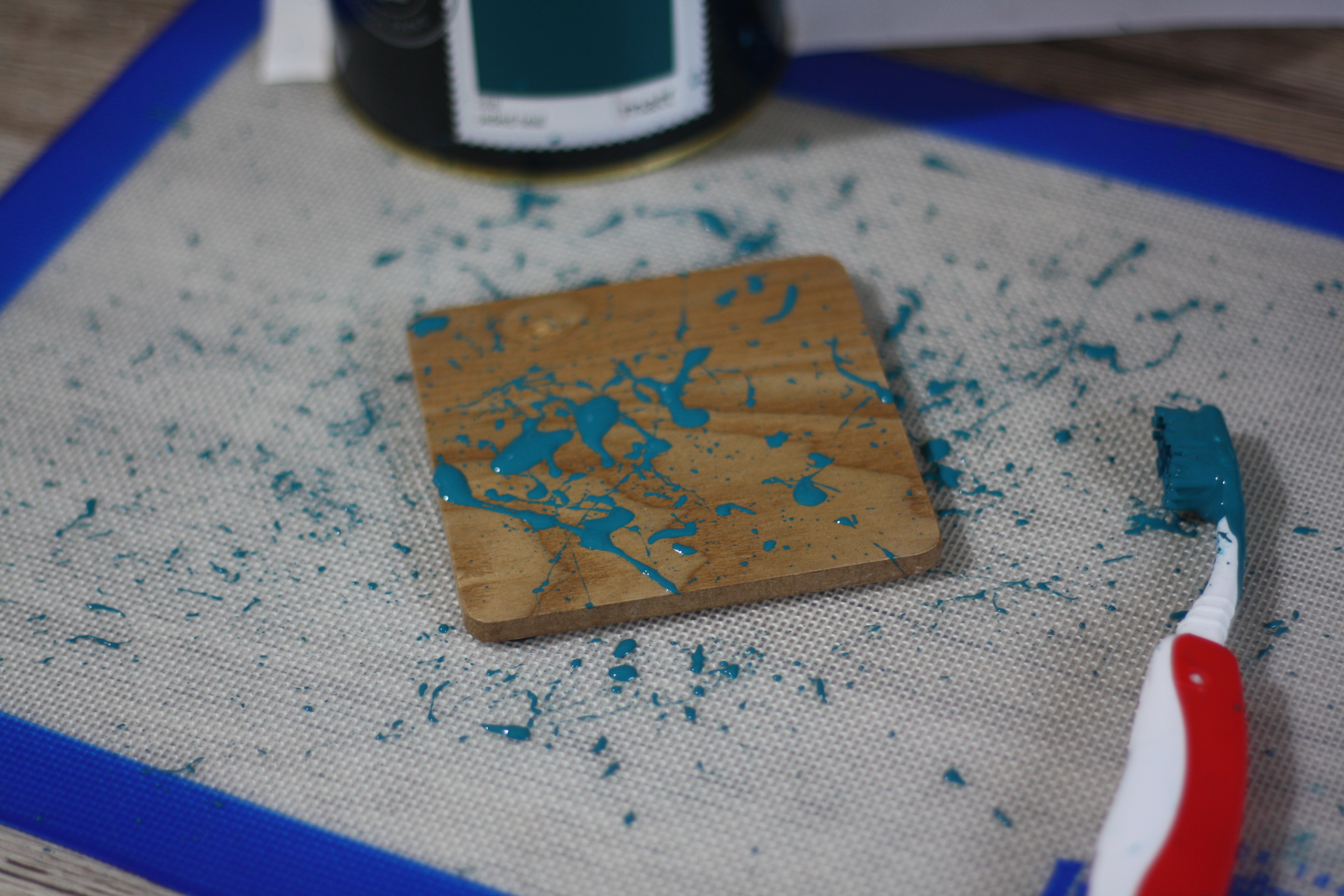 Step one is to splatter your paint, load the toothbrush with your chosen paint (not too much) and using a combination of running your finger across the bristles and flicking the toothbrush cover your coaster in paint. The amount of splatter you want to add is up to you, you could also use multiple colours! Make sure to cover your surface as the paint can splatter further than you think. Leave this paint to dry completely before moving onto the next step.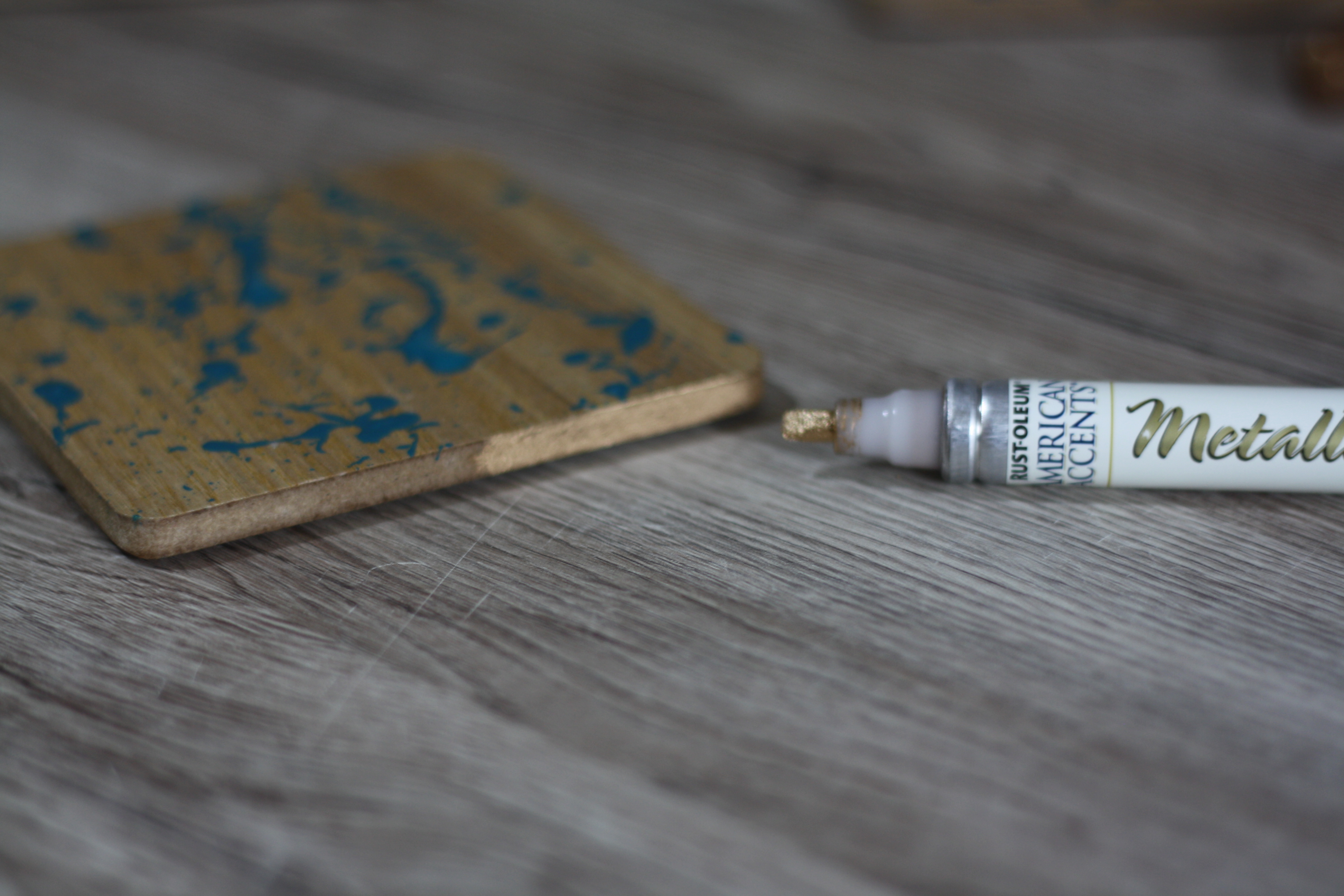 Next I used my gold Rustoleum paint pen to paint the outside edges in gold, it took a couple of coats to get a bright gold colour. Again, leave this to dry before moving on.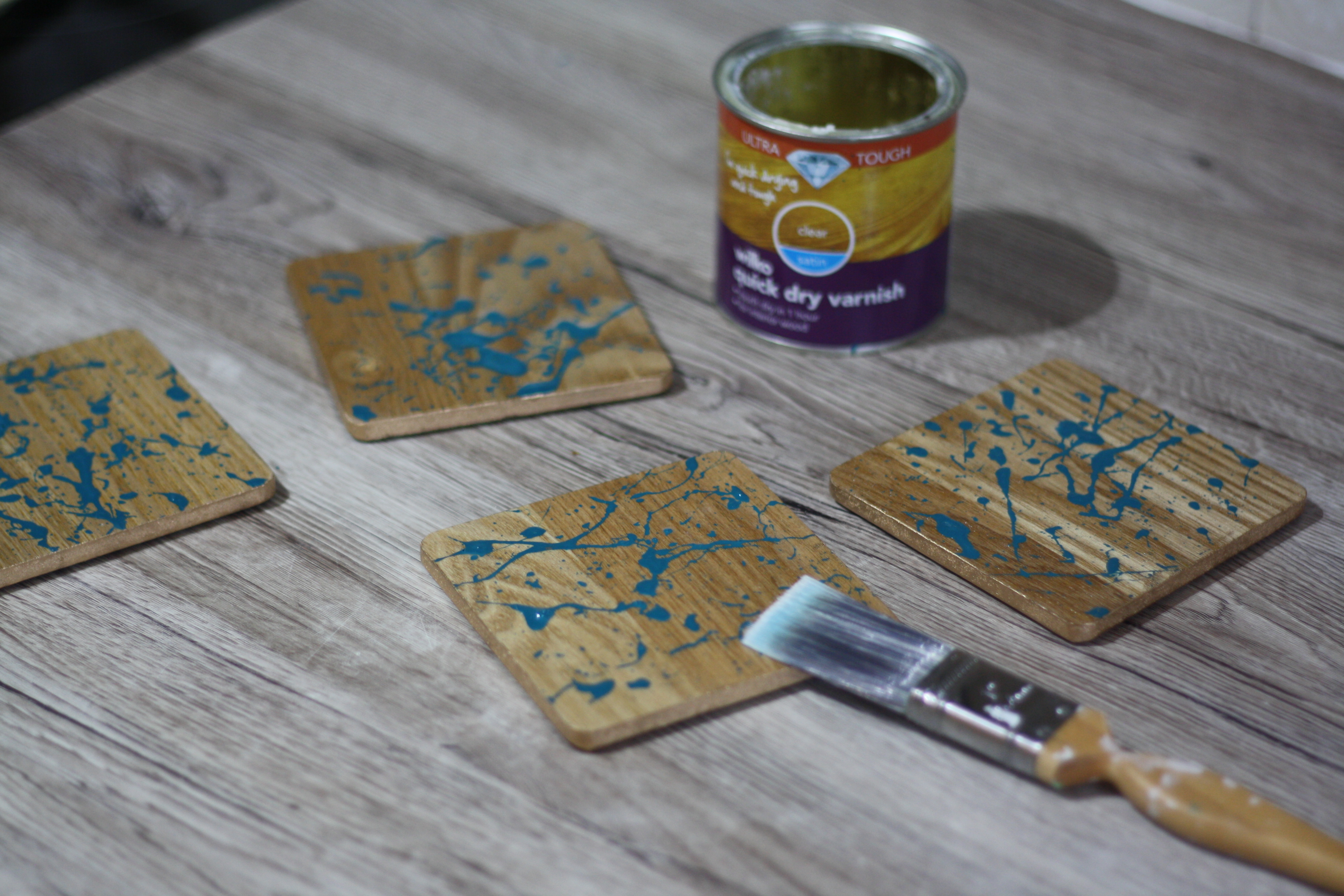 Last step (I told you it was a quick craft) is to put a layer of clear varnish on the top to seal the paint. Sometimes, if your drink is very hot the cup sticks slightly to the coaster because of the varnish coat but because I had used emulsion I wanted to make sure I would be able to wipe them clean with out the paint coming off. I used thin coats of varnish. Leave them to dry and ta da! you're finished!
Paint Splatter Drinks Coasters – The finished project
So now I'm off to paint splatter all the things! I hope you liked this project and don't forget to let me know if you give it a try.
Lianne x
Pin my Paint Splatter Drinks Coasters to save them for later!