It might seem like I'm a little late to the party with this post but I have worked from home for a few years now, way before Covid ever existed. I had a desk area in our previous home but when we moved into this house I didn't think that I had the space. I would set my laptop up at the dining table and put it away when I was done. I really missed having a designated area to sit at the computer to write my blog posts, run my socials and do the admin for my cake business. So Creating a Work from Home Space became a priority for me.
Finding the space to put a desk stems from one of most important pieces of advice I have when it comes to decorating your home and that is to live with the space you have. Now if you're moving into a house that hasn't been decorated since the 90's then maybe start by giving yourself a blank canvas but I have learned from living in a few homes now that to have patience is best. Learn which rooms are light and which are dark. Put your existing furniture in and discover where you need to add a side table or a lamp. And don't be in a rush to fill those spaces because a better idea might just come to you when you learn what your home really needs.
When we got the majority of our living room how we wanted it (or at least how I thought I wanted it then) there was an alcove to the left of the fireplace and from when we first moved in I decided to put a cabinet there, I mentioned this in my Living room plans post. I found the perfect one straight away but it was out of stock. I would keep checking but it never came back into stock. For months I waited, if it had been in stock I would have purchased it and it would be in the very spot that I'm typing now. But because I was forced to wait I had time to live in my home as it was and realise that a designated working space was something that I really needed. So my plans changed. And I started to think of how to turn this little wasted space into something much more usable.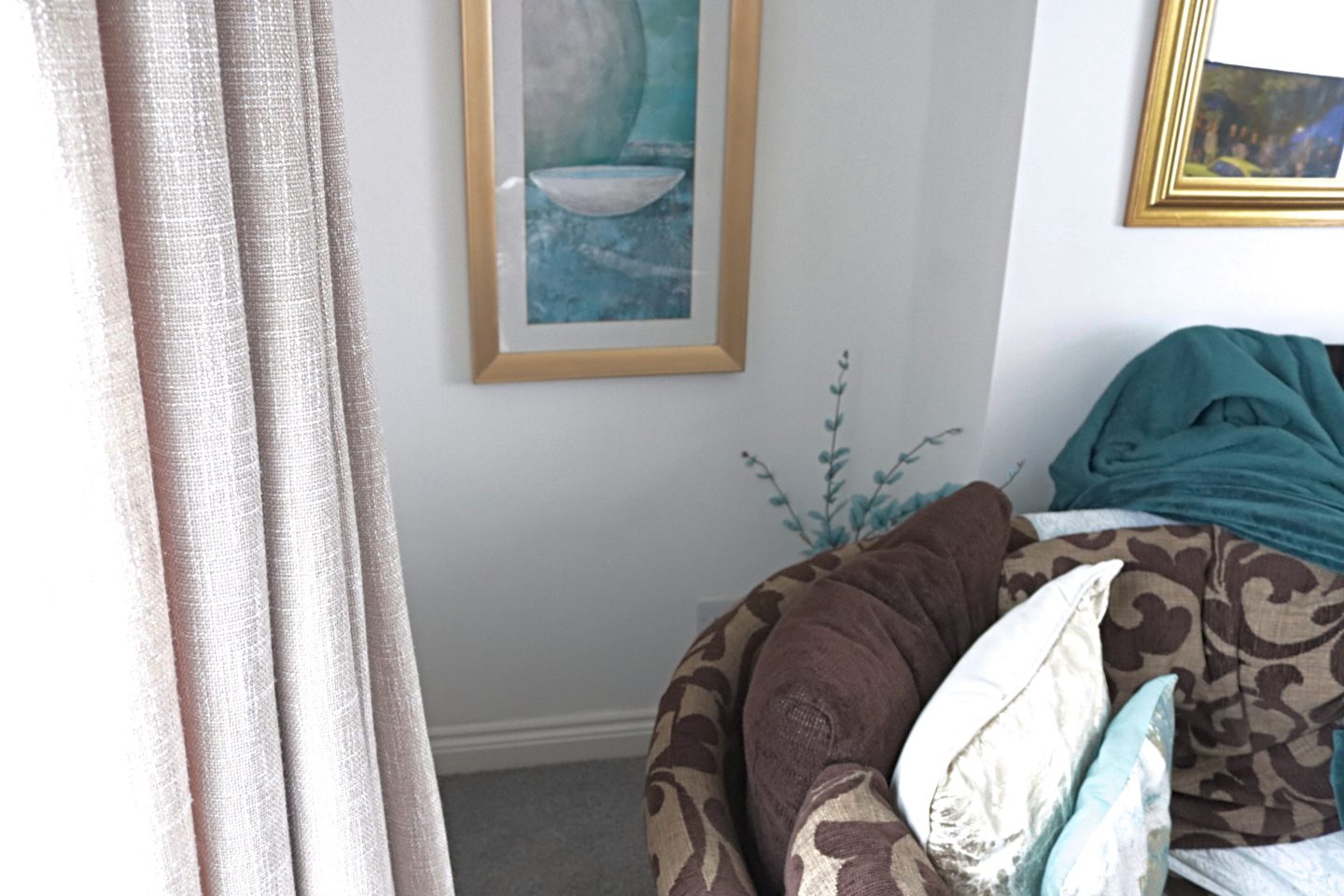 Here is the spot that I'm talking about. It's not huge but it's workable, especially now that we have our new sofa. You can read the latest post on our living room here and then on Friday I will be sharing how the living room looks now.
I wanted it to be functional but still fit in seamlessly with the rest of the room. I had a look on Ikea as they are my go to for affordable furniture and I finally decided on 2 of their Lack shelves in black and the Micke desk also in black. I had to cut the lack shelves down to make them fit but as they were going wall to wall that didn't matter. And my plan for the desk because it was smaller than the gap was to add a top to it that went wall to wall so it looked more built in.
This was the first time I think that I had put up shelves on my own and I was pretty proud of myself! We have plasterboard walls so I used some hollow wall anchors and they are still hanging and not going anywhere so I must have done ok 😀 I have added my instagram reel below of what the corner was looking like at this point as I'm not sure that I took any photos. I'd added a couple of bits to the shelves (I'll link them later on) and I borrowed a chair from the dining room while I searched for the perfect desk chair.
I lived with the corner like this for a couple of months, I had originally planned to buy a table top from Ikea to go onto the desk so I was waiting to order it as we live nowhere near one and I hate paying their £15 delivery for just one item. I also searched for an office chair. I didn't want it to be too bulky as it is in the living room and I really wanted a teal one to bring that colour over into the corner. I finally found one on Amazon and I managed to get it on amazon prime day so I saved some money too 🙂
The reviews are mixed on how comfortable it is to sit on but I find it comfortable for my own needs. If you need a chair to sit in for a full 8 hour work day though it might not be the one for you. I do have plans to spray the base gold at some point. Once my chair was here there was just the desk top to sort out which has finally been done. I started creating a work from home space back in May so it's taken me a while but here it is.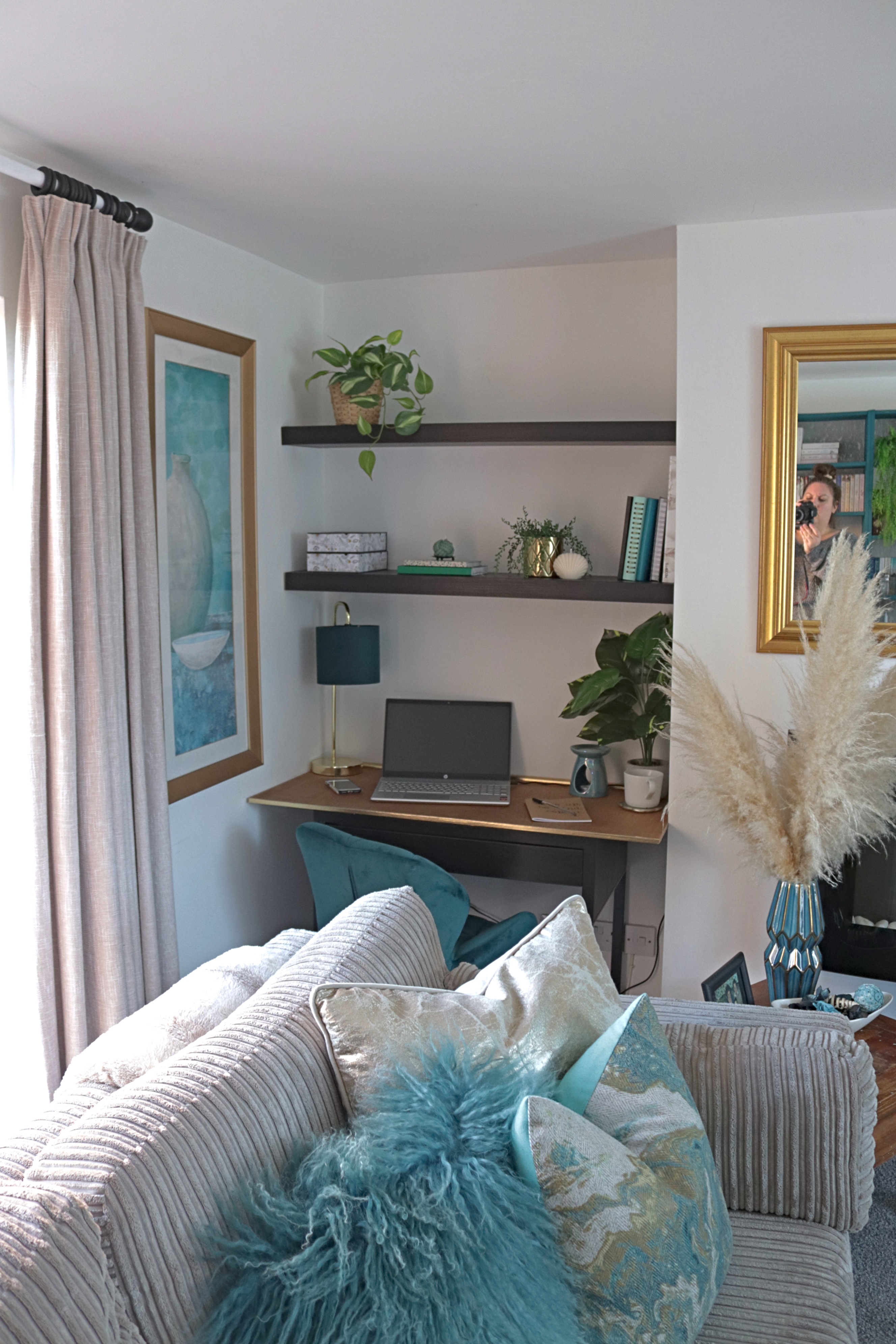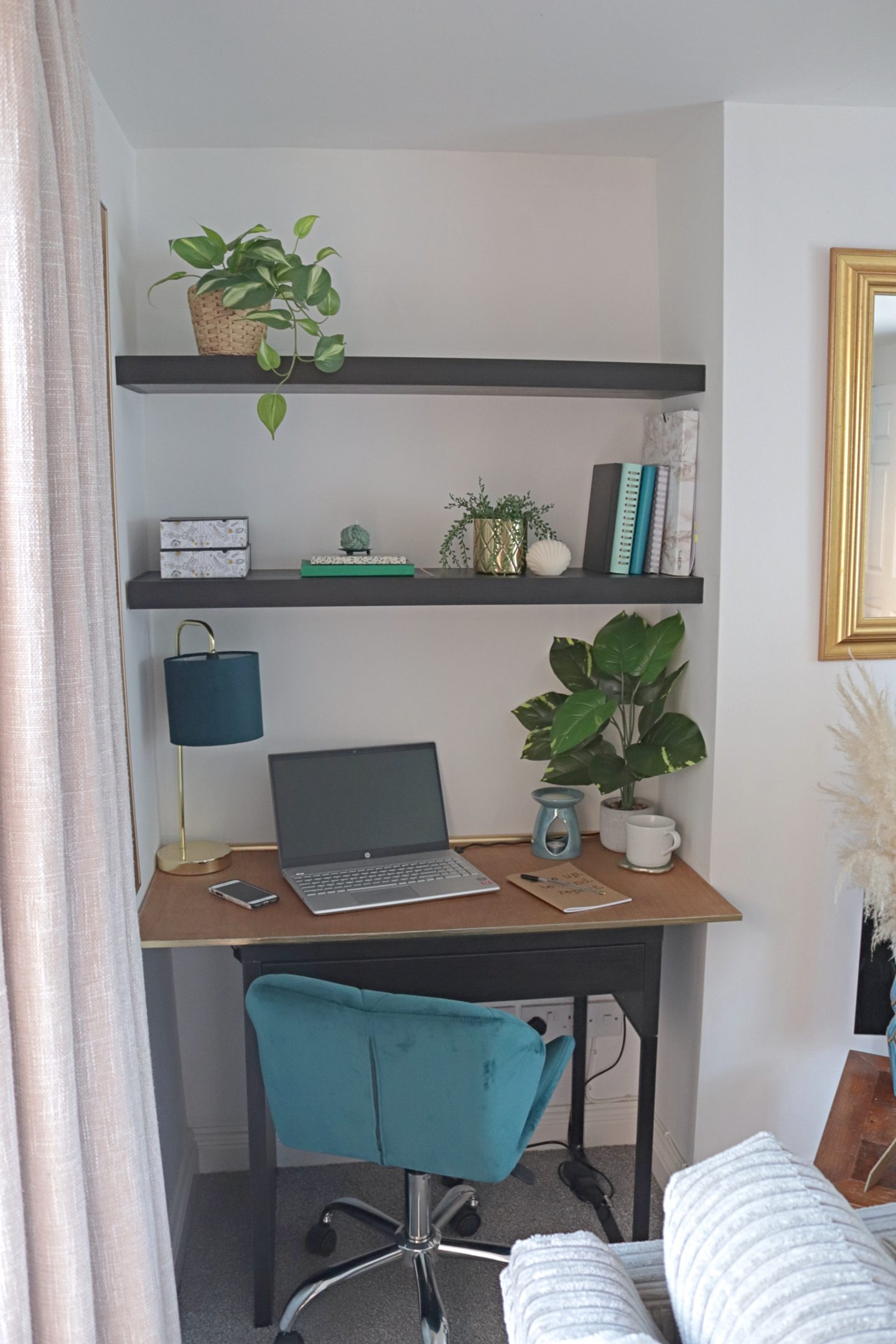 On the shelves – Large plant // rattan plant pot // green knot candle // shell candle // brass plant pot // small plant
I've kept the shelves pretty simple with some plants, candles and then my note books and diaries. I got both the knot candle and shell candle from a small business on Instagram called A little candle co. the artificial plants and their pots are both from Ikea and are linked above. There is still some unused space up there but I'm in no rush to fill it. I'll wait until I find something that I really like.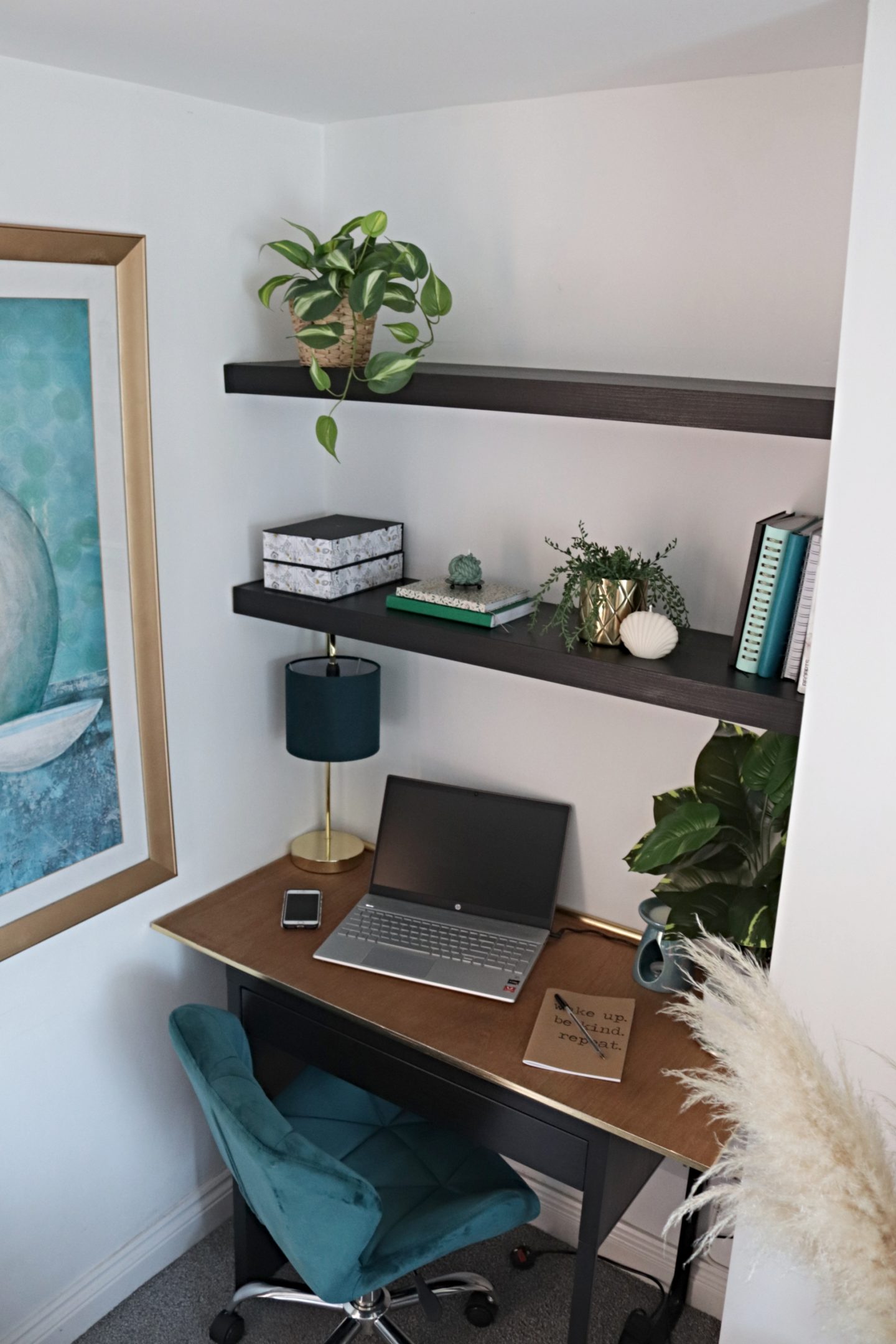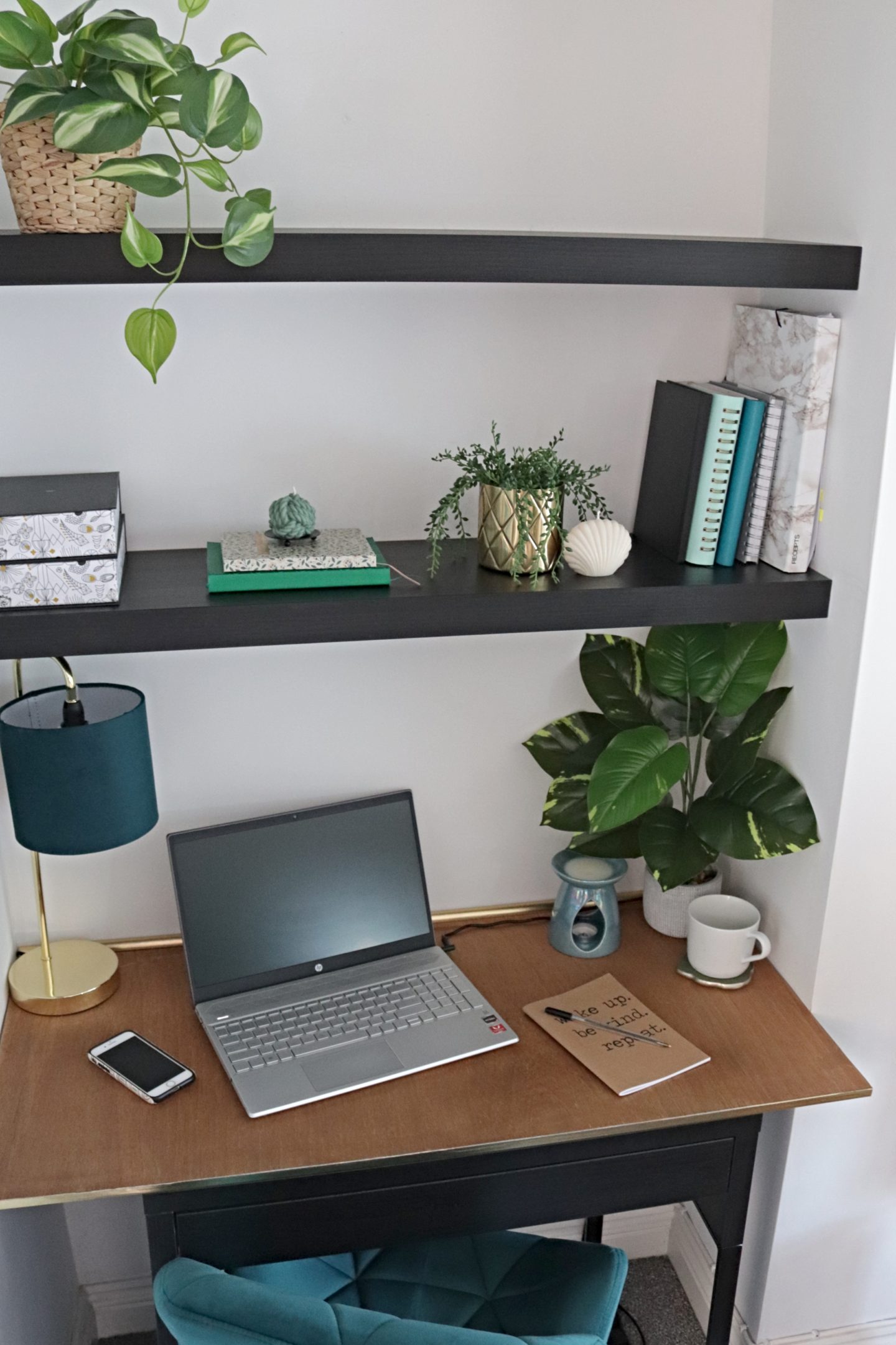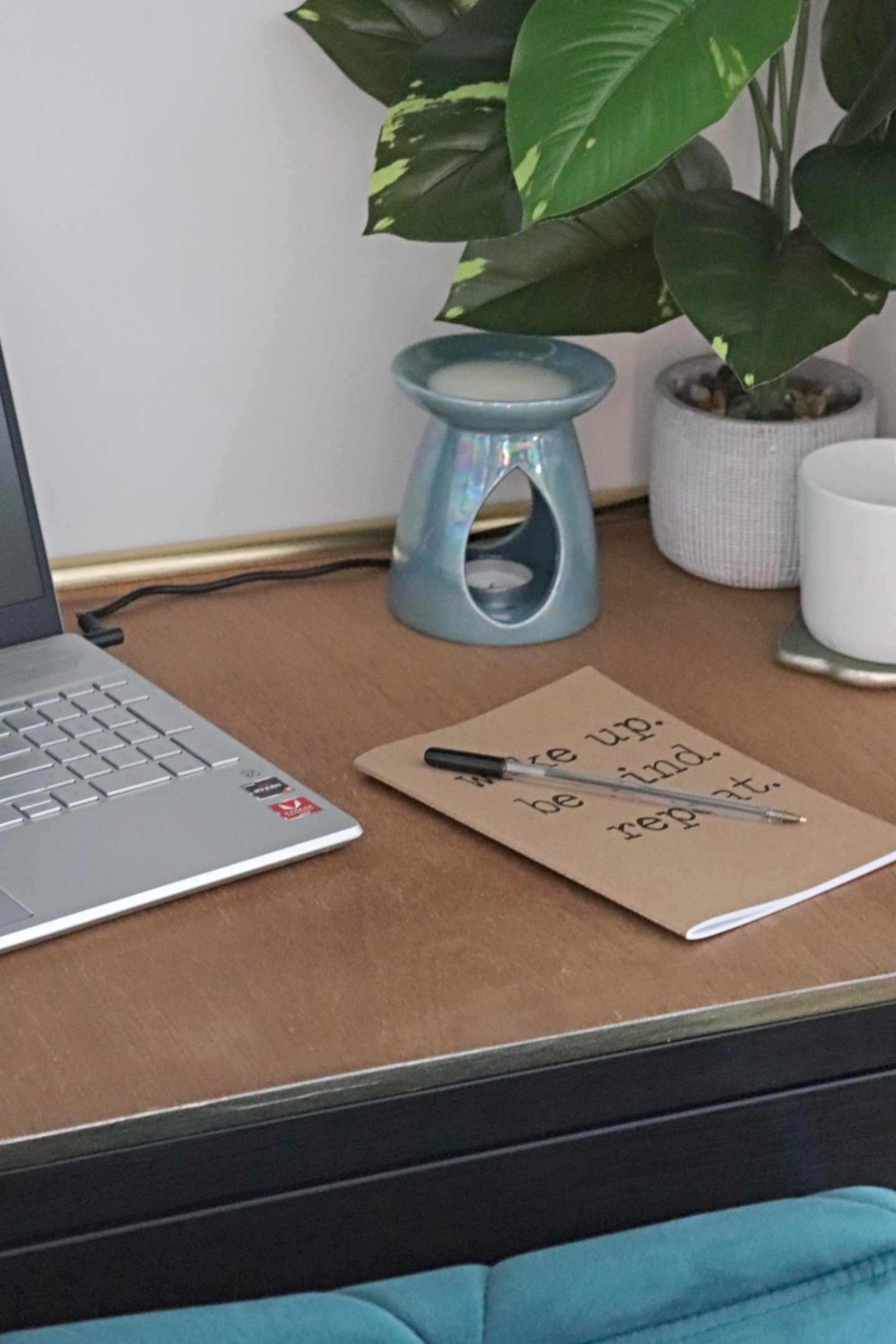 I stained the desk top in the same stain I have used on the wood throughout my home in Georgian oak and then used a 1/4 dowel along the back edge to finish it off and look more built in. I then trimmed this dowel and the desk edge in a gold washi tape. I think it just carries the gold accents in the room over into this corner making it feel cohesive. We then have this gorgeous table lamp which again carries the gold over into this corner but also the teal with the shade. I found this in B&M for £15. This plant was from Wilko but I wasn't able to find it, I'm not sure if it's a little too big for on here but for now it's staying. there is also one of my beautiful resin coasters from Writeous Essentials. You can watch my reel for adding the desk top below.
I think I didn't do too badly creating a work from home space that fits in with my living room décor. It's functional but still looks good enough that it's not out of place. What do you think? Do you need a space to work from home? I hope this has shown you that it can be possible even in the most compact of spaces.
Lianne x
Pin Creating a Work from Home Space to save it for later!