This post may contain affiliate links, find out what that means here.
Hello! It's been a couple of weeks since my last post. Life has been super busy, my little boy has started school and my step daughter and my grandson have been staying with us. I'm just back from a lovely weekend away with some friends though so now I'm ready to get back into the swing of things and back to work! Today's post is a recipe (always a favourite with you guys!) for Cherry Bakewell tart. I made this on my step-daughters suggestion as she lived on them while she was pregnant!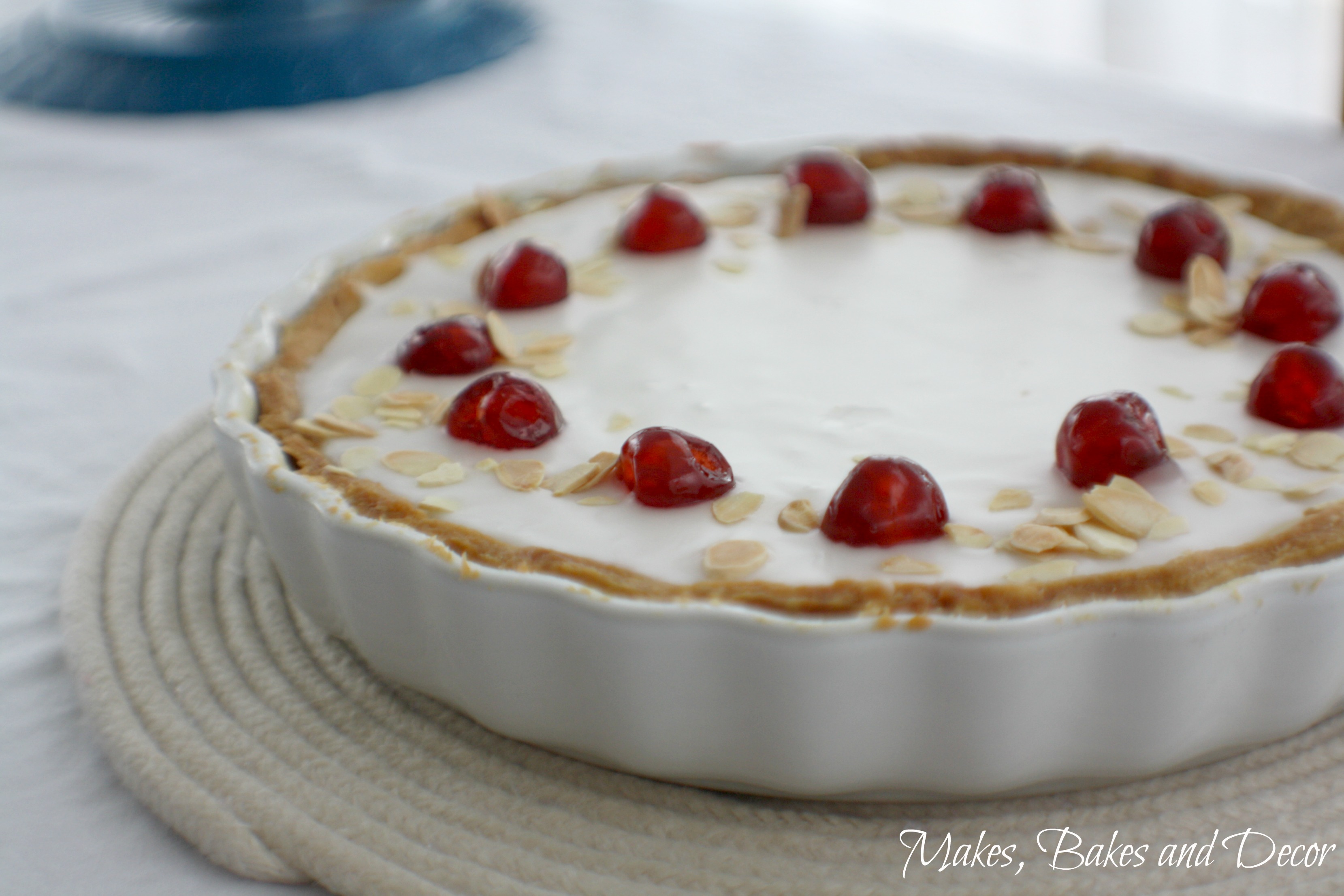 This Cherry Bakewell Tart consists of a crisp pastry shell (no soggy bottoms here) with a layer of cherry jam in the base topped with frangipane and then a layer of almond flavoured icing. If you love the little individual ones that you buy from the shop then you will love, love, love this recipe.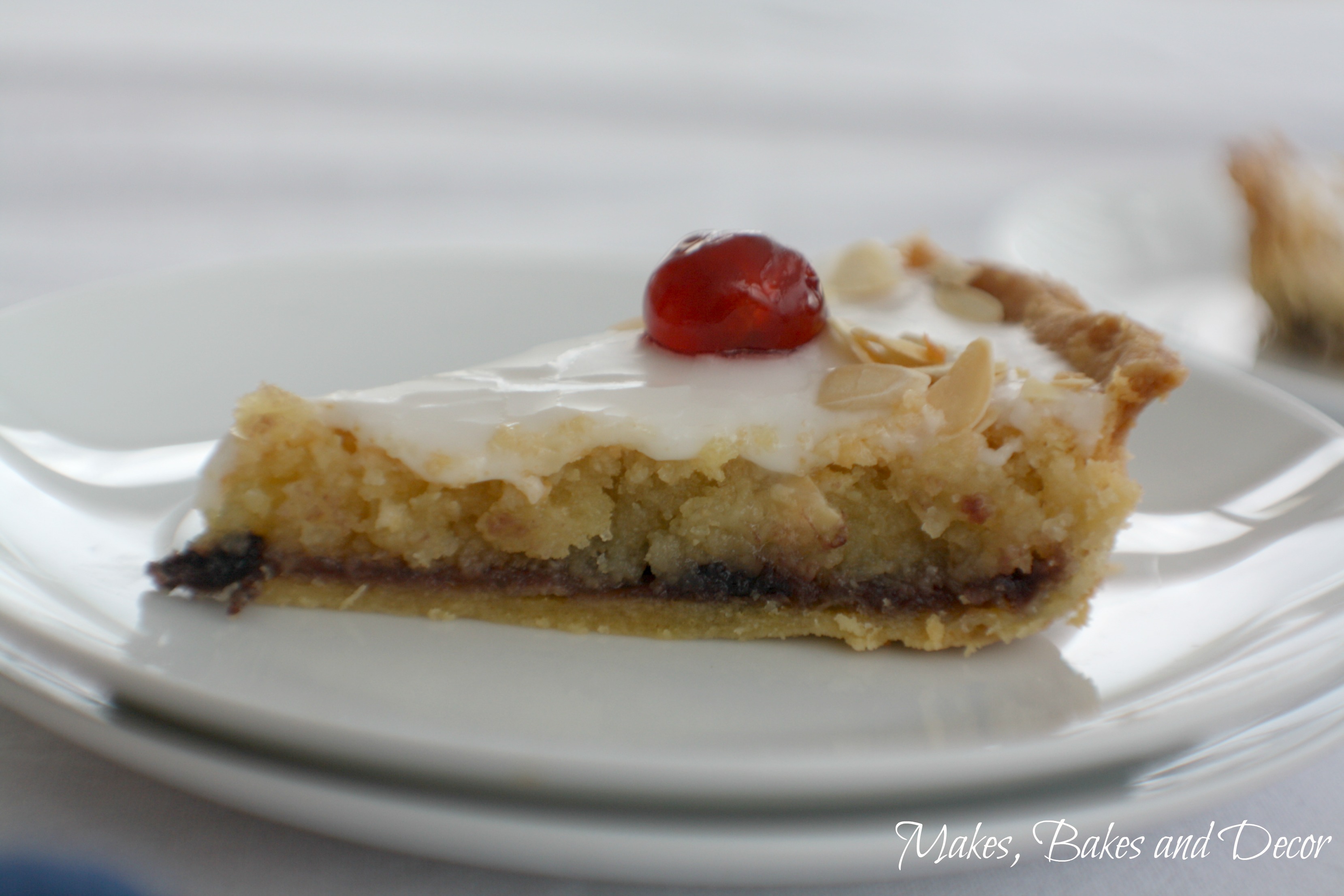 To make sure that your pastry shell stays nice and crisp you will be blind baking it before you add in the jam and frangipane batter. Blind baking is a method used when making some pies. You will roll out your pastry and then lay it over your tin/dish and press it down into the sides. Once you have done this get a sheet of baking paper large enough to cover the pie shell. I like to screw this sheet of paper into a ball and then re-flatten it before placing it over the shell. I find that the baking beans fit in better this way. Then add a layer of baking beans on top of the baking paper before adding to the oven. You can buy special re-usable baking beans or just use a bag of dried beans/rice (just make sure to keep these separate from your actual dried beans/rice so you don't end up cooking them after). This method stops the pastry from rising when you bake it so that you are still able to add your filling.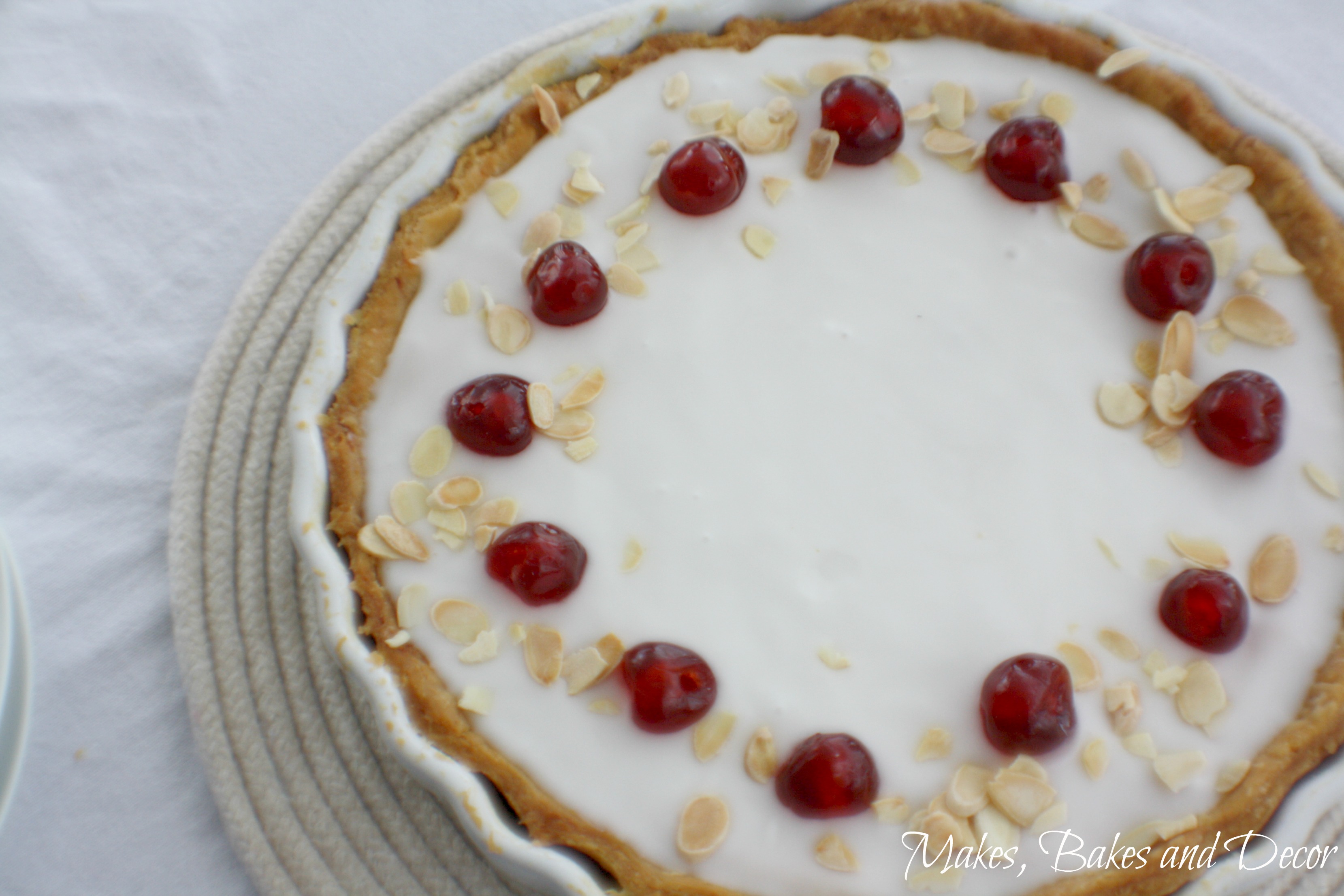 I really hope that you enjoy the recipe! Have you ever tried making your own Cherry Bakewell before? Let me know what you think in the comments below.
Lianne x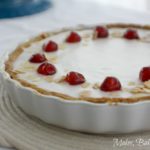 Cherry Bakewell Tart
Ingredients
For the jam
150

g

frozen cherries

50

g

sugar
For the pastry
150

g

butter

chilled, cubed

25

g

icing sugar

225

g

plain flour

1

egg

beaten
For the filling
150

g

butter

150

g

caster sugar

150

g

ground almonds

1

large

egg

1

tsp

almond extract
For the icing
300

g

icing sugar

1

tsp

almond extract

glace cherries

optional decoration

flaked almonds

optional decoration
Instructions
To make the jam
Add the frozen cherries and sugar into a small pan and heat until the cherries have broken down. Remove from the heat and leave to cool. the jam will thicken as it cools.
To make the pastry
In a large bowl add your butter, icing sugar and flour. Use the rubbing in method to create a bread crumb consistency. Once this is done fold in the beaten egg with a knife until the dough starts to come together. Tip the mixture out onto a floured surface and quickly form it into a bowl. Wrap in clingfilm and chill for half an hour.

Once your pastry has chilled, lightly flour your work surface and roll out your pastry to about half a cm thick. I used a 9 inch/23 cm dish for my tart. Place your rolled out pastry into your dish and press it into all the sides. Cut off any excess dough and then chill again for another 30 minutes.

preheat your oven to 180c/160c fan oven. Once your pastry case has chilled remove it from the fridge and line with baking paper and baking beans. blind bake for 15 minutes then remove the beans and baking paper and bake for a further 5 minutes. Set aside to cool a little before adding the filling.
To make the filling
Spoon your cherry jam into your pastry shell and spread out evenly. In a large bowl cream together the butter and sugar. Then mix in the ground almonds, almond extract and egg. Once well combined spoon this mixture into your pastry case on top of the jam and spread out evenly. Place it into the oven (preheated to 180c/160c fan oven) and bake for 30-35 minutes until a skewer comes out clean. Once done leave to cool completely.
To make the icing
In a bowl add your icing sugar and almond extract. Adding water 1 tablespoon at a time mix together until you have a fairly thick icing. It should take about 3 tablespoons of water to get the right consistency. Pour and spread this over the top of the tart and decorate with glace cherries and flaked almonds if you wish. Enjoy!
Pin Cherry Bakewell Tart to save it for later!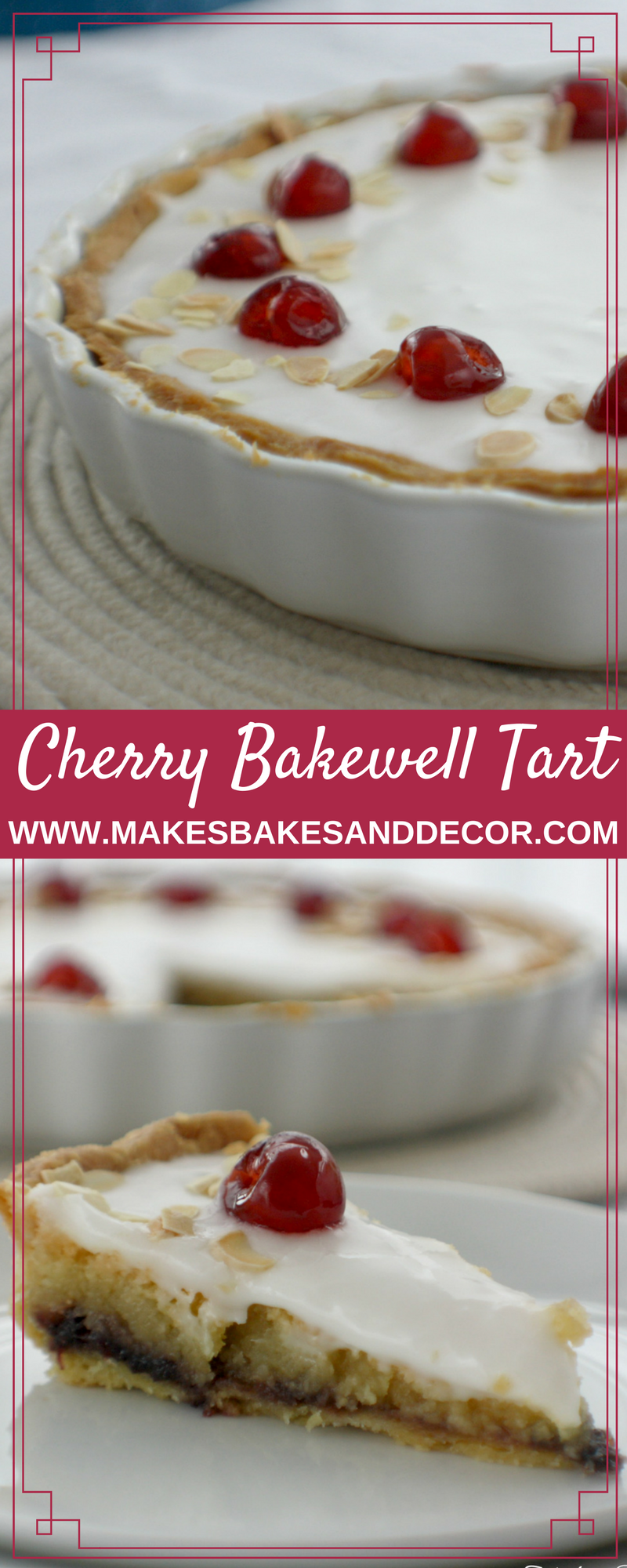 Here are some more recipes that I think you will love!