So here it is, my first post for the blog, My Dream Birthday Cake. Three layers of chocolate cake filled with peanut butter icing and peanut butter cups. The whole thing is covered in chocolate ganache with lots of Reece's goodies on the top!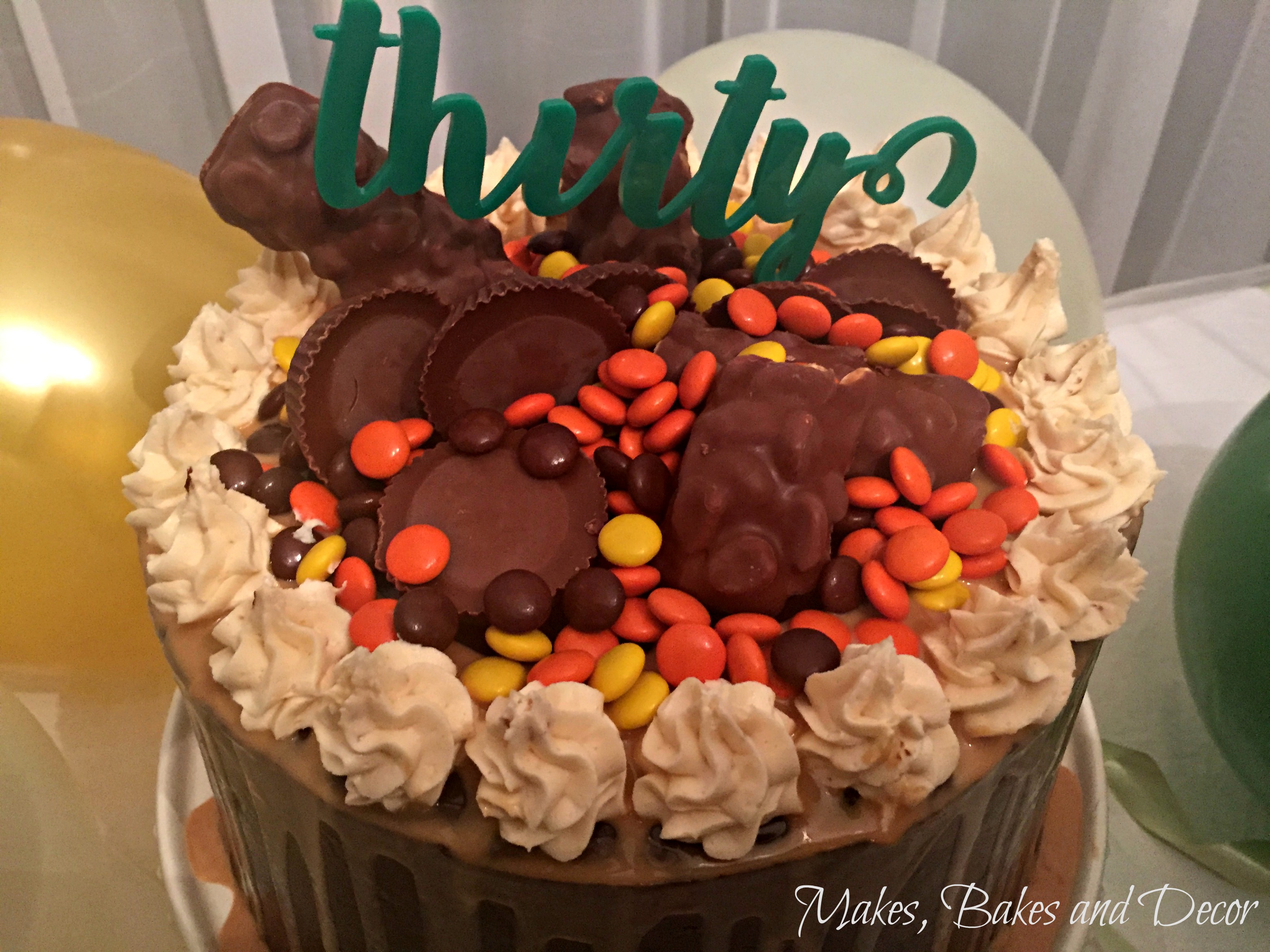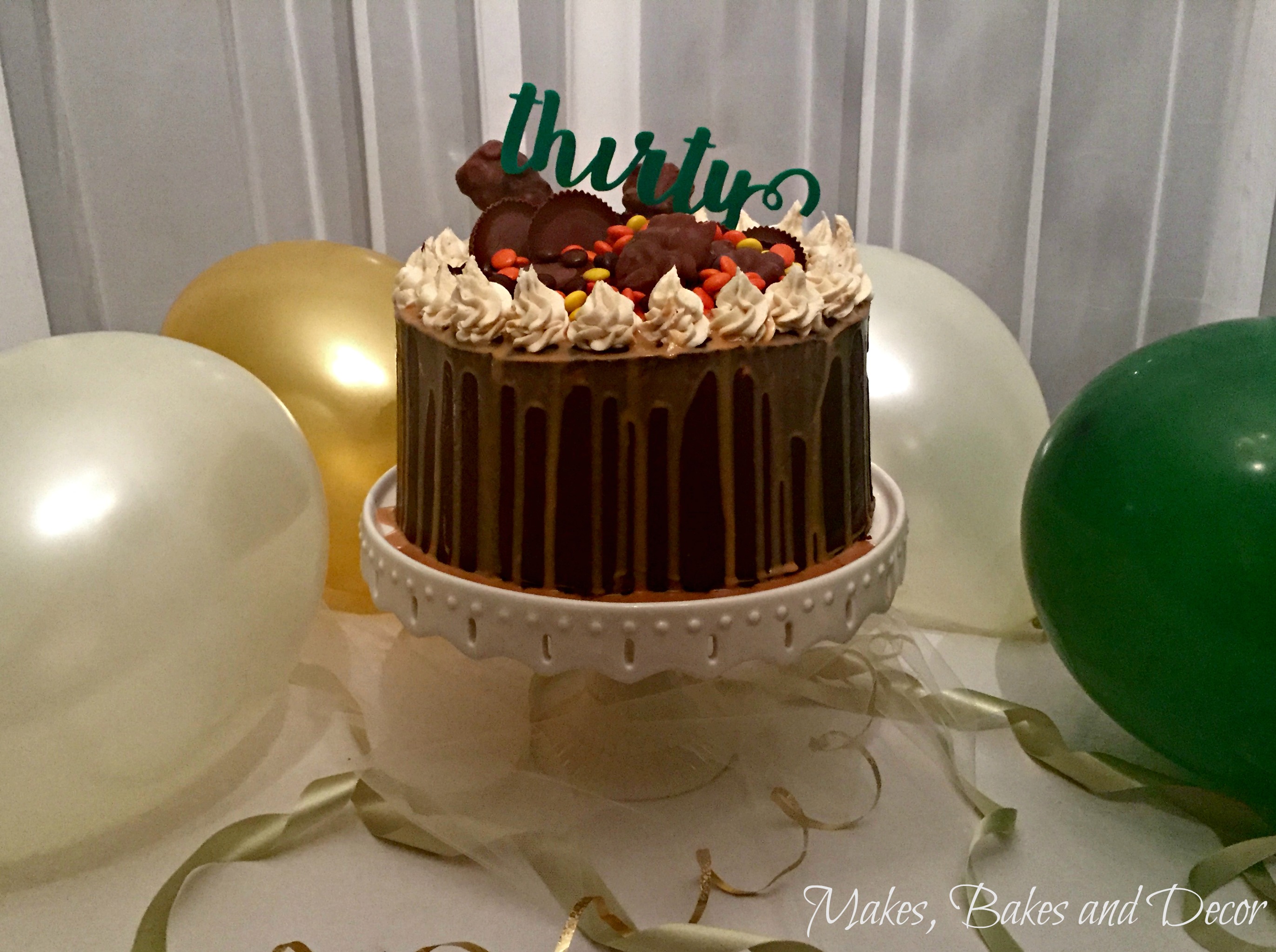 Today is my 30th birthday! I have not been looking forward to turning 30, I would rather just pretend it isn't happening haha. Unfortunately you get older whether you want to or not which is why I chose my birthday as the date to launch my blog. Starting a blog that included recipes, crafting, diy and decorating ideas has been something that I have wanted to do for a while. But when I made the decision that I was definitely going to start one I chose my birthday date so that I would be looking forward to the date instead of dreading it!
I wanted to do a cake for my first post and as it was going to be on my birthday I started to think about what cake I would want. What would my dream birthday cake be? Well this is what I came up with!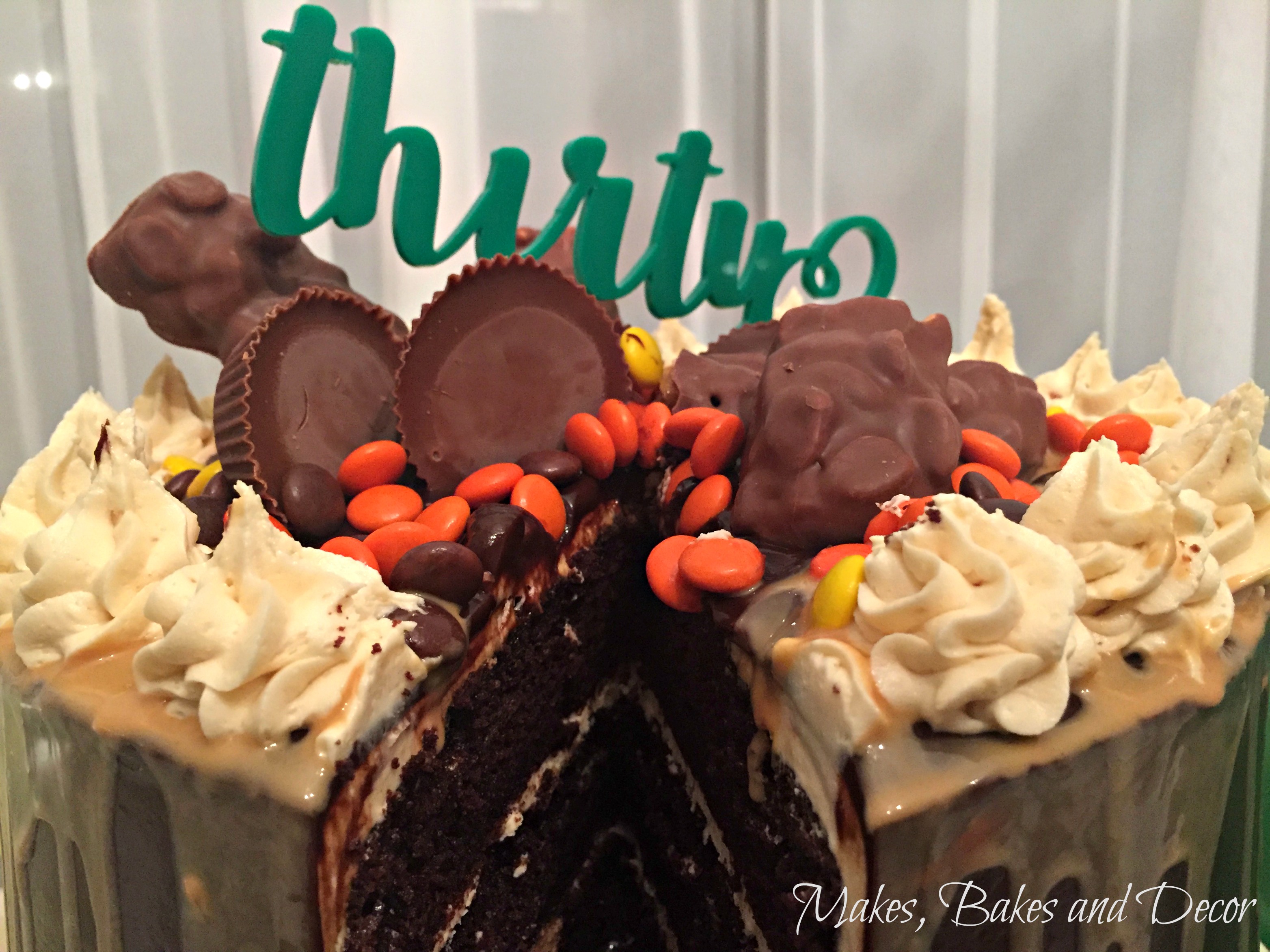 This chocolate cake recipe is the moistest chocolate cake ever! It just melts in the mouth and it has an amazing chocolate flavour. I've made a lot of different chocolate cakes but this one is by far my favourite. When I started thinking about what my dream birthday cake would be I knew straight away it would be based around this cake.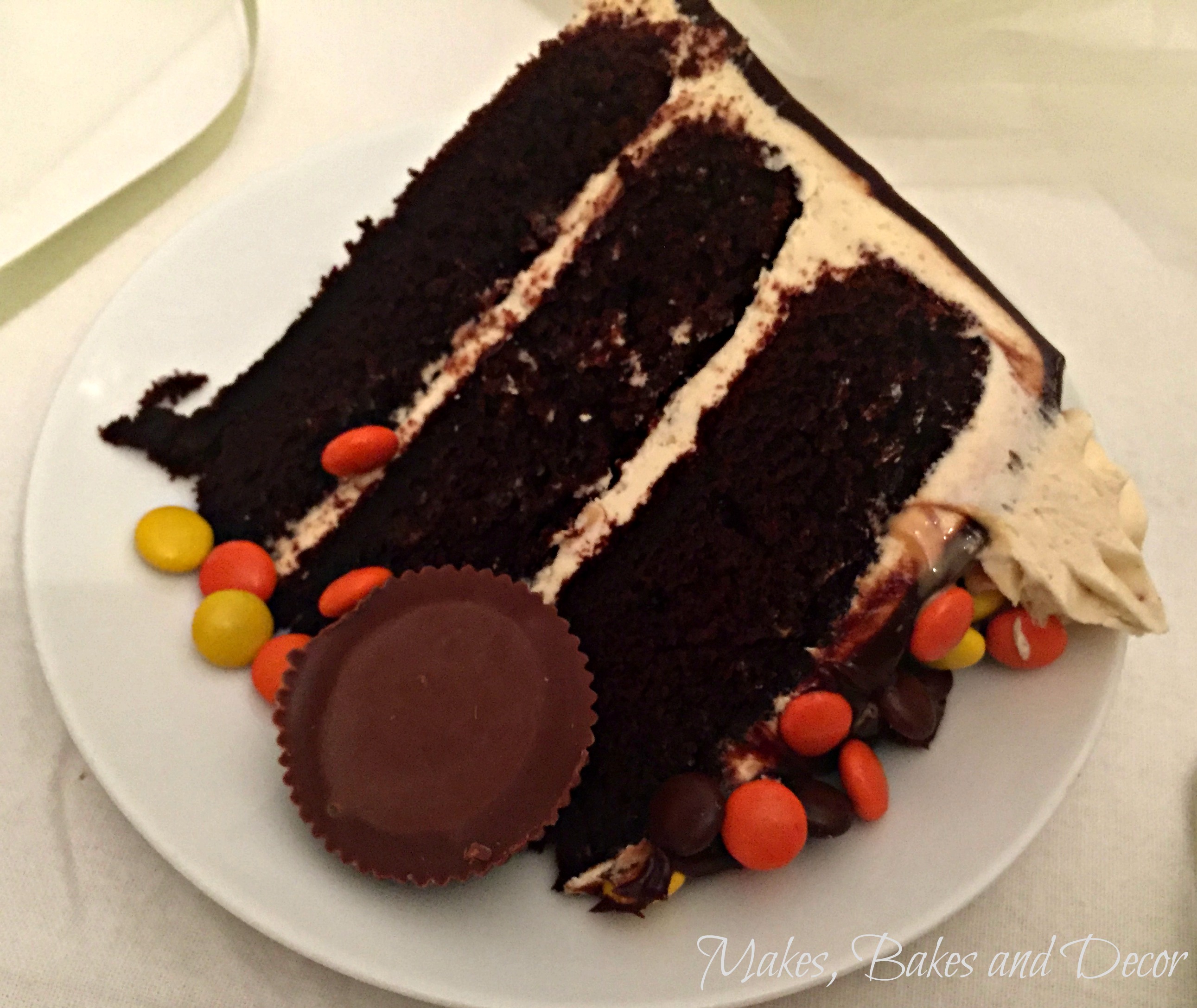 Next I started to think what I wanted to fill my cake with. Peanut butter is one of my favourite favours and the icing I've used in this cake is from Taming Twins Ultimate Snickers Cake. I've made this cake from Taming twins more than once and the icing is just the best peanut butter icing I've ever tasted! It had to go in my cake. I have added extra peanut butter to mine and changed it to crunchy peanut butter for a little extra texture.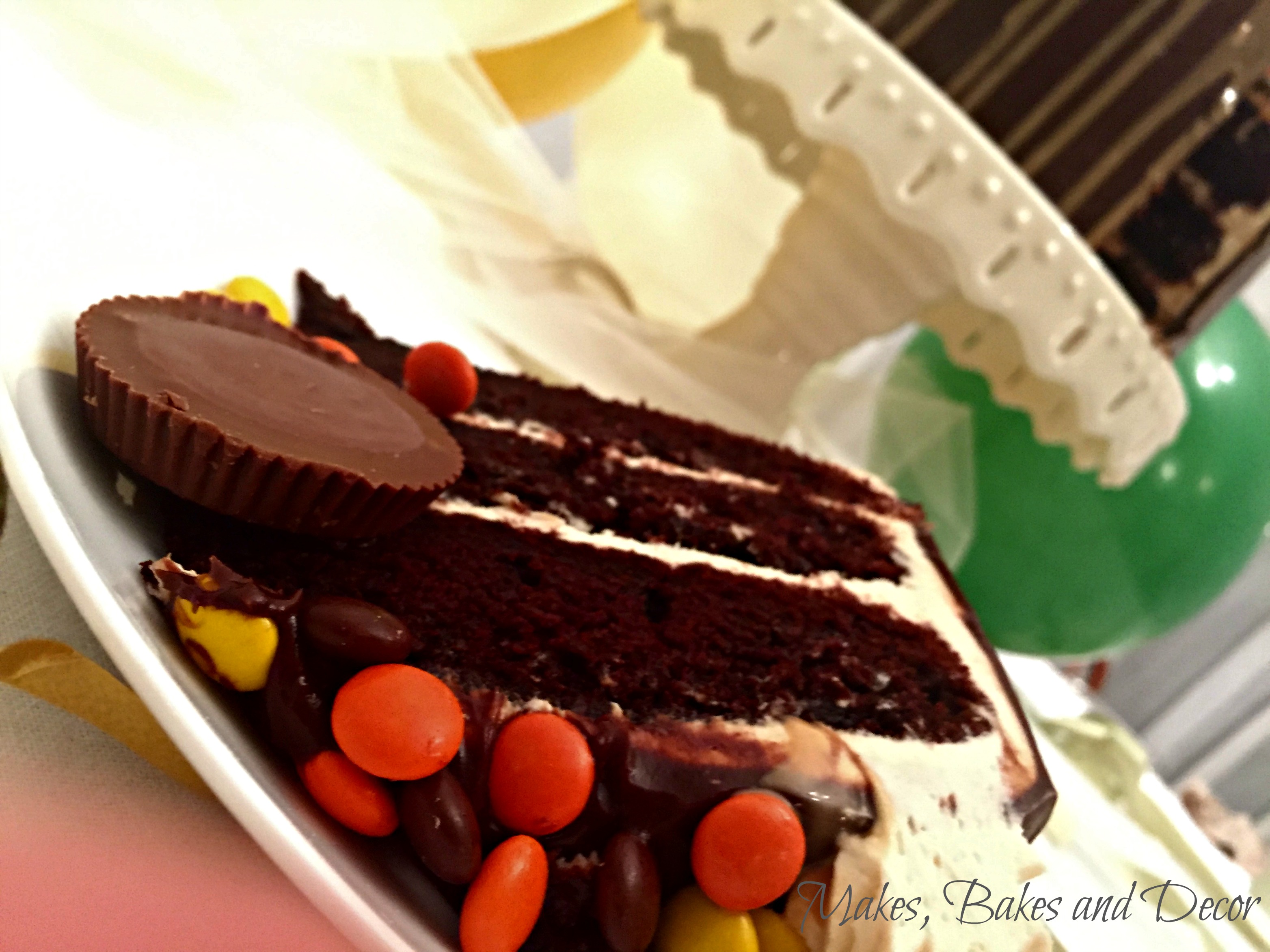 Once I had chosen peanut butter for the flavour I just knew it would have to have anything Reece's that I could find. On this cake I've included Reece's peanut butter cups, Reece's nut bars, Reece's pieces and this amazing Reece's ice cream topping that I found in Tesco.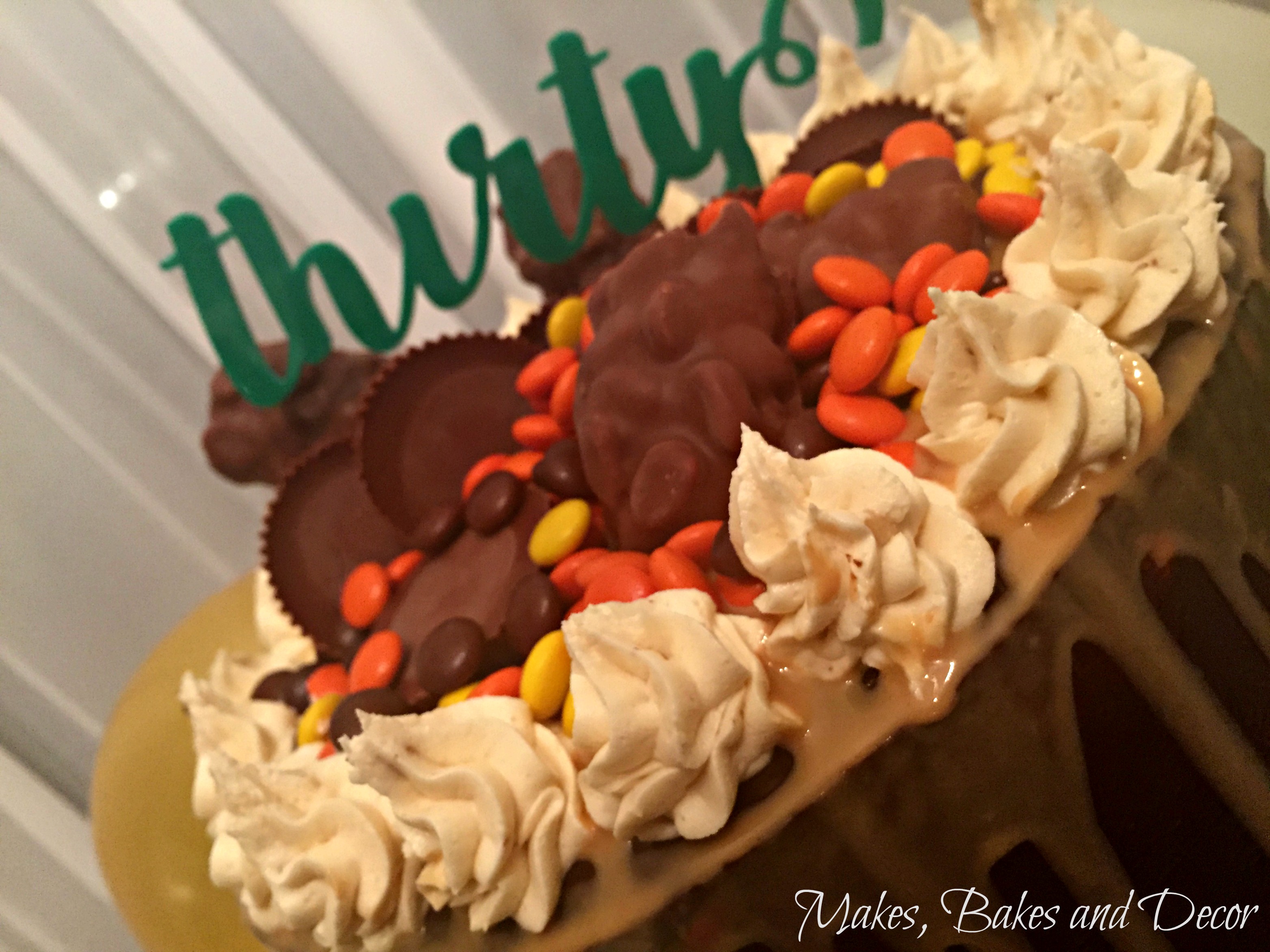 If you love layer cakes you will want to look at my Lemon Drizzle Layer Cake, my Guinness Chocolate Cake with Salted Caramel and my Classic Victoria Sponge.
I bought the cake topper from ebay from personalised by post 1 (this is no longer available online) I really love it and think it looks great on the cake. You can get it in loads of different colours and ages. I chose green as it's my favourite colour.
So that's it! My dream birthday cake. I hope you like it and if you have any questions or comments please leave them below. I'd love to hear what you think!
Lianne x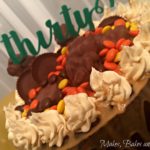 My dream birthday cake
Ingredients
For the cake
3

cups

plain flour

3

cups

caster sugar

1 1/4

cups

cocoa powder

3

tsp

bicarbonate of soda

5

medium eggs

1 1/2

cups

buttermilk

1 1/2

cups

vegetable oil

1 1/2

cups

hot

strong coffee
For the icing
500

g

unsalted butter

750

g

icing sugar

213

g

jar marshmallow fluff

200

g

crunchy peanut butter
For the ganache
300

ml

double cream

300

g

plain chocolate
For inside and on top of the cake
10

Reece's peanut butter cups

2

Reece's nut bars

1

box Reece's pieces

Reece's peanut butter ice cream topping
Instructions
To make the cake
Preheat your oven to 170c/150c fan oven and grease and line three 23cm cake tins.

Add your dry ingredients into a large mixing bowl and mix until combined then in another bowl add your eggs, buttermilk and oil and mix together.

Pour the wet ingredients into your dry and slowly mix together. Once combined slowly add the coffee and mix.

Divide your cake mix evenly between the three tins and bake them for 30-35 mins or until a skewer comes out clean.
For the icing
Put the butter into a bowl or the bowl of your mixer and beat until soft then add the icing sugar and beat for 5-10 mins. You want to make the icing as light and airy as possible. Put the marshmallow fluff into the bowl and beat it in well. Finally beat in the peanut butter.
To make up the cake
Put your first cake layer onto a cake board and add a layer of icing, spread 3 peanut butter cups, chopped up, evenly over the icing. Lay your next cake layer on top then again, ice, spread peanut butter cups and put last cake layer on top.

Scoop enough of the remaining icing, to make the swirls on top, into an icing bag fitted with a large open star nozzle. This way you now know how much of the icing you have left to cover the cake. Cover the whole cake as evenly as you can with the rest of the icing then put it into the fridge to chill.
For the ganache
place a glass bowl over a pan off simmering water and add your cream and chocolate to the bowl. Slowly stir until the two have completely melted together.

Remove the bowl from the heat and leave to cool for 10-15 mins stirring it every minute or so. You need it to cool enough that it won't run straight off the cake but not too much that it isn't pourable.

Place a cooling rack on top of some baking parchment (to catch the drips)then get your cake from the fridge and place it on the cooling rack.

Next you are going to pour the ganache on top of the cake so it runs down the sides. You will need to guide it with an offset spatula to make sure all the sides get covered.

Put it in the fridge to set.
To finish the cake
Once your ganache has set put the cake onto your serving dish. Squeeze your ice cream topping all around the outside edge so you get drips all the way round.

Next get the icing bag you got ready earlier and pipe a ring of swirls around the outside edge. Using the remaining Reece's sweets and chocolate arrange it all on top of the cake. I added some bars and cups standing up and laying down then sprinkled the Reece's pieces in the gaps.

There you have it. My Dream Birthday Cake. Enjoy!
My Cake Making Essentials!
Pin My Dream Birthday Cake for Later