I loved everything about creating this Pink and Green Cactus Nursery, from looking for ideas, shopping for pieces and putting the paint on the walls. I will always be so sad that we didn't get to finish it but I hope to re create a version of it on Noa's half of the children's new bedroom.
Even though the room was unfinished I still wanted to give you a tour of what we got done and explain what else I wanted to put in there to finish it off.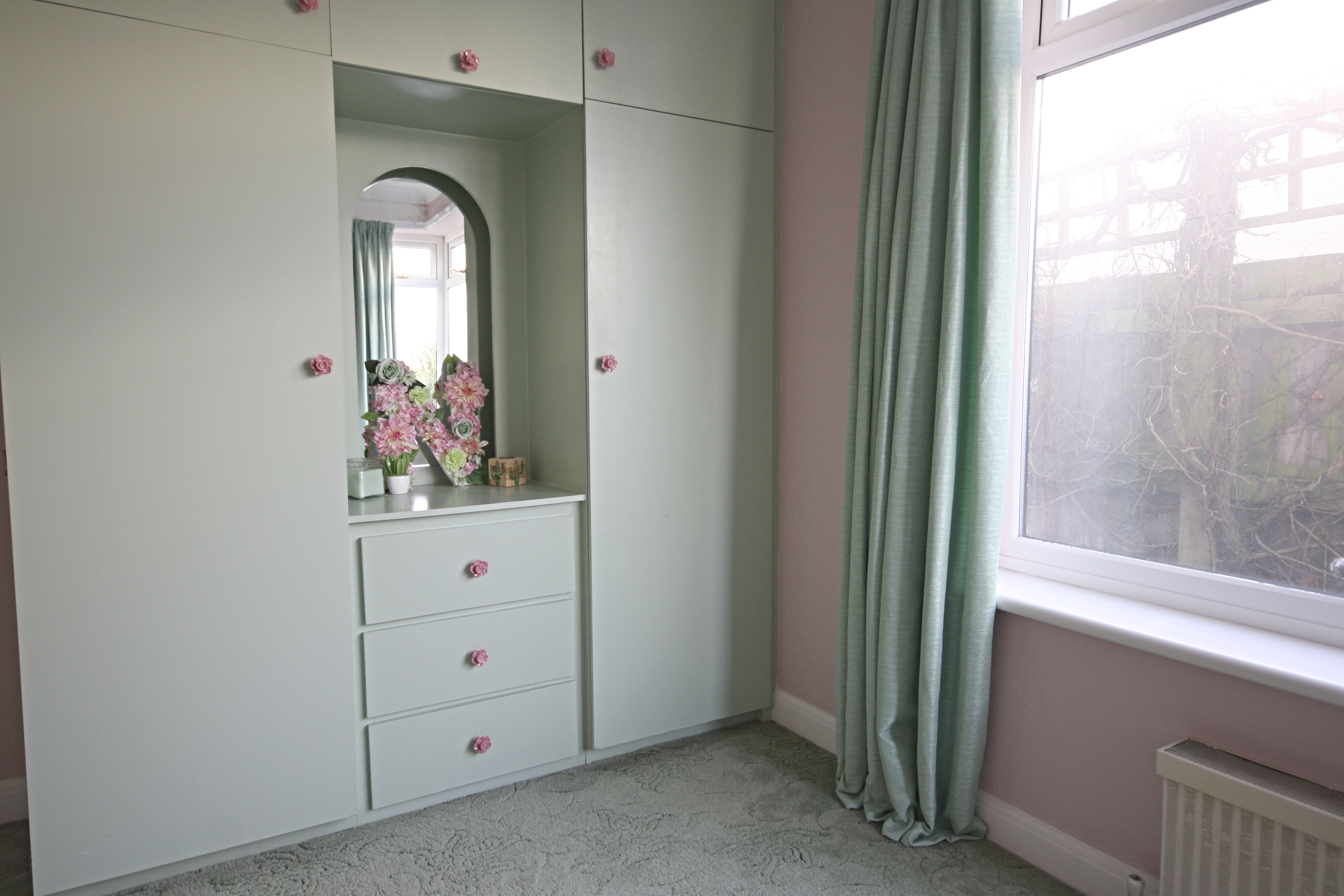 The first project that we worked on for this room was transforming the built in melamine wardrobe. This wardrobe makeover has a post all of it's own so go and read Painting a melamine wardrobe to see what it looked like before, what paints we used etc. On the wardrobe in front of the mirror you can see my Faux Flower Letter which was a DIY. The green candle, cactus candle holder and mini cactus ornament were all from Beales department store. The curtains were an absolute bargain! I picked them up in the Next sale for £30 reduced from £90! Unfortunately they are no longer available nor do they have anything similar at the moment. I do like a full length curtain that drapes on the floor. I think it gives a room a feeling of luxury.
On the other side of the room is the cactus mural that I hand painted. It wasn't perfect but it was the first mural I had ever done and I was just so happy with how it turned out. Originally I wanted to put a cactus print wallpaper on this wall but any that I liked were way out of our budget. I decided on a whim to just give hand painting it a go and in the end I loved it better than the wallpapers! I used a selection of Wilko tester pots in different shades of green to paint it.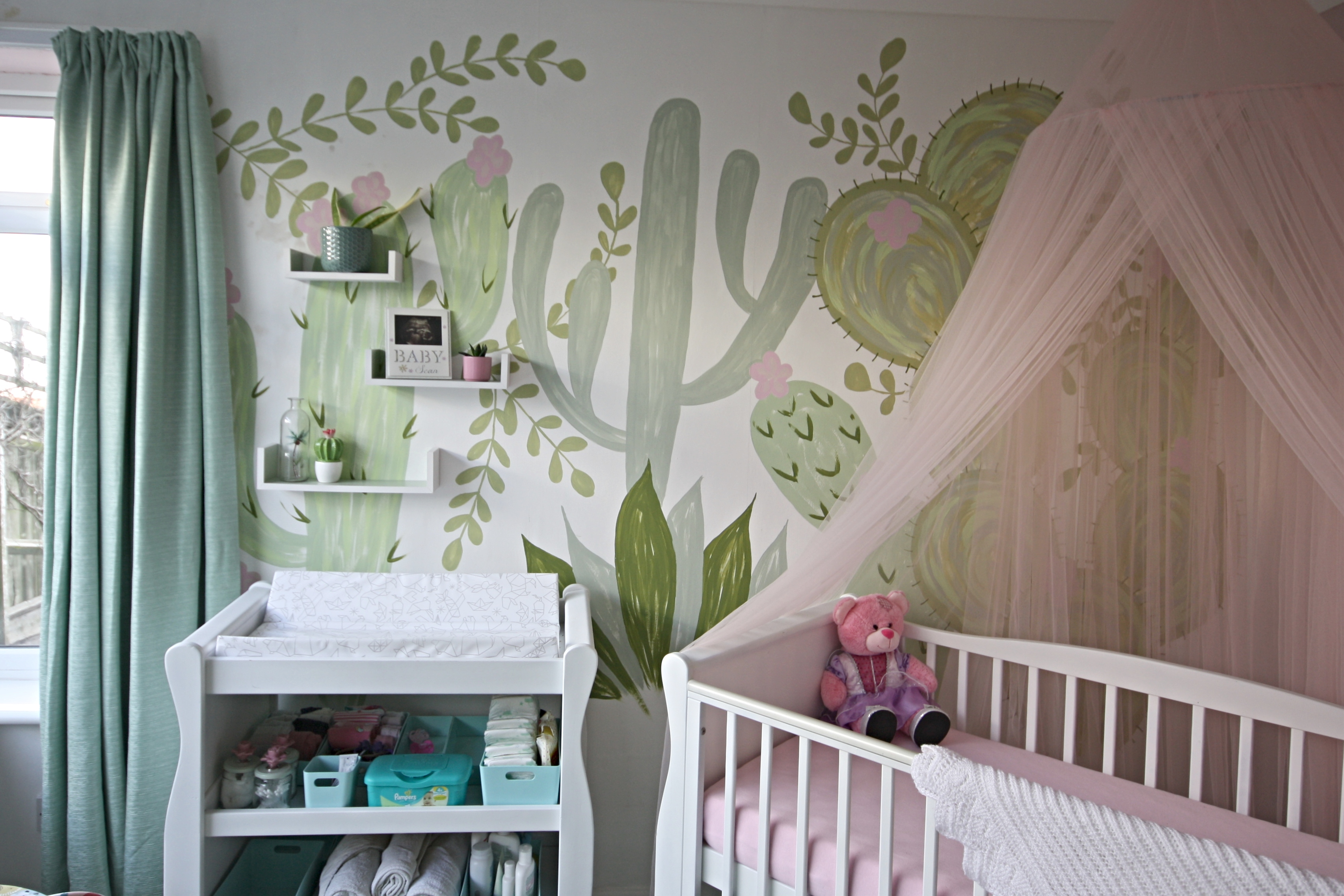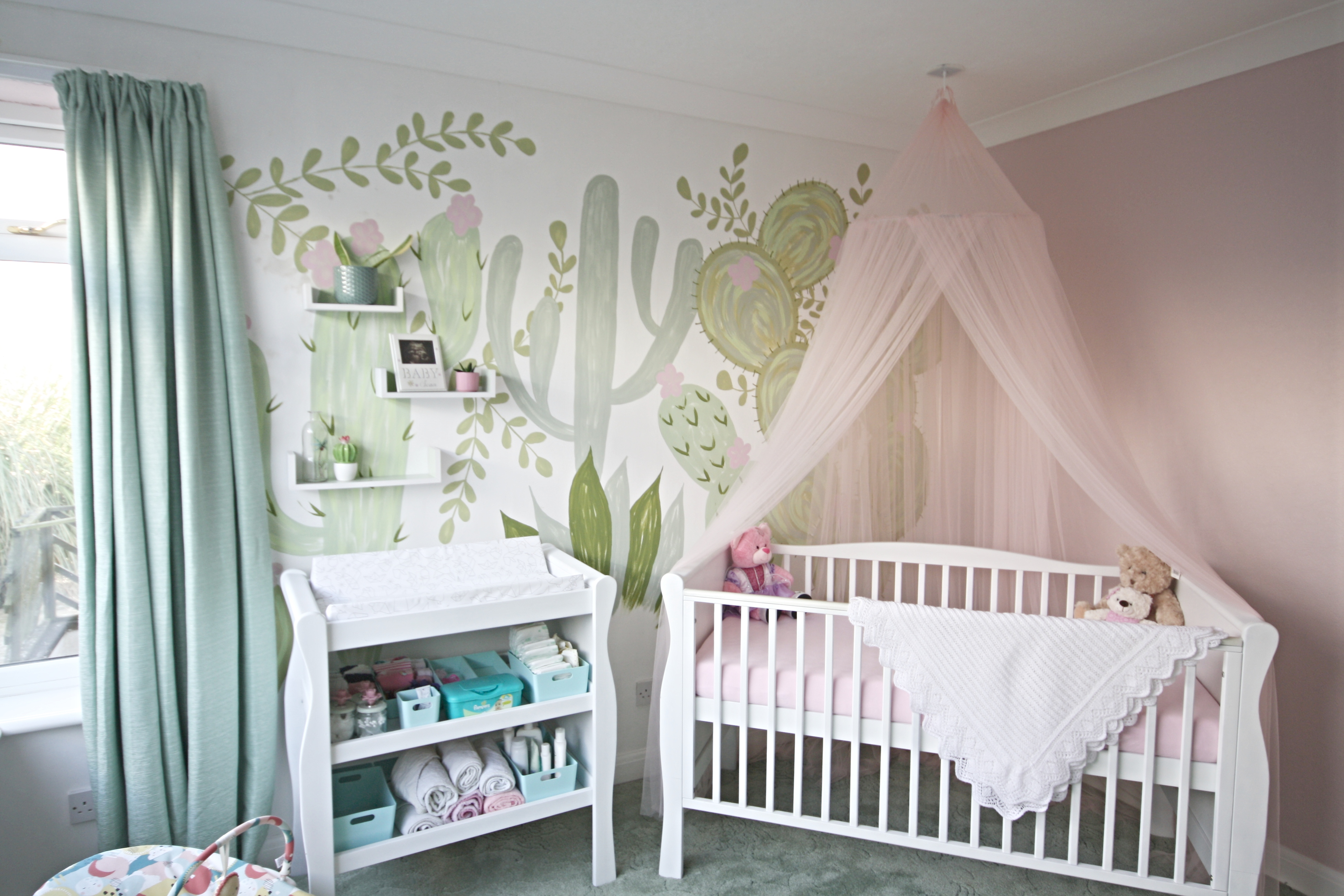 The cot and change table were Mason's that we had saved. They were originally a dark wood but we spray painted them white so they would match the room. We purchased the pink canopy from Amazon, when I ordered it I was sceptical about what the quality would be as the price was so low compared to some I had seen but I was so pleased with it. The pink sheets are from Asda at a great price and the white blanket is actually the blanket that I came home from the hospital in myself.
There are three teddy bears in the cot and they were all there for a reason. The brown bear on the right was given to me by my Dad as it was one of my Mum's bears that he had kept. The small bear next to the brown one was from Sophie as part of my baby shower gift. Lastly is the pink bear wearing a very sparkly fairy costume! Whilst we were still pregnant Mason went to Teddy cave (it's a build your own bear store based in Skegness Pier) and picked this out entirely by himself as a present for his baby sister. When you squeeze its tummy it has a message from Mason to Noa saying that he is her big brother and he loves her.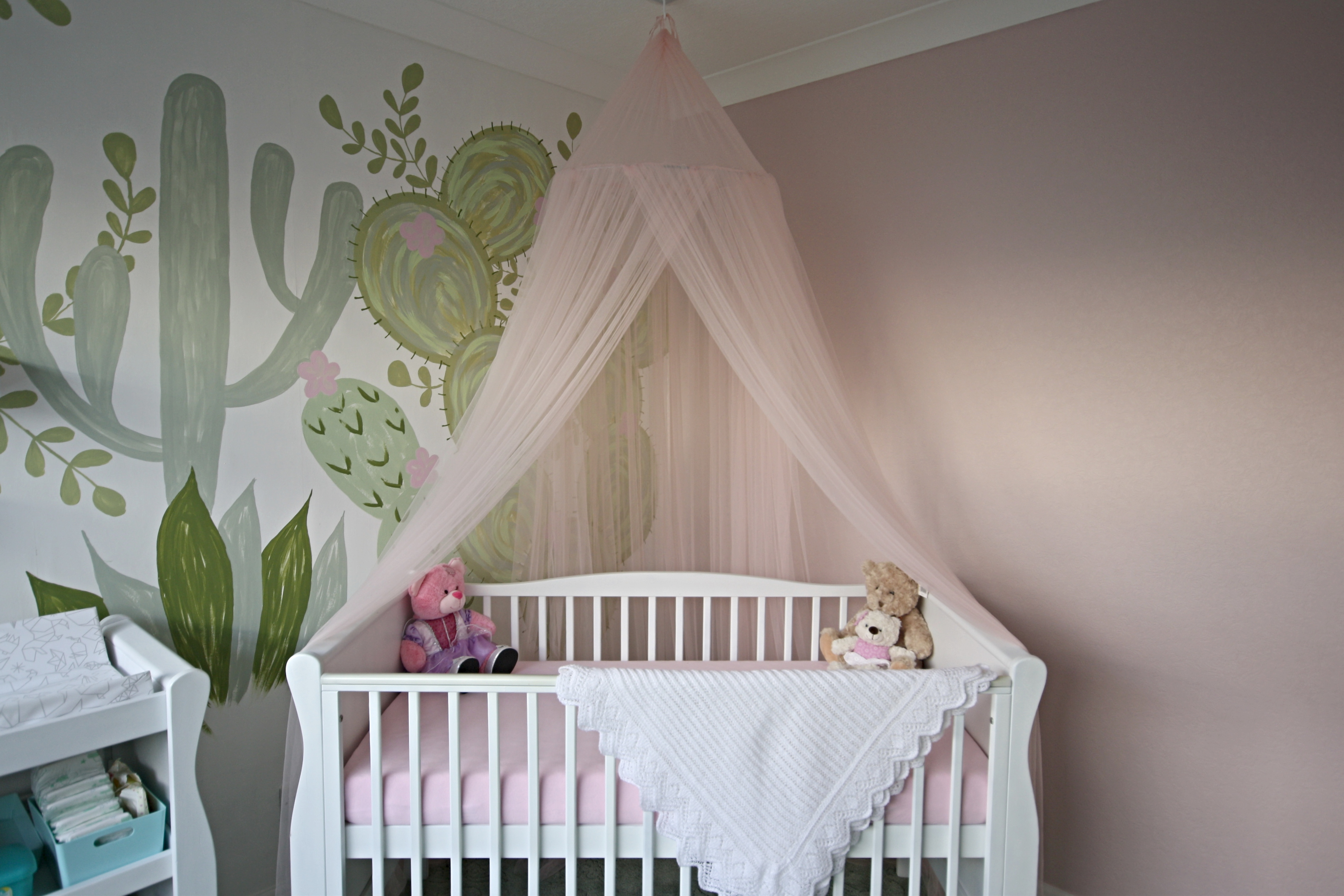 The wall to the right of the cot is one of the things that we didn't get finished. I had wanted to create a cactus picture gallery wall here. The pink paint we used is Wilko durable matt in Pink Harmony.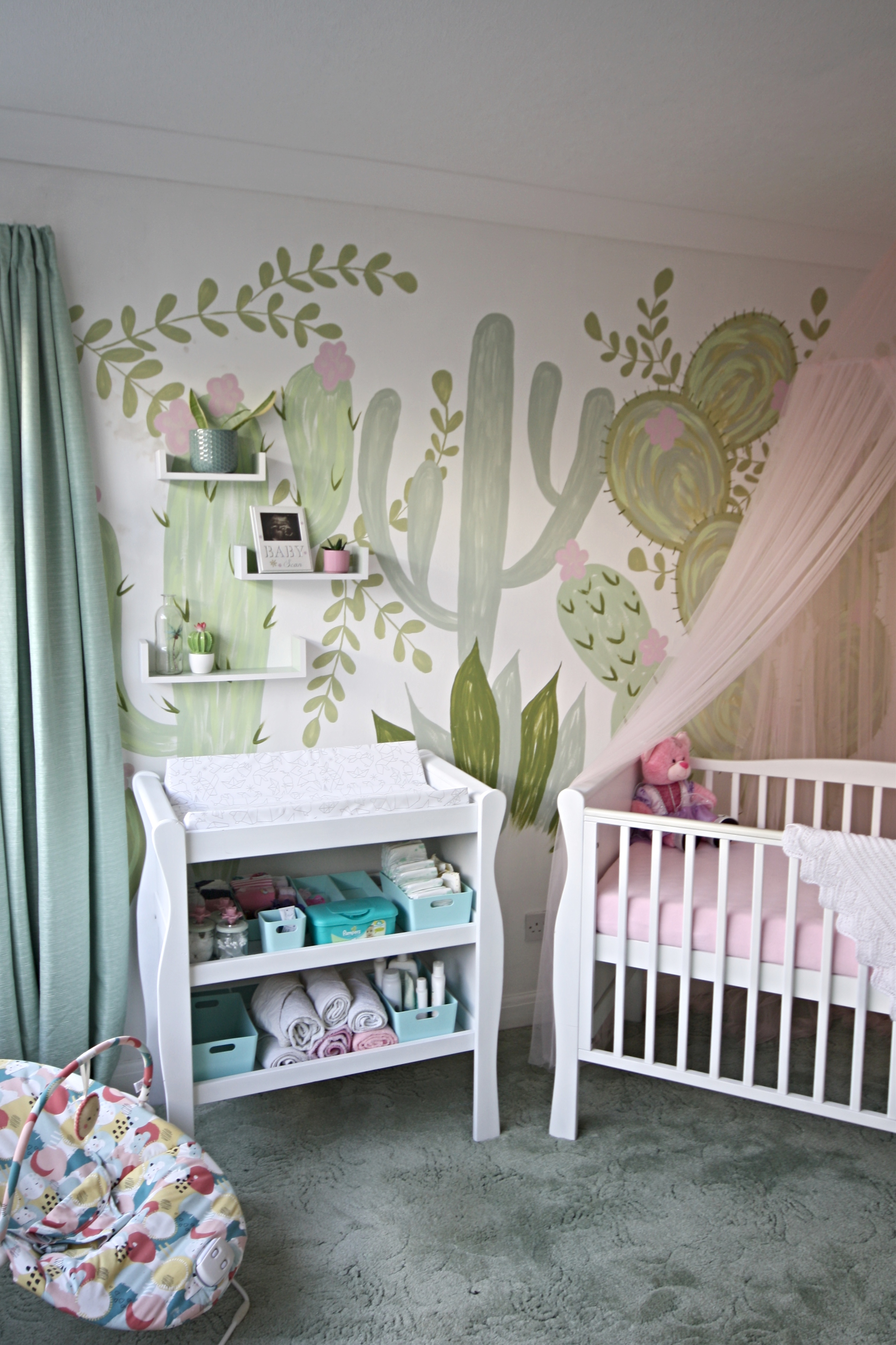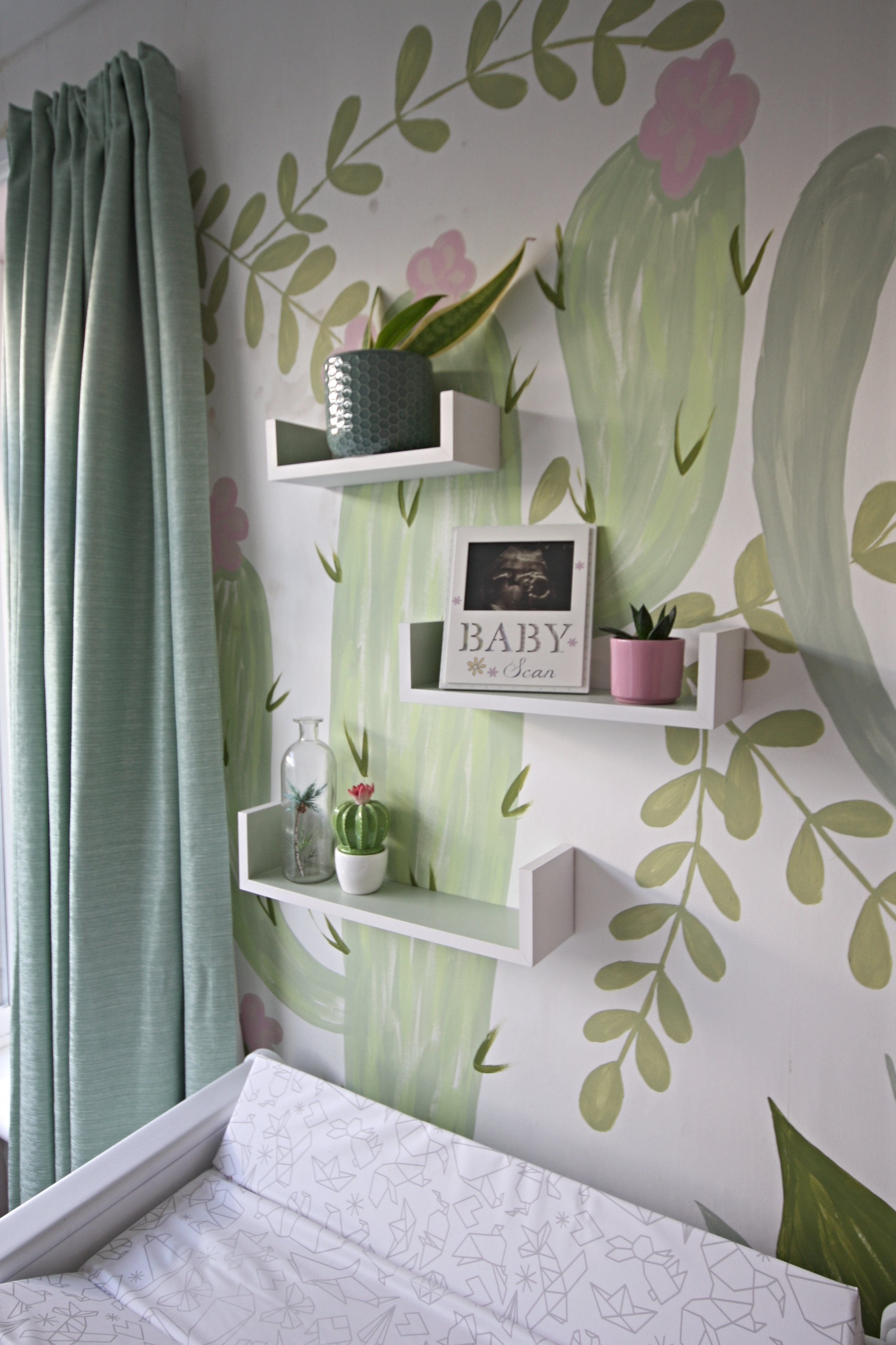 You can just about see my Jam jar storage Jars on the change table, another DIY. The baskets with nappies, wipes etc in we bought from a local hardware/homeware store. The change mat is from Amazon. We found the set of three white shelves in home bargains and painted the insides with the same green paint we used for the wardrobe makeover. I just added a few little bits to them. The plants and pots were from Tesco, the frame a baby shower gift and the bottle and cactus ornament from Beales department store. Noa's bouncer chair is a Mamas and papas one, I really loved the print on it.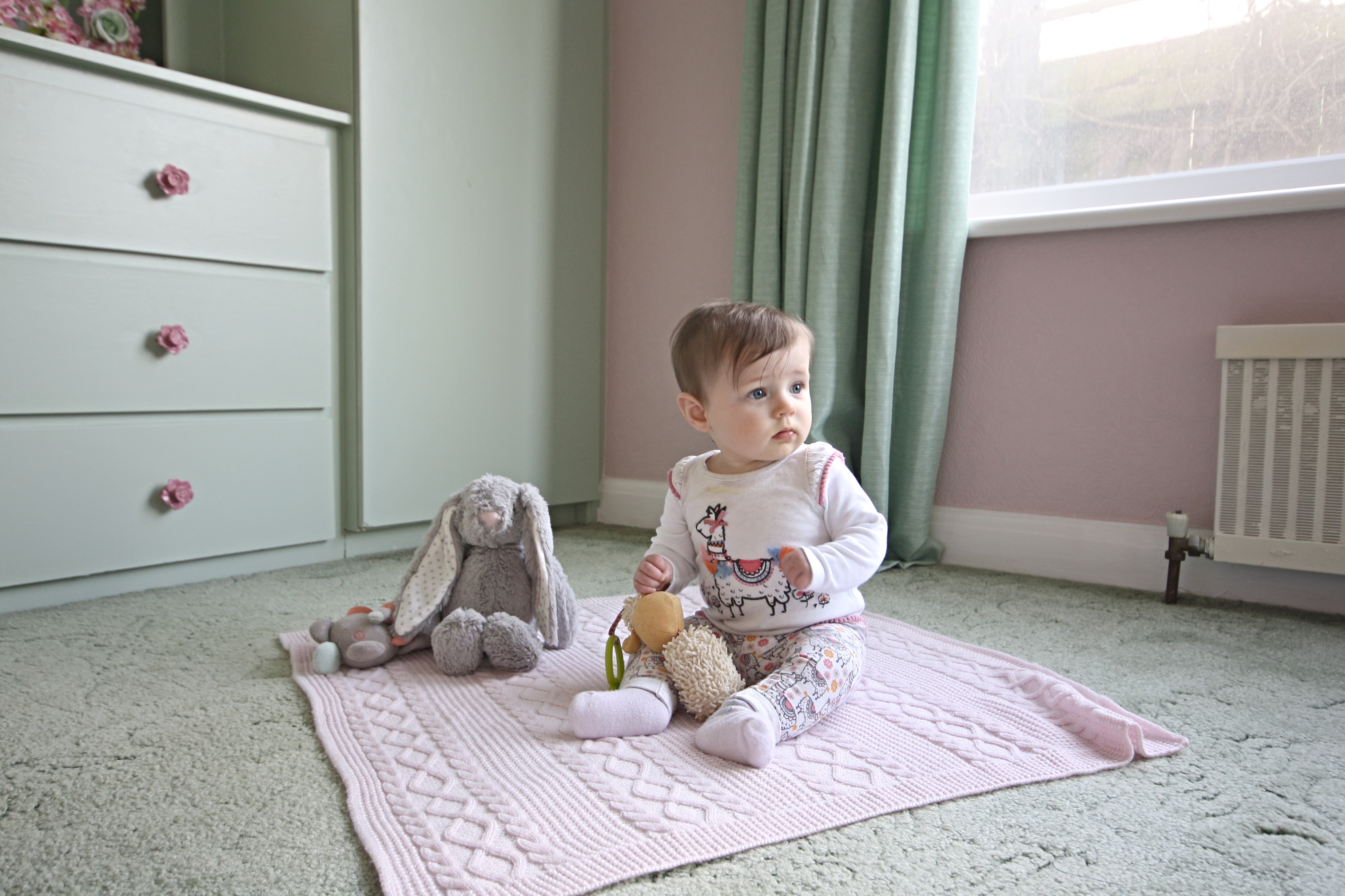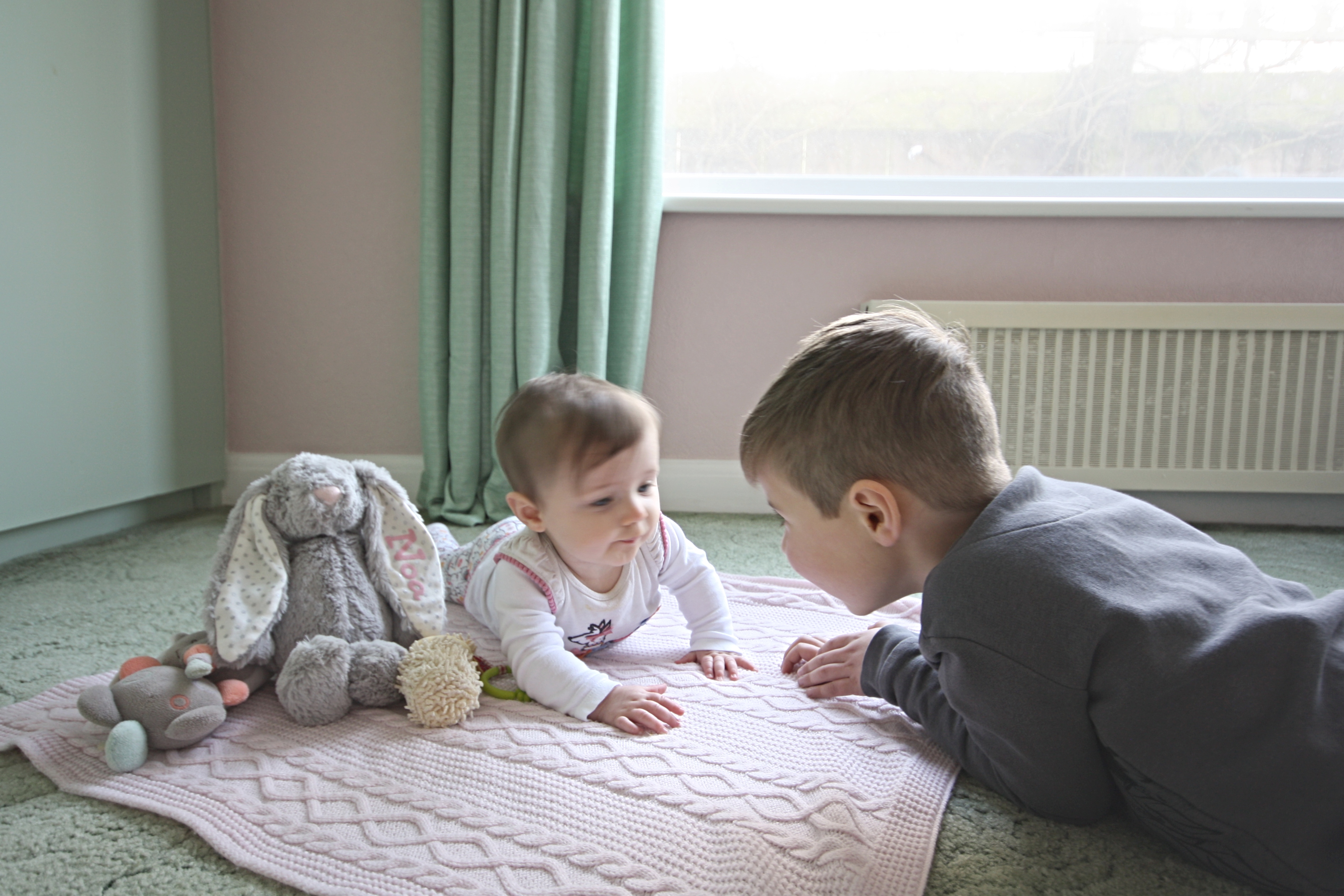 Other things I wanted to add to the room to finish it off were a pink Moroccan pouffe that I wanted to put in front of the window next to the radiator and I wanted a large pink circle rug for the centre of the room.
The saddest thing is that Noa never even got to sleep in this room! She was still sleeping in our bedroom when we moved. You can read about our decisions to move house here, we didn't have any plans to move while I was pregnant which is why we decorated this room in case you were wondering Ha ha!
I hope you love the Green and Pink Cactus Nursery just as much as I did. Like I said before I will be recreating a version of it on Noa's side of the Children's bedroom in our new home and I can't wait to get started on it 🙂
Lianne x
Pin this Green and Pink Cactus Nursery post to save it for later!